Unusually early and extensive statewide advertising has paid off for Fred Hubbell's gubernatorial campaign, a recent survey commissioned by Iowa Starting Line suggests. While about half the respondents said they are unsure how they will vote in the June 2018 primary, Hubbell was by far the best-known candidate among seven Democrats running for governor and had the most early support on a ballot test.

20/20 Insight conducted the poll of 762 respondents, which was in the field between November 8 and 10. Pat Rynard wrote up key findings from questions about the Democratic race for governor and posted full results and cross tabs here.
Some 50 percent of respondents had a favorable view of Hubbell, with 7 percent expressing an unfavorable view. While 24 percent said they hadn't heard of Hubbell, all other candidates had much higher "haven't heard" numbers: 44 percent for State Senator Nate Boulton, 48 percent for Dr. Andy McGuire, 57 percent for John Norris, 59 percent for Jon Neiderbach, and 64 percent for Cathy Glasson. (The poll apparently did not measure favorability for Ross Wilburn.) About 19 percent of respondents had "no opinion" on Hubbell, which was comparable to how many said they had no opinion on the other candidates (a range from 17 percent for Glasson to 25 percent for Neiderbach).
With most candidates unknown to most respondents, I don't put a lot of stock in horse race numbers, but not surprisingly, the best-known candidates lead: 22 percent for Hubbell and 13 percent for Boulton, followed by Glasson (6 percent), Norris (5 percent), McGuire (3 percent), Neiderbach (2 percent), and Wilburn (1 percent).
Rynard commented,
Boulton leads the field in the Under 50 category (20% Boulton, 11% Glasson, 16% Hubbell). Norris, who has worked in Iowa Democratic politics and government for decades, is the opposite. The entirety of his support comes from voters 50 and above. Hubbell's support also increases as you go up in age range. […]

The two front-runners are doing exceptionally well in both the Des Moines media market and CD 3, with Hubbell at 25% and Boulton at 23% (Boulton represents part of Des Moines in the Iowa Senate). Glasson's highest numbers come in CD 2, where her home base of Johnson County/Iowa City is located. Hubbell is dominating in the Cedar Rapids market and CD 1 (which includes Cedar Rapids, Dubuque and Cedar Falls), coming in at 26%, while Boulton is only at 8%. Hubbell's TV ads must be particularly effective there, perhaps because there's more voters there who aren't as engaged on the race or don't know many of the other candidates.

Interestingly, Boulton is beating Hubbell in the Davenport media market. Did Hubbell not run as many TV ads in this market (which bleeds into Illinois significantly), or is the strong union base in the Quad Cities boosting the labor candidate? That market also covers a few southeastern Iowa counties, including Louisa, where Boulton grew up in Columbus Junction. Local Boulton supporters have been particularly engaged there in outreach to surrounding counties.

Norris does decent in CD 3 (he's originally from Red Oak, in the southwest portion of the district), and also in CD 4 (his highest support at 9%). Norris has focused in on a rural appeal, which seems to be yielding results in the most rural part of the state.
Keep in mind that the margin of error for subsamples in a poll (like respondents in a certain geographical area or in a particular age range) is always larger than the margin of error for the whole survey, in this case plus or minus 3.6 percent. I wouldn't want to draw any big conclusions about which candidate leads in certain regions of the state, especially with so few respondents well-versed on all the contenders.
That said, the poll findings are consistent with a couple of my anecdotal observations, based on conversations with Iowans from across the state. Voters under age 40 seem much more receptive to Boulton, whereas a lot of older Democrats question whether he has enough experience to beat Governor Kim Reynolds. Many Democrats looking for a more seasoned candidate have told me they are leaning to either Hubbell or Norris.
I believe Norris was the biggest beneficiary of State Representative Todd Prichard leaving the race, because of the remaining contenders, he has the most potential to connect with Iowans outside Polk County. Boulton grew up in Columbus Junction (Louisa County) but has lived in the Des Moines area for all of his adult life. Norris not only grew up in Red Oak (Montgomery County) but operated a business in Greenfield (Adair County) and spent years organizing in rural Iowa. He talks about agricultural issues and economic development outside major metro areas in many of his stump speeches.
Jason Noble's survey of the Democratic field in in today's Des Moines Register treats Hubbell and Boulton as the serious candidates, with Glasson "also gathering support." Many labor unions have endorsed Boulton, and he and Hubbell have far more backing from current and former state lawmakers than do the other candidates. Noble didn't mention the Iowa Starting Line poll and discussed the other four gubernatorial candidates only briefly toward the end of the piece. Right now I see Norris as the sleeper in this race, if he can make himself better-known before the primary.
No other Democratic contender will be able match Hubbell's spending; he's raised well over $1 million so far. As more voters start paying attention next spring, candidates without the funds for at least some paid outreach will be at a huge disadvantage.
We won't know until the financial disclosures come out in January who can manage some statewide direct mail and radio or television advertising. Hubbell's dominance among the "usual suspects" in Iowa Democratic donor circles is likely creating problems for several other candidates. Norris has more ability than the others to raise money outside the state, due to his early support for Barack Obama's campaign and years of work in Washington for the U.S. Department of Agriculture and the Federal Energy Regulatory Commission.
Seeking some clues about the resources available to the candidates, I asked all seven campaigns this week how many paid employees are working full-time or part-time. I didn't hear back from staff for Hubbell or Boulton. McGuire's campaign declined to release that information. Neiderbach hasn't hired employees yet. Wilburn has retained two firms for part-time consulting services. Glasson's campaign has "a staff of eight focused primarily on an aggressive grassroots field program." Norris has five full-time staff, and the campaign is "actively interviewing candidates to expand."
Meanwhile, Hubbell is continuing to build his name recognition around the state. A new 30-second television commercial called "Brutal" focuses on mental health. It hit the airwaves on November 10.
Thousands of Iowa Democrats recently received two direct mail pieces from Hubbell's campaign. Both highlight his longstanding support for Planned Parenthood, which was also the theme of his first tv ad. I enclose images of those mailers below.
Any comments about the governor's race are welcome in this thread.
First direct mail piece from Hubbell's campaign, which reached many Iowa Democrats last week: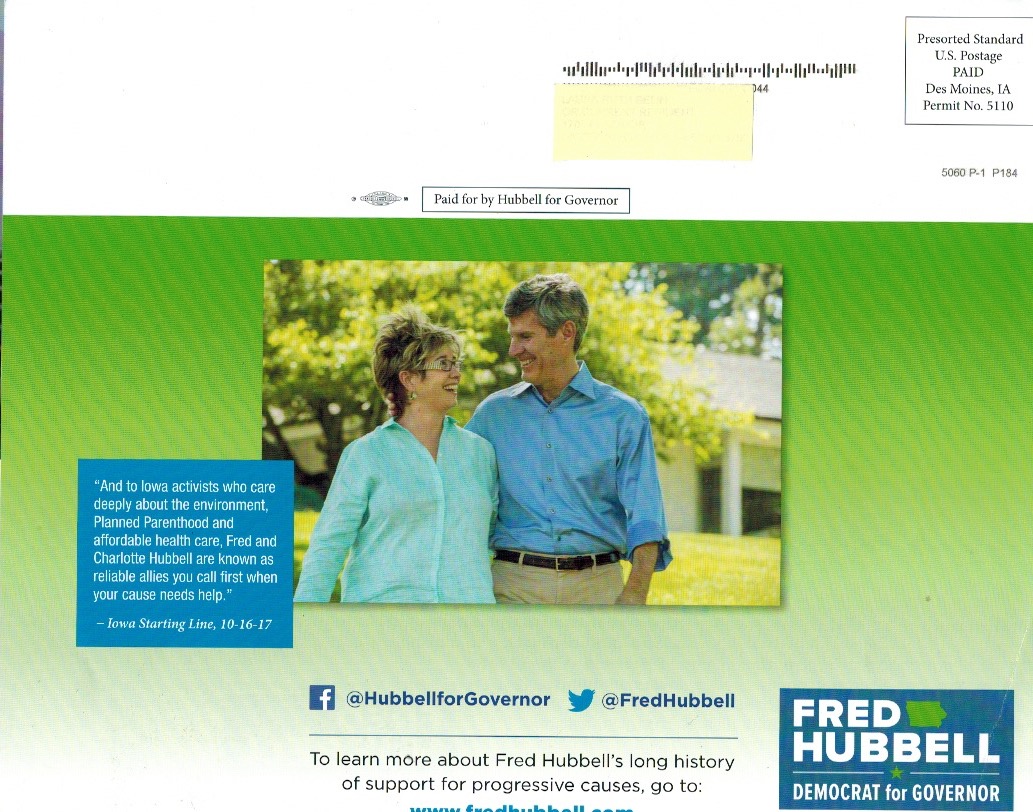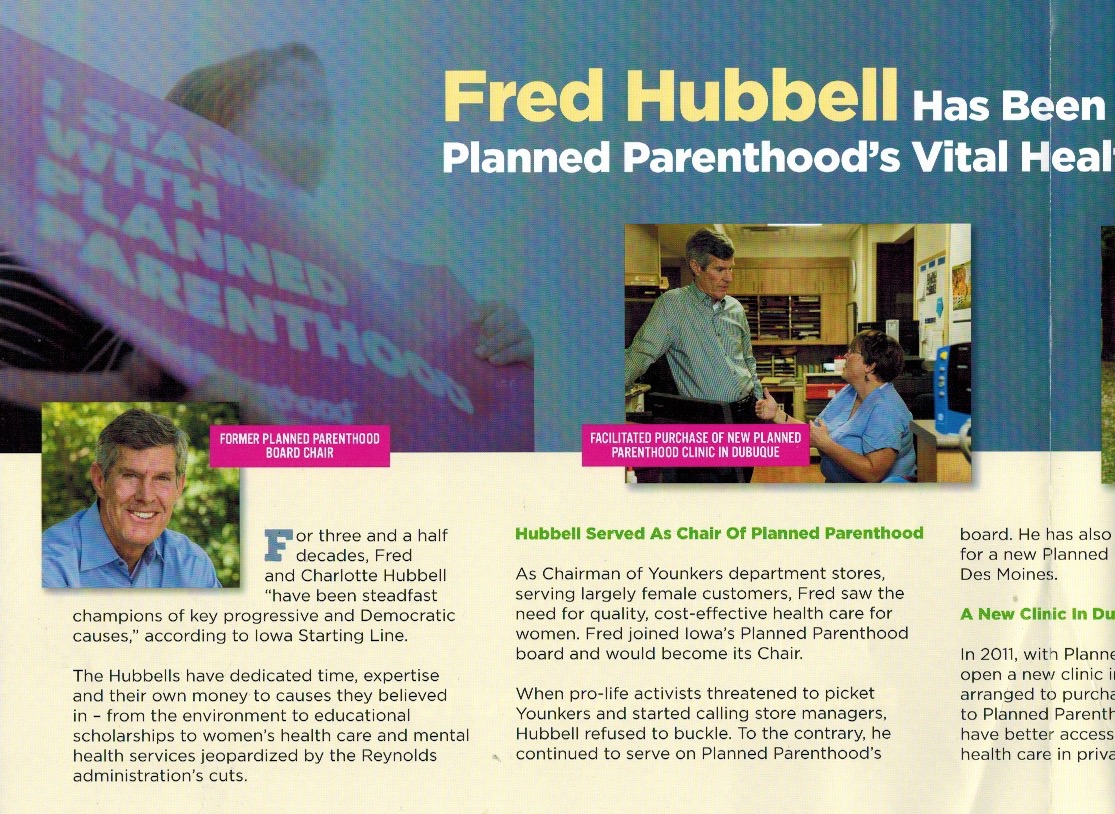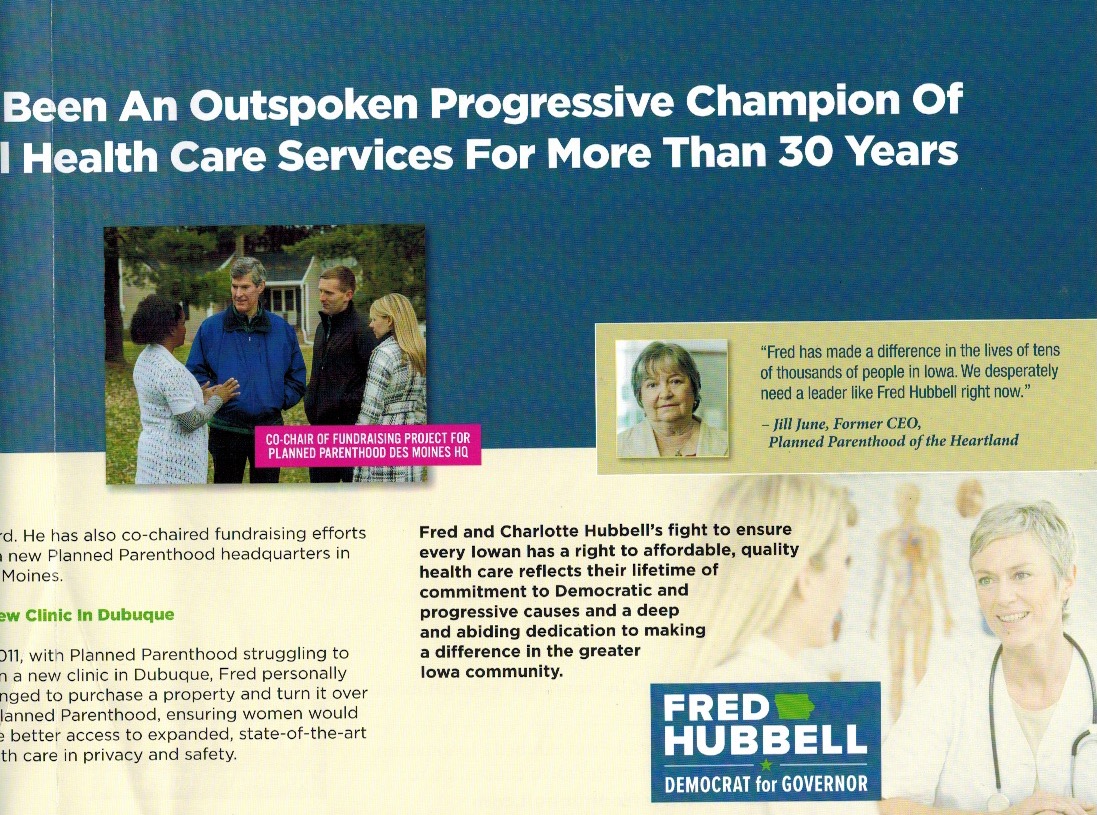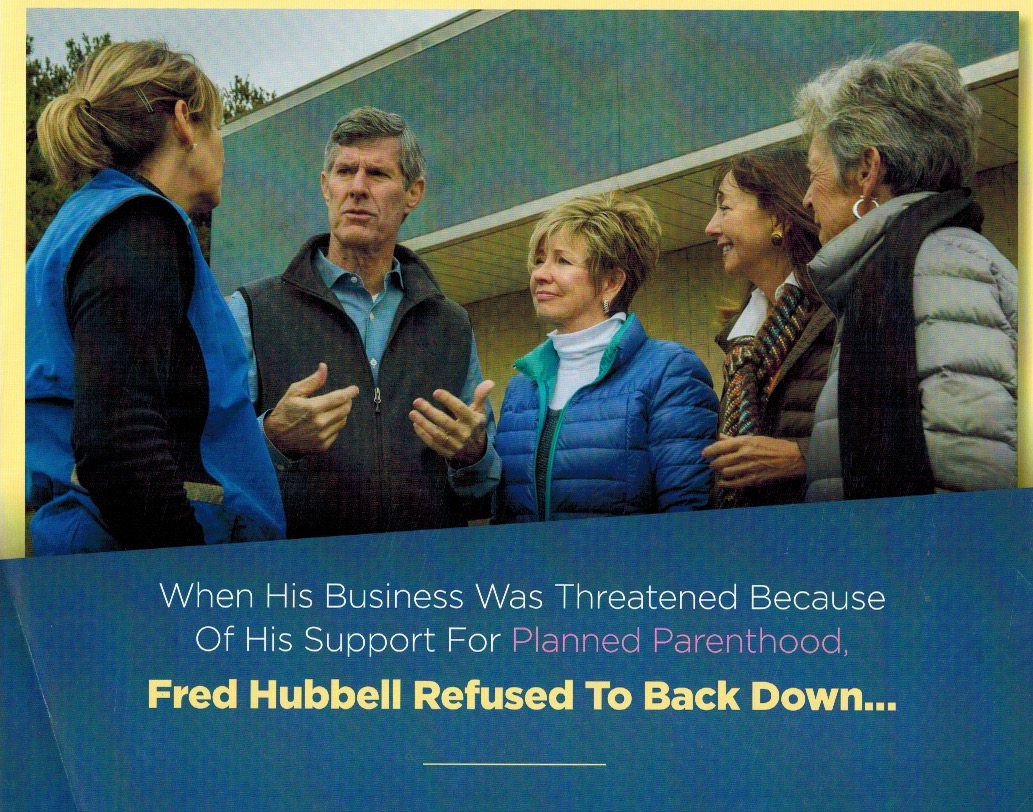 A second Planned Parenthood-themed mailer from Hubbell arrived in the mail on November 15: