Democrats across the country are celebrating tonight after Alabama voters chose Doug Jones over Roy Moore, one of the worst candidates a major party has nominated for a U.S. Senate seat in my lifetime.
In Iowa Senate district 3, a Democratic swing was evident but not large enough for Todd Wendt to carry the day against Republican Jim Carlin.
Watch out, though: the coming special election for Carlin's Iowa House seat should be competitive.

Odds were always long for Wendt in this race to fill State Senator Bill Anderson's seat. Democrats did not field a candidate against Anderson in 2014. Donald Trump outpolled Hillary Clinton among voters here by 68.1 percent to 27.3 percent last year. The latest figures from the Iowa Secretary of State's office indicate that Senate district 3 contains 8,719 active registered Democrats, 17,677 Republicans, and 13,170 no-party voters.
Both candidates could claim to be a good fit for the district. Wendt grew up in Sioux City and recently retired after seventeen years as superintendent in the Le Mars, the largest town in Plymouth County. State Representative Carlin represents House district 6, which makes up half of Senate district 3.
Unofficial results showed Carlin defeated Wendt by 3,591 votes to 2,988 (54.6 percent to 45.4 percent). Plymouth County carried him to victory: unofficial results gave him 1,724 votes there to 1,065 votes for Wendt (precinct-level totals are here).
A bright spot for Democrats: in Woodbury County, Wendt received 1,923 votes and Carlin 1,867. (Click here to view the breakdown by precinct.)
That's encouraging, since most of the Woodbury County voters who cast ballots in today's race live in House district 6, where Carlin won re-election last year with 65.5 percent of the vote and Trump gained 62.4 percent.
With a strong candidate and good GOTV, Democrats have a chance to win the special election early next year on the south side of Sioux City. Several high-profile Democrats helped campaign for Wendt, including State Senator Rob Hogg and gubernatorial candidates Nate Boulton and John Norris. I expect all hands on deck for the next special election. Here's a map of House district 6: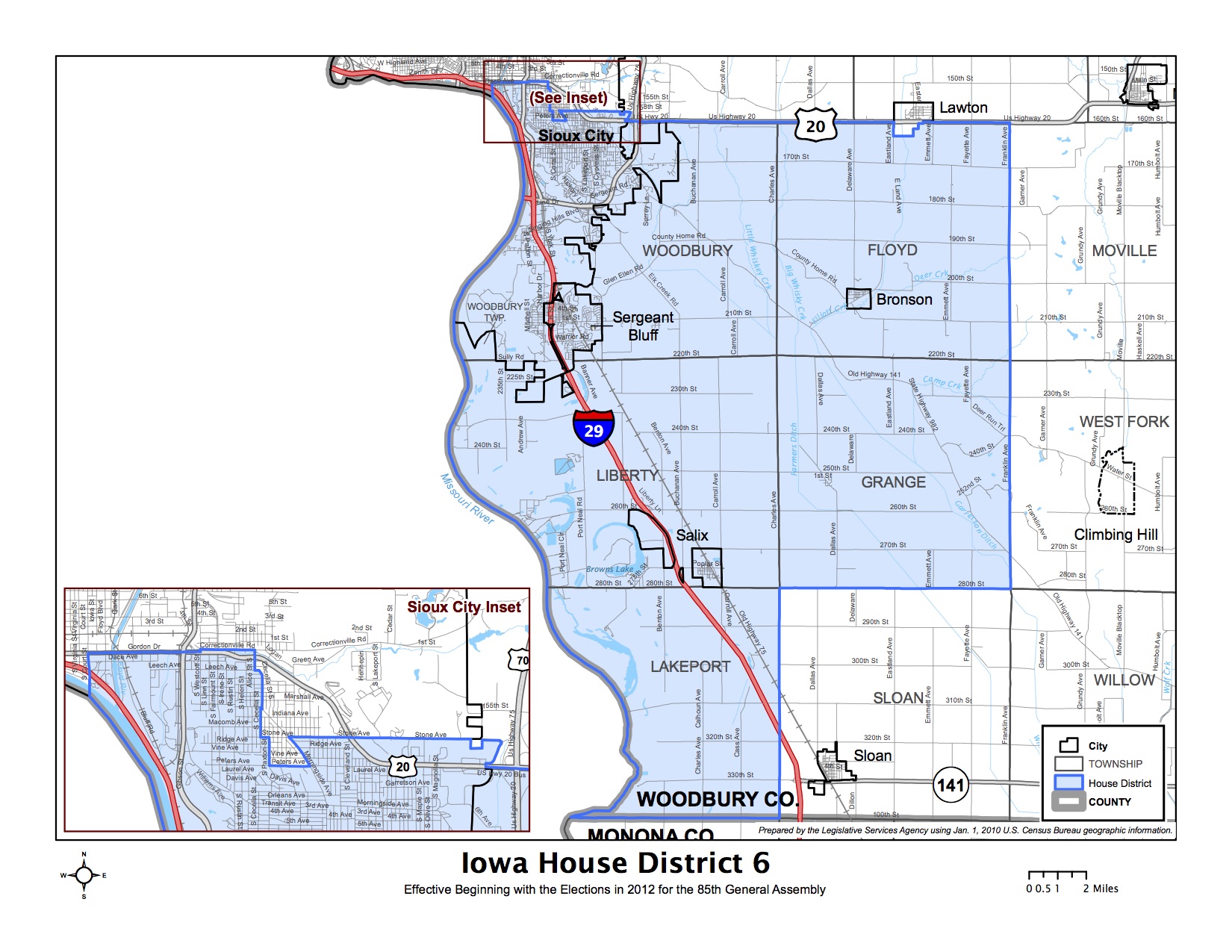 The latest figures show 5,004 active registered Democrats, 7,787 Republicans, and 6,587 no-party voters live in the district where Carlin will soon step down.
Final note: the campaign that just wrapped up in Senate district 3 was a low-budget affair compared to this summer's special election in Iowa House district 82, where both candidates had television commercials running for weeks. Financial disclosure reports filed last Friday showed Carlin had spent $8,127.89 and benefited from another $954.80 in in-kind spending. Wendt spent $12,870.03 from campaign funds and reported another $821.30 in spending on his behalf.
I don't expect the special election in House district 6 to be as pricey as House district 82, but Democrats and Republicans will likely spend more on direct mail and paid advertising than we saw in the Wendt-Carlin race.
Any relevant comments are welcome in this thread.
P.S.- Carlin told Radio Iowa's O.Kay Henderson that his campaign's volunteers made 5,000 phone calls in three days. As for the swing from a 41-point Trump victory to a 10-point edge for him against Wendt, Carlin said, "I don't know that I would read that much into this because it was a special election. You know, I expected it to be closer because it was a special election."