Self-awareness has never been Governor Kim Reynolds's strong suit. Even so, her campaign's latest fundraising pitch, pegged to a harmful immigration bill pending in the Iowa legislature, revealed remarkable layers of hypocrisy.

Iowans on the Reynolds/Gregg campaign's e-mail list received this blast on February 1, with the subject heading "The law is the law." The peg was a bill the state Senate approved last April, which cleared a House subcommittee on a January 30 party-lines vote. Under the legislation, local governments would lose state funding unless they agreed to use jails and police resources to enforce federal immigration laws.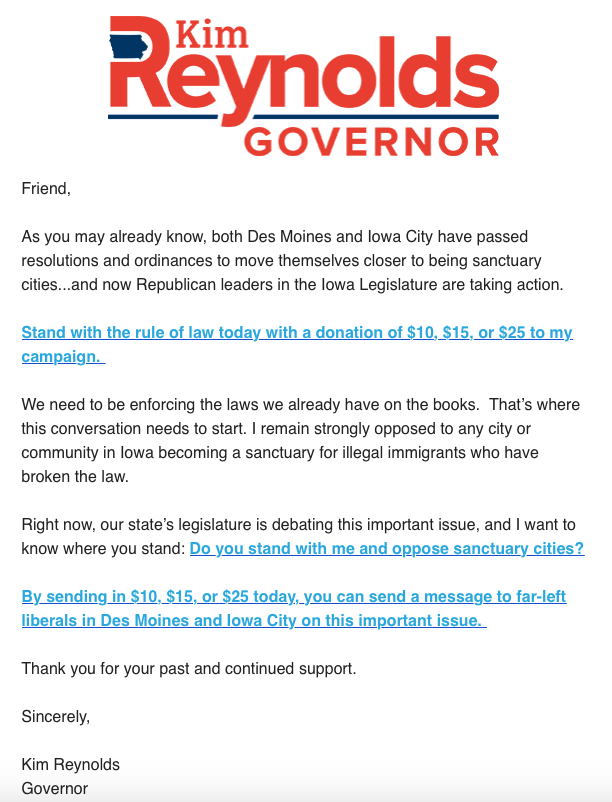 Bashing "far-left liberals in Des Moines and Iowa City" always plays well in Iowa GOP circles. And naturally, a woman who asked Representative Steve King to co-chair her campaign would jump at the chance to score political points off immigrants.
The governor's "rule of law" message has a few problems, however.
"WE NEED TO BE ENFORCING THE LAWS WE ALREADY HAVE ON THE BOOKS"
Reynolds is a defendant in a lawsuit charging that she illegally transferred emergency funds last September. State Treasurer Michael Fitzgerald had warned the governor ahead of time that Iowa Code didn't permit the transfer without legislative approval.
The governor's spokesperson didn't even try to claim Reynolds had complied with the law. Rather, she said "everyone agrees the state budget needs to be balanced — which it now is," adding that the governor would "encourage" state lawmakers to amend the "outdated" law. House Speaker Linda Upmeyer, a close ally of Reynolds, said tactfully, "I do believe that Gov. Reynolds was entirely complying with the spirit of the law ... it was not, perhaps, the letter of the law. So we will be happy to change that."
Reynolds' own take on the lawsuit seemed to acknowledge she wasn't on firm ground: "I feel that we operated within the intent of the law."
Gary Dickey, who is representing the Democratic legislators suing over the fund transfer, commented on Twitter after seeing the February 1 campaign e-mail,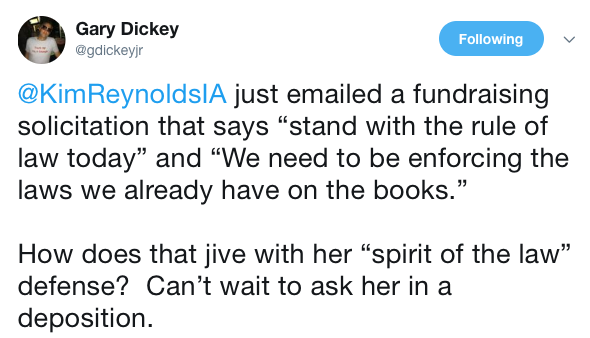 "STAND WITH THE RULE OF LAW TODAY"
Reynolds assured her would-be donors, "I remain strongly opposed to any city or community in Iowa becoming a sanctuary for illegal immigrants who have broken the law." But the Des Moines Register pointed out in an editorial last year,
The act of being in the United States illegally is not, by itself, a violation of criminal law. It's a violation of federal administrative rules. As Polk County Sheriff Bill McCarthy points out, his deputies are not allowed to arrest people for violating federal administrative rules, like cheating on income taxes.
Those charged with enforcing laws overwhelmingly oppose the policy Reynolds is endorsing. The long list of groups registered against the sanctuary cities bill include the Iowa Attorney General's office, Iowa Police Chief Association, Iowa County Attorneys Association, and Iowa State Sheriffs' & Deputies' Association. No law enforcement groups are lobbying for the legislation. No law enforcement officials testified in favor of it during Tuesday's House subcommittee hearing.
On the contrary, multiple police leaders have urged lawmakers not to pass the bill. Marshalltown Police Chief Michael Tupper testified that the sanctuary cities ban would "diminish public safety in our communities."
"We want to build positive relationships in our community. We want people to trust law enforcement. We want people to cooperate with law enforcement. And legislation such as this serves to cause people to go back into the shadows."
Tupper wrote in a Des Moines Register guest column last April,
After a series of raids at a local meat-processing plant about a decade ago, it took years for our police to rebuild trust with immigrant communities, many of whom were separated from their families during the arrests. As rumors of raids circulate, immigrants are less likely to report crimes to our officers, making Marshalltown less safe. [...]

Of course, our department has worked and will continue to work with federal authorities to locate criminals and security threats. We have cooperated with Immigration and Customs Enforcement, for example, by taking part in the Priority Enforcement Program while it was in effect.

But it is in the federal government's purview, not local law enforcement's, to enforce federal immigration laws. Our police department does not have the funding or personnel to carry out enforcement actions for which federal authorities are best equipped.
Allies of Reynolds have promoted a media narrative of the governor as an information gatherer who "takes perspectives from others" and "feverishly" studies policy.
Now she's ignoring the law enforcement community, trolling for cash by promoting a bill no serious organization supports, for which no one even pretended to make a case at this week's hearing. The cynical button-pushing should serve as a cautionary note for Iowa political reporters: be more than stenographers next time the governor's surrogates tell you Reynolds has thoroughly considered some policy question.
"I WANT TO KNOW WHERE YOU STAND"
Following in the footsteps of her mentor, Governor Terry Branstad, Reynolds and her staff regularly dodge questions about her stance on issues by saying she will wait to comment on legislation until the final version reaches her desk.
Here, we see that when it suits her politically, Reynolds is happy to tell the world what she thinks about a bill, well before final passage. At the governor's weekly press conferences, journalists should push harder for Reynolds to explain where she stands on other controversial proposals.
UPDATE: The Reynolds-Gregg campaign also highlighted this issue on its Facebook page for list-building purposes.