Whether you are celebrating or lamenting yesterday's narrow defeat of a local option sales tax for Polk County, you should be worried by how many people attempting to cast ballots received inaccurate information about what Iowa's new voter ID law requires.

This year is the "soft rollout" for the law. The Iowa Secretary of State's website explains,
During calendar year 2018 voters will be asked to show their ID before voting at the polls. Anyone who does not have the necessary ID will be asked to sign an oath verifying their identity, and will be allowed to cast a regular ballot.

Beginning January 1, 2019, Iowa voters will be required to show a driver's license, non-driver's ID, passport, military ID, veterans ID, or Voter ID Card at the polls before they vote. Voters without the necessary ID will be offered a provisional ballot and can provide ID up until the time of the county canvass of votes (Monday after election day for Primary and General Elections).
Yet many central Iowa Democrats described problems they experienced or witnessed trying to vote yesterday without ID. Here's one widely-shared Facebook post by Nate Mundy, who was at the site for Des Moines precincts 1, 10, and 11.
Voter suppression is real people.

I just voted at my precinct. Before I did, they asked for ID. I told them I didn't need an ID, all the polling workers nodded, "yes you do need an ID". I asked for the "oath pad" that I can sign to attest that I am who I say I am. They told me it didn't exist. I told them, that's not true. They handed me a phone and told me to call the election office. Which I did. Then I explained to the election office who I was and where I was trying to vote. They told me I could sign an oath affirming that I am who I say I am. I put the head poll worker on the phone and let the election office explain it to them. They dug around their supply box and found the "oath pad" and let me sign and vote. This was at 5:45 tonight. I wonder how many people were turned away today because they didn't have ID.

Know your rights folks, don't be afraid to speak up and assert yourself.
From Des Moines 80:
My wife and I refused to show ID today, and were forced to use provisional ballots. I know that is wrong (and already I called the Polk County Elections office twice - once when I was at the polling place the guy told me I had to use a provisional ballot and the second the woman agreed that they did not handle this correctly and I should have had a regular ballot.)
An attorney reported after voting in Des Moines 45,
My pollworkers were wrong about voter ID. They told me no way I could vote today without it. I had to fight them and eventually they called the Polk County elections office. The elections office first told them I had to show ID but begrudgingly after I pushed back said "I guess he can sign an oath of identity." It took dogged fighting to exercise my rights and it was basically a hostile interaction. I'm outraged. 99 percent of people would have given up without voting.
Another attorney had a similar experience in West Des Moines 114:
I just voted and was directed to use a provisional ballot. I refused and explained the law to the very nice volunteer who has been put in a terrible position. The election volunteers then said they meant I needed to sign an affidavit.

I am a lawyer and worked on this exact law. That is how I knew the problem. No one who goes to vote should be expected to be a lawyer who worked on this law in order to do. Iowa's worst case scenario happened.
From Clive 3:
I just saw them try to turn someone away because his address didn't match his ID!!!! I walked right up and said "sir, the law has not gone into effect yet. You can sign an oath and you can still vote". He was really grateful but those women gave me some nasty looks.
From Ankeny 1:
I decided at the last minute to go after school drop-off and didn't have my ID with me. I had to insist quite forcefully that I was still allowed to vote, and was just getting ready to pull up the law on my phone to show them when the gentleman finally, grudgingly, passed me the affidavits. He absolutely would have let me walk away if I hadn't insisted and held my ground.
Fewer than 30,000 people cast ballots yesterday. Imagine how many more could be turned away or improperly forced to use a provisional ballot in this year's primary election, which could draw hundreds of thousands, or in November, when more than a million Iowans are likely to vote.
County auditors are responsible for training poll workers. The materials used in Polk County contained accurate information about how to apply the new law; scroll down to view some pages from that document.
What caused the disconnect in some precincts yesterday? Speaking by phone after polls closed, Polk County Auditor Jamie Fitzgerald said only site chairs went through the two-hour training before the March 6 election. "We'll have an extensive training before the primary with all poll workers." Fitzgerald also said the Secretary of State's office is supposed to provide training materials related to the voter ID law to county auditors sometime this spring.
No doubt poll workers need better instructions on how to handle voters without valid ID. But ultimately, Secretary of State Paul Pate, Republican lawmakers, and former Governor Terry Branstad are to blame for any disenfranchisement that occurs in 2018 and beyond. County auditors didn't ask for this voter ID law. Without any evidence of an impersonation problem in Iowa, Republicans pushed it through, knowing that similar laws have prevented numerous eligible voters from casting ballots in other states. We've only just begun to see the harmful consequences.
UPDATE: A number of readers have shared similar stories from central Iowa polling places. Rebecca Dublinske, a precinct captain, encouraged more people to sign up as poll workers--a paid position but a tiring job, as it's a 15-hour day. Recruiting more informed poll workers could reduce the number of errors in June and November.
Democratic State Representative Bruce Hunter rose for a point of personal privilege in the Iowa House on March 6 to recount an event he witnessed at his Des Moines own polling place earlier in the day. (You can watch his speech here, beginning around 5:25:45.) The man in front of Hunte in line showed an expired driver's license when asked to produce ID. The poll worker told him he needed a special voter ID, which the man didn't have, because last year his driver's license had not expired. (The Secretary of State's office mailed ID cards in December only to registered voters who did not have some other valid identification.)
This man had received no communication from the Secretary of State's office warning him that he would be unable to vote without certain forms of ID. Hunter vouched for him as a resident of the precinct, so he was able to cast a ballot.
However, if it was the purpose of this body last year to put those kind of impediments in front of voters before they can vote, you've succeeded.

If it's not, I would suggest, strongly suggest to the secretary of state that maybe he should inform the voters of this state of what they're going to need for the June primary election, for the November elections, so that we have an informed electorate. So that people know what they need to bring to the polls in order to vote. So that if they don't have what they need, they can get it ahead of time.

Unless that's what the object of this was to begin with.
Although Iowa Republicans pretend not to know about it, ID laws suppress participation by some eligible voters everywhere they have been enacted.
SECOND UPDATE: Let America Vote president Jason Kander commented, "This is another example of how Secretary Pate is totally incompetent. He's the reason that Iowa's restrictive, unnecessary voter ID law is in place and he's the reason that some poll workers don't know how the law works. He's damaging Iowans' trust in elections and he needs to be replaced by a voting rights advocate in November."
THIRD UPDATE: MacKenzie Elmer and Brianne Pfannenstiel reported for the Sunday Des Moines Register
Iowa Democrats highlighted their concerns from the floor of the House of Representatives on Thursday, offering more than a dozen amendments to a bill making adjustments to the voter ID law passed last year.

Among those amendments were provisions to repeal the voter ID requirements entirely, impose new public education measures and expand the types of valid ID accepted. Each amendment was voted down by the Republican majority.

Rep. John Forbes, D-Urbandale, said his wife grabbed the wrong purse Tuesday and did not have her ID when they went to vote. He said she was almost denied a normal ballot, but because he knew the details of the law, he was able to remind poll workers of the law's requirements.

"I'm afraid when we roll around to our next election in June ... there's going to be more and more confusion," he said. "... I think it's important that we, at least for the next primary election in the state of Iowa, that our poll workers are educated and know how to deal with situations and follow the law here in the state of Iowa." [...]

Kevin Hall, a spokesman for Pate, a Republican, said Pate has partnered with all 99 county auditors and is holding bipartisan meetings across the state to educate voters. Hall said Pate also is working with colleges and universities to ensure students know how to vote.

"We have reached hundreds of thousands of voters through targeted social media alone," Hall said in a statement. "Our efforts will continue, including a full-scale media plan, in the leadup to the 2018 June primary.
Page 2 of training materials used for Polk County site leaders before March 6 election: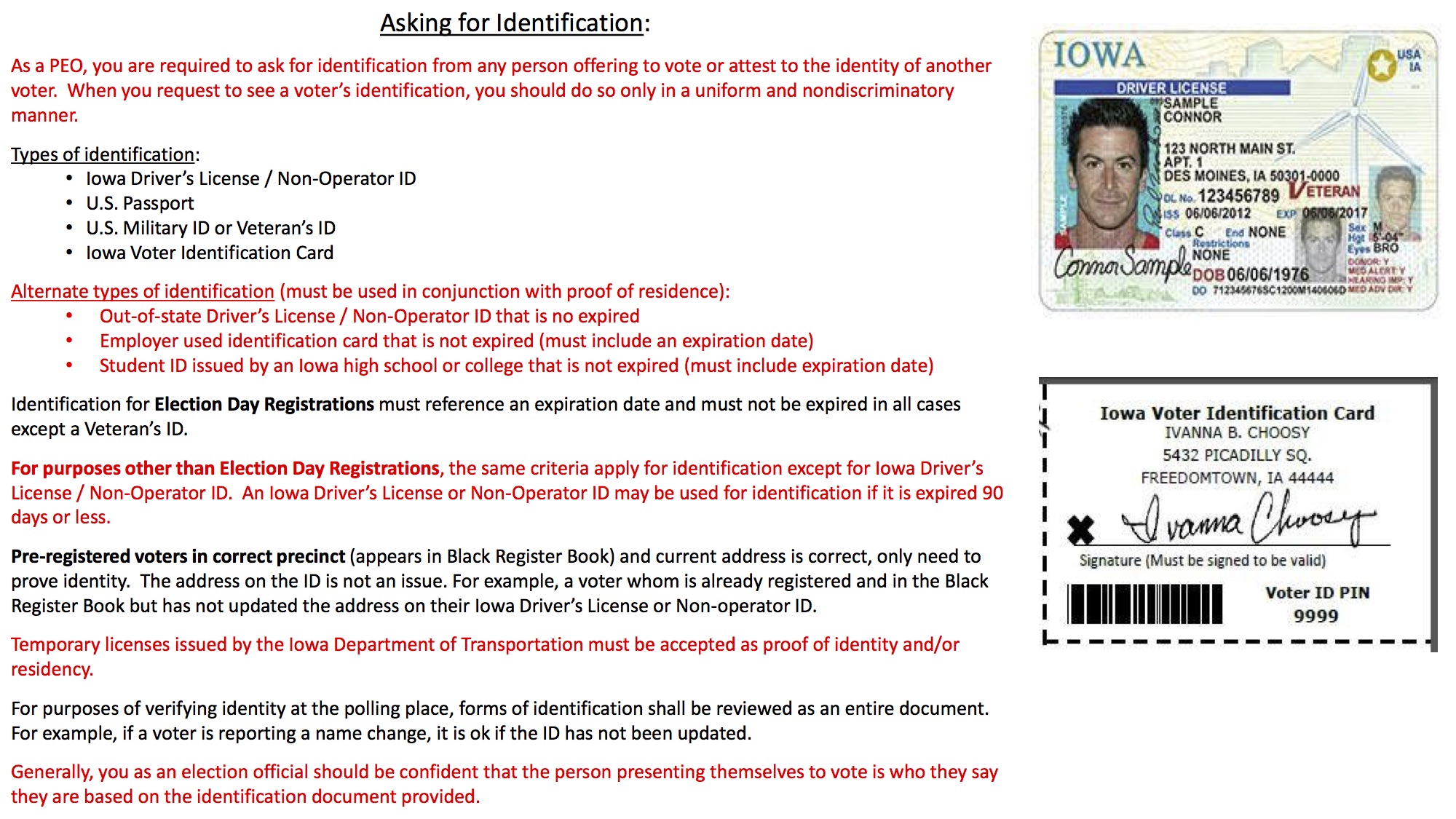 Page 3: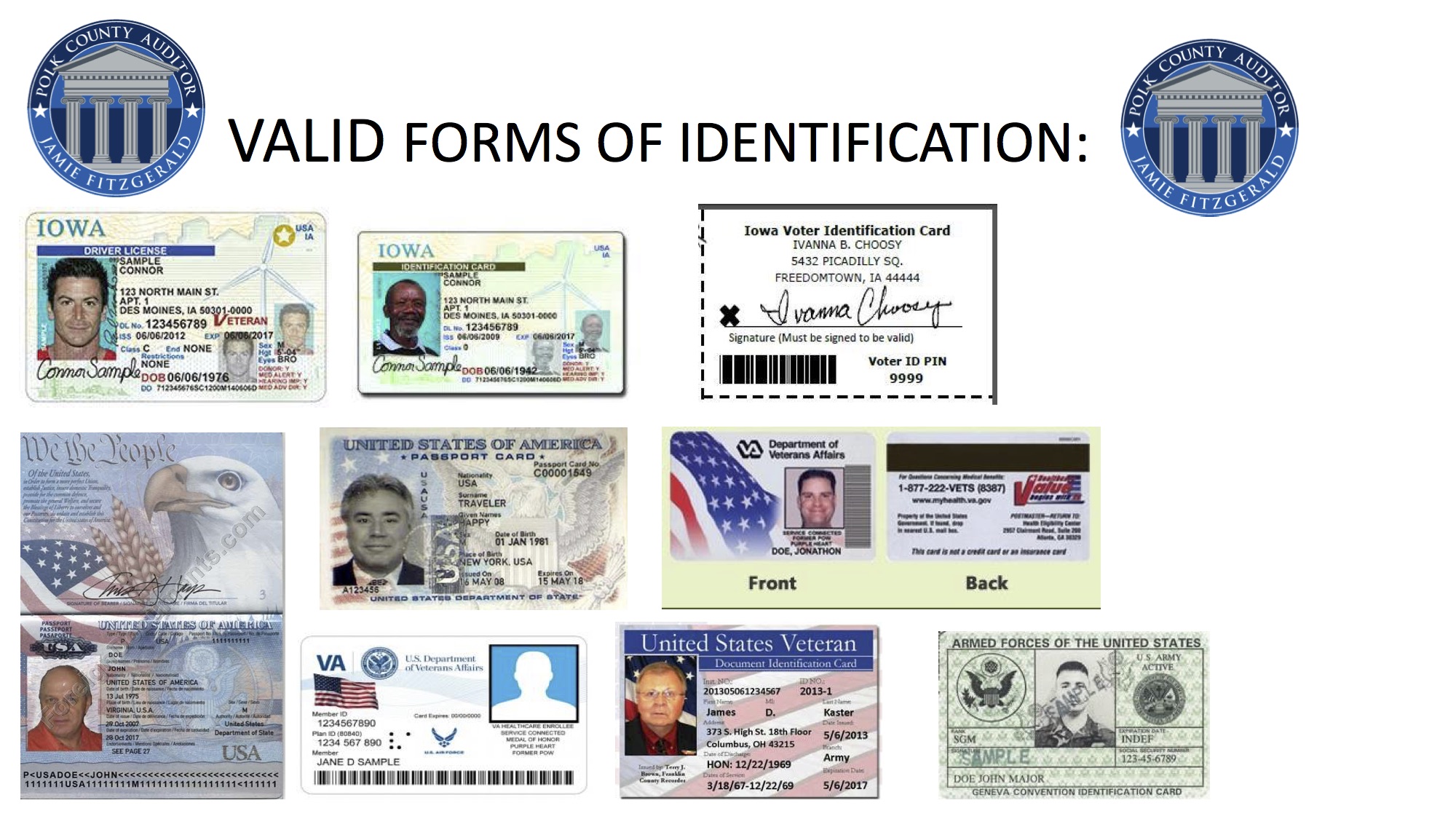 Page 4: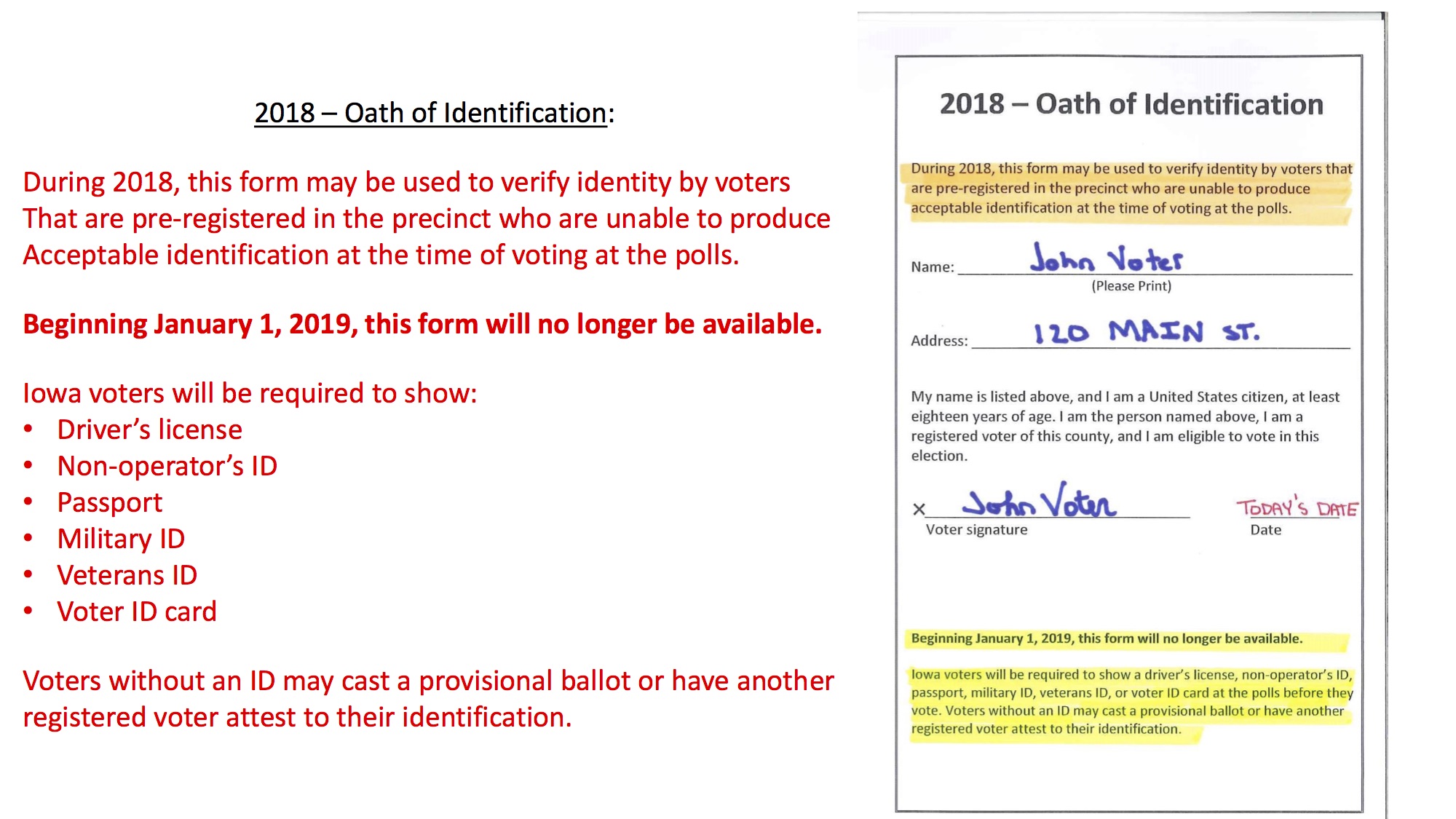 Page 8: