Voters in Iowa Senate district 25 will elect a successor to disgraced former Senate Majority Leader Bill Dix on April 10. The special election campaign is happening on a compressed timetable because the vacancy arose during the Iowa legislature's session. Dix should have faced pressure to resign last year over his many missteps in handling sexual harassment in the Senate GOP caucus. Instead, he stepped down unexpectedly last week after publication of a video and photographs showing him "in a romantic relationship" with a lobbyist.
Local Democrats nominated Tracy Freese for the special election on March 17. Sweeney won the GOP nomination three days later. The former Republican lawmaker will be heavily favored on April 10 and in the November election for a full four-year term. However, if Freese keeps it closer than expected, the special election may provide a snapshot of high Democratic voter engagement, like the recent over performance by Todd Wendt in Iowa Senate district 3 and Rita DeJong in Iowa House district 6.

Senate district 25 covers all of Hardin and Grundy counties, plus much of Story County outside Ames and some rural areas in Butler County.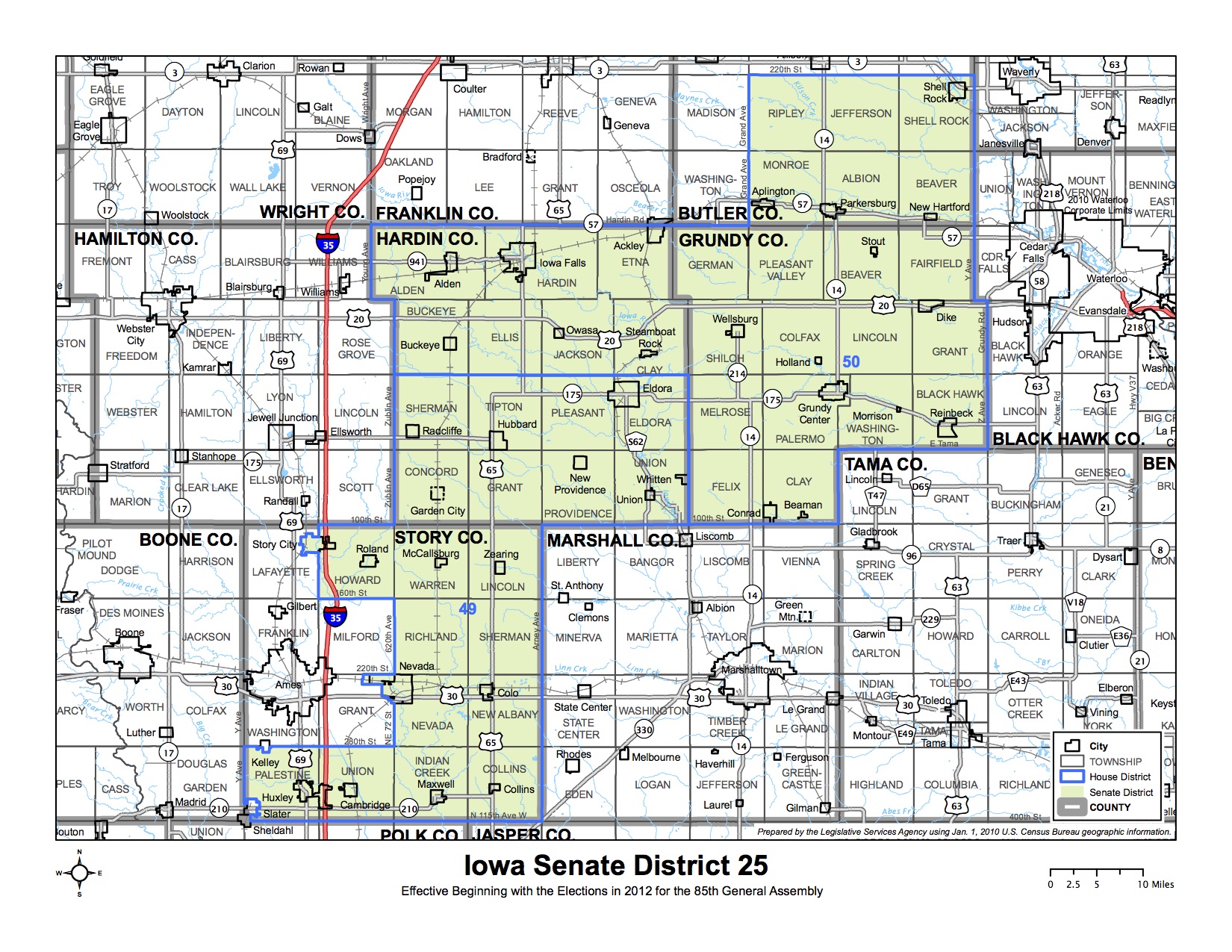 Since Dix was unopposed in 2014, we don't have a baseline for the expected vote in this Senate race. But in the last general election, voters here preferred Donald Trump to Hillary Clinton by 59.8 percent to 33.6 percent. The district contains 8,258 active registered Democrats, 16,275 Republicans, and 15,054 no-party voters, according to the latest figures from the Iowa Secretary of State's office.
Freese is in the largest cohort of women ever to run for the Iowa House or Senate. She's also among the many Iowa Democrats stepping up as candidates in legislative districts the party had left uncontested in the last two midterms. (Freese was actively campaigning for months before the abrupt end to Dix's career.) In addition, the Grundy County Democratic chair is one of many local leaders who became involved in party politics for the first time after the 2016 election. As you can see from the biography on her website, she is an impressive candidate.
I was born and raised in Clinton, IA. My parents divorced when I was 2. I lived with my mother, Jane, who was diagnosed with Multiple Sclerosis and deemed permanently disabled by 1987. Mom never remarried and remains the strongest fighter I've ever met. Even with her diminished mobility, she is more active than any of us.

My father, Dennis, is a union welder and pipe fitter whom I visited on the weekends growing up. Dad went on to marry Mary, my bonus mom, and I was given two incredible step-brothers, Dustin and Jesse, by the age of 11. Today, as I raise my own children, we remain a wonderfully blended family just like so many others in Iowa. Life is really great and I am thankful to the people that raised me.

It's important to understand that I don't just talk Progressive politics – my life is grounded in them.

You see, my mother faced the brutal reality of being single and unable to work because of a debilitating disease by the time she turned 28. My formative years relied on monthly Social Security checks, free lunch programs, and heating assistance. I received my Bachelor's degree in Business Administration from The Franciscan University through PELL Grants and Subsidized Stafford loans. I then went on to fund my own Master's Degree in Organizational Communication from UNI while working full-time.

From 2004 on, I focused my career on insurance, investments, and estate planning.

I specialized in helping Iowa farm families move agriculture assets from one generation to the next. It was incredibly rewarding work and exposed me to amazing Iowans all over the state.

I am 110% convinced that Iowa's farm families are some of the most professional, prudent, and hard-working enterprises ever. But, there is a darker side to financial services, one that favors profits over people. It was that reality that kept me up at night and forced a hard realization: I was not going to trade my integrity for a high salary any longer.

After a decade of Wall Street caliber finance on Main Street, I decided it was time to use my business acumen for myself. So, with the help of a Grundy County Economic Development loan, I launched a global online marketing company in 2014 from my kitchen table in Dike. That same tiny operation now employs seven people, has worked with 3,000+ clients from 82 different countries and continues to grow at a rapid pace.

Wondering if I still help Iowa farm families? I never stopped. Today, I do it privately, without any conflicts of interest. As a fee-only Chartered Trust and Estate Planner, I promote fiduciary finance that places the clients' interests ahead of the advisors' commission. While most people believe that is the way the financial services industry currently operates, it does not. Protecting Iowans from predatory finance is one of my main ambitions with this bid for the capitol. It's what I know.
Democrats are already writing postcards and organizing volunteers to knock doors for Freese. State Senator and gubernatorial contender Nate Boulton will be among this weekend's canvassers. Other Democratic candidates for various offices are likely to join the effort before April 10.
On the Republican side, Sweeney represented Hardin County for two terms in the Iowa House before the post-census map threw her into the same district as fellow GOP State Representative Pat Grassley. He won the ensuing 2012 primary by a wide margin despite a negative ad campaign largely financed by Sweeney's longtime friend Bruce Rastetter. There don't appear to be lasting hard feelings, though; Sweeney had only token competition from chriopractor Chad Buss for the GOP nomination in Senate district 25. (He has also filed to run against her in the June primary.)
Andrew Wind reported on the March 20 district convention for the Waterloo/Cedar Falls Courier.
"I am going to hit the ground running," said Sweeney, who represented what was then Iowa House District 44 during her stint in the Legislature from 2009 to 2012. "Thank you so very much for your confidence in me."

In her nomination speech, she emphasized her rural background, fundraising prowess and the network of supporters maintained since her time in the Legislature.

"I'm here to help our state move forward by applying traditional commonsense values," said Sweeney. "I see Iowa poised to lead the whole world."

Sweeney noted she garnered a lot of support on social media after announcing plans to run. "The campaign account is already secured with thousands (of dollars) committed," she said.
Following Dix's resignation, Sweeney stepped down after only a few months as the U.S. Department of Agriculture's state director for rural development. Her farming connections will be the principal talking point during the campaign, judging by the Iowa GOP press release announcing her nomination. Excerpts:
"As Iowans, we understand the call to pledge our hands to larger service," said Sweeney. "I have been working on behalf of rural Iowa communities my entire life, and I look forward to the opportunity to continue that work in the Iowa Senate. Iowa families deserve a world-class education system to teach the skills employers need, as well as prepare students for the new career opportunities."

An Iowa native, Sweeney grew up on a family farm near Buckeye. After graduating from college, Sweeney educated middle school students as a teacher of English and speech. Upon her father's untimely death in 1983, Sweeney moved back home to Buckeye to take over the family farm with her mother and sister. Annette and her husband Dave still operate the farm today.

"Annette Sweeney is a major force in Iowa's agriculture community and her record speaks for itself," said Republican Party of Iowa Chairman Jeff Kaufmann. "Annette is abundantly qualified to represent the constituents of this district, and we look forward to helping her win on April 10."

Sweeney has deep connections to Iowa's agriculture community. During her time as a State Representative, Sweeney served as chair of the Iowa House Agriculture Committee. Most recently, she served as Iowa Rural Development Director for the United States Department of Agriculture.

Sweeney has served in numerous professional and community leadership positions with various organizations, including the Iowa Agriculture Water Alliance, Iowa Women in Agriculture, Hardin County Assessor Board and Review, Iowa Farm Bureau Federation, Iowa Soybean Association, Iowa Corn Growers Association, Iowa Cattlemen's Association, National Cattlemen's Beef Association, Iowa 4-H, Iowa Angus Association, and Congressman Tom Latham's Ag Advisory Task Force.
Sweeney's main achievement as chair of the Iowa House Agriculture Committee was floor managing the first "Ag Gag" bill passed in the U.S. That law is being challenged in federal court and will likely be found unconstitutional.
Any relevant comments are welcome in this thread.
UPDATE: At least 45 people attended a March 21 event for Freese in Iowa Falls, headlined by fourth Congressional district candidate J.D. Scholten, according to an activist who was there. That's a big turnout, considering that Wednesday is "church night" in many Iowa towns.
The Freese campaign released the following statement on March 22:
"We reject Trump appointee, Annette Sweeney's, assertion that voters should "move on" from the culture of corruption and scandal exposed by Bill Dix's embarrassing behavior in Des Moines. We support measures that protect Iowans from harassment and bullying.

Annette Sweeney condoning such blatant abuses of power is not the type of leader needed in the statehouse. Time is up for business as usual. Iowa families deserve better."
They were reacting to this part of a speech by Sweeney, as quoted in the Ames Tribune on March 15: "It's unfortunate the incidents that's happened before, but you know what? Move on. It's a private issue now, and Senate District 25 — Butler, Grundy, Hardin and Story (counties) — that's our concern now. And let's focus on that. Let's be positive about that."