Hundreds if not thousands of Des Moines voters received a mailing on May 26 attacking State Senator Matt McCoy, who is challenging incumbent John Mauro in the June 5 Democratic primary for Polk County Supervisor District 5. The piece featured the headline and first two sentences from a ten-year-old Bleeding Heartland post, "McCoy to pay fine to settle ethics investigation."
That fine stemmed from an illegal contribution to Mike Blouin's campaign for governor in 2006. But the extortion charge cited in the same mail piece was not proven in court. On the contrary, the case was arguably an abuse of power by then Republican U.S. attorney Matt Whitaker. The third claim in the anti-McCoy mailer seems like a stretch as well.

Title Fight, a company owned by Lou McDonald, paid for the mail piece highlighting three alleged violations by McCoy. McDonald is a "former digital director for presidential candidate Martin O'Malley's Iowa campaign" and declared his intention to run for the Polk County supervisor seat earlier this year, but withdrew from the race. His firm paid for a website opposing McCoy as well as this mailing.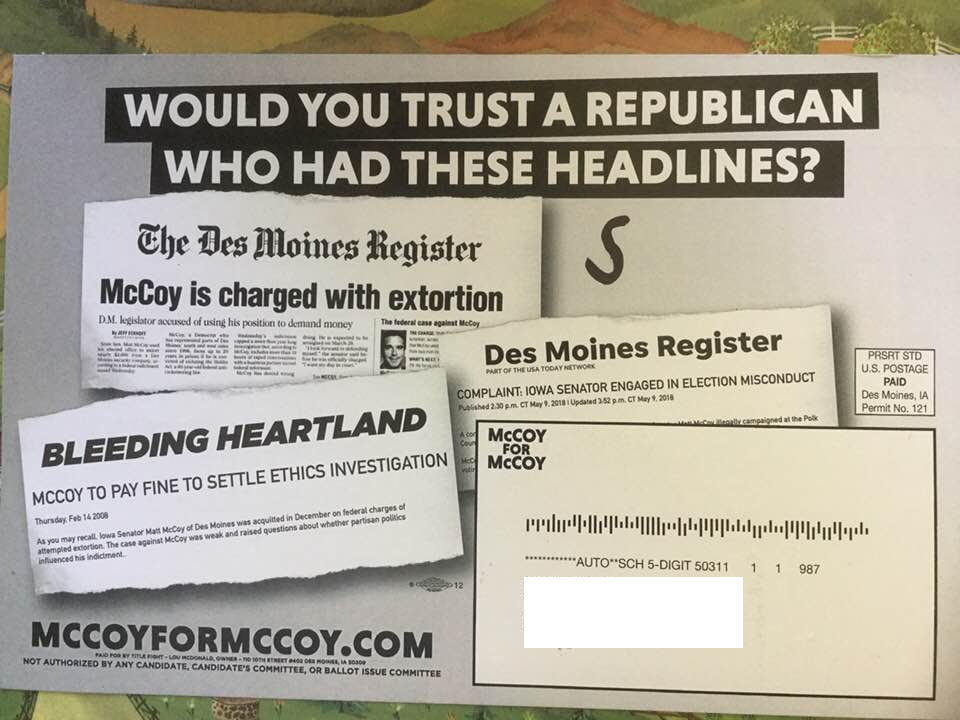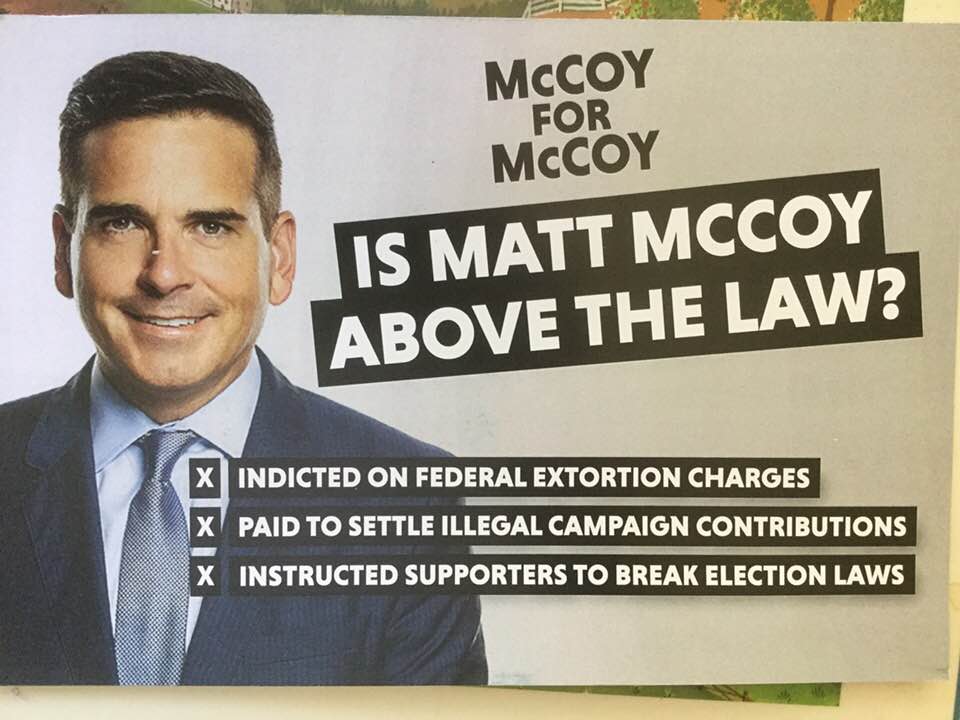 Whitaker's office charged McCoy with extortion in March 2007 over alleged threats against the owner of a security firm. The senator "called the charge 'completely baseless'" and "described his dealings with Security Plus as 'a business dispute between two partners that went sour,'" Charlotte Eby reported for the Mason City Globe-Gazette at the time. A jury later acquitted McCoy in an hour and a half, including a lunch break.
Des Moines Register columnist Marc Hansen, among others, questioned Whitaker's decision to prosecute. Rekha Basu noted in a December 2007 Des Moines Register column that the government's star witness was described by associates as "a drug user, a deadbeat and an abuser of women," as well as a "pathological liar."
Not surprisingly, it took a Des Moines jury less than two hours to acquit McCoy.

But even if the outcome is the right one, the outrage is that the federal government would pour two years and all sorts of taxpayer money ($2,600 of which went right into [Tom] Vasquez's pocket) into building a case over a private business dispute.

Why would the federal government contact, wire and pay an informant without checking him out–or, worse, despite knowing he was disreputable? It has all the earmarks of a politically motivated witch hunt.
It's disappointing that a Democrat would cite this case as a reason not to vote for McCoy ten years later.
During the extortion trial, evidence emerged that local Republican businessman John Ruan III wrote McCoy a personal check for $2,500 in December 2005, putting "Mike Blouen" in the memo line. Shortly thereafter, McCoy donated $2,500 to Blouin's gubernatorial campaign. Ruan presumably funneled his contribution through McCoy so his donation to a Democratic contender would not become public knowledge. (He has mostly supported Republican candidates and committees over the years, but he occasionally donates to Democrats.)
Iowa Code 68A.502 prohibits "a contribution or expenditure in the name of another person." Under a settlement reached in early 2008, both Ruan and McCoy agreed to pay a $1,250 civil administrative penalty to the Iowa Ethics and Campaign Disclosure Board. Neither man admitted intent to break any campaign finance law.
The third point raised in the mailing alludes to an ethics complaint John Mauro's campaign manager filed earlier this month. On the first day of early voting, McCoy stood outside the Polk County Elections Office speaking with voters. He posed with some supporters wearing his campaign t-shirts in a video posted on Facebook. Jason Clayworth reported for the Des Moines Register on May 9,
McCoy contends he was simply greeting people and talking with them about early voting, not about any specific candidate or ballot issue.

But Derek Snyder — the campaign manager of Polk County Supervisor John Mauro, who witnessed the event — said he believes McCoy crossed a legal line. Snyder noted that multiple people were wearing shirts advocating for McCoy when they entered the building and voted.
Iowa Code 39A.4 lays out several examples of prohibited election misconduct in the third degree, including "Loitering, congregating, electioneering, posting signs, treating voters, or soliciting votes, during the receiving of the ballots, either on the premises of a polling place or within three hundred feet of an outside door of a building affording access to a room where the polls are held […]."
Snyder's complaint alleged that McCoy's "willingness to flout the law on social media is indicative that he will continue this activity unless your office enforces the law and maintains order at polling locations." Speaking to the Des Moines Register, McCoy characterized the complaint as "part of the silly season."
That sounds about right. McDonald's mail piece claims McCoy "instructed supporters to break election laws." However, Iowa law allows members of the public "to wear a campaign button or clothing when they go to vote," as long as they "leave the polling place as soon as they are done voting." The Facebook video was only 33 seconds long–would a court really view that length of time as illegal loitering?
Moreover, McCoy was not wearing any of his own campaign gear that day and didn't ask viewers to vote for him in the video. Rather, he encouraged early voting and provided the address and opening hours of the Polk County Elections Office.
Any comments about the supervisor's race are welcome in this thread.
P.S.–John Mauro is an uncle of Eddie Mauro, one of three Democrats running for Congress in the third district, which includes Polk County. Both campaigns are investing in GOTV, and a double dose of Mauro on the ballot should help both candidates. Pat Rynard reported for Iowa Starting Line on May 15 (a week into the early voting period) that "Polk County accounts for 36% of all the Democratic early vote requests in the state," and 65 percent of the Polk requests came from precincts in the fifth county supervisor district.