Governor Kim Reynolds swore an oath to "support the constitution of the United States and the constitution of the State of Iowa." But when she missed a deadline for filling a district court vacancy in June, she did not follow the process outlined in Iowa's constitution.
Public records obtained by Bleeding Heartland indicate that Reynolds did not convey her choice for Judicial District 6 to anyone until four days after her authority to make the appointment had lapsed. Nevertheless, staff assured the news media and Iowa Supreme Court Chief Justice Mark Cady that the governor had named Judge Jason Besler on time.
Reynolds and Secretary of State Paul Pate later signed an appointment and commission certificate that was backdated, creating the impression the governor had acted within the constitutionally-mandated window.

"THIRTY DAYS TO MAKE THE APPOINTMENT"
Under a merit selection system in place since 1962, nominating commissions made up of attorneys and political appointees consider candidates seeking to become Iowa judges. The appropriate regional or state commission sends the governor two nominees for district court vacancies or three for Iowa Supreme Court and Court of Appeals vacancies.
Article V, Section 15 of the state constitution stipulates, "If the governor fails for thirty days to make the appointment, it shall be made from such nominees by the chief justice of the supreme court." The Iowa Code section on judicial appointments is also crystal clear: "If the governor fails to make an appointment within thirty days after a list of nominees has been submitted, the appointment shall be made from the list of nominees by the chief justice of the supreme court."
Records show the chair of the nominating commission for Judicial District 6 submitted the names of nominees Jason Besler and Ellen Ramsey-Kacena on May 22. That gave Reynolds until June 21 to choose. The governor's staff processed dozens of letters of recommendation for the nominees and scheduled interviews for both candidates with Reynolds on June 11. Later the same day, the governor interviewed Michael Jacobsen, a finalist for another vacancy.
The governor's office announced in a June 21 press release that Reynolds had appointed Jacobsen to serve in Judicial District 5A. The deadline passed with no word about Judicial District 6.
On Monday, June 25, a new press release stated that the governor "appointed Jason Besler Thursday as district court judge in Judicial District 6." Reynolds has named more than a dozen judges since May 2017. In almost every other case, the press release went out on the day of the appointment.
THE COVER STORY
Trish Mehaffey reported on Besler's appointment for the Cedar Rapids Gazette on June 25, touching on questions about the timing.
Steve Davis, Iowa Judicial Branch spokesman, said the court is "generally not notified" by the governor's office regarding judge appointments, and they do not track the 30-day deadline.

The governor planned to contact Besler when she made the appointment Thursday, but "attention to flooding and other matters" postponed the call, Brenna Smith, spokeswoman for the governor said Monday.

And the news release was delayed until both nominees were contacted, she added.
The governor's "attention to flooding and other matters" (appearances in Cedar Falls and Decorah) did not stop her from appointing Judge Jacobsen on June 21. Moreover, her public schedule shows just one event each on June 22, 23, and 24. Yet on the morning of June 25, she still hadn't called Besler or informed anyone in the judicial branch about her choice.
Reynolds' chief of staff Ryan Koopmans contacted Molly Kottmeyer, counsel to Iowa Supreme Court Chief Justice Mark Cady, on June 25 to discuss the situation. Kottmeyer e-mailed Koopmans the following day,
Thank you for your phone call yesterday morning informing me that Governor Reynolds made the appointment of Jason Besler to fill the district court vacancy in the Sixth Judicial District on Thursday, June 21, and that she planned to notify him of the appointment after our phone conversation. I also subsequently observed that the Governor acknowledged in an article in the Cedar Rapids Gazette that she made the appointment on June 21.

As you know, article V, section 15 of the Iowa Constitution requires the Chief Justice to make the appointment "[i]f the Governor fails for thirty days to make the appointment" after submission of the two nominees. Iowa Code section 69.10 provides appointments "shall be in writing" and "filed" in the Office of the Secretary of State. With this appointment, I understand the two nominees were submitted to the Governor on May 22, 2018, and the last date the Governor was authorized under the law to make the appointment is June 21. We trust that the appointment was made within thirty days as required by the constitution, and the date the appointee was notified would have no legal significance.
Just one problem: Besler's appointment wasn't made in writing by June 21. Koopmans spoke with Cady's counsel by phone again on July 2 and e-mailed later that day,
Molly — Thanks for following up. As we talked about last Monday morning, the governor made the verbal appointment on the 21st while she was on the road and then signed the letter on Monday. Often the letter is not signed immediately and it is rarely, if ever, filed with the Secretary of State before 30 days. The same is true for the signed oath. I understand that's not inconsistent with the practice of the last seven years and maybe before that. Thanks for talking again this morning; I'm happy to discuss further if you or the Chief would like to do so. As always, your thoughts are welcome.
Reynolds' out-of-town events at 3:00 pm and 6:00 pm on June 21 did not prevent her from naming Jacobsen as district court judge, which her staff announced at 4:00 pm.
Nor is it accurate to say the governor "often" doesn't sign such letters right away. This file contains copies of every letter sent to a judge Reynolds picked from June 2017 through June 2018. Almost all were dated the same day the governor's office had issued a press release about the appointment. In contrast, the letters to Besler and Jacobsen (pages 3 and 4) had no date near the top.
It's extremely unusual for a government official to send an undated formal letter. I'd never seen a document like this one before receiving public records related to Besler's appointment.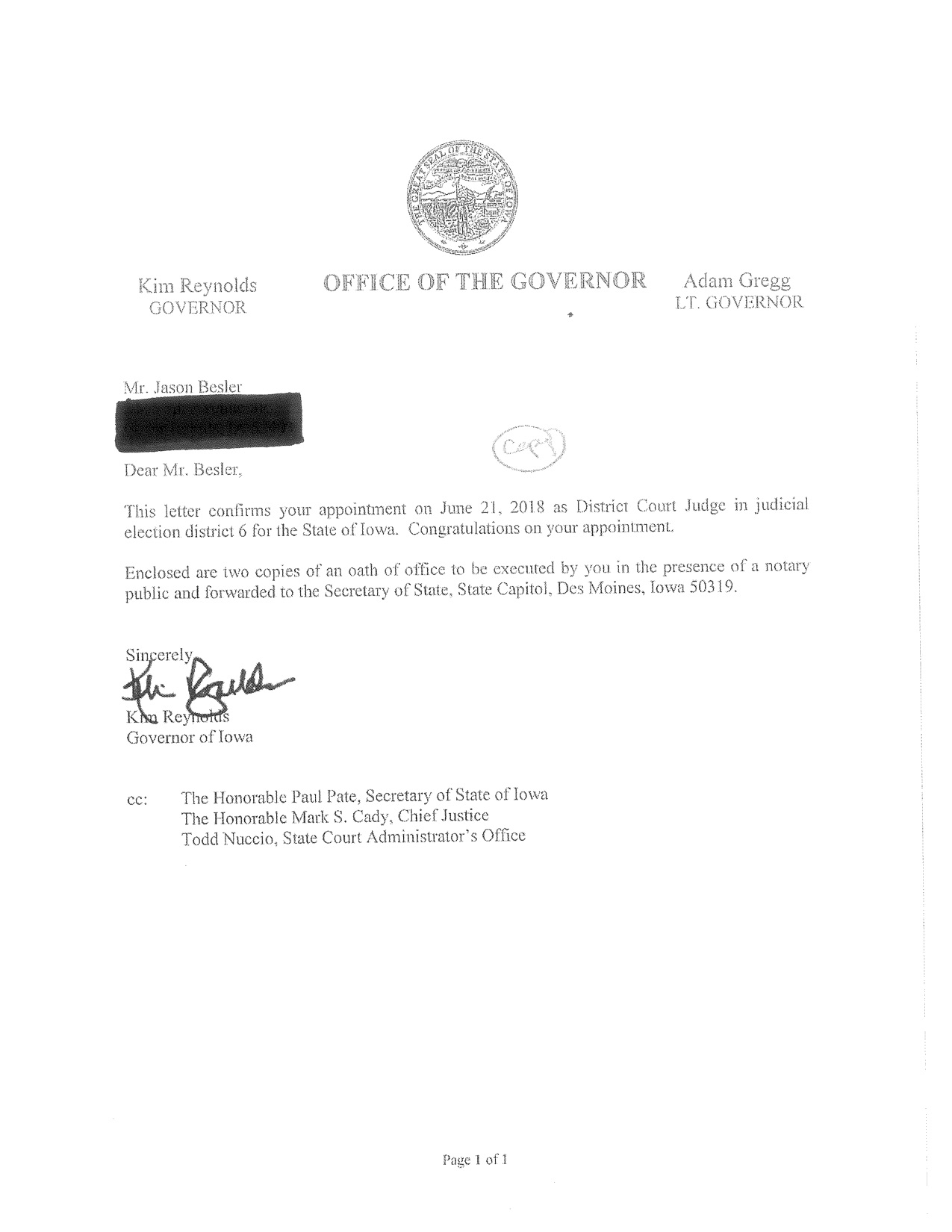 There are additional reasons to doubt the cover story.
THE "VERBAL APPOINTMENT" PROBABLY NEVER HAPPENED
The governor's staff admit Besler did not learn about his new job until June 25, the same day judicial branch officials and the public found out. So to whom did Reynolds communicate this alleged "verbal appointment" on June 21? Neither Koopmans nor the governor's spokesperson Brenna Smith have answered that question.
My records request about the June 2018 judicial appointments turned up hundreds of pages of hard copy documents and electronic files (part 1, part 2, part 3, and part 4). I found no record indicating that Reynolds talked to anyone on June 21 about appointing Besler.
A thought experiment: let's assume that while Reynolds was on the road, she or someone in her office realized her 30 days to fill the Judicial District 6 vacancy were almost up, and she verbally expressed a preference for Besler. What might have happened following such a conversation?
• Someone could have looked up Besler's phone number so the governor could call from the vehicle, leaving a voice mail if he was not available.
• The staffer traveling with Reynolds could have worked up an appointment letter on a laptop or mobile device and found a place to print it in Decorah or Cedar Falls, so Reynolds could sign in between official events.
• Staff in Des Moines could have prepared an appointment letter and, with the governor's permission, signed it using an autopen.
• Reynolds could have hand-written on any piece of paper, "I hereby appoint Jason Besler as district court judge in Judicial District 6 on June 21, 2018."
• Someone could have e-mailed colleagues back at the capitol to prepare a press release announcing the governor had selected Besler.
• Someone could have called or e-mailed the chair of the judicial nominating commission, or the state court administrator, or the office of chief justice, to say Reynolds had decided on Besler and would make the news public after she had spoken to him.
• The governor's legal counsel could have recorded in the executive journal (a book kept in the governor's office) that Reynolds had selected Besler on June 21 and would sign corresponding documents upon returning to Des Moines.
None of the above happened. The alleged "verbal appointment" was not memorialized in any way. Reynolds did not contact Besler on June 22, 23, or 24, days on which she had few events scheduled.
Which scenario is more plausible: 1) Reynolds remembered while traveling that she needed to appoint this judge and discussed her choice with someone, after which no one followed through to comply with the deadline spelled out in the constitution?
Or 2) the Judicial District 6 vacancy slipped everyone's mind (due to "attention to flooding and other matters") until someone realized the morning of June 25 that Reynolds was supposed to have made the appointment four days earlier?
IOWA LAW DOES NOT RECOGNIZE THINKING OUT LOUD AS AN OFFICIAL ACT
Given the lack of supporting evidence or actions to notify anyone about Besler's selection prior to June 25, I don't find it credible that the governor talked with anyone on June 21 about appointing him. But even if she was thinking out loud about picking Besler on that day, a conversation documented by no one would not satisfy the constitutional requirement for a governor to "make the appointment" within 30 days of receiving the list of judicial nominees.
As the chief justice's counsel Kottmeyer mentioned in her June 26 message to Reynolds' chief of staff, Iowa law states that appointments by the governor "shall be in writing." Similarly, the code calls for officials to make resignations in writing, for the governor to accept resignations in writing, declare states of emergency in writing, and issue pardons, commutations, or restorations of voting rights in writing. Executive orders and proclamations about everything from natural disasters to special elections to topics of public concern (e.g. Concussion Awareness Month) take effect only after the governor signs a document.
The code section on judicial appointments calls for judges to submit resignations in writing, for the chair of the judicial nominating commission to be informed about vacancies in writing, for members of judicial nominating commissions to receive written notice about meetings, for individuals seeking to become judges to submit written applications, and for the commissions to submit a list of nominees to the governor. No step in the process happens verbally.
A two-page legal analysis the governor's staff prepared for the chief justice argued that a governor need not document her choice for a judicial vacancy within 30 days. I've enclosed the full memo below (Appendix 3). The unnamed author–presumably Koopmans–advanced six arguments.
• "The Governor makes an appointment when she chooses the nominee to serve as a judge." (citing a Kentucky high court ruling from 1930) "[W]hen that condition of mind is reached with the appointer he has in his own mind made an appointment"; any formalities that happen later are not necessary to confer validity on the act. (citing a New Hampshire high court ruling from 1820)
By that standard, a governor could delay appointing a judge for weeks or months, then claim to have decided before the deadline passed. Who's going to prove her wrong? No one can read her mind. There needs to be some way for an external observer to verify that the governor picked a candidate within 30 days of receiving the list.
• A judicial appointment may be finalized even if the judge-to-be has no idea he has been chosen. (citing events that happened during President George Washington's administration)
If Reynolds had told someone in the judicial branch or signed any piece of paper appointing Besler on June 21, then the timing of her conversation with him would be irrelevant. However, the available evidence points to one conclusion: the first anyone heard about this selection was on June 25.
• "To be sure, the appointment is an official act […] that must be recorded in the executive journal. […] And the appointment 'shall be in writing' and filed in the Secretary of State's Office. […] But failure to comply immediately with these documentary requirements would not affect the validity of an appointment and would instead merely 'be an irregularity only which could be complied with at any time.'" (citing a 1933 Iowa Supreme Court decision, Halbach v Claussen)
The circumstances surrounding the Halbach case were different. No one disputed the governor had appointed George Claussen to the Iowa Supreme Court in October 1932. The plaintiff argued (among other things) that Claussen's appointment was invalid because the justice later neglected to file his commission with the secretary of state.
The question at hand is whether Reynolds appointed Besler while she had the authority to fill the sixth district vacancy. If any public record confirmed that she acted by June 21, it would not matter when her staff made a note in the executive journal or submitted paperwork to the Secretary of State's office.
• The constitutional provision setting a 30-day window was "designed to prevent a governor from shrinking the judiciary by refusing to fill judicial vacancies." (citing a book by University of Iowa law professor Todd Pettys)
The wording in Article V, Section 15 is unambiguous. After 30 days, the authority to appoint a judge shifts from the governor to the chief justice. There's no exception for a governor who wasn't trying to shrink the judiciary but simply didn't have her act together.
• Requiring the governor to complete "the writing and filing" within 30 days "would infringe upon the Governor's constitutional authority to appoint judges" by reducing the time available to choose. "And conditioning the Governor's constitutional authority to make the appointment on the satisfaction of these additional statutory requirements would impermissibly alter the balance of the appointment power between the Governor and the Chief Justice. This, a statute cannot do."
For 55 years after Iowans enacted the current judicial selection system, no governor failed to make an appointment within 30 days of receiving the list of nominees. Suddenly, because Reynolds' staff dropped the ball, it's an assault on the separation of powers to expect some proof the governor met the deadline? No one has suggested all paperwork related to Besler's appointment had to be completed within 30 days. Signing a letter or notifying someone, anyone, by phone or e-mail or text message about his new job would have taken only a few minutes on June 21.
Imagine applying this memo's logic to a governor's other time-limited powers. Article IV, Section 16 of Iowa's constitution gives the governor three days to veto a bill presented while the legislature is in session. If she takes no action, the bill goes into effect. Following the Reynolds staff's reasoning, requiring a signed veto message within three days would infringe upon the governor's constitutional authority. She should be able to veto the legislation several days later, claiming she had decided to rejected it during the three-day window.
• The Iowa Constitution "does not require the Governor to issue a commission to judges or other state officers." The people "could have imposed additional duties on the Governor with respect to appointments in the Constitution, but they did not do so."
This point is a distraction. Reynolds could have conveyed her selection of Besler in any number of ways–a public speech, press release, phone call, e-mail, scribbling on a note pad. She didn't need to issue a formal commission. She only needed to demonstrate somehow that she made the appointment by June 21.
THE CHIEF JUSTICE CAPITULATES
Cady had never heard of a governor failing to notify a judicial appointee within the 30-day time frame. Yet Koopmans insisted that even though Besler learned about his judgeship on June 25, Reynolds had made the appointment four days earlier. The governor's chief of staff isn't some political hack; he's an attorney who has argued cases before the Iowa Supreme Court.
The chief justice could have demanded evidence that Reynolds acted in time. But the governor's office had already announced Besler's appointment and told the news media it happened on June 21. Cady had his counsel write to Koopmans on June 26, "Iowa Code section 69.10 provides appointments 'shall be in writing' and 'filed' in the Office of the Secretary of State. […] We trust that the appointment was made within thirty days as required by the constitution, and the date the appointee was notified would have no legal significance."
At some point, the governor's office produced the two-page legal analysis discussed above. That memo acknowledged there was no written record of Reynolds appointing Besler on June 21. In his July 2 e-mail to Kottmeyer, Koopmans portrayed the mess as no big departure from precedent. "Often the letter is not signed immediately […] I understand that's not inconsistent with the practice of the last seven years and maybe before that."
Now Cady faced two sub-optimal choices. He could assert his authority to make the appointment, sparking a public clash with the governor during an election year. Or he could go along to get along.
Kottmeyer wrote to Koopmans on July 6 to convey "the true thoughts and feelings of the chief justice about the essential need for trust in government and its application" to the Besler appointment. The full text is enclosed below (Appendix 4). Excerpts:
Those authorized to act in government must often also decide what is required to be done to carry out their responsibilities. This is true in making a judicial appointment under the Constitution. It means it is up to the governor to give meaning to the constitutional directive for judicial appointments to be made within thirty days […] The chief justice understands and appreciates the responsibility of the Governor and other public officials to make such decisions, and views that authority and discretion with the greatest deference and respect. He believes respect and comity from within government is as essential to achieving greater public trust and confidence of government, as are the checks and balances built into government.
Part of Cady's job is to ensure government officials and agencies follow the constitution. Governor Terry Branstad decided in 2011 that he could veto legislative language keeping Iowa Workforce Development field offices open without rejecting the funding designated for those offices. The Iowa Supreme Court later held unanimously that was an impermissible use of Branstad's line-item veto power.
Kottmeyer's letter pushed back gently against the assertion that Reynolds' handling of the Besler appointment was "not inconsistent with the practice of the last seven years and maybe before that." Otherwise, Cady bought into the official narrative.
In practice, the chief justice has always considered a judicial appointment was made when it was communicated to the nominee. […] To my knowledge, it is a practice that has always occurred within thirty days of the nomination by the judicial nominating commission. Nevertheless, this long-standing practice does not mean judicial appointments cannot be made in other ways.

With the recent district judge appointment in the 6th judicial district, the Governor's Office communicated to the chief justice, the secretary of state, and the public that the appointment of Jason Besler as district court judge was made on Thursday, June 21, 2018, which was day thirty following the nomination. You have further communicated that Governor Reynolds made "the verbal appointment" on that date, but did not notify Besler or issue a public statement on the appointment until Monday, June 25, 2018. Although the appointment was not communicated to Besler or made public until Monday, June 25, Governor Reynolds determined that the appointment was made on June 21 when she made the decision to select Besler. Consequently, the chief justice respectfully defers to and accepts the decision by Governor Reynolds that this appointment was made on June 21.
The one person who could have held the governor accountable allowed her to usurp his constitutional authority. In the absence of any sign Reynolds had talked about appointing Besler on June 21, Cady took Koopmans' word for it and let the governor save face.
A BACKDATED CERTIFICATE
The records provided by the governor's office included Besler's appointment and commission certificate. To my surprise, the document was dated June 21. Reynolds and Secretary of State Paul Pate could not have signed it until the following week at the earliest.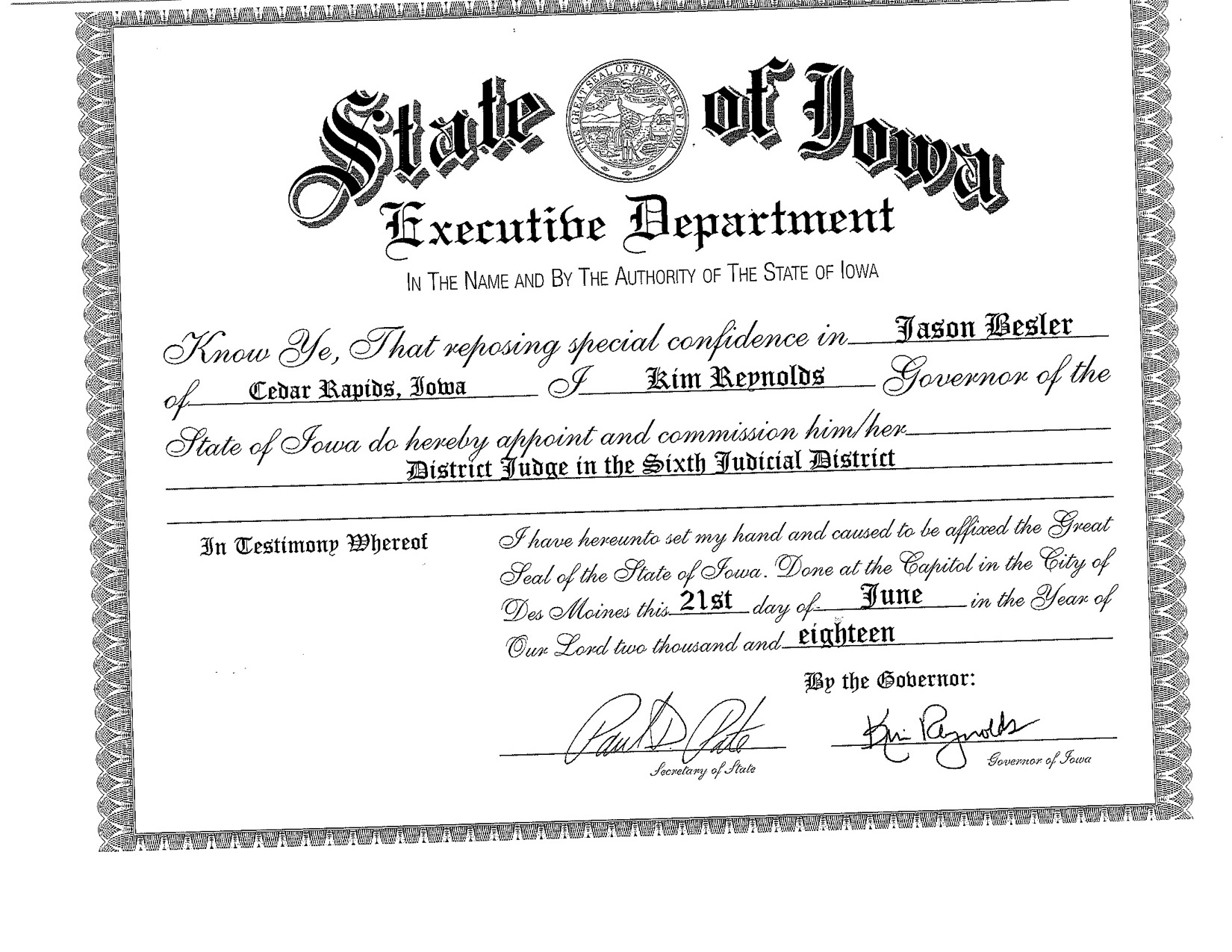 I have been unable to determine whether this certificate was executed before or after Kottmeyer wrote to confirm the chief justice would not challenge Besler's appointment. The governor's spokesperson told me, "We do not have a record of when the commission certificate was signed by the governor, but you are correct that it was sometime after June 21." She added,
These certificates, which are frameable poster-sized documents (you were provided a reduced-size copy), must be specially printed outside of our office. We often do not receive them for signing until several weeks after the appointment. Since they memorialize the earlier appointment (and when they are prepared, it is unknown on what date they will be returned to our office and signed), the long-standing practice has been to consistently print them with the date of appointment rather than the date of signing.
Really? My impression is the Culver and Vilsack administrations did not put the wrong date on judicial appointment certificates. Dates on official documents are supposed to show when they were signed. Under state law, it is "felonious misconduct in office" when any public employee knowingly
1. Makes or gives any false entry, false return, false certificate, or false receipt, where such entries, returns, certificates, or receipts are authorized by law.
2. Falsifies any public record […].
3. Falsifies a writing, or knowingly delivers a falsified writing, with the knowledge that the writing is falsified and that the writing will become a public record of a government body.
Pate's communications director and legal counsel did not respond to repeated inquiries about when Pate signed Besler's appointment certificate and whether he regularly signs backdated documents prepared by the governor's staff. The Secretary of State's office oversees notaries, whose job is to prevent fraud by ensuring legal documents reflect who signed and when.
The counsel to the chief justice and the communications director for the judicial branch had no comment on whether it is lawful or appropriate for the governor and secretary of state to sign backdated documents.
Backdating to memorialize an earlier event can be legitimate, if the document does not misrepresent when the event occurred, Jeffrey Kwall and Stuart Duhl wrote in a 2008 scholarly article on the subject. To avoid confusion, attorneys are advised to identify the date of execution or use "as of" wording on any backdated document. Besler's appointment certificate lacks such language.
A Wisconsin Bar Association publication cautioned in 2009, "an attorney should not backdate documents without first seeking some independent confirmation the acts occurred on the stated date [….] Never backdate to memorialize a prior act unless it is certain the act occurred on the specified date."
As discussed above, no other written records demonstrate that Reynolds appointed Besler on June 21.
A CHORUS OF CONSERVATIVE REPUBLICAN ENDORSERS
Before reviewing the records, I wondered why Reynolds would put her chief of staff to so much trouble to avoid admitting a mistake. Granted, a missed deadline reflects poorly on the governor's office. On the other hand, district court appointments are hardly major news fodder. Allowing the chief justice to name one judge wouldn't have been a front-page story, even for a day.
Had Koopmans told Cady's counsel that Reynolds preferred Besler for the sixth district vacancy, the chief justice probably would have obliged, given his deeply-rooted sense of deference to the governor's appointment power. And if he didn't, so what? Besler and Ellen Ramsey-Kacena were both well qualified.
After reading the letters of recommendation, I see why Reynolds would not want to take any chances with this appointment. Besler was not only a Linn County prosecutor with eighteen years of courtroom experience, but also a Republican activist and passionate opponent of abortion.
One supporter after another vouched for Besler's commitment to GOP candidates and social conservative principles. Here are the most striking examples (not an exhaustive list). Click on any name to bring up that person's full letter to Reynolds:
Republican National Committeeman Steve Scheffler, president of the Faith and Freedom Coalition and a longtime leader of the Iowa Christian Alliance:
I have known Jason since 2002 due to our activities working for candidates within the Republican Party and working on behalf of social conservative ideals.
Former Iowa House Speaker Kraig Paulsen:
I have known Jason since 2001 when he agreed to support and assist me on my first campaign for the Iowa General Assembly.
Cedar Rapids attorney Christopher Dolan:
I have known Jason and his family for over 12 years attending Cedar Valley Bible Church. I have also worked with Jason in Republican politics and more importantly, on right to life issues, and I know that he shares your deep personal commitment to protecting unborn Iowans.
Dr. Donald Nelson:
I have been acquainted with Jason and his family as we attend the same church. I have also worked with him as a fellow member or board member of local civic and charitable organizations. He has also been an active member of the Linn County Republican Central Committee, which I currently serve as secretary.
Cedar Rapids attorney Joseph Bertroche, Jr.:
I would respectfully request that you consider the fact that the Sixth Judicial district is virtually devoid of any judges who would be considered "conservative". At present, the Sixth Judicial District is clearly the bastion of liberal and democratic power […].
Iowa Senate Republicans communications director Caleb Hunter:
I first met Jason in 2002 and have stayed in touch with him over the years. I found him to be a kind, consistent, and thoughtful conservative. His addition to the Iowa judicial branch would be a benefit to both the state of Iowa and in the advancement of conservative jurisprudence.
Former GOP State Representative Josh Byrnes, a Luther College classmate of Besler's:
My fondest memories with Jason were when he and I sat in the tv lounge at Ylvisaker debating the 1996 presidential election with our liberal floor mates. It was at that point and time I learned of Jason's innate ability to debate, his passion for politics and conservative principals [sic].
Rob Gettemy, a corporate executive and GOP candidate for Congress in 2010:
I have worked with him both as a Rotarian and as fellow board members for a local crisis pregnancy center.
Anti-abortion activist Jenifer Bowen:
I wanted to let you know that in my former capacity of CEO for Iowa Right to Life, I worked often with Jason.

He is an outstanding man, who treasures life and liberty for all people.
Tyler Johnston, a public defender and self-described "card carrying liberal and Democrat":
If he ever ran for political office, I would oppose him tooth and nail. But I can think of no other contemporary of mine who would make a better Judge.
Of all the judicial appointments to botch! Besler isn't just a registered Republican and loyal GOP voter; he's been an active volunteer for various campaigns and the Linn County Central Committee. He isn't just personally opposed to abortion; he's been a board member for a Cedar Rapids crisis pregnancy center where women seeking medical advice are misinformed and proselytized.
No wonder Reynolds wanted to put this bright, dedicated conservative on the bench.
Those aspirations should never have been allowed to supersede the constitution, though. Iowans adopted merit-based judicial selection with a view to removing partisan politics from the judiciary, unlike states where judges are elected or the governor can reward political allies with judgeships.
THE RULE OF LAW AND THE REYNOLDS LEADERSHIP STYLE
If Besler is qualified for the job, who cares whether Reynolds appointed him on June 21 or June 25? The source who tipped me to this controversy speculated in June that the judge's future decisions might be invalidated because his appointment was not legitimate. I am not aware of any mechanism for disgruntled defendants or litigants to challenge the legality of Besler's rulings, though. The chief justice is now on record accepting that Reynolds appointed Besler on time.
The problem is not this judge, but the governor's disregard for the rule of law. When Reynolds wants to do something, a legal barrier is no deterrent. We saw it last year, when State Treasurer Michael Fitzgerald warned Reynolds her plan to balance the fiscal year 2017 budget with emergency funds "would not be in compliance with Iowa law." The governor ignored him. It suited her and fellow Republicans not to call the legislature back for a special session.
A group of Democratic lawmakers filed suit, claiming the governor had conspired "to unlawfully appropriate and misuse state funds" without legislative approval. The case never went to trial, because instead of defending their prerogative to be part of important budget decisions, Republican state legislators retroactively approved the governor's action.
Forgetting a pending deadline could happen to anyone working in a busy office. Reynolds' lack of integrity is far more disturbing. The records don't show whether any of her aides tried to persuade her to let the chief justice handle this appointment, as the constitution demands once 30 days have passed. If they did, she didn't listen.
Phone calls, e-mails, and a poorly-reasoned legal memo achieved the desired result. Cady enabled Reynolds' power grab. The judicial branch website now presents as fact that Besler "was appointed to the bench on June 21, 2018," as does the backdated commission certificate.
And that's how Kim Reynolds got away with violating Iowa's constitution.
P.S.- About a month after requesting documents related to the June 2018 district court appointments, I was anxious to receive the materials. A Reynolds staffer floated the possibility of narrowing my search in order to get the files "into your hands much faster." Most of the responsive records were letters of recommendation, typically containing some personal information that needed redactions, she explained. She could leave them out if I preferred. I'm glad I declined the offer, even though it meant waiting another couple of weeks. Without those letters, I would have missed important political context. Word to the wise: when in doubt, say no if a records custodian suggests narrowing the scope of your request.
UPDATE: Some readers have asked whether Attorney General Tom Miller might investigate the backdated certificate as possible fraud. Lynn Hicks, spokesperson for the Attorney General's office, told me on September 18, "We respectfully decline to comment."
SECOND UPDATE: Reynolds answered a few questions about this matter on September 19. Joyce Russell reported for Iowa Public Radio,
"I told the chief of staff and that's how we typically do it when I make the decision on who we are going to appoint and then we make the phone calls after that," Reynolds said. "I didn't get the phone call made." […]

Reynolds was asked why Besler's appointment wasn't also announced on that day [June 21].

"I can't tell you," Reynolds said. "We're on the road. We're busy. It wasn't intentional. The decision had been made."
I asked Koopmans directly, to whom did the governor make the alleged "verbal appointment"? He didn't say the conversation was with him. In fact, he didn't answer the question at all. Click here to view that correspondence.
Obviously the oversight was not intentional. Reynolds may well have had Besler in mind after interviewing both candidates. Nevertheless, she failed to make the appointment within the 30-day window. As Randy Evans observed, the legal system doesn't grant excuses for missing other deadlines if a person claims to have intended to file paperwork on time.
Meanwhile, Des Moines attorney Gary Dickey told David Pitt of the Associated Press "he is preparing documents asking Cady to issue an order formally ratifying the appointment."
Otherwise, Dickey said the district court judge's rulings could be open to legal challenges.

"Until this issue is resolved with some finality, it does call into question the jurisdiction of the judge and his rulings," said Dickey, who served as former Democratic Gov. Tom Vilsack's chief attorney. "I think for the benefit of Iowans, they need to know whether or not their judge was appointed according to the constitution and has the authority to issue rulings."
Dickey is very familiar with the judicial appointment process, having served as Vilsack's legal counsel for years.
Appendix 1: Article V, Section 15 of the Iowa Constitution
Vacancies in courts. SEC. 15. Vacancies in the supreme court and district court shall be filled by appointment by the governor from lists of nominees submitted by the appropriate judicial nominating commission. Three nominees shall be submitted for each supreme court vacancy, and two nominees shall be submitted for each district court vacancy. If the governor fails for thirty days to make the appointment, it shall be made from such nominees by the chief justice of the supreme court.
Appendix 2: Iowa Code Section 46.15
1. All appointments to the supreme court and court of appeals shall be made from the nominees of the state judicial nominating commission, and all appointments to the district court shall be made from the nominees of the district judicial nominating commission.

2. If the governor fails to make an appointment within thirty days after a list of nominees has been submitted, the appointment shall be made from the list of nominees by the chief justice of the supreme court.
Appendix 3: Legal analysis prepared by staff in the governor's office sometime after June 25, arguing that the governor can "make an appointment" by reaching a certain state of mind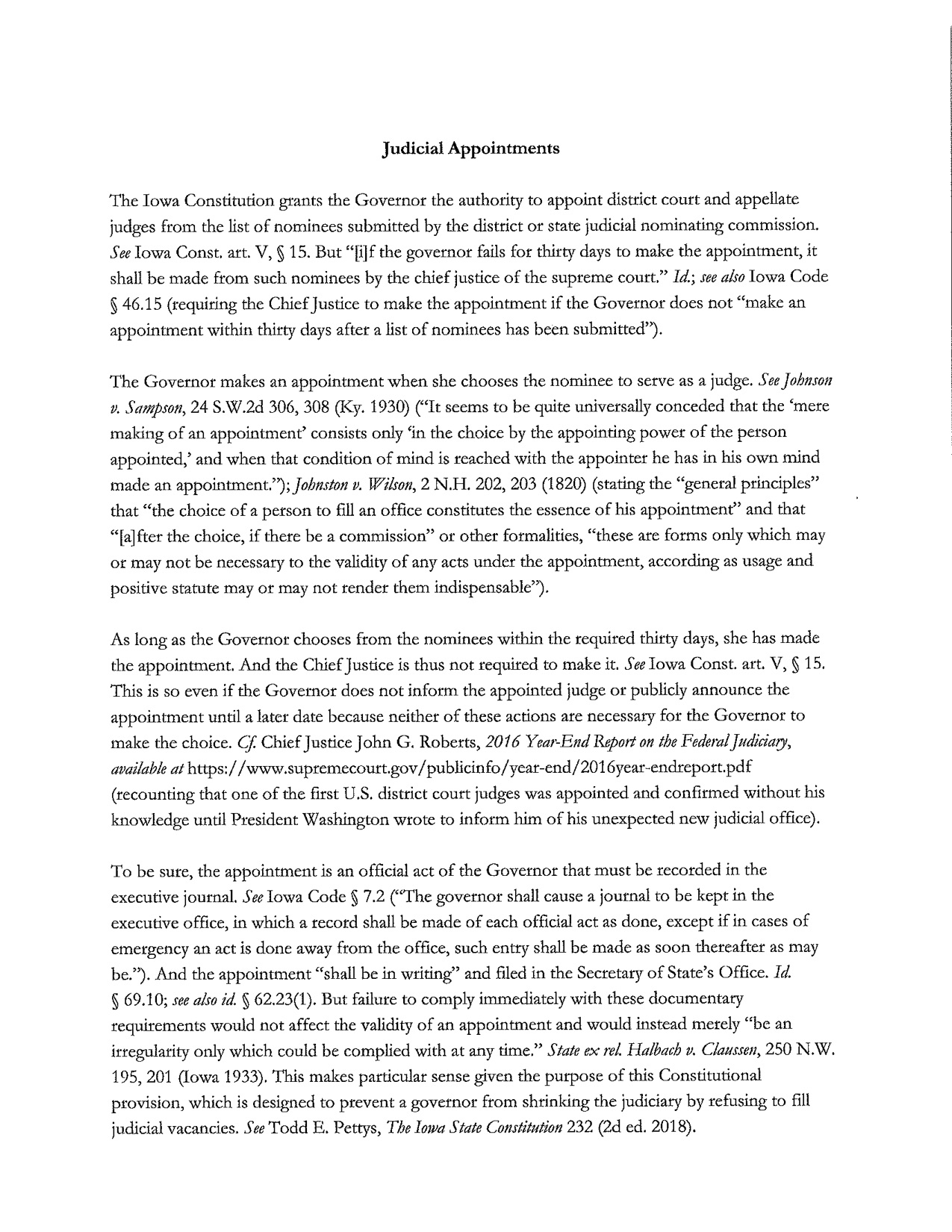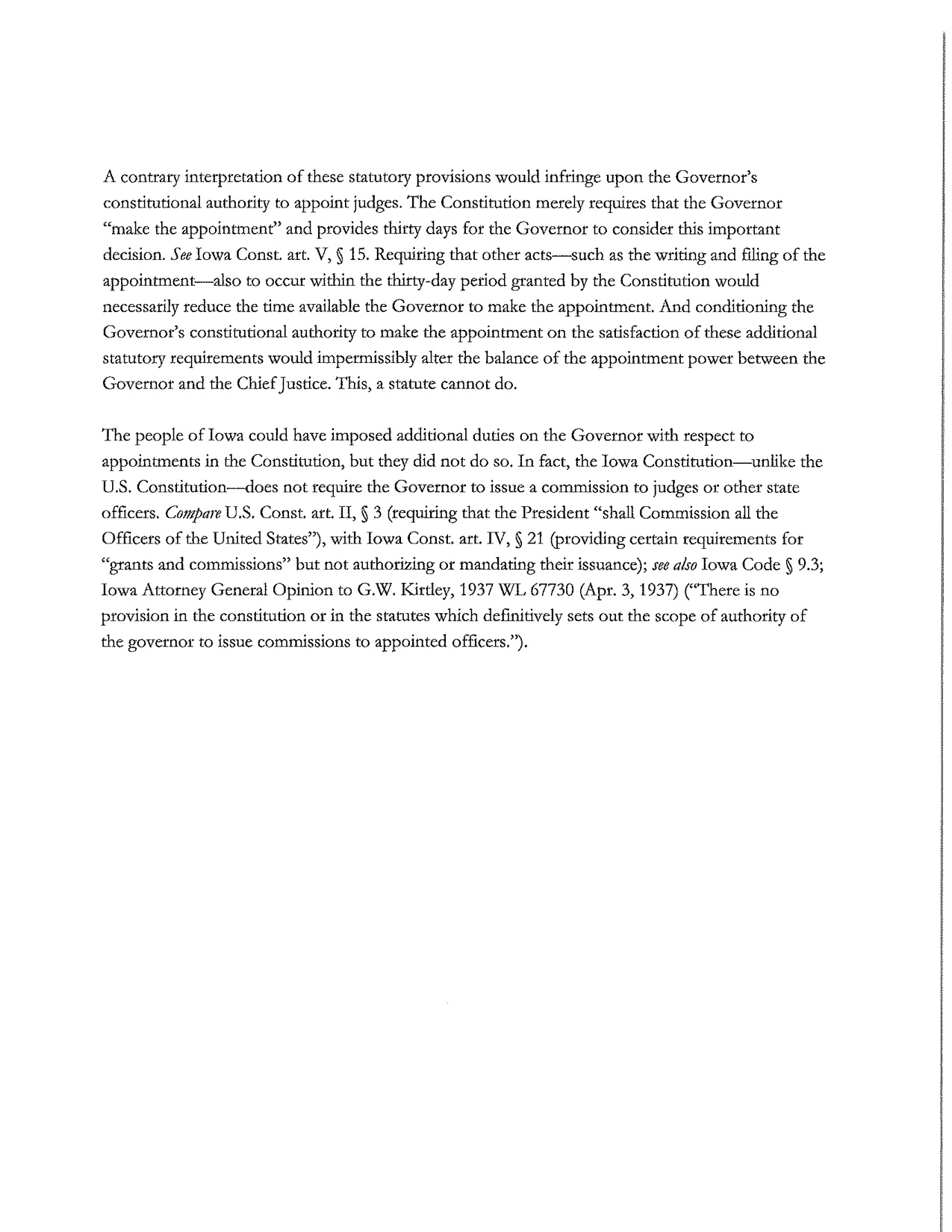 Appendix 4: July 6 letter from Chief Justice Cady's legal counsel Molly Kottmeyer to Governor Reynolds' chief of staff Ryan Koopmans