The Cook Political Report changed its rating on Iowa's fourth Congressional district today from "likely" to "lean" Republican. Although eight-term U.S. Representative Steve King carried this R+11 district by more than 20 points in 2016, several factors make a winning path for Democratic challenger J.D. Scholten seem more plausible than a few months ago, when forecasters moved IA-04 from "safe" to "likely" Republican.
Change Research announced last night that its new survey showed King leading Scholten by just 45 percent to 44 percent. The incumbent quickly released results from an internal poll by WPA Intelligence, showing King ahead by 52 percent to 34 percent, with 11 percent undecided and 3 percent inclined to support a third-party candidate.
FiveThirtyEight.com still gives King a 5 in 6 chance of winning a ninth term, but he could have set himself up much better for next Tuesday. Consider:

1. He has hardly been campaigning.
King has scheduled few events around the 39 counties he represents, even though the House has been in recess for quite a bit of the last three months.
Instead, the incumbent spent part of August on yet another European tour, generating bad press for racist statements to a far-right Austrian website. Mike DeBonis reported for the Washington Post last week that a Holocaust memorial group paid the "the bulk of the expenses" for King's latest trip overseas, while the Republican footed the bill for a jaunt to Austria to meet "members of a far-right Austrian party with historical Nazi ties."
King refused all invitations to debate Scholten, which has been a talking point for the Democrat in public appearances.
"He's been to Austria five out of the last six years on the taxpayers' dime," Scholten says. "I want to know why. It's not like we're finding trade routes to Austria because of it."
2. He lacks the resources to spread a positive message.
King has rarely been a strong fundraiser, with the exception of 2012, when he raised and spent more than $3.7 million while facing Christie Vilsack in a substantially redrawn district. That year, he began airing radio commercials in July and went up on television in late August. He stayed on the air with a mix of positive and negative tv and radio ads through election day.
Whereas King brought in professional Republican operatives to handle his 2012 re-election bid, his son and daughter-in-law have remained his primary campaign staffers ever since. Even so, King raised and spent more than $2 million against Jim Mowrer in 2014 and a little less than $1 million against under-funded challenger Kim Weaver two years ago.
As Bleeding Heartland discussed in more detail here, Scholten's campaign brought in almost as much from July through September ($661,103.08) as King has raised this whole cycle ($736,629). King hasn't run a single campaign commercial yet, and he doesn't appear to have enough cash on hand for a last-minute pitch.
Corporate PACs have been generous to the Republican in the past, but they are less likely to donate now that King's extremist views are getting national media attention. Large dairy producer Land O' Lakes announced today that its PAC "will no longer support Rep. Steve King moving forward."
Meanwhile,
3. Scholten is doing everything right.
Since Bleeding Heartland walked through a possible winning scenario for Scholten in June, the Democratic challenger has put several pieces in place. He's visited all 39 counties at least three times and has held at least one town-hall meeting in each. He's raised far more money than King and budgeted wisely, leaving enough funds for a solid advertising buy during the final there weeks.
I've enclosed below videos of all the Scholten ads running on television or online during the final three weeks. They are well-produced, not cookie-cutter spots. The messaging is tailored to attract the no-party and moderate Republicans Scholten needs in a district where voter registration numbers favor the GOP. Some of the spots feature Republicans making Scholten's case in their own words ("Steve King doesn't want to work with anyone", "How can you be a voice for someone if you're never around?", "J.D. is showing that he cares just by being around").
4. Outside spending will help Scholten, but not King.
The American Values PAC, associated with former independent presidential candidate Evan McMullin, is spending at least $300,000 against King on television. (California Republican Devin Nunes is their only other target this cycle.) Scroll to the end of this post for videos of the hard-hitting spots. Here's a taste: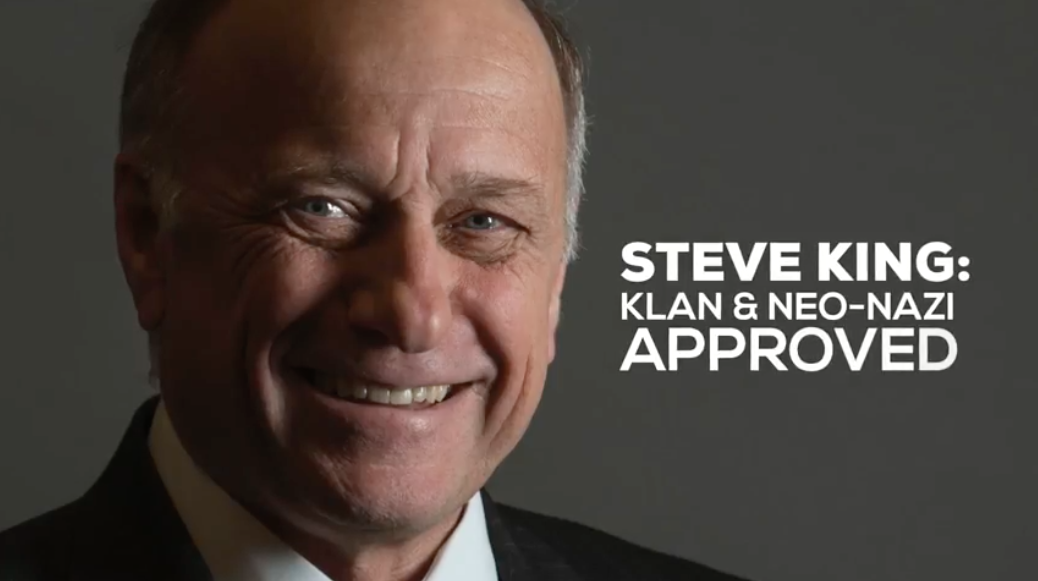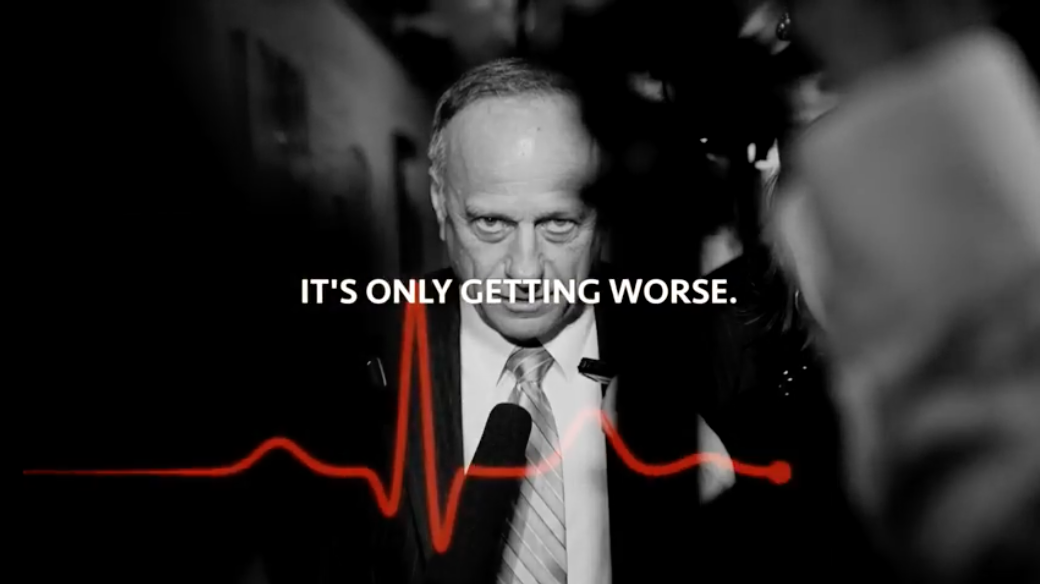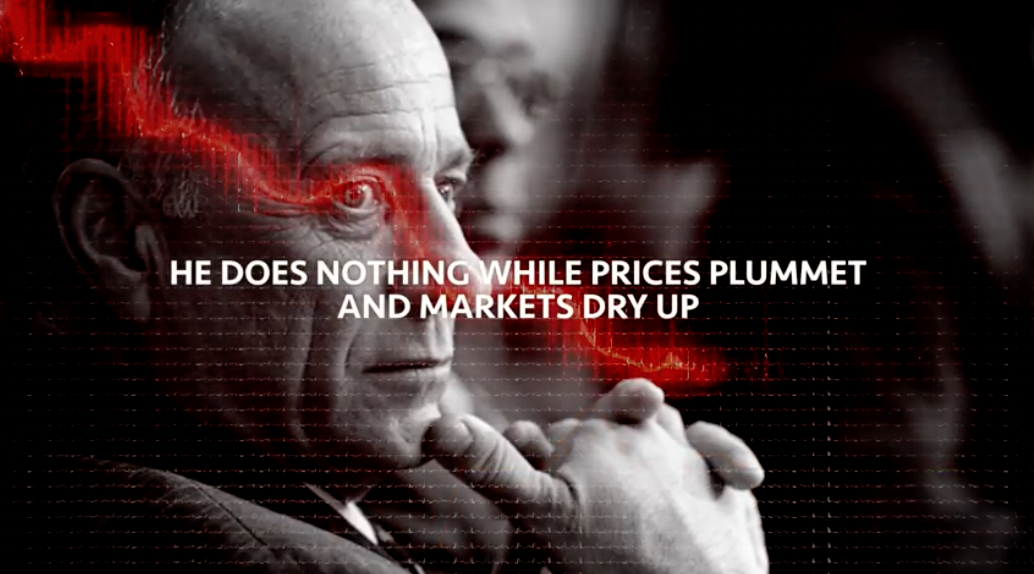 Not a single group has spent money against Scholten this cycle. In contrast, Republican-aligned organizations spent more than $1.6 million against Vilsack in 2012, led by the National Federation of Independent Business, the National Republican Congressional Committee, and Karl Rove's outfit Crossroads GPS.
The NRCC has dozens of GOP-held House districts to worry about right now. They're not about to step in for King. NRCC chair Steve Stivers posted on Twitter this afternoon, "Congressman Steve King's recent comments, actions, and retweets are completely inappropriate. We must stand up against white supremacy and hate in all forms, and I strongly condemn this behavior."
Rachael Bade reported today for Politico,
Stivers' comment shook party leaders in the final stretch of the campaign. Voters head to the polls on Nov. 6, with House Republicans likely to lose their majority. They need every seat that they can get. But the NRCC won't support King's candidacy, according to Matt Gorman, the group's communications director.

"The NRCC and Congressman Stivers haven't been afraid to show moral leadership when the time calls for it," he said in an interview on Fox News Tuesday. "We believe Congressman King's words and actions are completely inappropriate and we strongly condemn them. We will not play in his race."
5. Iowa no longer has straight-ticket voting.
No one knows how the new Iowa law eliminating straight-ticket voting will play out in down-ballot races, but if one person in this state stands to benefit from the change, it's Scholten.
Statewide, 212,085 Iowans voted a straight Republican ticket in the 2014 midterm election. Tens of thousands of IA-04 voters who might otherwise have been inclined to fill in the Republican oval won't find that option at the top of this year's ballot.
Many of them have an unfavorable opinion of King. The incumbent's GOP primary challenger Cyndi Hanson raised almost no money but received about 25 percent of the vote in June. State Senator Rick Bertrand gained about 35 percent in his 2016 GOP primary challenge to King. The new poll by Change Research showed that President Donald Trump was still in positive territory among respondents (51 percent favorable, 46 percent unfavorable), while "opinion toward King is quite negative" (just 38 percent favorable, 48 percent unfavorable).
The Sioux City Journal's editorial board endorsed King eight times, but went for Scholten this year:
Each time King immerses himself in controversy, he holds up this district to ridicule and marginalizes himself within the legislative body he serves, neither of which provides benefit to Iowans who live and work here.

For example, King earlier this month put himself – and, by extension, the rest of the district – in an unflattering spotlight with a tweet in support of a candidate for mayor of Toronto described in published reports as a "white nationalist" or "white supremacist." That wasn't the first time King was tied, by his words or actions, to such intolerant ugliness.

In addition, we don't view King as someone who is at all interested in reaching across the aisle to find common ground on immensely complex issues, like illegal immigration. […]

As we have said before, we would prefer King spend less time trying to "save" Western civilization and making a national name for himself as a conservative leader trying to move the nation to the political right. We would rather he commit to becoming, say, a more influential congressional leader in agriculture.

Finally, we have used this space on multiple occasions to criticize King for not debating opponents and not hosting more public town halls, both of which speak to constituent accountability, but we have seen little to no inclination on his part during this campaign to change.
Even if most GOP registrants or conservative-leaning independents in IA-04 aren't ready to vote for a Democrat, a sizable number could skip over the Congressional line or choose one of the third-party candidates, Libertarian Chalres Aldrich or independent Edward Peterson. Every Republican who doesn't mark the box next to King's name helps Scholten.
UPDATE: Scholten announced on October 31 that his campaign "over $350,000 from over 7,500 individuals and signed up dozens of new volunteers" in the previous 24 hours.
Two other major corporations, Intel and Purina, have also announced that their PACs will stop donating to King's campaign. However, Judd Legum noticed that the leadership PAC of Representative Kevin Brady of Texas just gave King $5,000 (the maximum amount) on October 29. Many large corporations give to Brady's PAC.
Appearing on Andrea Mitchell's MSNBC program on October 31, Representative Carlos Curbelo of Florida said of King, "His comments and his actions are disgusting," adding, "I would never cast a ballot for someone like Steve King."
As expected, no prominent Iowa Republicans have distanced themselves from King this week. They knew who he was and what he stood for when they endorsed his re-election against a GOP challenger in 2016. Governor Kim Reynolds even invited King to be one of her campaign's honorary co-chairs last year.
The New York Times Upshot announced on October 31 that IA-04 will be one of the last House districts it polls this year: "We made a late switch to poll Iowa 4, starting tonight. It's ordinarily a safely Republican district. But we want to see if mounting criticism of Steve King's inflammatory comments is damaging his standing."
On the road with Scholten on October 30, Pat Rynard talked with some Republicans who have had enough of King.
"Even my Republican friends just can't vote for him," said Denison Mayor Jarad Beymer, who saw Scholten walking through the town's main street. "When I try to get people to move to our community, they see, oh, you've got Steve King there … It's made it hard on us."

Barbara Johnson, a registered nurse who lives on a farm near Kimballton, Iowa (population 322), hears frustration over King in rural Iowa. She came out to see Scholten at his brief stop at a restaurant in Harlan.

"I was in the coffee shop in Audubon the other day, and half the women were Republican, but there was a general consensus that no one liked Steve King," Johnson said. "It's an embarrassment the things that he says.

"I'm surprised at the number of J.D. Scholten signs I see in Elk Horn," she added. "Elk Horn is known as a pretty conservative area. Usually there's only two Democratic signs in the whole town, but this year they're all over."
Instead of shoring up support in his district, King will appear at a candidate forum in Des Moines (not part of IA-04) on November 1. The Greater Des Moines Partnership's Government Policy Council, Young Professionals Connection, and the Greater Des Moines Leadership Institute invited King as part of a series involving major-party candidates for governor and in all Iowa Congressional districts.
NOVEMBER 1 UPDATE: According to the Medium Buying Twitter feed, King's campaign placed its first television buy and will go on the air on November 2. King ran tv ads for more than two months in 2012 and for the last four weeks of the 2014 campaign.
Zach Montellaro reported for Politico,
Scholten raised over $641,000 on Tuesday and Wednesday alone, his campaign shared with POLITICO. […]

[Scholten's campaign manager Irene] Lin said that Scholten's campaign would launch a late television ad blitz with the money. Scholten will air a two-minute biographical ad over the weekend and on Monday, and Lin said she hopes to have it run during high-profile TV shows like "Ellen" or the "TODAY Show."

The ad leans heavily on the movie "Field of Dreams," ending with the tagline "if you build it, they will come."
Scroll down to view that commercial, called "Faith."
LATER UPDATE: Senator Ted Cruz, whom King endorsed and actively supported before the 2016 Iowa caucuses, placed a supportive phone call to King on October 31.
The Greater Des Moines Partnership event became a national news story when King blew up at constituent Kaleb Van Fosson for asking about his white supremacist views. You can find the video in Tanya Keith's entertaining post, "A Jew, a German, and two Ames residents meet outside a Steve King event."
Appendix 1: Scholten's advertising
Scholten has run three television commercials so far, starting in mid-October with "Showing Up":
This week, Scholten's campaign launched two new 30-second spots. "A Better Option":
Here's "A New Voice":
Mike, farmer in Sioux County
Ryan, veteran in Carroll County
Nicole, author and mother in Sioux County
90-second online video: "Steve King–Not for Iowa Anymore"
2-minute online video: "Faith"
Appendix 2: Television ads produced by the American Values PAC. "Klan & Neo-Nazi Approved" launched in mid-October.
"Heartland" was published on October 22.