A pro-Republican mailing to thousands of Warren County households last month was not only sleazy, but also unlawful.
The Iowa Ethics and Campaign Disclosure Board will investigate who paid to send a letter attacking Democratic State Representative Scott Ourth "to every mailbox in Iowa House district 26" and "what campaign finance laws were violated in the process."

Megan Tooker, executive director of Iowa's campaign regulator, took the unusual step of requesting an investigation last week. Ethics board members unanimously approved her request at their November 15 meeting. A formal investigation gives the board "subpoena power to compel witness testimony and the production of documents." Tooker laid out the currently known facts in this document, enclosed in full at the end of this post.
Possible violations include:
Using funds from one candidate committee to benefit another candidate.

The anti-Ourth letter went out in the name of former Iowa lawmaker Dan Kelley and stated that it was "paid for by Dan Kelley for State Representative." Kelley lost the 2016 Democratic primary in House district 29. He now supports President Donald Trump and endorsed the Iowa GOP ticket in 2018. The letter did not mention Ourth's challenger Rebel Snodgrass but urged readers to "vote for the Republican in this race."

Iowa law allows a candidate's committee to pay for promoting that candidate or opposing other contenders in that race, but not for materials intended to benefit a candidate seeking a different office.
An undisclosed in-kind contribution to Rebel Snodgrass.

Candidates are supposed to report all contributions under Iowa Code 68A.402A, but expenses associated with the anti-Ourth mailing don't appear on the two most recent filings by the Snodgrass campaign (see here and here).

Because Kelley was not a candidate for office in 2018, his campaign committee won't be required to file a disclosure report until January 2019.
Using cash to fund campaign activities.

Peyton Parker, a former Snodgrass campaign staffer, told Tooker that Snodgrass "gave him $2400 in cash to send the letter" and some additional cash later to finish the mailing. Administrative rules prohibit campaign expenditures made with cash. Parker told Tooker that Snodgrass covered postage costs for other mailings with campaign checks, not cash.
Concealing the source of funding for the letter.

Iowa Code 68A.405 requires attribution statements to disclose "who is responsible for the published material." But it's not clear who funded the mailing. Tooker spoke to Kelley on October 16 and e-mailed him the following day,
Yesterday, you reiterated that you don't have any money in your campaign other than $3 or $4 in your bank account. This obviously raises the question of where you got the funds to mail this letter [...] You were very evasive with me and refused to tell me where you got the money. You told me four things that all cannot be true: 1. You don't have any money in your campaign account. 2. You have not raised any money for your campaign account this year. 3. You acted alone in sending this letter 4. You didn't use your own money. The only reasonable explanation is that you are attempting to misuse your dormant campaign committee to conceal or at least delay disclosing who was involved and where you got the money.

I am very frustrated with your lack of candor. I would like to help you try to fix this very serious campaign finance violation but I cannot do so if you aren't being honest with me.
In an October 19 reply to Tooker, Kelley claimed an unnamed "friend who is not a candidate" offered to "specifically pay for mailings to attack Democrats to establish a reputation for me as a Republican candidate." Kelley said that friend donated the money to pay for the anti-Ourth mailing.
Parker told Tooker that John Thompson "had the idea to do a 'hit piece' on Representative Ourth" and "wrote the letter." (Thompson is a business partner of Snodgrass as well as a former member of the Republican Party of Iowa's State Central Committee.) Parker further told Tooker "he had no interaction with Mr. Kelley regarding this mailing" and "does not know why the letter said it was paid for by Mr. Kelley's campaign committee."
Tooker wrote to ethics board members, "It appears that either Mr. Kelley misused his campaign committee to make an impermissible in-kind contribution to Mr. Snodgrass's campaign or Mr. Kelley allowed his campaign committee's name to be referenced in the attribution statement mailer by the Snodgrass campaign in order to conceal who was truly responsible for the distribution of the letter."
Using corporate funds to support a campaign.

Parker told Tooker that while working on the Snodgrass campaign, he received salary checks from a corporation owned by Snodgrass. Iowa Code 68A.503 prohibits the use of corporate funds for direct or in-kind contributions to a candidate's campaign.
Violations associated with a new political action committee.

Voters in Iowa House district 29 received a letter signed by Kelley shortly before the election, urging them to vote Republican. The letter was supposedly "paid for by DAN PAC USA," a new political action committee Kelley's mother "purportedly" formed on October 26. On pages 4-6 of her request for investigation, Tooker explained why she suspects Kelley himself formed the PAC. State law bars Kelley "from establishing, directing or maintaining a PAC as long as he has an open campaign committee."
Speaking to Bleeding Heartland after the Iowa Ethics and Campaign Disclosure Board's meeting on November 15, Tooker gave State Representative Skyler Wheeler "a lot of credit" for helping her understand what went on. Because Parker clerked for Wheeler during this year's legislative session, Tooker contacted Wheeler to warn him that his clerk might be "involved with some pretty serious violations."
Wheeler promised to encourage Parker to cooperate, after which Parker resigned from the Snodgrass campaign and called Tooker to recount what happened. (Incidentally, Thompson assisted Wheeler during his 2016 campaign for the Republican nomination in House district 4.)
Snodgrass did not respond to phone or e-mail messages seeking comment.
I was unable to confirm whether Thompson wrote the letter that went out in Kelley's name or was the "friend who is not a candidate" who (according to Kelley) paid for the mailing. Reached through Facebook on November 16, Thompson told me, "Sounds like fake news."
Kelley declined to answer specific questions about his role in paying for and distributing the letter. The only comment he provided on November 16 was to request that I publish the following photo of him.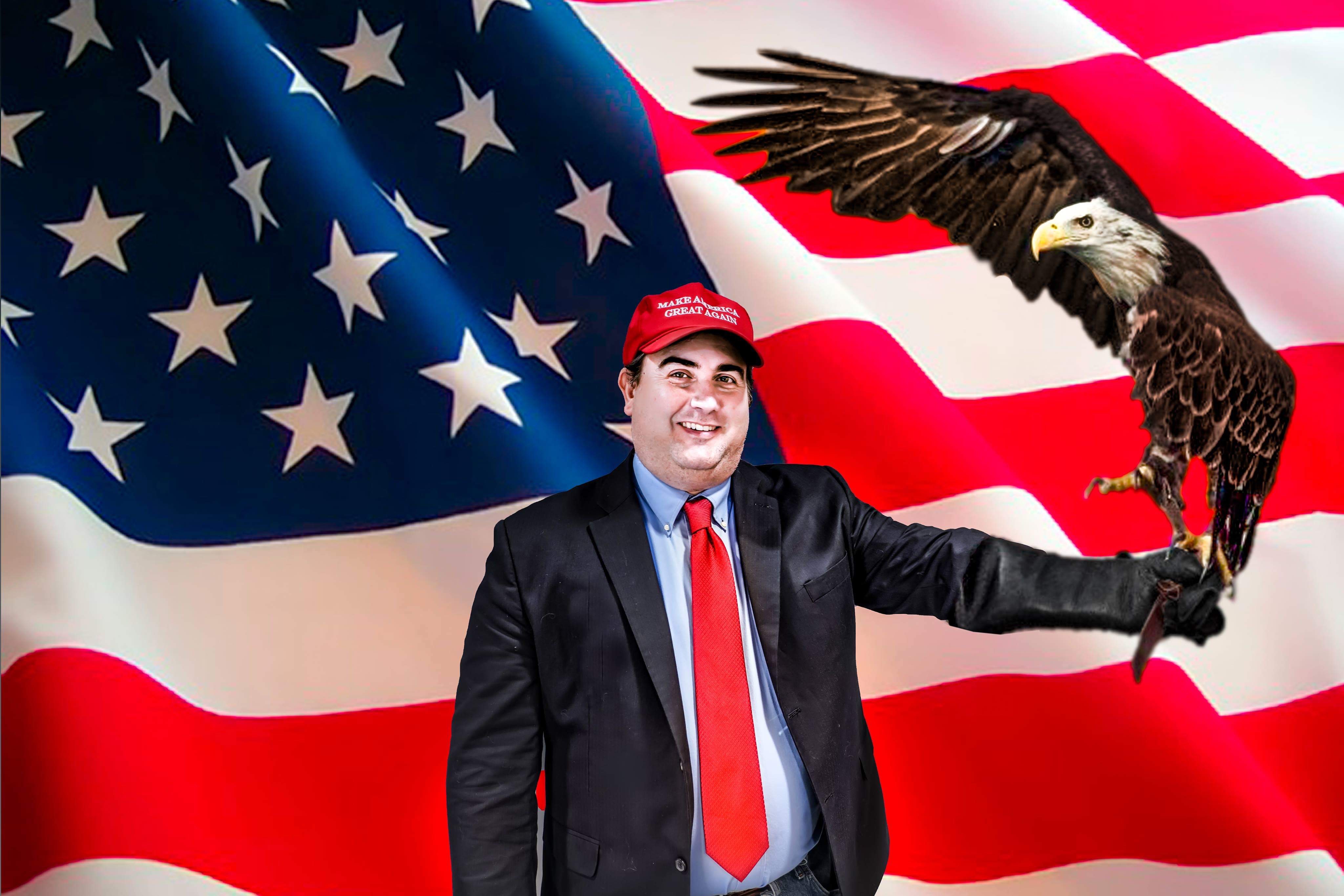 All the players will be answering questions under penalty of perjury as the ethics board investigates this scheme.
Appendix: Megan Tooker's request for investigation, approved by the Iowa Ethics and Campaign Disclosure Board on November 15:
Top image: From left, Dan Kelley, Rebel Snodgrass, and John Thompson (cropped from Facebook photos posted for public view).