Iowa House Chief Clerk Carmine Boal has refused to grant me credentials for the chamber during the 2019 legislative session. Staff for Governor Kim Reynolds have ignored repeated messages seeking credentials to cover the governor's office or an explanation for denying my request.
Under the U.S. and Iowa constitutions, no government agency or official may restrain or abridge the freedom of the press. Government bodies must apply any media restrictions uniformly, without regard to the content of news reporting or commentary. That's not happening here.

Writing about politics doesn't require a press pass. I've been doing it for more than two decades, with a focus on Iowa politics since 2007. For the first time this year, I applied for credentials to cover the legislature and governor, because I plan to spend more time at the statehouse, and it would be convenient to have a place to work there. In addition, credentials would allow me to attend news conferences with legislative leaders, Reynolds, and Lieutenant Governor Adam Gregg.
This was no sting operation. I didn't anticipate any problems when I asked Boal for an application. Her counterpart, Secretary of Iowa Senate Charlie Smithson, immediately put me in touch with the right staffer in the upper chamber, who sent me the form and processed it without incident.
Before Boal stopped responding to my messages in early January, she told me, "Press credentials are not issued to members of the public." After Ryan Foley reported on my situation for the Associated Press January 25, a House Republican staffer provided a new statement from the chief clerk.
"The House rules limit access to the floor of the House to 'representatives of the press, radio, and television'," she said. "Those that meet those requirements have received credentials. Those that do not have been denied. House Rules have been applied uniformly and without consideration of content."
The chamber has no written rules defining "member of the press." House Rules 4 and 20 say nothing about who qualifies for credentials. They merely restrict where journalists can be in the House chamber and what they can do while reporting (for instance, restricting flash photography).
Boal has not provided a list of others denied access to the House press box. Nevertheless, I have confirmed she has not applied her so-called requirements consistently. The current list of credentialed reporters includes Jack Hunt, whose Iowa Legislative News Service is distributed only by e-mail. (UPDATE: According to Hunt, although his bulletin "has transitioned almost entirely to email," he still prints and distributes an unspecified number of physical copies.) Since Republicans gained control of the House in 2011, staff credentialed several writers for online news sources, such as Craig Robinson of The Iowa Republican blog, Meghan Malloy of Iowa Independent, Lynn Campbell of IowaPolitics.com, and at least one reporter for Iowa Watchdog, a website funded by a conservative dark money group.
The governor's office has also credentialed others representing news websites in past years, so approving my request should be an easy call. (Robinson tells me he regularly attended Governor Terry Branstad's press conferences but was not credentialed by the office.) Public schedules for Reynolds and Gregg routinely state, "The following events are open to credentialed members of the media." But the governor's communications director Pat Garrett and senior legal counsel Sam Langholz have not responded to a half-dozen attempts to clarify my status. You can read the correspondence at the end of this post.
PRESS FREEDOM COVERS ALL KINDS OF REPORTING
First Amendment protections aren't solely for employees of established news organizations. Chief Justice Charles Evans Hughes wrote for the U.S. Supreme Court in 1938,
The liberty of the press is not confined to newspapers and periodicals. It necessarily embraces pamphlets and leaflets. These indeed have been historic weapons in the defense of liberty, as the pamphlets of Thomas Paine and others in our own history abundantly attest. The press, in its historic connotation, comprehends every sort of publication which affords a vehicle of information and opinion.
Article I, Section 7 of the Iowa Constitution states, "Every person may speak, write, and publish his sentiments on all subjects, being responsible for the abuse of that right. No law shall be passed to restrain or abridge the liberty of speech, or of the press. [...]"
The Iowa Supreme Court held in a 2013 case, "A person or entity like ASI whose regular practice is to (1) receive written materials prepared by a number of different third parties and (2) make finished products from the materials that are designed to be more suitable and accessible for the public to read should be considered a publisher and a media defendant for purposes of our case law."
The Iowa Judicial Branch defines "news media" as "any person who regularly gathers, prepares, photographs, records, writes, edits, reports, or publishes news or information about matters of public interest in any medium." Rules for covering Iowa court proceedings allow writers for blogs providing news and commentary. I was seated on the press bench during a Polk County District Court hearing in December.
PRESS FREEDOM COVERS REPORTERS WHO EXPRESS POLITICAL VIEWS
Commenting on last week's AP report, Republican Party of Iowa state chair Jeff Kaufmann dismissed me as a "partisan amateur blogger," adding later that "if objectivity is no longer the measure of a journalist than [sic] we have a real big problem in that profession."
A short history lesson for the history professor: this country has never limited press freedom to reporters who conceal their opinions. When the Iowa Constitution was adopted in 1857, most of our state's newspapers had a partisan affiliation. While I do blend reporting with commentary, so do many journalists for publications accredited to cover Congress or other state capitols.
During the 20th century, evolving journalism standards pushed many media outlets and their correspondents to adopt an "objective" posture on news pages. But even in recent years, the Iowa House has credentialed reporters who express overt political views, such as The Iowa Republican's Robinson and Des Moines Register columnist Kathie Obradovich.
Kaufmann also argued,
If she is issued credentials than [sic] any person that has a passing interest, a modicum of writing ability, and a partisan axe to grind should receive the credential. She is no more a journalist than I am.
Unlike Kaufmann, I've written more than 7,000 posts about Iowa politics (hundreds about the state legislature) in the past twelve years. This past month alone, I've published extensively about legislative happenings, with several exclusives in the mix (see here, here, and here). Kaufmann once made a big show of requesting public records from the Iowa Attorney General's office, then did nothing with more than 3,000 pages of documents released. I obtained the same records and wrote a detailed investigative report.
Congressional rules call for credentialing those who devote their "chief attention to the gathering and reporting of news." I am a member of Investigative Reporters & Editors, a non-profit organization that verifies applicants are "substantially engaged in news gathering, presentation or production in either print, broadcast or online."
Journalists tell me I would be credentialed in places like Wisconsin or Missouri, where such decisions are handled by press associations, rather than elected officials or their partisan appointees.
I am grateful for support from many in the mainstream media, including the Cedar Rapids Gazette's longtime statehouse reporter James Q. Lynch and the editorial boards of the Storm Lake Times, Des Moines Register, and Dubuque Telegraph-Herald. PEN America, a national advocacy group for free expression, criticized the Iowa House action as well.
Members of the Iowa Freedom of Information Council were "greatly troubled" by the "inappropriate" decision to deny me press credentials, executive director Randy Evans wrote to the House chief clerk this week. I've enclosed that letter in full below.
Not everyone on the conservative side of the spectrum agrees with Boal's position. Caffeinated Thoughts blogger Shane Vander Hart, WHO radio host Simon Conway, and KVFD radio host Michael Devine (who has Iowa House credentials himself) have all said the House should grant me access. After I appeared on his show this week, Devine asked State Representative Mike Sexton, a House assistant majority leader, about the matter. Sexton told him the House doesn't recognize bloggers as press. That may be the party line he heard from Republican higher-ups, but it's not accurate.
While Reynolds is not always a stickler for following the law or the constitution, her staff presumably recognize that viewpoint-based restrictions on the media are impermissible. That may be why they have chosen not to give me a straight answer to a simple question. Approving credentials would permit me to attend the governor's public events, while a denial would raise questions about their selection criteria.
Final note: some readers have asked whether my credentialing problems are linked to Bleeding Heartland's past coverage of Carmine Boal or her son Michael Boal. He was last year's GOP candidate in the House district where I live and joined the governor's staff shortly after the November election. I doubt there is a direct connection. I didn't take any big swings at Michael Boal. I merely reported that he was running in House district 43 in place of Majority Leader Chris Hagenow, and later noted the GOP was letting that race go. Carmine Boal has hardly been mentioned on this website, other than when she became chief clerk and the time she did not explain why the Iowa House YouTube channel posted a doctored video of a public hearing on voter ID.
UPDATE: GOP leaders have apparently told House members to stick to the story Sexton gave Devine. At a February 2 legislative forum, Republican State Representatives David Sieck and Cecil Dolecheck told a person who raised this issue that the Iowa House does not give press passes to people who are "just bloggers." As discussed above, the House chief clerk has not applied that standard consistently in the past. I doubt any court would agree that I do not qualify as a member of the press because my work appears online.
Appendix 1: My e-mail correspondence with Iowa House Chief Clerk Carmine Boal
Appendix 2: Unanswered messages sent to Governor Kim Reynolds' communications director Pat Garrett and senior legal counsel Sam Langholz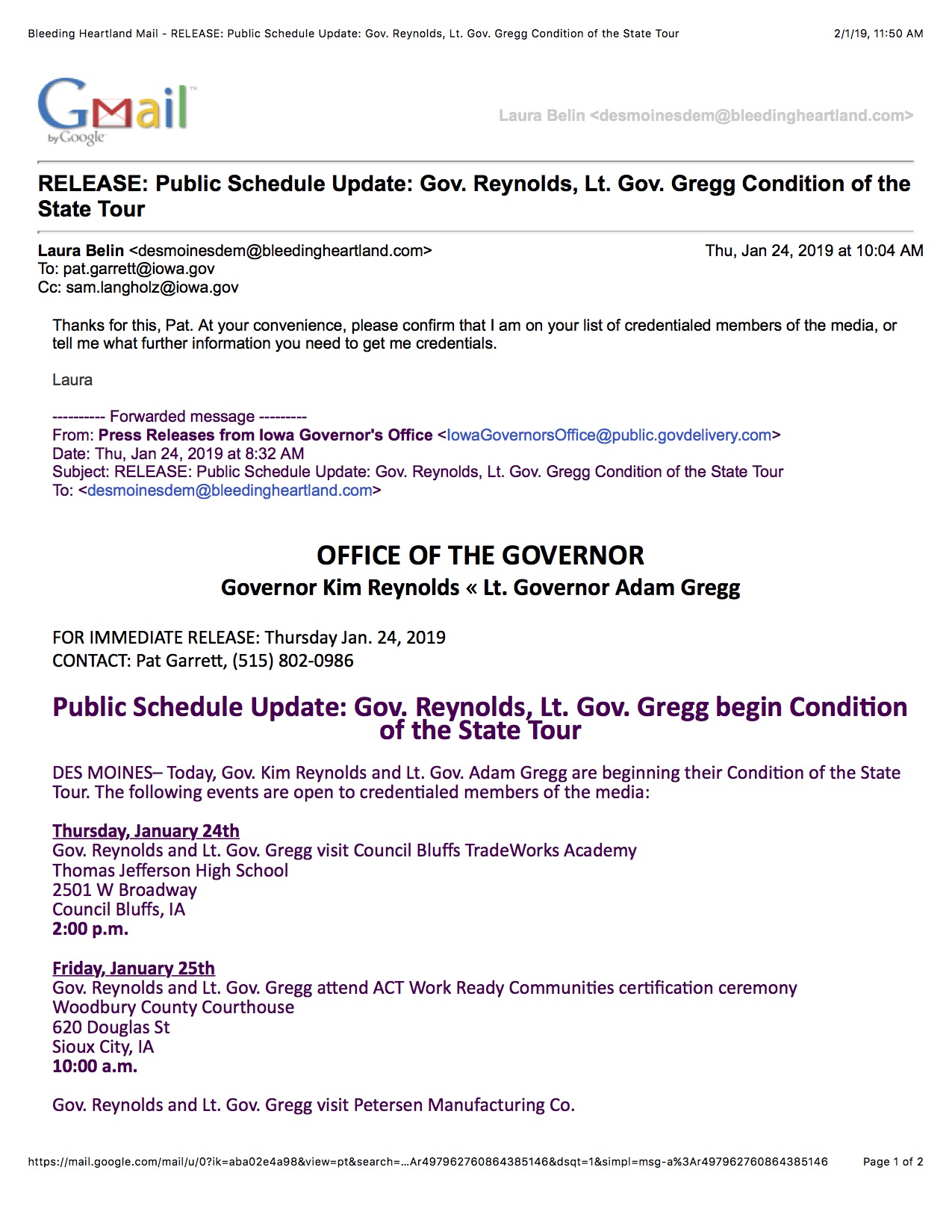 Appendix 3: January 30 letter from Iowa Freedom of Information Council executive director Randy Evans to Iowa House Chief Clerk Carmine Boal