Last year's Democratic nominee in Iowa's fourth Congressional district submitted this commentary in response to U.S. Representative Steve King's appearance this weekend on Iowa Public Television. -promoted by Laura Belin
One of the things I'm most proud of after nearly beating Representative Steve King in 2018, following years of his skating to re-election, is some measure of accountability for a congressman who has decided his own personal agenda is more important than helping the people of the fourth district.

Finally, elected Republicans saw King for who he really is, too – or at least acknowledged it. Despite campaigning with King right before the election, Governor Kim Reynolds bluntly said a few weeks later, "I think that Steve King needs to make a decision if he wants to represent the people and the values of the fourth district or do something else, and I think he needs to take a look at that."
Senator Joni Ernst, who also campaigned with King right before the election, finally did the right thing and tweeted in January, "I condemn Rep. Steve King's comments on white supremacy; they are offensive and racist," despite being silent when King said the same thing with Dave Price on WHO-TV in October.
I watched King on this week's "Iowa Press" and want to make sure he continues to be held accountable. Since the congressman has plenty of time on his hands after being stripped of his committee assignments, maybe he should take some time to get his facts right:
The congressman said the Confederate flag from his desk was only up for "a couple of weeks." That flag was first reported in July 2016. King later said he removed it after the shooting deaths of two police officers in Des Moines in November 2016.
The congressman continues to mention that he played some part in the Taiwan trade deal. Where's the evidence? There's no Congressional record of King ever going to Taiwan. He mentioned on "Iowa Press" that the trip was one of his few international trips that wasn't on the taxpayer dime. In classic King fashion, the only pictures he released were after the deal was done and a Taiwanese group came to Iowa.
The congressman mentioned being "arm in arm with President Trump," but while in the district talking to farmers, he has questioned the tariffs. King is blindly pandering to Trump voters because he knows he's in trouble. King is arm in arm with the president in that he has not said a word about this administration's abuse of the Renewable Fuel Standard, which is costing the industry and farmers nearly $20 billion.
The congressman mentioned that he was outraised 14 to 1. We raised $3,255,336 to his $873,305 during the last election cycle, a 3.7 to 1 ratio.
The congressman was adamant that he won by 3.7 percent. According to the Secretary of State's office, it was 3.3 percent.
What the fourth district, Iowa, and this nation are growing tired of is Steve King continually playing the victim of the national media when he does it to himself – all while abdicating his position of leadership for Iowa.
King claims that the late October Washington Post article about his side trip to meet with far-right Austrians while on a Holocaust memorial trip wasn't accurate. Then, right after the election, he cried that the Weekly Standard made up him calling Mexican immigrants "dirt." However, the Weekly Standard had the recording.
Then, we all know what happened after King defended white supremacy to The New York Times. My question is: why after his issue with the Washington Post and the Weekly Standard would he do a 56-minute interview with the New York Times?
Whether it's at his scripted town halls or his media interviews, the congressman spends most of his time these days defending his comments.
Things you won't hear from him are the important issues of our district, health care, and improving our depressed rural economy (especially our depressed ag economy). People in Iowa work too damn hard to have a representative who is more interested in their own personal agenda than getting real work done in Washington.
Standing Tall for All,
J.D. Scholten
Author photo, used with permission: Scholten at the wheel of "Sioux City Sue," his 2018 campaign RV.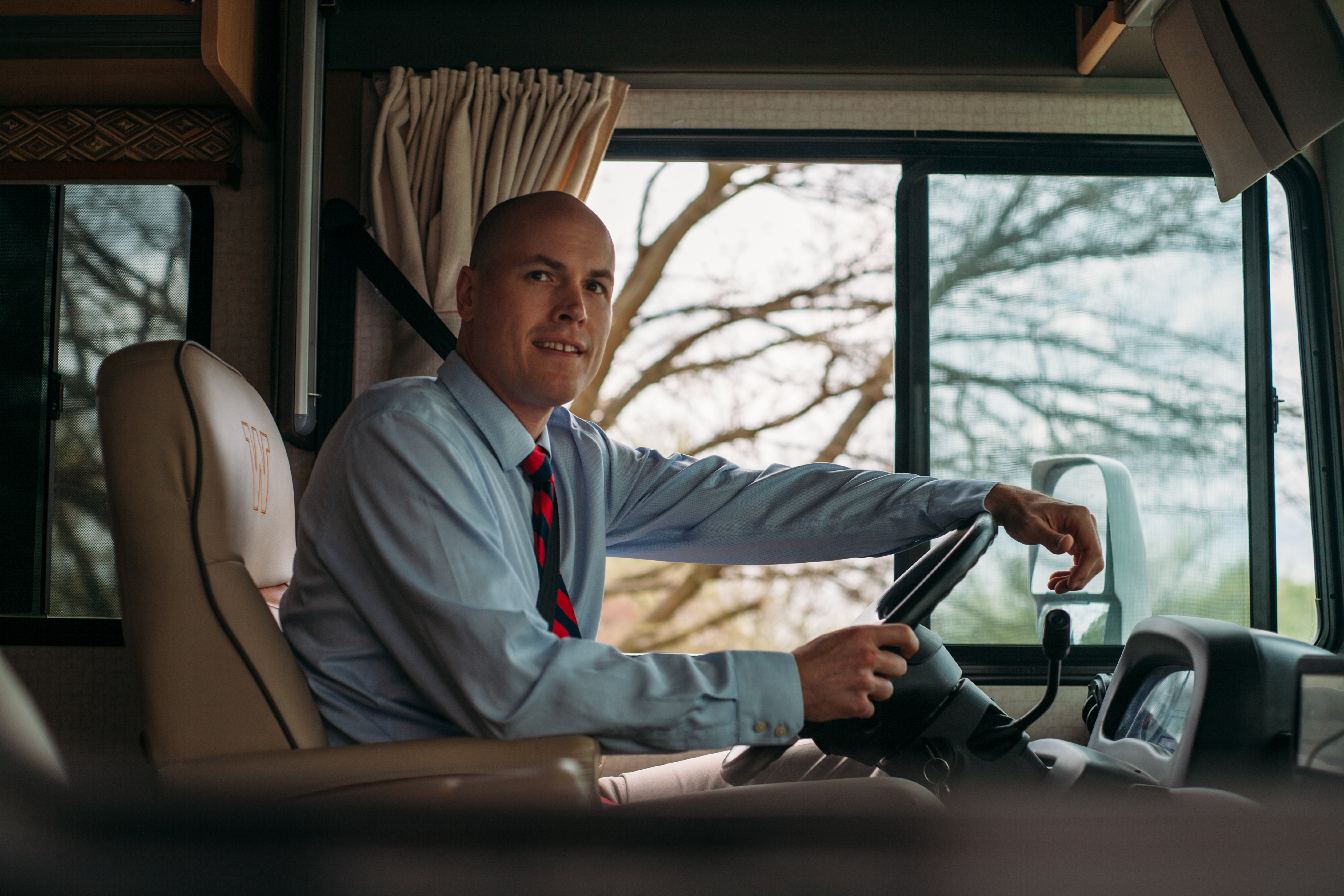 Top image: screen shot from Steve King's latest appearance on the Iowa Public Television program "Iowa Press."