The state broke Iowa law by refusing to negotiate in good faith when the Iowa Board of Regents delayed contract talks with unions representing University of Northern Iowa faculty and University of Iowa graduate students in late 2016 and early 2017, the Public Employee Relations Board determined in separate rulings last week.
Following the 2016 election, when it was clear Republicans would have total control of state government, United Faculty and the Campaign to Organize Graduate Students (COGS) attempted to negotiate new contracts for their members, following a bargaining schedule used in previous years.
But the governing body for Iowa's state universities instructed its attorney not to engage in such talks until after GOP lawmakers and Governor Terry Branstad had eliminated most public employee bargaining rights under Iowa Code Chapter 20. Bruce Rastetter was the Regents president at the time. He didn't seek reappointment by Branstad in 2017, as it was clear Iowa Senate Democrats would have blocked his confirmation.

The 2017 amendments to the collective bargaining law left in place the section outlining various "prohibited practices" for public employers. Those include refusing to negotiate in good faith and refusing to bargain with representatives of certified employee organizations.
Mike Galloway, the outside attorney hired to be lead negotiator for the Regents, met only once with United Faculty representatives between the 2016 election and February 2017. He told Nate Willems, the lead attorney for UNI's faculty union and for COGS, in a January 2017 e-mail, "my client has informed me that I cannot agree to anything until the introduction and subsequent passage of reforms to Chapter 20." Contract talks had to start from scratch after Branstad signed the collective bargaining law in February.
Galloway met twice with COGS representatives in late 2016 but rebuffed subsequent attempts to meet and agree on a new contract. As Republicans fast-tracked the collective bargaining bill, the graduate students sought to ratify a "tentative agreement" proposed by the Regents a few months earlier. But Galloway did not take that deal to the board.
Administrative law judges had dismissed complaints filed by both unions in 2017, finding that the state did not engage in prohibited practices. The Public Employee Relations Board (PERB) heard the unions' appeals last year and issued its decision in the UNI faculty case on June 12.
After reviewing the Regents' conduct, PERB concluded that the union raised several valid points in its appeal.
"the parties did not follow their traditional negotiation schedule throughout the process";
Iowa Code requires parties to "meet at reasonable times" as part of good-faith negotiations. Yet Galloway declined to set meetings and rejected fourteen possible mediation dates;
After mid-December 2016, the Regents "never returned a proposal on evaluation procedures or wages";
"deliberate delay of bargaining" and similar "tactics that undermine the collective bargaining process are indicative of bad faith";
"In totality, the BOR's actions demonstrate a pattern of delay that undermined the collective bargaining process and the parties' duty to participate actively in deliberations with a present intention to find a basis for agreement and a sincere effort to reach a common ground";
"Based on the record, the BOR's entire purpose for delaying negotiations was to take full advantage of the collective bargaining legislation adverse to United Faculty."
PERB released its decision in the COGS appeal on June 14.
The conclusions mirrored the board's finding on United Faculty's complaint: the regents "failed to negotiate in good faith and refused to negotiate" with representatives of the graduate students' union.
The BOR refused to agree to earlier negotiations, mediation, or arbitration dates; the BOR failed to present a counteroffer; and the BOR acknowledged it would not enter into any agreement prior to the passage of collective bargaining legislation. Separately, these may not amount to a prohibited practice, but the totality of the BOR's conduct demonstrate its failure to actively participate in deliberations with a present intent to reach an agreement and with a sincere effort to reach common ground. […]

A party cannot unilaterally refuse to negotiate or unreasonably delay negotiations solely because legislation may be forthcoming that is conducive to its objectives.
Normally, the remedy for this kind of case would be for PERB "to place the parties in the position they would have been, but for the prohibited practice," the board wrote in last week's rulings. That is difficult because of the change to Iowa's collective bargaining law. Consequently, the board ordered the the Regents to "cease and desist from further violations of Iowa Code chapter 20" and to post public notices about its decision at the University of Iowa and UNI at the start of this coming academic year.
The Board of Regents had no comment on the employment board's decision, communications director Josh Lehman told Bleeding Heartland. In a statement enclosed in full below, United Faculty President Becky Hawbaker said the Regents' actions "deprived UNI faculty and their families of the salary increases and other benefits that we had the right to bargain for."
Vanessa Miller reported for the Cedar Rapids Gazette on June 18,
Nate Willems, who filed the complaint on behalf of the UNI union, declined to comment on whether the decision might compel a lawsuit from United Faculty.

"Certainly we have a variety of remedies we asked for that IPERB declined to include in the decision," he said. "We are going to need to scrutinize that further."
Final note: PERB is supposed to have three members, but only two (Jamie Van Fossen and Mary Gannon) heard oral arguments on these cases and signed off on last week's rulings. Van Fossen's party affiliation is Republican; Gannon is a Democrat. The third position on the board was vacant from May 2018 through early 2019, after Iowa Senate Democrats declined to confirm Mike Cormack for a second term as PERB chair. Governor Kim Reynolds appointed Republican Walt Rogers to the board earlier this year, but he stepped down in order to run in a special Iowa Senate election. At this writing, the position remains vacant.
Appendix 1: June 18 news release from United Faculty
Iowa PERB Ruling: Board of Regents Committed Prohibited Practices
PERB Finds that the BOR Delayed Negotiations with UNI Faculty until Law Changed

(CEDAR FALLS, Iowa) – The Iowa Public Employment Relations Board (PERB) condemned the Iowa Board of Regents (BOR) for a "pattern of delay that undermined the collective bargaining process" in its 2017 negotiations with United Faculty, the University of Northern Iowa's faculty union.

PERB found that the BOR deliberately delayed bargaining with United Faculty in early 2017 until the anticipated changes to Iowa Code Chapter 20, which governs the state's collective bargaining with public employees, were passed by the legislature.

The PERB report cited that the BOR "rejected 14 possible mediation dates, ranging from January 21 through February 11, 2017," and did everything but 'move the process forward.'" The report noted that the new law was signed by the governor and became effective on Feb. 17, 2017. The new law required that any bargaining that was not complete prior to Feb. 17 had to be restarted under the new law's more restrictive provisions.

"The board's behavior was a violation of the basic concept of negotiating in good faith," UF President Becky Hawbaker said. "Their actions deprived UNI faculty and their families of the salary increases and other benefits that we had the right to bargain for."

"By unilaterally hitting the pause button on bargaining, the Board of Regents broke the law," UF attorney Nate Willems said.

"The Board of Regents specifically instructed their lawyer to refuse to bargain with United Faculty until the legislature had passed a new Chapter 20 law to take away professors' bargaining rights," Willems said.

The 2017 revisions to Chapter 20 stripped the law and excluded nearly all topics that were subject to collective bargaining for more than four decades. The proposed prohibited topics include health Insurance, evaluation procedures, procedures for staff reduction, release time, grievance procedures, seniority, union dues payroll deduction, and supplemental pay. Wages are now the only permitted topic of negotiations, but the new law limits annual increases to the lesser of two amounts: three percent or the consumer price index, which would leave faculty in an untenable situation in periods of high inflation. Moreover, the bill adds red tape to the process by requiring union recertification elections every two years.

Before it was gutted in 2017, Chapter 20 had been enacted in 1974 with bipartisan support, and signed by Republican Gov. Robert Ray. The law led to collaborative contracts and labor peace at Iowa's schools, universities, and other public workplaces for more than 40 years.

United Faculty, established in 1976, is the chief negotiating agent for the University of Northern Iowa's faculty, and is affiliated with the American Association of University Professors (AAUP).

The Iowa PERB decision's full text (Case No. 19-PERB-100817) is located at https://iowaperb.iowa.gov/notices-and-information/recent-board-decisions .
Appendix 2: Notices the University of Northern Iowa and University of Iowa must post for at least 30 days, beginning on August 27, "in a prominent place in its main offices accessible to the public and in conspicuous places customarily used for the posting of information to employees in the affected bargaining unit."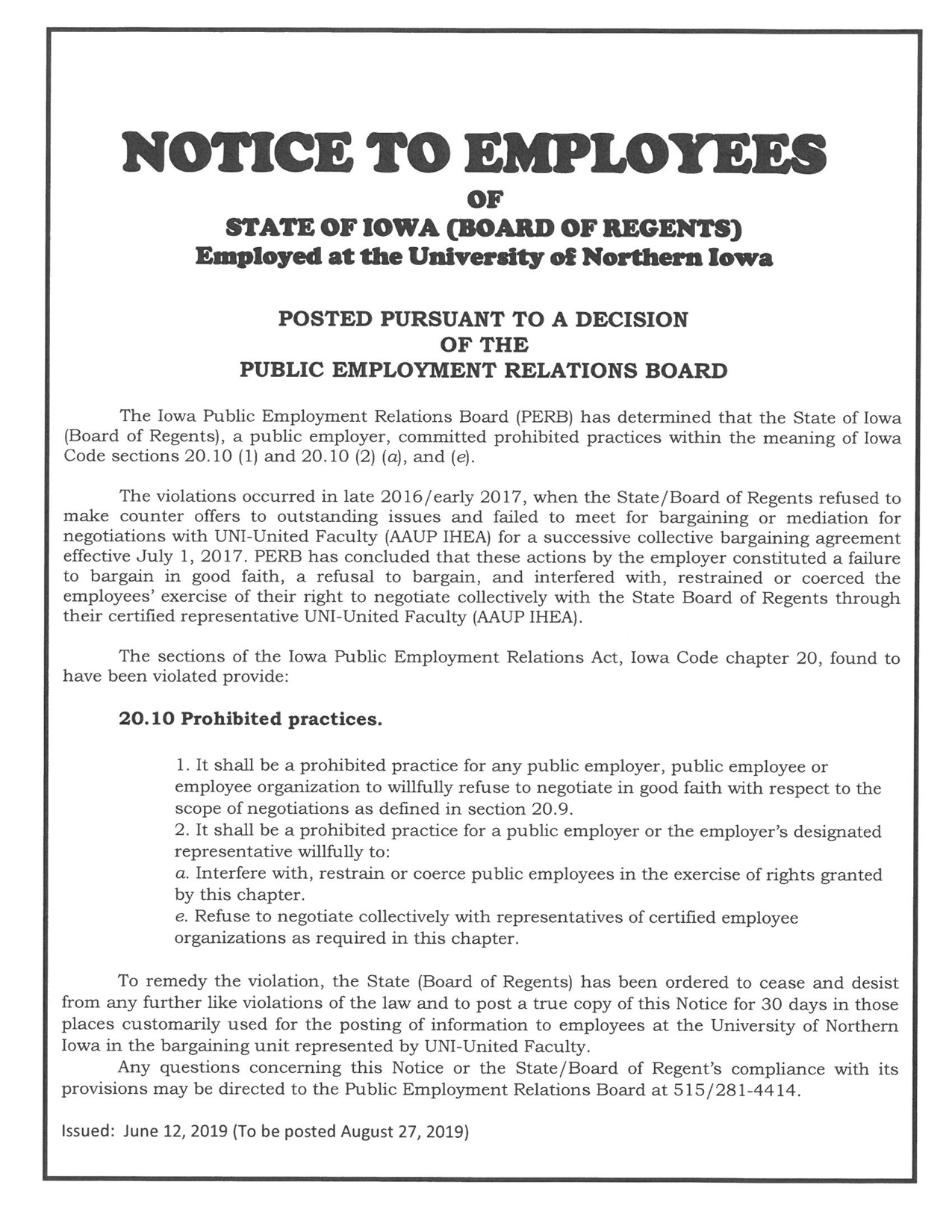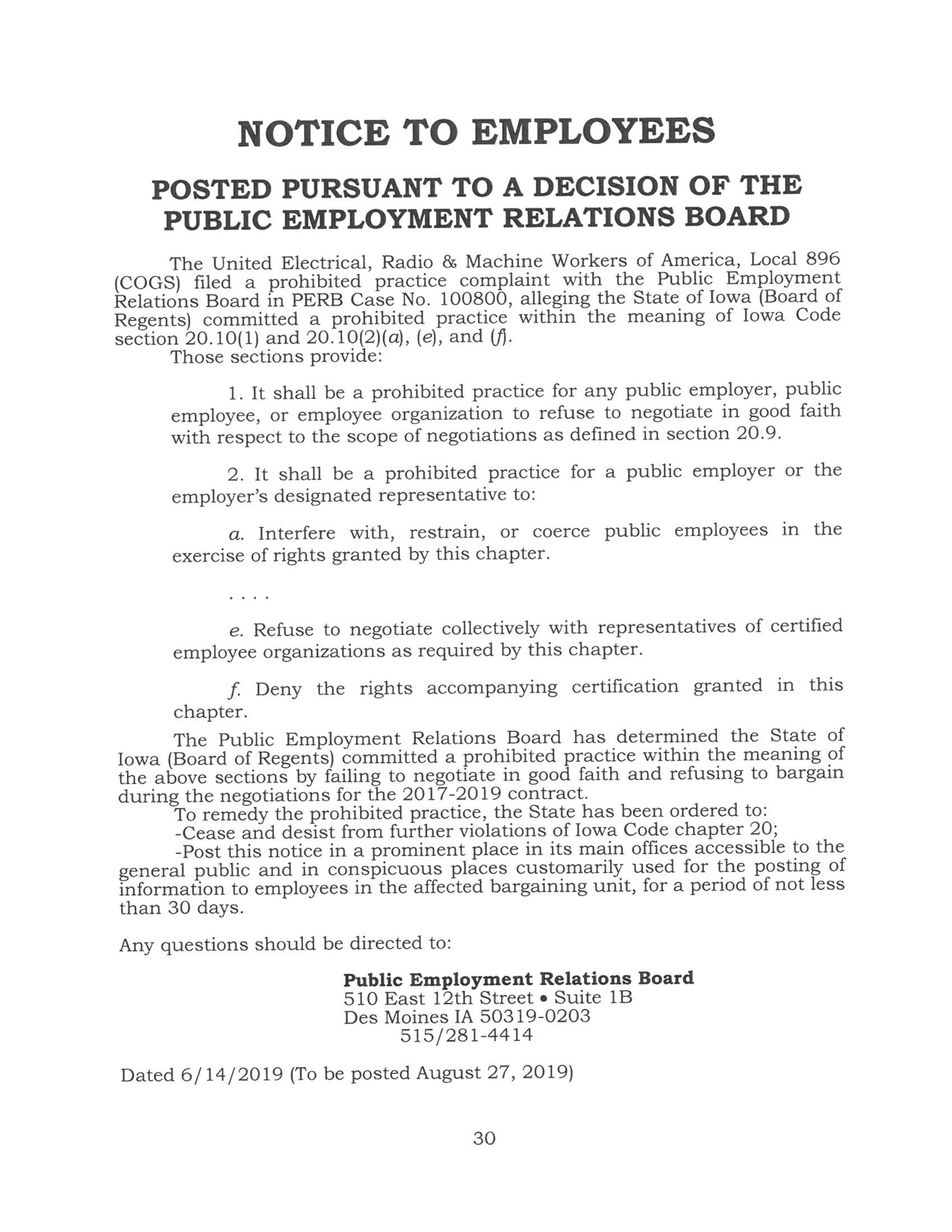 Top image: University of Northern Iowa's Lang Hall in Cedar Falls, photo by Madmaxmarchhare uploaded to English Wikipedia in 2006, via Wikimedia Commons.