When U.S. Representative Steve King thinks out loud, national headlines often follow.
The Des Moines Register's Robin Opsahl was first to report on King's musings at the August 14 Westside Conservative Club breakfast in Urbandale.
"What if we went back through all the family trees and just pulled those people out that were products of rape and incest? Would there be any population of the world left if we did that?" […]

"Considering all the wars and all the rapes and pillages taken place and whatever happened to culture after society? I know I can't certify that I'm not a part of a product of that."
To many, the comments seem indefensible. But I suspect many conservative Republicans in Iowa approve of King's uncompromising stance on abortion, even if they don't like how he talked about the issue.

REPUBLICAN POLITICIANS PILE ON
King's leading Republican primary challenger, State Senator Randy Feenstra, pounced: "I am 100% pro-life but Steve King's bizarre comments and behavior diminish our message & damage our cause."
Feenstra's endorser Bob Vander Plaats piled on. "Embarrassing. Time to turn the page. #IA04 District deserves much better."
According to Feenstra's campaign manager, August 14 was "our biggest online fundraising day of the campaign."
The Republican Party of Iowa backed away, saying through communications director Aaron Britt, "These comments are outrageous and are not reflective of the views of the Iowa Republican Party."
President Donald Trump himself told reporters on August 15, "Certainly it wasn't a good statement."
BUT WILL RANK AND FILE REPUBLICANS AGREE?
For a pro-choice person like me, King's perspective is absurd. Who cares if some of my ancestors were conceived in rape? How does it follow that a woman or girl brutalized today should be forced to continue a pregnancy? I reject the entire premise that a woman needs a "good reason" (like being raped) to have autonomy over her own body. We should be able to make our own decisions without government interference.
But let's try to put ourselves in the mindset of a Republican primary voter in Iowa's most conservative Congressional district.
Here's the Des Moines Register's full video from King's August appearance.
Leading up to the explosive remarks, King spent several minutes (starting around 33:00) describing his anti-abortion work in Congress. He spoke with pride about getting 174 co-sponsors for a bill with no exceptions for rape or incest. My transcript, beginning around 38:40:
I had solid promises that we would get a mark-up in the [House] Judiciary Committee, but I kept getting messages: write an amendment, accept an amendment for exceptions for rape and incest.

I said, I've got 174 people that say they don't want exceptions for rape and incest, because they understand it is not the baby's fault, to abort the baby, because of the sin of the father, and maybe sometimes the sin of the mother too. And so, I refused to do that. I just kept pushing the pressure up.

We had the votes in the Judiciary Committee to peel off every amendment, and put that bill on the floor, and pass it on the floor, and put the marker down that exceptions are not going to be part of the dialogue any further, because this is about the sanctity of human life.

And so I refused to do that, and down to the last couple days of our lame duck session, that order came back out of leadership: "No mark-up, no floor action," boom. And so, all right, I held the ground on principle, maybe we could have gotten that to the floor if I'd compromised. It wasn't going to move through the Senate anyway, but we still stand on these principles of life.

But since then, I started to think: we know the reasons why we don't want the exceptions, for the most of us, for rape and incest: because it's not the baby's fault. But there's another–I started to wonder about this–what if it was ok, and what if we went back through all the family trees and just pulled those people out that were products of rape and incest. Would there be any population of the world left if we did that? Considering all of the wars, and all of the rape and pillage that's taken place, whatever happened with culture after society, I know that I can't certify that I'm not part of a product of that. And I'd like to think every one of the lives of us are as precious as any other life.
Many Republican activists are as unwilling to compromise on this issue as King. That's why the first legislative priority in the Iowa GOP platform begins, "We move the Iowa Republican party aggressively support a 'life begins at conception' bill without exceptions." That's why protesters at anti-abortion rallies sometimes carry signs like the one Robin Marty photographed in January 2018.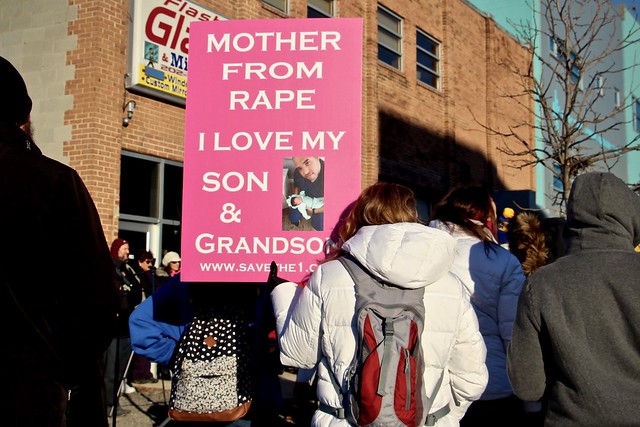 Shane Vander Hart wrote at the Caffeinated Thoughts blog,
He is right. King is absolutely right. Human life's value cannot be weighed based on how one is conceived or what stage of life a person is at.

Pro-abortion advocates and the media who support them will blast this assertion or any remark about exceptions regardless who makes it. Conservatives should not.
I haven't seen any recent polling of Iowa conservatives on whether laws banning abortion should make exceptions. GOP strategist David Kochel, who supports Feenstra for Congress, told me, "Support for the three most common exceptions — rape, incest, life of the mother — has majority support among GOP primary voters in all of the private polling I've seen. Usually in the 60s." I don't know whether Kochel was referring to statewide polls or surveys in the IA-04 counties.
From where I'm sitting, when U.S. House Republican Conference chair Liz Cheney bashed King's "appalling and bizarre" comments, saying "it's time for him to go," she played right into King's narrative that he is a victim of GOP establishment figures latching on to media distortions. Ditchwalk suggested this "alternate headline": "Cash-Strapped Steve King Generates Millions in Free Media."
King stood his ground today.
I believe all life is sacred regardless of the circumstances of conception. @Liz_Cheney finds that "appalling" and "bizarre." My position was endorsed by a bipartisan 174 Members. Liz, you helped kill the Hearbeat bill when we had the votes to pass it. https://t.co/GgU0lPB2eL

— Steve King (@SteveKingIA) August 15, 2019
As mentioned above, Feenstra raised a lot of money off this feeding frenzy. It's possible that a growing number of Republicans will see King as damaged goods. As The Iowa Republican's Craig Robinson tweeted, "Iowa Rs have only one question to answer – would you rather vote for a better option in the primary and take care of business yourself, or let King get beat and lose the seat in November of 2020."
But many don't believe King could lose to Democratic challenger J.D. Scholten. Even Kochel doesn't think a Democrat could win in this R+11 district.
Rank and file Republican voters may dismiss King's historical musings as unimportant. This passage in an August 15 Associated Press report by Scott McFetridge and Margery Beck rang true.
Craig Williams, the Republican Party chairman in Carroll County, said support for King is strong and many Republicans think the congressman's views aren't fairly portrayed by the media.

"People in the 4th District like the fact that the congressman doesn't mince words very often," Williams said. "And he probably says things that are unfortunate from time to time, but who doesn't? Ask Joe Biden supporters about that."
As then Governor Terry Branstad said in a radio commercial he recorded for King in 2012, "Outspoken? You bet, and I like that. We know where Steve King stands."
I need to see credible polling of likely voters in IA-04 in order to be convinced this kind of negative attention hurts King among the voters who will decide his future next June.
P.S.–One of the best responses to King came from Scholten.
.@SteveKingIA – since you have been in office, 30 OB/GYN units have closed In Iowa, including one recently in Iowa Falls.

Maybe focus your energy on helping that issue? ?‍♂️

Just food for thought. https://t.co/5KMDr9WrXG

— J.D. Scholten (@JDScholten) August 15, 2019
Top image: Photo by Robin Marty, taken at an anti-abortion protest on January 18, 2018, published with permission.