Republicans have recruited a strong candidate for what should be one of the top-targeted Iowa House races in 2020.
Before State Representative Andy McKean switched parties in April, he had served in the Iowa legislature for 27 sessions as a Republican. Now House district 58 is the reddest Iowa House seat currently represented by a Democrat.
GOP officials hope Dr. Steve Bradley, a dentist in the area, will prevail among Iowans who heavily favored Donald Trump and Governor Kim Reynolds in the last two elections. Next year's race in House district 58 will be a fascinating test of whether voters' growing affinity to Republicans matters more than their longtime support for McKean.

THE POLITICAL LANDSCAPE OF A SWING DISTRICT
House district 58 covers all of Jackson County, much of Jones County, and a small area of Dubuque County.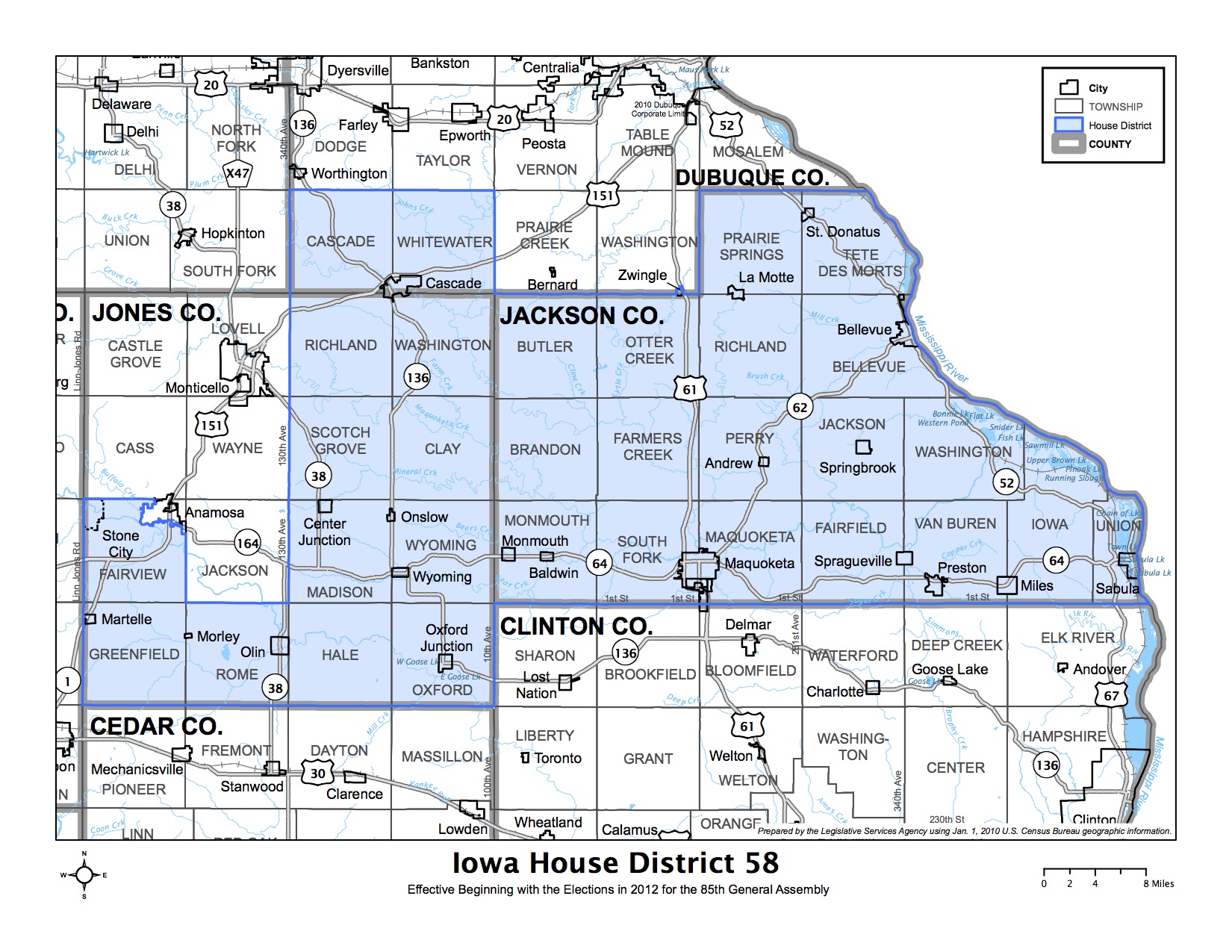 On paper, the district seems to tilt Democratic, with 6,530 active registered Democrats, 5,282 Republicans, and 9,428 no-party voters according to the latest official figures. But like many traditionally Democratic smaller communities in eastern Iowa, residents here have increasingly backed Republican candidates over the last decade.
It seemed like a fluke when Brian Moore defeated a Democratic Iowa House incumbent in Jackson County in 2010. Republicans hadn't fielded a candidate there the previous cycle, and Moore himself had been a Democrat until Republicans talked him into switching parties a few months before that GOP wave election. But Moore held House district 58 in 2012 and again in 2014.
Democrats hoped to win back the seat when Moore opted not to seek re-election in 2016. But McKean dominated a three-way Republican primary and won the general election by almost a two-to-one margin. The 9,048 votes (59.0 percent) he received in the state House race nearly matched the total vote for Trump (9,154) and exceeded Trump's share of the vote in the district (57.8 percent). Barack Obama had outpolled Mitt Romney in the same precincts by 55.6 percent to 43.2 percent in 2012.
Similarly, McKean outperformed the top of the GOP ticket in 2018, winning re-election with 9,004 votes (69 percent). Governor Reynolds carried House district 58 with 7,516 votes (56.1 percent) to 5,512 votes (41.1 percent) for Fred Hubbell.
BACKGROUND ON THE INCUMBENT AND LIKELY CHALLENGER
As a Republican, McKean has won nine Iowa House races, three state Senate races, and two elections for Jones County supervisor. From his official bio:
Andy is a husband, father, grandfather, and retired attorney from Jones County.

In his nine terms in the Iowa House and three terms in the Senate, Andy has prioritized bi-partisan problem solving that has put him in leadership positions, including serving as Senate President Pro Tem and Judiciary Committee Chair. He recently served as the House Ethics Committee Chair in the 88th General Assembly. Rep. McKean served as a Jones County Supervisor from 2003 to 2011 and was appointed to the Iowa Public Information Board by Governor Branstad.

Andy is a member of the Jones County Bar Association, attends the First Congregational United Church of Christ, and calls square dances with his band, the Scotch Grove Pioneers. Andy enjoys gardening and taking care of the couple's property; reading about history, politics and culture; hiking; and playing music.

Andy and his wife, Connie, a native of Dubuque, have been married for 36 years and have lived in an historic home on the edge of Anamosa, where they operated the Shaw House Bed and Breakfast for many years. They are involved in their home community, where Andy can often be found playing piano for local events, at church functions, and in care centers and congregate meal sites. Connie was a three term member of the Anamosa School Board. They are the parents of four adult children and the grandparents of three little girls.

In addition to his public service, Andy practiced law in Anamosa for 35 years, retiring in 2015, and taught planning law courses at the University of Iowa's graduate program in Urban and Regional Planning from 1978 to 1992.

Andy was raised in New York state. He earned his bachelor's degree in political science from Oneonta State College and his master's degree in community planning from the University of Rhode Island. He came to Iowa to explore his family roots in the Anamosa area and earned his Juris Doctorate from the University of Iowa College of Law. He is proud to represent the fifth generation of the McKean family to live in Jones County. Andy's great grandfather, Judge John McKean, also represented Jones County in the Iowa House and Iowa Senate.
McKean's on Facebook here.
Bradley's connections to the area also run deep. From the news release he posted on his campaign's Facebook page on August 20:
Dr. Bradley has lived in Cascade for more than three decades. He was born in Napa, California, while his father was serving in the Air Force. Following his father's military service, the family returned home to Epworth. He graduated from Western Dubuque High School, and attended the University of Dubuque and Loras College. He graduated from University of Iowa and went on to receive his dental degree from Marquette School of Dentistry, in Marquette, Wisconsin.

Bradley returned to eastern Iowa and opened his practice in 1987, in Cascade, Iowa, where he continues to practice today.

"Over the course of my career, I have worked hard to serve my patients in a thoughtful and respectful way. I want to take this same work ethic and our shared values to serve the people of Jackson, Jones, and Dubuque counties at the State House in Des Moines," said Dr. Bradley.

He continued, "As a dentist, I can bring a unique health care perspective to the Legislature. I also understand how important a great education is to Iowa's kids. I will make both of these issues top priorities and will work tirelessly to help grow our economy, so small and medium sized businesses are able to thrive in Iowa."

Dr. Bradley has been involved in both his community and the practice of dentistry. He has served as President of the Cascade Chamber of Commerce, President of the Iowa Dental Association and Chairman of the Iowa Dental Board. He has been a member of the Finley Hospital Foundation Board, the Iowa Dental Association, and American Dental Association. Mission work is also important to Bradley. He partook in a dental mission in Bolivia, as well as, the Iowa Mission of Mercy. The Iowa Mission of Mercy is an annual event that provides free dental care. He has received the Father John Donaghey Outstanding Service Award at Divine Word Seminary and Distinguished Alumnus of the Year Award from Western Dubuque High School.

Throughout his life, he has had many experiences with the Iowa way of life: baling hay, mowing lawns, and bartending, as well as, working at Sundown Mountain Lodge and JCPenney.

Bradley and his wife, Candy, have been married for 24 years. He has two step children and five step grandchildren.
Worth noting: I assume Bradley will be the Republican nominee in House district 58. However, GOP establishment candidates have occasionally lost primaries to insurgents running further to the right (see the 2012 primary results in Iowa Senate districts 4 and 36). It's easy to qualify for the primary ballot in an Iowa House district; candidates need to collect only 50 valid signatures on their petitions.
FACTORS FAVORING EACH CONTENDER
Medical professionals have often been successful state legislative candidates in Iowa. Although the population of Cascade (about 2,000) is much smaller than that of Jackson County (about 19,000), hundreds of voters outside that town have likely seen Bradley for dental work. Another plus: the candidate's wife "worked in the school front office" and therefore "knows everybody," according to Republican strategist David Kochel.
Since the news release didn't mention Trump, I asked Bradley during an August 21 telephone call whether he thought the House race would be a referendum on Trump. "No," he answered.
Asked to specify where he differs from McKean, Bradley said, "I'm pro-life and pro-Second Amendment." McKean voted for the 2017 bill that banned abortion after 20 weeks and imposed a waiting period for women seeking terminations at any stage of pregnancy. But he voted against the 2018 bill--later ruled unconstitutional--that would have banned almost all abortions after a fetal heartbeat could be detected.
As for gun rights, McKean voted for the sweeping pro-gun law enacted in 2017 and for a state constitutional amendment outlining an individual right to keep and bear arms. But during House debate on that constitutional amendment, McKean spoke in favor of and voted for a Democratic alternative, which would have copied Second Amendment language from the U.S. Constitution without the more expansive phrasing favored by Republicans.
Bradley mentioned one more distinction between him and McKean: "I'm not a career politician." Indeed, he's never run for office before.
"Career politician" has pejorative connotations, but Iowans tend to re-elect their incumbents. (Just ask U.S. Senator Chuck Grassley, who's been in office for 60 years, or former "Governor for life" Terry Branstad.) Like most office-holders, McKean starts the campaign with a big advantage in name ID.
Granted, he'll be on the 2020 ballot as a Democrat for the first time. But State Representatives Doug Struyk and Dawn Pettengill were repeatedly re-elected to the Iowa House after changing their affiliations from Democrat to Republican. Will House district 58 voters punish McKean for switching parties, or respect him for taking a difficult step due to deeply-held principles?
Trump's coat-tails undoubtedly helped many GOP legislative candidates in 2016. But it's way too early to guess whether Bradley or McKean will benefit from having the president at the top of the ticket next fall. As mentioned above, a plurality of voters in House district 58 have no party affiliation. Some of those who backed Trump last time may regret their choice, or may be open to a different candidate if the Democratic presidential nominee is less polarizing than Hillary Clinton.
For now, I view this race as a toss-up. While it's clearly among the most promising GOP pickup opportunities in the state House, McKean is well-known and well-liked locally.
Top image: State Representative Andy McKean (left) and Republican challenger Steve Bradley.