Hy-Vee executives decided not to sponsor one of this year's largest Iowa Democratic events, a few months after the grocery store chain's political action committee made a $25,000 donation to the Republican Party of Iowa in connection with a fundraiser headlined by President Donald Trump.

Polk County Democrats chair Sean Bagniewski posted on Facebook on August 22 that corporate leadership declined a request to sponsor the Polk County Steak Fry. Hy-Vee is already contracted to cater that September 21 event in Des Moines, where nineteen Democratic candidates for president are expected to speak to thousands of Iowa caucus-goers. The grocery store previously provided food for Senator Tom Harkin's annual Steak Fry in Indianola for many years. The company is also the longtime vendor for the Iowa Democratic Wing Ding in Clear Lake.
As Gwen Hope was first to report for Bleeding Heartland in June, the Hy-Vee PAC's $25,000 contribution to the Iowa GOP was its largest political donation in at least a decade. That gift came shortly before Republicans held a large fundraiser at the company's West Des Moines venue and covered most of the minimum required purchase of food and beverages for renting that facility.
Leaders of the West Des Moines Democrats subsequently cancelled Hy-Vee's contract to cater a picnic featuring candidates for president and U.S. Senate. But Bagniewski told members of the Polk County Democratic Central Committee in June that no other local company could cater an event on the scale of the Steak Fry.
A corporate statement released in response to Gwen Hope's reporting claimed the Hy-Vee PAC's giving decisions "are issue based, not party based," and noted that the PAC financially supports "candidates and leadership committees from both major parties."
Hy-Vee's PAC has donated to the Iowa Democratic Party during most of the last fifteen years, but it has typically made much larger gifts to the state Republican Party. The company's PAC has never donated to the Polk County Democrats, records show, but contributed $11,150 to the Polk County Republican Central Committee from 2010 through 2014.
Bagniewski explained today that the Polk County Democrats reached out to the company because an event featuring all the 2020 Democratic presidential candidates "seemed like a good opportunity to balance [Hy-Vee's] supposedly bipartisan interest in the presidential race."
I'll be frank. It's not a make or break decision for the Steak Fry. We're doing just fine financially without them. We are paying them six figures for their catering services, though, and it seems disproportionate for them to decline any sponsorship opportunities.

Hy-Vee has catered the Steak Fry every year since 1992 and we appreciate their long partnership. Because of this recent turn of events, though, we informed them that we'll be soliciting new vendors next year.

I will continue to use Hy-Vee as one of my shopping options for groceries. They employ thousands of hard-working Iowans who have nothing to do with their corporate leadership's decision. The catering staff that we work with for the Steak Fry are, by far, some of the most professional individuals that I've ever met. I look forward to working with those people again this year.

Corporations show their values with their civic commitment and, sometimes, with their political donations. Many don't give donations or sponsorships to either party to just stay out of the fray altogether. For those that do, though, folks can be fairly critical when they choose one party and one candidate over the other side and their candidates.

I hope their corporate leadership has a change of heart for other Democratic endeavors. […]
Bleeding Heartland has sought comment from Hy-Vee's vice president for communications Tina Potthoff and from the Hy-Vee PAC's executive director Mary Beth Hart. I'll update this post as needed if I hear back on why the company is not financially supporting the Steak Fry.
Many readers have told me or posted on social media that they stopped shopping at Hy-Vee after learning the company's PAC generally favors Republicans and made a large donation to the GOP to gain access to the Trump fundraiser. Neither Gwen Hope nor I called for a boycott, though I have reduced my own purchases at Hy-Vee stores by approximately 90 percent since June. As Bagniewski wrote, many companies avoid getting involved in politics. When a PAC shows a strong preference for one party, the company's leaders should expect that some customers will vote with their wallets.
UPDATE: Hart responded by e-mail on behalf of the PAC,
Polk County Democrats Chair Sean Bagniewski's statement is disheartening. As the state's largest employer in Iowa, we find it troubling as to why we are being targeted by leaders of the Polk County Democrats, including members like Iowa Senator Claire Celsi. Our strategy is and always has been to give to individual political candidates and/or state parties, not county parties. In the eight states where Hy-Vee operates, there are more than 700 counties.

The Hy-Vee PAC supports those who support our initiatives when it comes to health and wellness and business needs in the communities where we are located. As we've stated before, the donation we made to the Republican Party of Iowa several weeks ago was a state-level contribution. We continue to welcome requests from the state Democratic party and its candidates who support our legislative priorities; however, the request made by the Polk County Democrats did not support our PAC criteria for giving. Given today's political environment, it's disappointing when certain individuals misrepresent, spin the facts or threaten to go to the media when their requests are not met. Hy-Vee is built upon values like respect, trustworthiness, honesty and being a good citizen in its local communities. Nearly 90 years later, we stand by these same values today, and we will not tolerate rhetoric that depicts us as anything less than that.
Hart may not be aware that the Hy-Vee PAC has not "always" avoided giving to county party organizations. The Iowa Ethics and Campaign Disclosure Board's database shows eleven donations to the Polk County Republican Central Committee.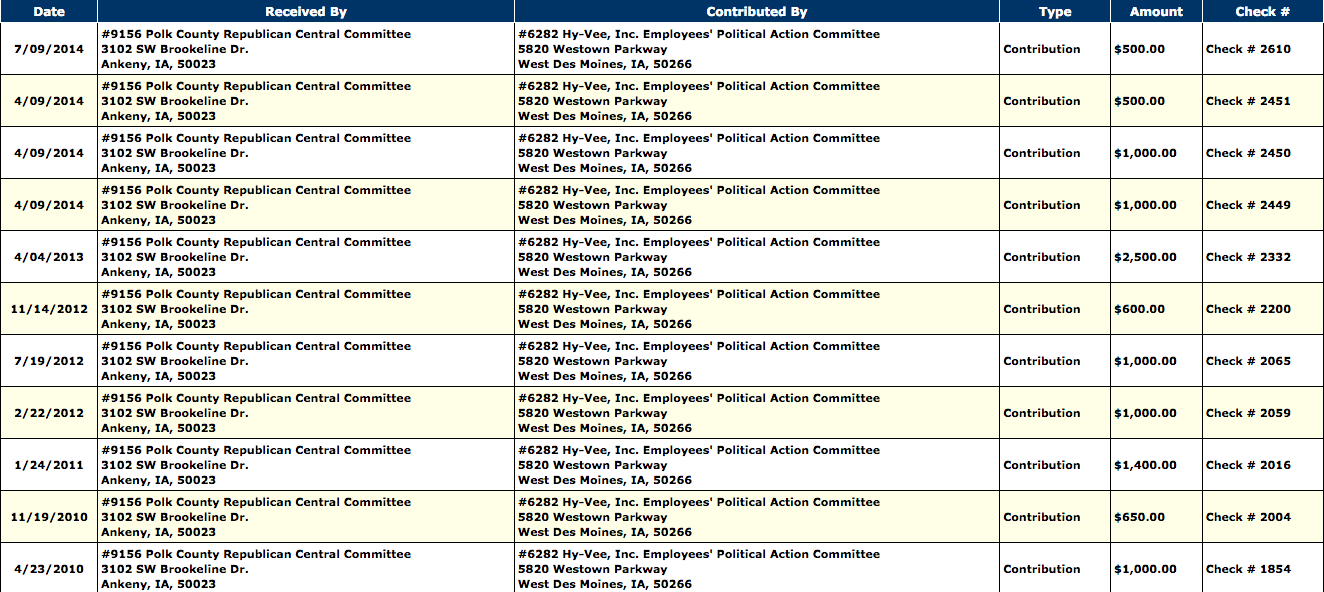 SECOND UPDATE: Bagniewski provided the following reaction to the Hy-Vee PAC's statement.
It's disheartening that Hy-Vee would dispute the fact that they are on record donating to Republican county parties in Iowa. At a time when the quest for truth has never been more important, it's sad to see the leadership of one of Iowa's biggest companies resorting to such behavior. They owe their employees and their customers better.
Hart wrote back to confirm that the PAC's donations to the Polk County GOP "did precede my time as executive director; however, it doesn't change the position that our strategy remains centered on donating at the state and individual level."