Two Democrats are now running in Iowa Senate district 20, likely to be one of next year's most competitive state Senate races.
Information technology professional Charlie Hodges of Urbandale will seek the Democratic nomination in a district covering the northwest suburbs of Des Moines (see map below). Johnston City Council member Rhonda Martin has been campaigning here since May. The winner of the June 2020 primary will face four-term Republican State Senator Brad Zaun.

In an October 21 news release (also enclosed below), Hodges laid out his legislative priorities: expanding mental health services, enacting gun safety measures, supporting workers' rights and raising wages, and criminal justice reform.
Asked where he differs from Martin, Hodges told Bleeding Heartland by e-mail that he met with his opponent before announcing "as a courtesy and to talk through our stances on the issues."
As Democrats, we do see eye to eye on many issues, including our strong advocacy of mental health care, the disastrous privatization of Medicaid, the need to fund our schools, and women's health initiatives.

I am, however, making decriminalizing of marijuana a plank of my campaign. I would look to the additional tax revenue from decriminalization – based on a revenue utilization model similar to that of Colorado – to assist with decreased school, mental health care, and other funding that have seen deep cuts; without seeking unpopular increases in current tax loads. The injustice of marijuana-related imprisonment, the drain on our legal system, and the decreased manpower required for enforcement are also important reasons to seek decriminalization.

I also think the time has come to have a frank discussion on gun control in Iowa, and I plan to make it a consistent talking point on the campaign trail. We do not need to wait until we are victims of a mass shooting to put measures in place to mitigate the risk of that horror coming to Iowa; with an assault weapons ban, red flag laws, and putting an end to the increased loosening of laws for open carry and gun sales happening in the Legislature. It is unnecessary and not mandated by public safety or sentiment.

I am strong on labor issues. I not only wish to repeal the unpopular restrictions placed on public unions, but I want to revisit Iowa's Right To Work law. That law has been a hindrance to unionism and worker protections for over 70 years, and we need to have a real debate on whether it's time for Iowa to allow unions the rights they need to be successful. I also believe we must not lose sight of private unions with all the visibility public unions have seen recently. I would be a strong advocate in the Senate for both public and private unions. Finally, I want to immediately raise the minimum wage to $10hr, which I believe I could work for bipartisan support on. I would include a plan to have periodic increases of $1 until we reach the $15/hr Iowans are demanding in no more than 10 years. This would help worker incomes now, and also allow businesses an adjustment period with the incremental increases in the minimum wage over time.
Hodges posted more about his background and motivations on his website.
You can follow his campaign online at CharlieforIowa.com, or on his Facebook page and Twitter feed. Voters can also contact the candidate by email: CharlieForIowa@gmail.com
Martin is also on the web, Facebook, and Twitter, and can be reached at friendsofrhondamartin@gmail.com.
As Bleeding Heartland discussed in detail here, Senate district 20 is among the Democrats' best pickup opportunities in the upper chamber, despite not being targeted by either party the last time Zaun was up for re-election. Hillary Clinton received more votes in this part of the Des Moines suburbs than Donald Trump, and Fred Hubbell outpolled Governor Kim Reynolds in Senate district 20 by 51.1 percent to 47.2 percent. The district contained around 4,000 more Republicans than Democrats shortly before the 2016 general election, but the GOP registration edge is smaller now: 14,640 active registered Democrats, 16,394 Republicans, and 15,896 no-party voters.
Bleeding Heartland has no current plans to endorse in any of next year's contested state legislative primaries. Multiple Democrats have also declared in Senate district 22 and Senate district 44.
Map of Senate district 20, covering most of Urbandale, Johnston, Grimes, and Jefferson township in Polk County: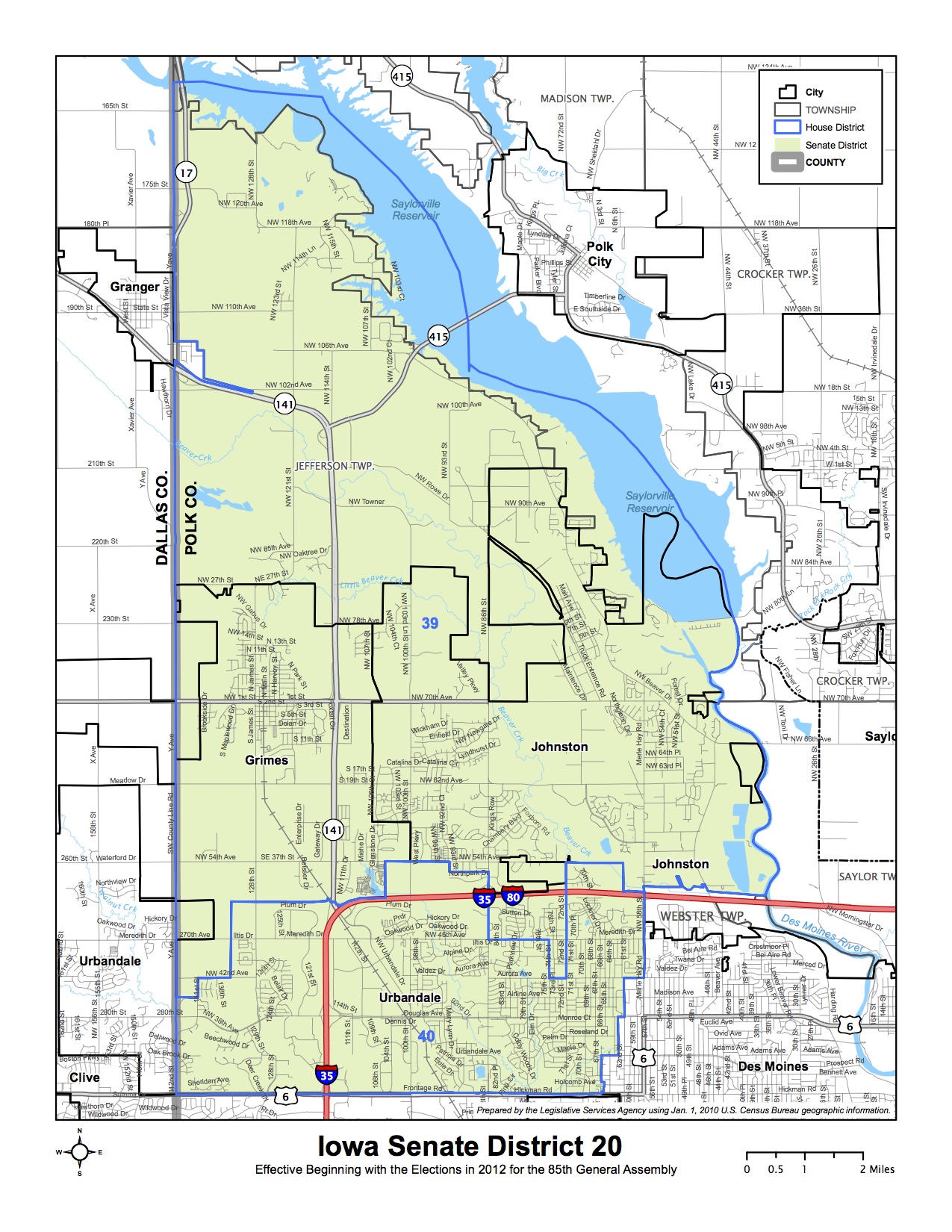 October 21 news release from Charlie Hodges' campaign:
Charlie Hodges of Urbandale announced today that he is running for election to the Iowa Senate in 2020.

Hodges is running in Senate District 20, which includes Urbandale, Grimes, Johnston and rural portions of northwest Polk County.

"After years of Republican politicians controlling the agenda in Des Moines and Washington, D.C., our state is moving in the wrong direction," Hodges said. "They are eroding our rights, cutting funding to education and other key priorities, and failing to address the mental health crisis. I am no longer willing to sit on the sidelines while special interests and the Republican politicians call the shots at the Iowa Capitol."

Hodges pointed to several priorities that he plans to focus on in the Senate, including:
• Expanding Mental Health Services – "We must provide access to mental health care to all Iowans, regardless of their insurance status or their ZIP code," he said. "Iowa ranks near the bottom in the United States in the availability of mental health care. We must fix this. As someone with clinical depression, this is a deeply personal issue for me."
• Improving Public Safety – Hodges supports helping Iowans increase safety in their communities by tackling gun violence. This includes banning assault weapons and high-capacity magazines, and disarming gun owners who pose an imminent risk to themselves or others.
• Supporting Workers' Rights – Hodges supports repealing legislation approved by the Republican-controlled Legislature that stripped public employees of their bargaining rights. "We need to support workers by increasing family incomes, raising the state's minimum wage and guaranteeing paid family leave for Iowans," he said.
• Reforming Criminal Justice Laws – Hodges supports decriminalizing marijuana in Iowa. "The drain on our legal system and the injustice of marijuana-related imprisonment alone would be enough reasons to make the change," he said. "Additional tax revenue from such reforms – with a law modeled after the one in Colorado – could restore funding for education and other critical priorities that have been neglected by the Governor and Republican-controlled Legislature."

An Iowa native, Hodges grew up during the Farm Crisis of the 1980s on a family farm in Greenfield, Iowa. He has worked as an information technology professional for over 20 years, specializing in data management for the past four years.

Hodges has an Associate of Arts degree from Southwestern Community College and a Bachelor of Arts degree from the University of Northern Iowa.

He and his wife Denise have two children, Emma and Ben. Charlie and Denise are active supporters of the National MS Society, United Way of Central Iowa, St. Jude's and numerous other charitable organizations. They are members of St. Luke's Episcopal Church in Des Moines.

Hodges can be reached at charlieforiowa@gmail.com or by phone at 515-217-2733. His website is https://charlieforiowa.com
Charlie Hodges will formally kick off his campaign for the Iowa Senate at an event from 7:00 to 9:00 p.m. Saturday, November 2nd, at the Giovannetti Community Shelter, 8900 Douglas Avenue, at Walker Johnson Park in Urbandale.
Donations can also be made at:
https://secure.actblue.com/donate/hodges-for-iowasd20