Scott Carpenter is a co-founder (with his wife Leslie Carpenter) of Iowa Mental Health Advocacy, which works to improve the broken treatment system for people with serious brain disorders in Iowa and across the country. -promoted by Laura Belin
Prior to the last mid-term election, I described the characteristics I wanted to see in my ideal candidate. Since then, my criteria haven't changed, and they're applicable to the 2020 presidential election.
First and foremost, my ideal candidate is a kind, caring, and thoughtful person who is comfortable interacting with people. I want to see empathy and compassion. My ideal candidate is someone who sincerely cares about and genuinely supports the things that are important to their constituents. My ideal candidate is passionate about working to help people. I want that caring to be obvious in all aspects of their campaign.
I often ask candidates several questions. What motivates you each morning when you wake up? What drives you? What's your passion? The answer to such seemingly simple questions should be obvious for most candidates. If it isn't, then they should consider a different profession.
You don't have ask Cory Booker those questions. It's on display once he starts to speak.

If you go to a campaign event for Senator Booker, you'll see that he's a man of deep moral purpose. Not only does he have a passion for helping others, he has made it his life's mission. His parents and others throughout his life have shaped a remarkable man who measures his own accomplishments by his actions and not by his education, title, or religious affiliation. He also asks others to live to that standard.
That inspirational and aspirational message is Cory Booker. I feel that this message will be the needed antidote for the poison that fills today's political environment.
You can tell a great deal about a person by the company that they keep. The people who surround Senator Booker are of equally high quality. They're a skilled and caring team who share his passion for helping people.
I've met a host of people working for the numerous campaigns and they too are outstanding individuals. As a country, we should take great comfort in knowing that the young people working in these campaigns are outstanding. I'm proud to know them.
In addition to being energetic, Cory Booker is joyful person. I could point to numerous things that I've seen in person and in videos where he is truly enjoying life (yes, life on the campaign trail). He laughs heartily.
Video from December 7 event in Iowa City, posted by Leslie Carpenter
As a skilled empath, Booker listens to the people at his events and takes in their concerns and their pain. This requires being an active listener — an absolutely critical skill. It also requires a high level of positivity and optimism. Importantly, he seeks to fix the problems and injustices that are presented to him. Some, but not all, of the presidential candidates do this.
Those are my criteria. Now I want to speak from my heart and from my gut, where most Iowans decide for whom they will caucus.
The first time I met Cory Booker was at his first house party in Iowa City after announcing his candidacy. I was impressed by his inspirational and positive message. I found him to be a genuinely kind person who made me want to be a better person. I hadn't experienced that feeling in a while.
I remember leaving that early event and thinking how much I like him as a person and how our country needs more of this kind of candidate.
The year since that house party has been a blur of many political events. One was the Iowa Democratic Wing Ding in Clear Lake, Iowa. My wife and I were there in full force, rolling out our blue, end the IMD [Institutes of Mental Disease] Exclusion t-shirts, advocating for those who suffer from serious mental illness.
I looked around and saw Senator Booker standing at the back of the hall talking to a few people. We quickly set down our plates of food and hurried over to see him. He greeted us with his infectious smile and embrace. While it was a brief conversation, he listened to our message carefully (I hope to address how I know that in a separate piece) and then took one of his now famous selfies. I left thinking, Wow! He really listened.
Iowa enjoys a unique political landscape with nearly unlimited access to presidential candidates, at large gatherings like the Wing Ding, the Polk County Steak Fry, Representative Abby Finkenauer's Fish Fry, the Liberty and Justice Dinner, as well as many smaller, local events.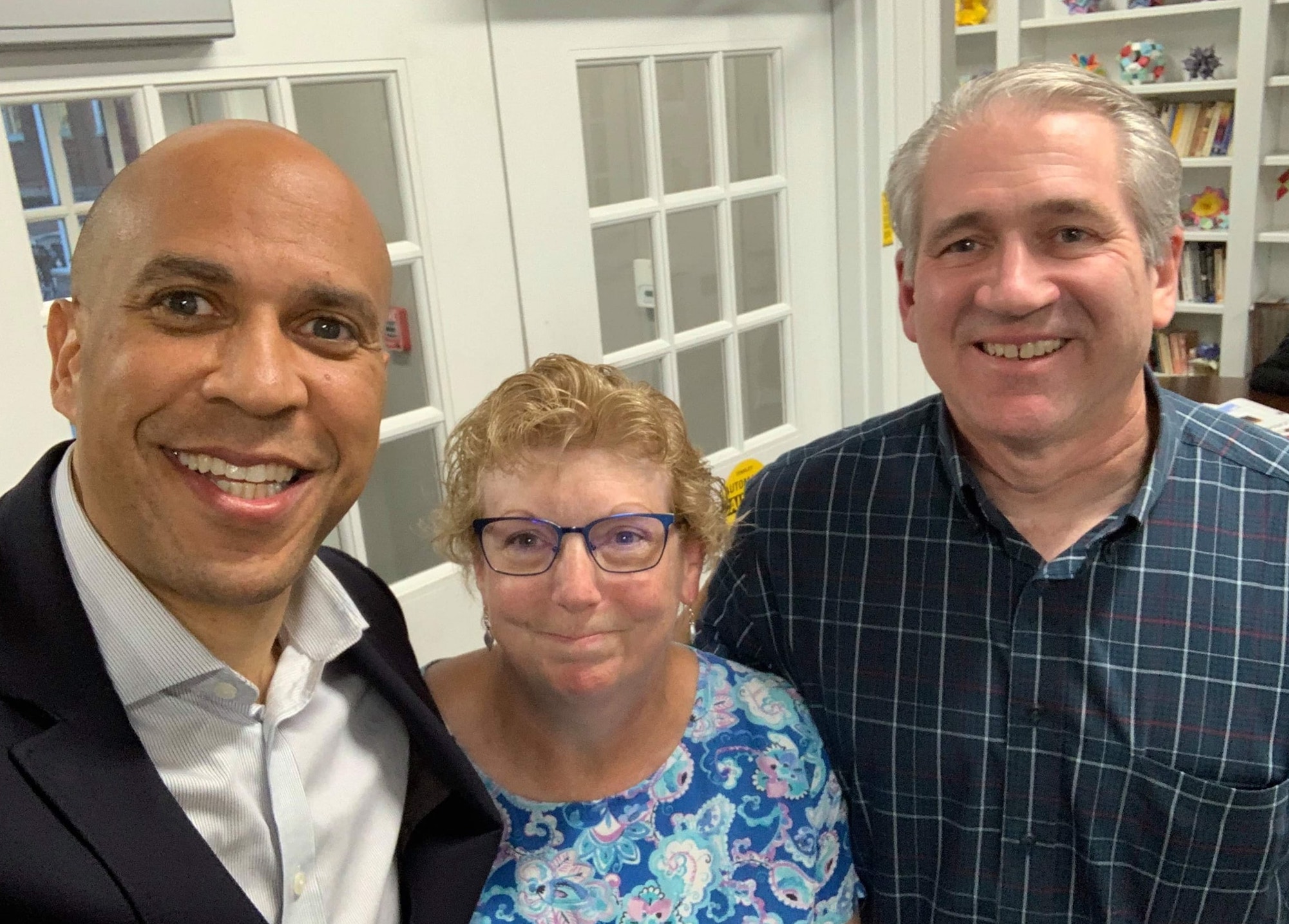 We've gotten to know all of the candidates. Meeting candidates, their staff, and yes, even their significant others (exceptional people in their own right) you get a sense of who they are as a person – which I feel is more important than who they are as a candidate.
It's the person who sits in the Oval Office and makes decisions.
I'm here to tell you that Cory Booker is an exceptional person. I know this in my gut and in my heart.
All photos of Scott and Leslie Carpenter with Cory Booker provided by the author and published with permission.
Editor's note: Bleeding Heartland welcomes guest posts related to the Iowa caucuses, including but not limited to candidate endorsements. Please read these guidelines and contact Laura Belin if you are interested in writing.