Republicans on the Iowa Senate State Government Committee have approved a proposed constitutional amendment that could eventually clear the way for a total ban on abortion.
Senate Joint Resolution 21 would add language to the Iowa Constitution clarifying that the document "shall not be construed to recognize, grant, or secure a right to abortion or to require the public funding of abortion."
An earlier version cleared the Senate State Government Committee in March 2019. But for reasons they never explained publicly, Republican leaders did not bring the measure to the Senate floor during last year's legislative session.
Governor Kim Reynolds urged lawmakers to act on this issue in her Condition of the State address earlier this month: "We must protect life by making clear, through an amendment, that our constitution does not grant a right to abortion."
The goal is to make all future abortion restrictions immune from court challenges.

"THE COURT USURPED THE LEGISLATIVE BRANCH"
Presenting the amendment to the State Government Committee on January 23, Republican Senator Jake Chapman referenced the Iowa Supreme Court's 2018 decision in Planned Parenthood of the Heartland v. Reynolds. Five justices concurred in a majority opinion that a 72-hour waiting period for abortions at any stage of pregnancy violated women's due process and equal protection rights.
Chapman claimed that "the court usurped the legislative branch" and "actually invented a fundamental right to an abortion. […] In effect, the Iowa Supreme Court amended the Iowa Constitution. They overstepped their authority in that decision."
Chapman also noted that dissenting Supreme Court Justices Edward Mansfield and Thomas Waterman expressed concern that the majority might be laying the groundwork for taxpayer-funded abortions. He said Senate Joint Resolution 21 is "needed to correct this unfortunate overreach by five unelected judges and restore to the people and their elected legislators the sole right to amend the constitution of our state."
"REPUBLICANS ARE SICK OF THE COURTS' STANDING UP FOR IOWANS' RIGHTS"
Democratic State Senator Claire Celsi took the lead in opposing the amendment during the committee meeting. She commented in her opening remarks,
For many Iowans, this proposed constitutional amendment by the Republicans may seem like it's coming out of left field. But let me assure you. This Iowa bill is just a small part of a coordinated effort to overturn Roe vs. Wade at the national level – and if the Supreme Court kicks the decision back to the states – it's an effort to weaken the protections of the Iowa Constitution.

Republicans know that once Iowa is weakened, if their plan succeeds – then they can go back to the bad bills they've been trying to pass, get them all out of the trash heap of history, and pass them without fear of the Supreme Court overturning them.
Celsi mentioned Republican efforts to ban the use of telemedicine for abortion services in Planned Parenthood clinics, the 72-hour waiting period, and the 2018 bill that would have prohibited almost all abortions after a fetal heartbeat could be detected (around the sixth week of pregnancy). The Iowa Supreme Court unanimously struck down the administrative rule on telemedicine abortions in 2015. The ruling mentioned above struck down the waiting period, and a 2019 decision by a Polk County District Court stopped the so-called "heartbeat" bill. (Reynolds opted not to appeal that ruling.)
"Each attempt to limit Iowans' rights to a safe, legal abortion was more extreme, medically inaccurate, and insulting than the one before," Celsi argued. While Republicans like to complain about "activist, unelected judges making these decisions on behalf of Iowans," they are working in Iowa and nationally "to stack the courts with judges that will rule in their favor" on abortion issues. "The Republicans are sick of the courts standing up for Iowans' rights. They want to make sure they have the final say."
Women from all over the state have told Celsi their stories about life-threatening medical conditions during pregnancy, or loved ones who died after having illegal abortions. Because of the state law Republicans enacted in 2017 to prohibit almost all abortions after 20 weeks, "some women have had to wait until they were septic before having access to life-saving health care."
Celsi argued that Republican senators "are determined to weaponize our Constitution to eliminate rights that we currently have. […] Instead of focusing on Iowa's maternal health care crisis, Republicans choose instead to ignore those problems and go the most extreme route possible."
Committee Democrats Todd Taylor and Tony Bisignano also spoke against the proposed amendment, warning it would undermine women's rights and allow Republicans to pass many new abortion restrictions.
REPUBLICANS SPELL OUT THEIR ULTIMATE GOAL

The constitutional amendment introduced last year said simply, "The Constitution of the State of Iowa does not secure or protect a right to abortion or require the funding of abortion."
State Government Committee Republicans amended the text on January 23 to include their motivation: "To defend the dignity of all human life, and to protect mothers and unborn children from efforts to expand abortion even to the day of birth." (That last clause is inaccurate; Iowa Code has banned third-trimester abortions for decades.)
Senate Democratic staff provided this picture of the amendment approved during the committee meeting: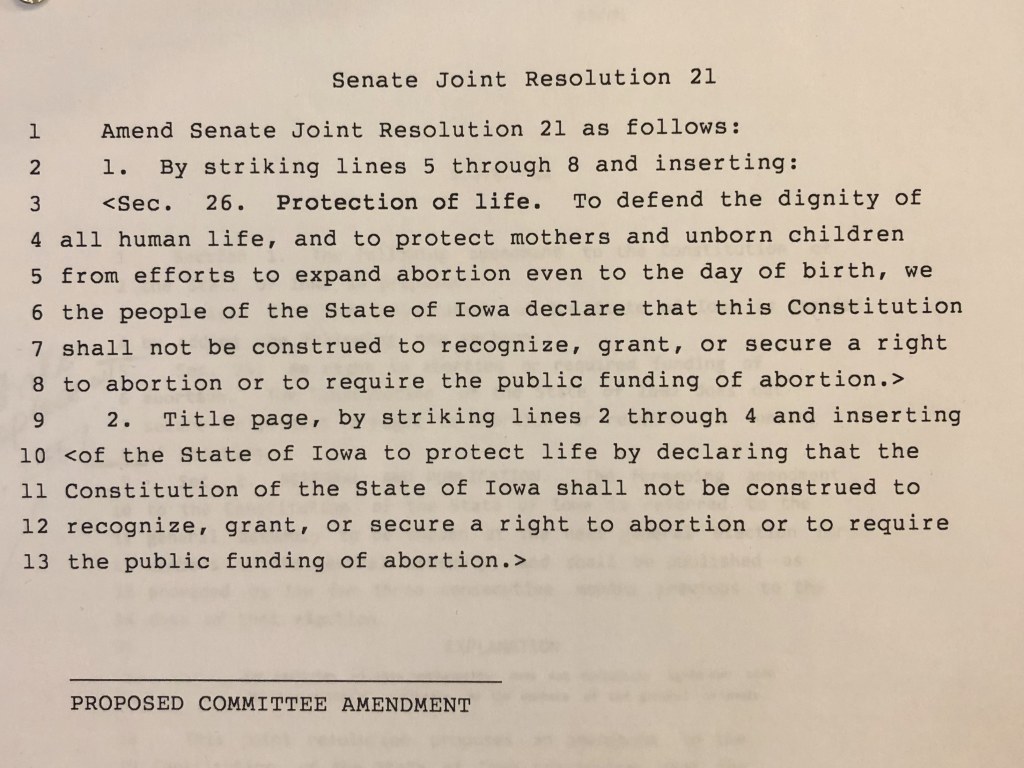 State Government Committee members voted 10-5 along party lines to approve the new language and then to send SJR 21 out of committee. It will be eligible for Senate floor debate.
CAN THIS AMENDMENT BE STOPPED?
There is little chance of stopping this bill in the Iowa Senate, where Republicans have a 32-18 majority. Twenty-nine GOP senators co-sponsored the original version of the amendment in 2019.
The GOP majority in the Iowa House is more tenuous: 53-47. Republicans can afford to lose at most two members on this amendment. State Representative David Maxwell voted against the 2017 bill containing a 20-week ban and 72-hour waiting period, as well as the 2018 bill banning most abortions after about six weeks of pregnancy. Five other House Republicans joined Maxwell in voting against the "heartbeat" bill, but only three–Jane Bloomingdale, Lee Hein, and Louis Zumbach–are still in the GOP caucus. (Chip Baltimore has since retired, and Andy McKean became a Democrat.)
Iowans opposed to this amendment should focus their persuasion efforts on Maxwell, Bloomingdale, Hein, and Zumbach. It can't pass the House without at least two of them voting in favor. They will be under intense pressure from House leaders and possibly the governor herself to pass the amendment, though.
What if SJR 21 does make it through both chambers this year?
The good news is that amending Iowa's constitution is a lengthy process, involving approval by two separately elected legislatures and voters on a statewide ballot. For that reason, both chambers would need to approve identical language in 2021 or 2022. If Democrats gain a majority in the state House, any new abortion restrictions would be off the table.
If Republicans keep total control of state government after the 2020 elections and pass the constitutional amendment again, then Iowans will vote on the measure in the 2022 general election. In all likelihood, the U.S. Supreme Court will have overturned or functionally neutered Roe v. Wade by then. How that would affect public opinion is hard to guess.
The Pew Research Center found in 2014 that 52 percent of Iowans surveyed believed abortion should be legal in most or all cases, while 46 percent said abortion should be illegal in most or all cases. Selzer polls for the Des Moines Register have found reproductive rights gaining support over time. A September 2018 survey found 52 percent of respondents thought the "heartbeat" bill went too far, while 39 percent thought the bill was appropriate. In addition,
Fifty-four percent of Iowans now say abortion should be legal in most or all cases, compared to 48 percent who felt that way in a 2008 Iowa Poll. Thirty-nine percent believe abortion should be illegal in most or all cases, compared to 46 percent in the 2008 poll.
If Republicans get their constitutional amendment on a statewide ballot in 2022, they may try to spin the proposal as taking a neutral stance. But don't be fooled: GOP lawmakers and Reynolds would jump at the chance to ban abortions as soon as they have prevented courts from weighing in to protect women's right to make decisions about their own bodies.
UPDATE: A reader sent me this excerpt from State Senator Jeff Edler's weekly newsletter. I'm told other senators included the same language in their recent messages to constituents.
Working to Protect Life
A joint resolution that would make the subject of abortion neutral in the Iowa Constitution is one of the first bills moving through the legislative process. This change to Iowa's Constitution does not prevent abortions. And, the U.S. Supreme Court precedent still prohibits states from banning all abortions under the U.S. Constitution. What this amendment does do is give the people of Iowa and not the unelected judges of the State Supreme Court the decision-making power of how Iowa regulates abortion.

Governor Reynolds urged us to take action on this amendment during her Condition of the State address. Senate Republicans have passed significant pro-life legislation in our three years in the majority. Since 2017, we have passed the 'Heartbeat Bill,' recognizing life at the sound of a heartbeat, and also bills on a 20-week abortion ban, a 72-hour waiting period, and removing state money from any clinic in Iowa that provides abortions. Protecting life will always be a priority for us in the Senate.
Edler and his colleagues have already voted to ban almost all abortions, and they know the votes are there on the U.S. Supreme Court to overturn Roe v Wade or render its protections meaningless. So it's disingenuous to present their state constitutional amendment as a "neutral" effort. The obvious goal is to allow future legislatures to ban the procedure in Iowa without any risk of a lawsuit succeeding.
Top photo of the Iowa Senate State Government Committee meeting on January 23 provided by Senate Democratic staff and published with permission.