The National Republican Congressional Committee has picked a favorite in the GOP primary to represent Iowa's second district.

State Senator Mariannette Miller-Meeks was among 31 candidates added to the program for potentially competitive U.S. House races on January 24. A news release explained, "The Young Guns program requires candidates to work towards specific goals and meet benchmarks throughout the election cycle to ensure their campaigns remain competitive, well-funded and communicative within their districts."
Although year-end filings aren't due until January 31, the Miller-Meeks disclosure for the fourth quarter is already available on the Federal Election Commission website. Her campaign raised $259,945.99, of which $236,783.20 came from individuals, $13,000 from five political action committees, and the rest from the candidate. Notable individual contributors included former Governor Terry Branstad, former U.S. Representative Tom Tauke, a number of "usual suspect" major Iowa GOP donors (Pete and Frank Brownell, John and Dyan Smith, Don and Jeff Lamberti, Denny Elwell, Joe Crookham), and more than a half-dozen Iowa legislators.
Only ten donors have maxed out to Miller-Meeks for both the primary and general elections; most could give to her again. The campaign spent $45,201.78 during the reporting period, leaving $214,744.21 cash on hand as of December 31.
The other declared Republican candidate in IA-02, Bobby Schilling, has not yet filed his year-end report with the FEC. He raised only $54,505.55 during the third quarter, and the NRCC's decision to back Miller-Meeks suggests Schilling's fundraising didn't improve significantly late last year.
In a news release enclosed in full below, Miller-Meeks asserted, "With the added attention and momentum that come through the Young Guns program, our campaign will continue to have the resources we need to win what is likely to be the most competitive House race in the country."
Yes and no. The NRCC's action is a signal to donors around the country that Miller-Meeks is a credible candidate. And while I see IA-02 as a lean Democratic seat, national forecasters still place it among twenty or more toss-up U.S. House races.
On the other hand, more than 100 GOP House candidates have "on the radar" status. The NRCC will spend serious money in only a few dozen of those races. While Iowa's first and third districts (where State Representative Ashley Hinson and former member of Congress David Young are running) are certain to be expensive campaigns, it is less clear that national Republicans will invest heavily in IA-02. The NRCC spent substantial amounts supporting Representative Dave Loebsack's GOP challengers in 2012 and 2014, then passed on that district in 2016 and 2018.
All other things being equal, an open seat tends to be more winnable than a House district where an incumbent is seeking re-election. Moreover, Donald Trump carried IA-02 by a narrow margin in 2016. So Miller-Meeks has grounds to hope for national financial support. On the other hand, the district voted for Fred Hubbell in the 2018 governor's race, and Democrats recruited a strong candidate in former State Senator Rita Hart. Her fourth-quarter filing is not yet online, but Hart's campaign reportedly ended the year more than $640,000 cash on hand. The latest official figures show IA-02 contains about 22,000 more registered Democrats than Republicans.
A complicating factor for television ad buys: no one market reaches a majority of IA-02 voters. As the enclosed maps show, the district's 24 counties are part of five media markets (Des Moines, Cedar Rapids, Quad Cities, Ottumwa/Kirksville, and Quincy, Illinois).
Miller-Meeks will likely need good internal polling numbers to convince D.C. Republicans to put money in southeast Iowa.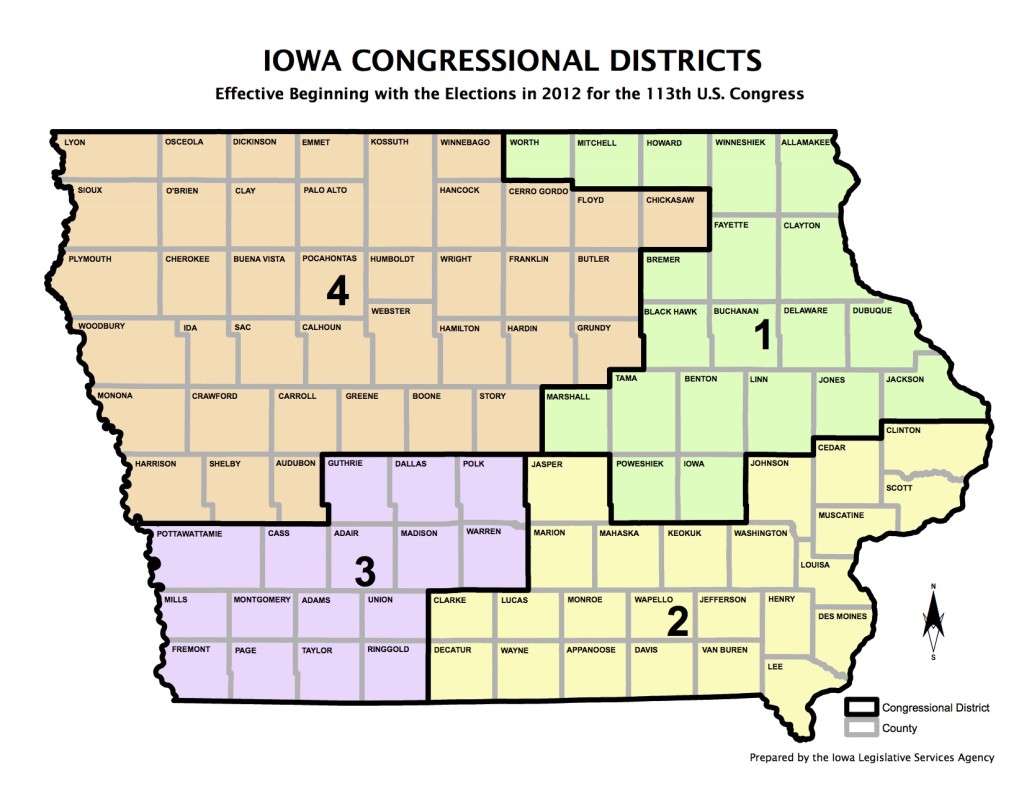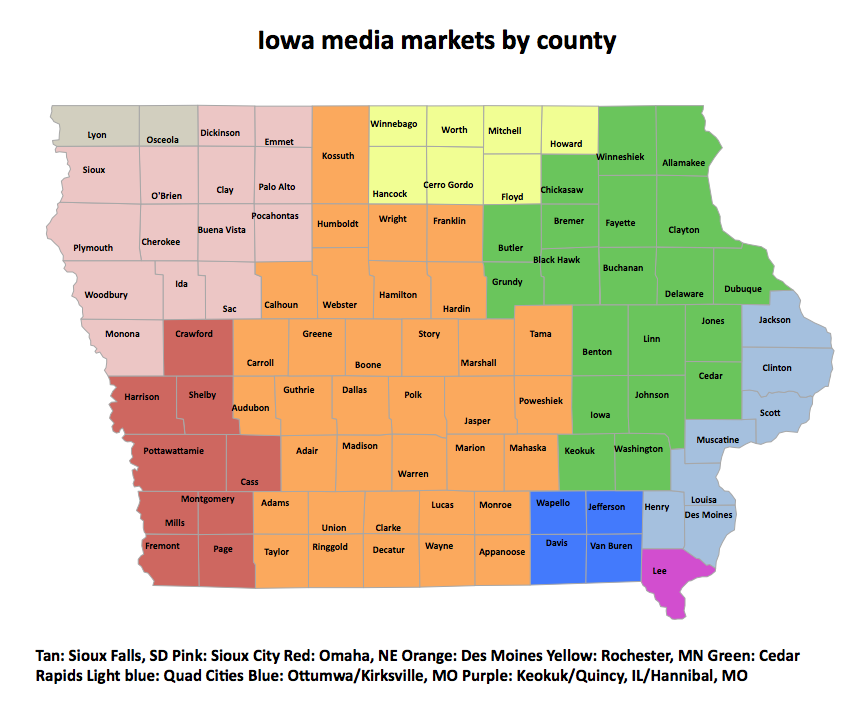 January 24 news release from Mariannette Miller-Meeks' campaign:

NATIONAL REPUBLICAN CONGRESSIONAL COMMITTEE

ADDS MILLER-MEEKS TO ITS LINE-UP OF YOUNG GUNS

OTTUMWA – The National Republican Congressional Committee has included state Sen. Mariannette Miller-Meeks, who is seeking the party's nomination in Iowa's 2nd Congressional District, for inclusion in its 2020 Young Guns program.

The NRCC program identifies candidates who "invoke the values of the House Republican Conference from around the country and who have demonstrated attributes of a winning campaign."

Miller-Meeks is considered an "On the Radar" candidate, which is the first stage of three in the program. That stage includes candidates running in competitive congressional races who demonstrate "a discipline for continued success throughout their race." Through the program, candidates are provided with resources to remain competitive and meet their campaign fundraising and communications goals, with guidance provided by the NRCC.

Miller-Meeks was first included in the Young Guns program in the general election during her 2014 congressional campaign. This is the first time that Miller-Meeks has been included during a primary election.

Miller-Meeks said she is proud to have achieved the level of support necessary to qualify for the Young Guns program.

"When House Republican Leader Kevin McCarthy introduced the first round of Young Guns last year, he said the 2020 election is going to be about two futures: a future of more freedom or government control. I believe in a future with more freedom, while my Democratic opponent envisions a future with more and more government control," Miller-Meeks said. "She belongs to a Democratic party that is now in conflict with the people of Iowa's 2nd District. As that party's candidate, she stands for bigger government, higher taxes, more regulations and more spending. That all adds up to less freedom for the rest of us."

She added, "With the added attention and momentum that come through the Young Guns program, our campaign will continue to have the resources we need to win what is likely to be the most competitive House race in the country."