After seven-term Democratic U.S. Representative Dave Loebsack announced plans to retire after his current term, I argued that the open-seat race in Iowa's second Congressional district looked like a toss-up.
Bobby Schilling made his campaign official on July 8, setting up a likely general election match-up against Rita Hart. Although Democrats should take nothing for granted here, and the Cook Political Report and Sabato's Crystal Ball still rate IA-02 as a toss-up, I'm now considering this a lean Democratic seat for the following reasons.

SCHILLING'S STRENGTHS AND WEAKNESSES
Schilling may not clear the Republican field--potential contenders like three-time Congressional candidate and current State Senator Mariannette Miller-Meeks haven't ruled out the race. But he looks like the heavy favorite for the GOP nomination.
He will be the only Republican running who has served the U.S. House, representing an Illinois district across the Mississippi River from his current home in Le Claire (Scott County) in 2011 and 2012. Schilling raised more than $1 million for his first Congressional race, when he rode the 2010 Republican wave and defeated a Democratic incumbent. He raised more than double that amount in 2012, when he lost his seat to Cheri Bustos. Schilling raised and spent more than $1 million again for his unsuccessful rematch against Bustos in 2014.
His experience at this level will be an asset in the GOP primary, which is why he played it up in the July 8 news release rolling out his candidacy.
Bobby Schilling Announces Run for Congress in Iowa 2nd District
Will begin 24-county engagement tour in the coming days

Le Claire, Iowa – Today former U.S. Rep. Bobby Schilling (R-Le Claire) officially announced that he is running for Congress in the Iowa 2nd District as a Republican.

Schilling released the following statement:

"When I served in Congress just a few short years ago, I often disagreed with my friends on the other side of the aisle on a number of important issues. But they were just policy disagreements. We still talked to each other. We still found common ground. We still deeply cherished this great nation and had the same patriotic desire to make America great not just for ourselves, but for our children and our grandchildren.

"Unfortunately, something changed. Our politics have worsened considerably. The voices leading the modern Democratic Party have forced the party dangerously leftward to the point that they are now openly embracing Venezuela-style socialism, higher taxes on working people, banning private health insurance, open borders and free health care for illegal immigrants, late-term abortion up to the moment of birth, ending religious freedom as we know it, and even wacky proposals like the $97 trillion Green New Deal that would hurt working families and destroy our economy.

"I think we can do better than that. Iowans aren't looking for socialism — they're looking for Americanism. I'm running on a platform of strengthening families, empowering small businesses, and defending this great nation against those who would seek to tear her down. I'm running to provide a common sense voice for Iowa families in Congress. We have enough radical progressives in Congress — let New York have Rep. Alexandria Ocasio-Cortez, let Minneapolis have Rep. Ilhan Omar — Iowa can do a whole lot better.

"In the coming days, I will embark on a 24-county engagement tour as I speak with Iowans from across the 2nd District about critical issues that matter most to them, such as stagnant wages, rising costs, health care, immigration, agriculture, our 1st and 2nd Amendment rights, parental rights, the right to life, education, and a whole lot more. I'm excited. This is going to be a lot of fun.

"It's time to return the People's Seat to the people. Let's get to work."
You and I may consider it laughable for Schilling to assert that the GOP-controlled U.S. House in 2011 and 2012 "found common ground" and worked constructively with Democrats. I'm not aware of any major bipartisan accomplishments on his resume. But his intended audience (Republican primary voters) will probably find this shtick convincing.
Schilling's ready to combat accusations that he is not Iowan enough. Here's the cover photo on his campaign's Facebook page.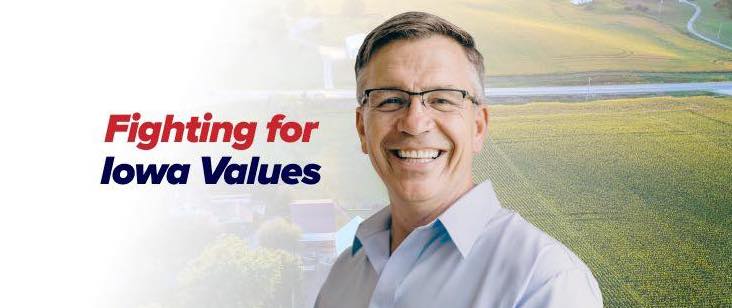 I'd advise Democrats not to focus on the "carpet-bagger" line of attack. Who cares if Schilling spent most of his life on the other side of the river? It's not as if that part of Illinois is culturally different from southeast Iowa in any significant way.
His voting record provides a lot of promising avenues, though, as previewed in the Iowa Democratic Party's July 8 statement.
"Why would Iowans give Illinois politician Bobby Schilling a second chance in Washington to court special interest donors at the expense of his constituents?" said IDP Chair Troy Price. "His signature achievement includes backing a radical plan that would have gutted Social Security and Medicare to pay for billions in special tax breaks to the wealthy and big corporations. Iowans deserve a representative who will work to grow our economy and create opportunities for all of us. Illinois politician Bobby Schilling has already proven he's not up to that task, and it's why Iowans will reject him."
The Center for Responsive Politics' OpenSecrets database is the most user-friendly resource for details on the top contributors and industries that supported Schilling's previous campaigns for Congress.
Expect to hear a lot more over the next sixteen months about the budget cuts and tax breaks Schilling supported as a loyal foot soldier in the Republican caucus. For example, after saying during his first campaign that "Amtrak and high-speed rail are critically important to both the economy and the environment of the Midwest," Schilling voted in 2011 "to eliminate a $230 million federal grant to build an Amtrak line from Chicago to Iowa City," which would have run through the Quad Cities area he represented.
SCHILLING'S PLANNED ATTACKS ON THE DEMOCRATIC NOMINEE SOUND GENERIC AND STALE
As Bleeding Heartland discussed here in more detail, the likely Democratic nominee Hart is a good fit for IA-02. Her experience as a farmer and former teacher will be relatable to voters in communities of all sizes. She's a good campaigner and has already visited many of the district's 24 counties since declaring her candidacy in May.
As a state senator, Hart represented the Clinton area, one of the mid-sized cities where support for Democrats has slipped in recent election cycles. She wasn't on the far left of the Iowa Senate Democratic caucus and has plenty of bipartisan votes to tout from her legislative career. So tying her to "socialism" and "radical progressives in Congress," the strategy Schilling laid out in his July 8 news release, will not be credible.
To cite just one example, Hart isn't for "banning private health insurance." On the contrary, she voted for a 2018 bill that allowed the Iowa Farm Bureau to sell "health plans" that were defined as not insurance and therefore exempt from Affordable Care Act requirements as well as most Iowa Insurance Commission oversight. I opposed that policy, as did many Democratic state lawmakers. But Hart supported it. So how will Schilling convince voters his opponent is "embracing Venezuela-style socialism"?
Furthermore, another Democrat will provide a clear contrast in the primary race. After informally campaigning for about a month, Newman Abuissa officially launched his candidacy on June 30 (full statement enclosed below). Speaking to Bleeding Heartland by phone on July 6, Abuissa said he's gotten a good reception from Democrats in early appearances and plans to visit every county in the district. He will focus on foreign policy (having chaired the Iowa Democratic Party's platform committee on international affairs), advocating a peace agenda and reorienting the U.S. relationship with the world. Other key issues for him include rebuilding our infrastructure (he's worked as an engineer and a "builder" for his entire career), education (he has lived in Iowa's largest college town for 25 years), and health care reform (he supports Medicare for All, but would allow consumers to keep their private insurance if they prefer).
Abuissa doesn't have Hart's name ID, campaign experience, fundraising capacity, or level of support from well-known local activists. But he will be a voice on the left, representing progressive views that don't always align with the front-runner's. His presence in the race will make it even harder for Republicans to caricature Hart later as a "dangerously leftward" candidate.
TOO EARLY TO SAY "LEAN DEMOCRAT"?
It's still reasonable to consider IA-02 a toss-up race, for all the reasons Bleeding Heartland discussed in April. Donald Trump carried the district in 2016, and all other things being equal, open seats are usually harder to defend than seats where an incumbent is seeking re-election. Furthermore, it's far too early to tell whether the national environment will favor Democrats in the fall of 2020, or whether Trump's challenger will be able to appeal to voters in blue-collar areas where Hillary Clinton failed to resonate.
But Hart is an unusually strong candidate for a non-incumbent. She outperformed the top of the Democratic ticket by winning re-election to the Iowa Senate in 2014, a GOP landslide year. (Hart's constituents in Senate district 49 favored Republican Joni Ernst over Democrat Bruce Braley in the 2014 U.S. Senate race.) So even if the 2020 Democratic presidential nominee doesn't have coat-tails, I doubt Hart would be dragged down.
The level of interest in the presidential race suggests next year's turnout should be substantially higher than in 2016, which on balance should help Hart in a district with about 22,000 more active registered Democrats than Republicans. Field staff for many presidential campaigns will identify and mobilize supporters to participate in the 2020 Iowa caucuses, which could boost the Democratic ticket in the general election. Old-timers will tell you that organizing before the 1984 caucuses boosted Tom Harkin's successful U.S. Senate campaign against a Republican incumbent that year.
Both parties will likely target IA-02, but I suspect the Democratic Congressional Campaign Committee--now led by Bustos, a big Hart fan--will be more committed to holding this seat than the National Republican Congressional Committee will be to flipping it. The NRCC spent significant funds in IA-02 in 2012 and 2014 but did not target Loebsack during the last two cycles.
Until I see evidence to the contrary, I consider Hart a slight favorite in a district that re-elected Loebsack comfortably and voted narrowly for Fred Hubbell last year.
Any comments about the IA-02 race are welcome in this thread.
Appendix: June 30 news release from Newman Abuissa's campaign:
My name is Newman Abuissa. I was born and raised in Damascus, Syria. I came to the United States thirty-five years ago to study engineering and that is where I met my wife Kristi in Brookings, SD. We settled in Iowa City twenty-five years ago and have raised four children, three boys and our youngest Maryam is still at home; she is a senior at City High. I have been active in civic and political organizations including PEACE Iowa, Council of International Visitors to Iowa Cities, Concerned Iowans for Middle East Peace, and the University of Iowa Center for Human Rights. I have helped establish and build the St. Raphael Eastern Orthodox Church community here in Iowa City.

I have been active in Democratic politics since I became a US citizen 25 years ago. I went to Boston as a national alternate delegate for John Kerry in 2004 and for the last few years I have been the state chair for the International Affairs subcommittee of the Iowa Democratic Party's Platform Committee.

Today I announce my candidacy for the United States Congress. I'm standing here not as a lawyer, or a professional politician, but as a civil engineer. As a builder. Like our physical infrastructure, too much of our social infrastructure has been neglected, and allowed to crumble. I believe that, focusing our resources and working together, we can build a new and better Iowa, a new and better America that will last for decades and give our children and grandchildren a better place to live.

Together we can build a better, healthier environment that not only tackles the global climate crisis but our economic and social crisis, as well. We'll build an economy, a healthcare system, and an education system that is sustainable, and that works for everyone. Where everyone can flourish, and where no one is left behind.

Together we can build a just and rational foreign policy that restores America's place in the world. We'll promote our values, work together with our allies, and stop pandering to our enemies. America will no longer be a friend to dictators or a neighborhood bully. We will be respected and admired once again, and our crops and products will be sold in fair and open markets around the world.

Together we can build a constitutional government that is transparent, responsive, and accountable to all its citizens. Big Money will no longer corrupt our system. The ballot box will be available to every citizen, every vote will be counted, and every voice will be heard. Cynicism will be replaced as our people regain trust.

None of this will be easy. There is so much work to do, and everyone's contribution will be needed. But together we can rebuild our community and our common life and restore America to the way it was meant to be.