A number of readers and some journalists have asked me recently whether I was able to resolve the credentialing problems I experienced last year.
The short answer is no. Despite being warned that their press credentialing policies "suffer from serious constitutional deficiencies," leaders in the Iowa House and Senate and staff in Governor Kim Reynolds' office continue to deny me access to resources they provide to most other reporters who cover state government.

SHIFTING GOALPOSTS
I've written hundreds of articles a year about Iowa politics for more than a decade, but until 2019, I never sought formal credentials. Before last year's legislative session, I decided to spend more time at the capitol because the statehouse press corps was shrinking, and I had a more flexible schedule as my children grew older.
It never occurred to me that Republican officials would claim I'm not a reporter.
Initially, House Chief Clerk Carmine Boal told me "press credentials are not issued to members of the public." An aide later told the Associated Press, "The House rules limit access to the floor of the House to 'representatives of the press, radio, and television.'" However, in past years, Boal had credentialed reporters affiliated with online publications such as the now-defunct IowaPolitics.com and Iowa Independent.
The House did not have a written policy on media access when I applied for credentials. In February 2019, they drafted guidelines (enclosed below as Appendix 1) requiring journalists to demonstrate they are "bona fide correspondents of repute" as well as a paid employee of a news organization "whose principal business is the regular dissemination of original news to a broad segment of the public."
I explained to Boal that Bleeding Heartland is an LLC, registered with the Iowa Secretary of State's office. Much like the owner of a family farm limited liability company, I am entitled to any and all distributions and profits, such as reader contributions. I devote full-time efforts to gathering, writing, and editing the content at this site, and I am paid for that work.
Nevertheless, the House chief clerk told James Q. Lynch of the Cedar Rapids Gazette,
Members of news organizations issued credentials are more accountable because they answer to a news director, editor or publisher, Boal said. Belin is a "personal" blogger not unlike any member of the public, she said.
Boal hadn't applied the same standard years earlier, when she granted credentials to Craig Robinson of The Iowa Republican website.
Meanwhile, staff for Governor Kim Reynolds ignored my repeated attempts to apply for credentials to cover the governor's press conferences or public events. Finally, communications director Pat Garrett informed me in early February 2019 that the governor's office did not consider me a "credentialed member of the media" because I was not credentialed by the Iowa House. Their stated policy did not and still does not exist in writing.
I expected to be treated fairly by Secretary of the Senate Charlie Smithson, a past executive director of both the Iowa Ethics and Campaign Disclosure Board and the Iowa Public Information Board. Early last year, he appeared to process my application for credentials without incident. I was told that while the Iowa Senate did not have a permanent desk for me in the press gallery, I could apply for day passes to work there when I was at the statehouse.
However, each time I asked to use one of two desks assigned to single day media visitors, I was told the space was unavailable–even though the seats were unoccupied. After I tried several times to receive a day pass, staff told me in February 2019 that Smithson had changed the rules. No day passes would be issued to media seeking to work in the Iowa Senate.
"SERIOUS CONSTITUTIONAL DEFICIENCIES"
In early March 2019, some three dozen editors, news directors, and publishers signed a letter from the Iowa Freedom of Information Council to the governor and Republican legislative leaders. It stated in part,
Without regard to the editorial views of journalists or their employers, the Council believes Iowa government leaders should be encouraging journalists to cover the important policy discussions, deliberations and decisions by the General Assembly and by the governor — rather than discouraging coverage through arbitrary rules that we believe deny media credentials to legitimate reporters.

At a time when the number of reporters employed by traditional media outlets is declining nationwide, the role being played by non-traditional media is growing in importance. […]

The Iowa FOI Council does not believe it is appropriate for decisions about access to the press bench in the House or Senate or to the governor's press conferences at the Capitol to be based on how a reporter's content is distributed, whether the journalist is paid, whether the journalist is supervised by a manager, or whether the journalist writes opinions or produces news analyses as part of his/her journalistic reports.
The letter cited an Iowa Judicial Branch policy on coverage of court proceedings, which defines "news media" as "any person who regularly gathers, prepares, photographs, records, writes, edits, reports, or publishes news or information about matters of public interest in any medium […]."
I didn't hear back from the House chief clerk or governor's communications director, and Senate Secretary Smithson ignored my follow-up questions for weeks before unveiling a new "media overflow accommodation policy" in late March. Under that policy, I would be unable to use seats in the Senate press box, where other reporters worked. Instead, I could apply for passes to sit in the "crow's nest"–a room at the top back of the public gallery, with a restricted view, limited ability to hear floor debate, and no chance to interact with senators when they chamber was at ease.
David Keating, president of the Washington-based Institute for Free Speech, had reached out to me after learning of my credentialing problems. That organization commissioned a legal memo about my situation, which Keating sent to the governor's office and Iowa House and Senate leaders last April.
Here's the full text of the memo by Robert Corn-Revere and Chelsea T. Kelly of the Davis, Wright, Tremaine law firm. Corn-Revere is a nationally renowned First Amendment lawyer and was the lead attorney for Iowa State University students who won a major free speech case a few years ago.
Its concluding paragraph read,
Upon considering the relevant facts and law, this memorandum concludes that Ms. Belin qualifies as a member of the media, as her blog communicates important information to the public on matters of governmental affairs. As such, she is entitled to the same First Amendment protections as "traditional" journalists. The Press Credentialing Policies of the Iowa Legislature and Governor's Office suffer from serious constitutional deficiencies to the extent they deny credentials to Ms. Belin based on her status as a blogger, and further to the extent that the Legislature arbitrarily applies the policy.
NEW YEAR, NEW PRETEXTS
Since last spring, Pat Grassley replaced Linda Upmeyer as Iowa House speaker, and Meghan Nelson succeeded Boal as House chief clerk. When applying for credentials to cover the 2020 session, I attached a letter explaining why I met the terms of the House credentialing policy.
A few days before lawmakers convened in Des Moines, Nelson replied by email, saying "The House does not credential outlets that are nontraditional/independent in nature."
The chamber's written policy says nothing about "nontraditional" or "independent" outlets. In fact, all reporters for the brand-new website called Iowa Capital Dispatch received credentials. That site describes itself as "a hard-hitting, independent news organization."
Nelson ignored messages asking her to cite a specific provision in the House policy that would justify excluding me. I later learned the House also denied credentials to Jacob Hall of the conservative website The Iowa Standard–possibly hoping to create the impression they weren't discriminating against liberal viewpoints expressed on Bleeding Heartland. (Iowa Capital Dispatch editor in chief Kathie Obradovich told me that website's "coverage will be non-partisan and without preference to any particular ideological perspective.")
The Iowa Senate never had written standards on granting access to reporters until January 2020, when the chamber published a new "reserved work space policy" (enclosed below as Appendix 2). The revised application for reporters seeking to use the press gallery declared, "Effective with the 2020 Session, the Iowa Senate is no longer 'credentialing' media as the Iowa Capitol Building is a public building open to members of the general public." The work space policy reads like a credentialing policy.
I applied for "work space." Smithson informed me, "Your application has been reviewed and it has been determined that you do not meet the criteria to be a 'member of the media' under the Senate Reserved Work Space Policy." He did not respond to follow-up messages seeking a specific reason for that determination. As in the House, the Iowa Capital Dispatch received the same access as other reporters.
Commenting on the new denials, Keating of the Institute for Free Speech told the Associated Press last month, "If they have a policy, why aren't they applying it? […] When I look at the policy, it looks like she would qualify."
I attempted to attend Governor Reynolds' January 21 news conference at the capitol. Garrett blocked me from entering the room, on the grounds that I am not credentialed in the House. Hall has attended some of the governor's public events in past years but was recently told he is not welcome at Reynolds' press conferences either.
That policy significantly inhibits our news gathering, because the governor's office no longer publishes audio or video from her media availabilities. Those excluded from her press conferences not only cannot ask the governor any questions, but also cannot hear what anyone else asked or how Reynolds responded.
WHAT NEXT?
Restrictions on my press freedom can't stop me or Bleeding Heartland's guest authors from reporting regularly on the governor and what's happening (or not happening) in the Iowa House and Senate.
That said, the First Amendment to the U.S. Constitution and Article I, Section 7 of the Iowa Constitution demand that government bodies apply media rules uniformly to similarly situated journalists. I do not intend to stop seeking the same access granted to others who regularly provide original reporting about Reynolds and the legislature.
Many readers have asked how they can support my efforts. As I explore my legal options, I may incur attorney's fees. Those inspired to contribute can do so through PayPal, or sign up to make a recurring monthly donation through Patreon. Readers can contact me directly if they would prefer to send a personal check.
Editorial independence is a central principle of Bleeding Heartland's work. I have never accepted a contribution that would create a conflict of interest. For that reason, I discourage donations from Iowa elected officials, candidates, or paid staff and consultants on Iowa campaigns.
Bleeding Heartland is an LLC, so contributions are not tax deductible.
---
Appendix 1: Iowa House credentialing policy adopted in February 2019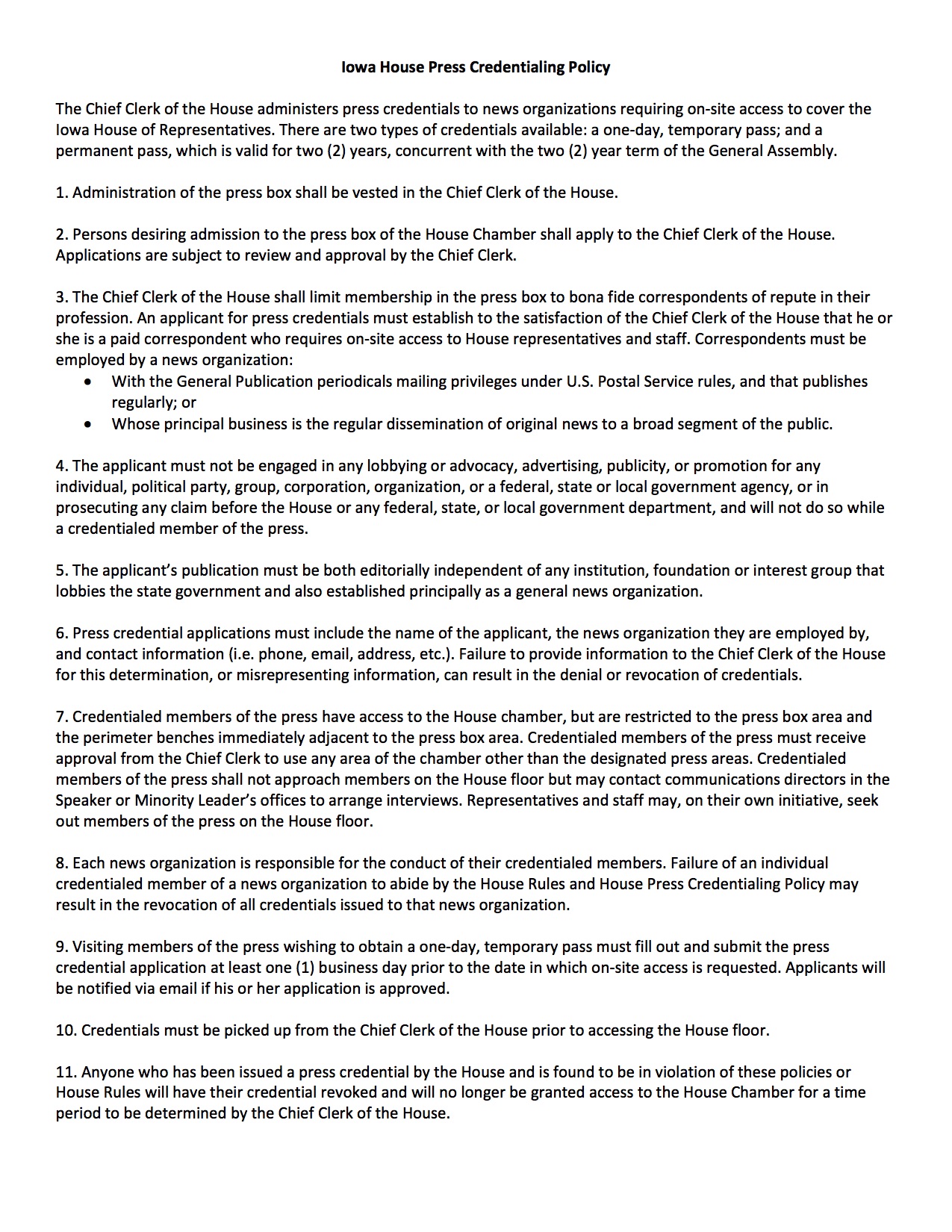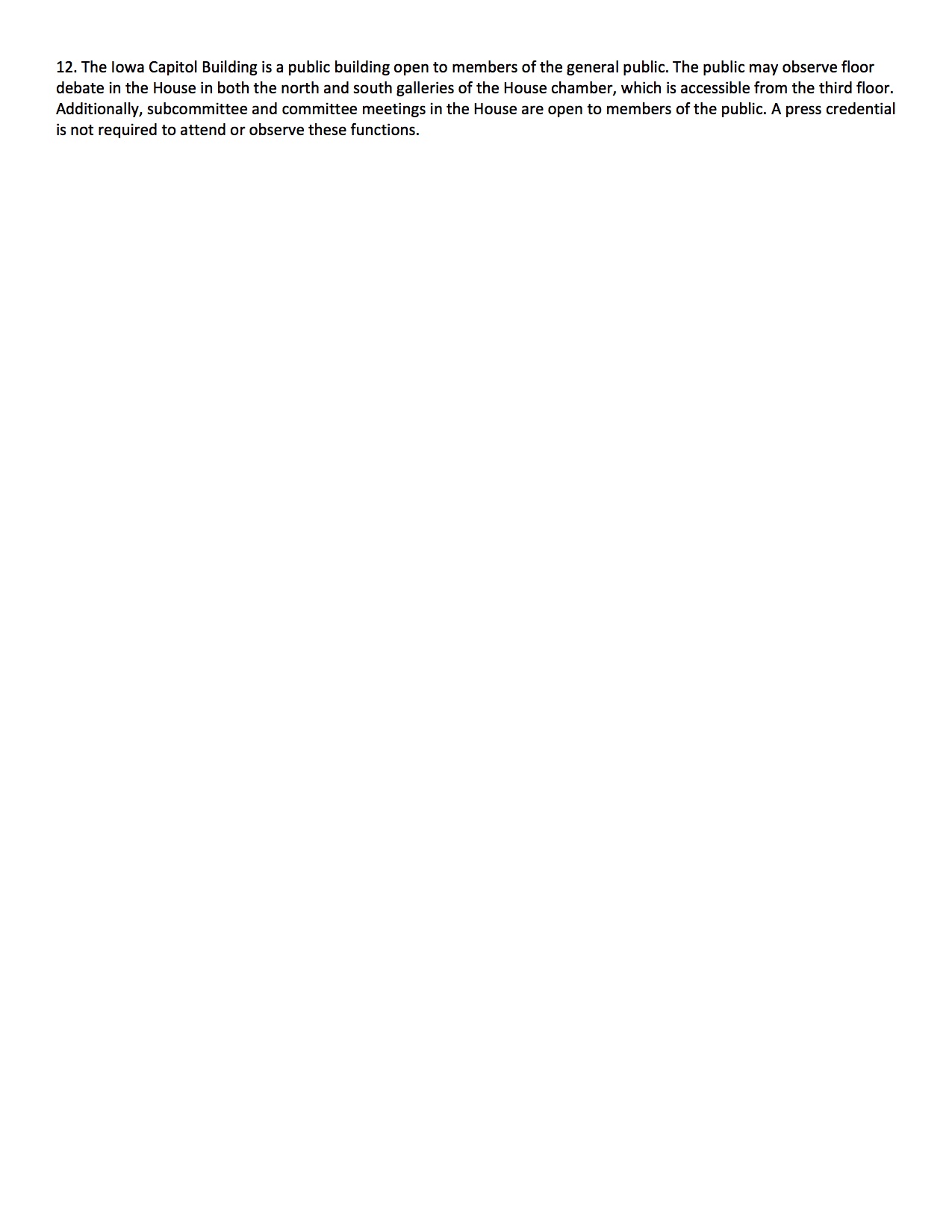 Appendix 2: Iowa Senate "reserved work space policy," published for the first time in January 2020