Both major parties have declared candidates in what could become a competitive race for an open Iowa House seat.
Marshalltown City Council member Sue Cahill announced on February 20 that she will run for House district 71, with the support of retiring Representative Mark Smith. Tony Reed launched his campaign for the Republican nomination earlier this month.
This seat would at best be on the second tier of Republican pickup opportunities in lower chamber, where the GOP now has a 53-47 majority. But it's a must-hold for Democrats and a campaign worth watching.

POLITICAL LANDSCAPE
House district 71 covers the city of Marshalltown and some smaller towns in the northern part of Marshall County: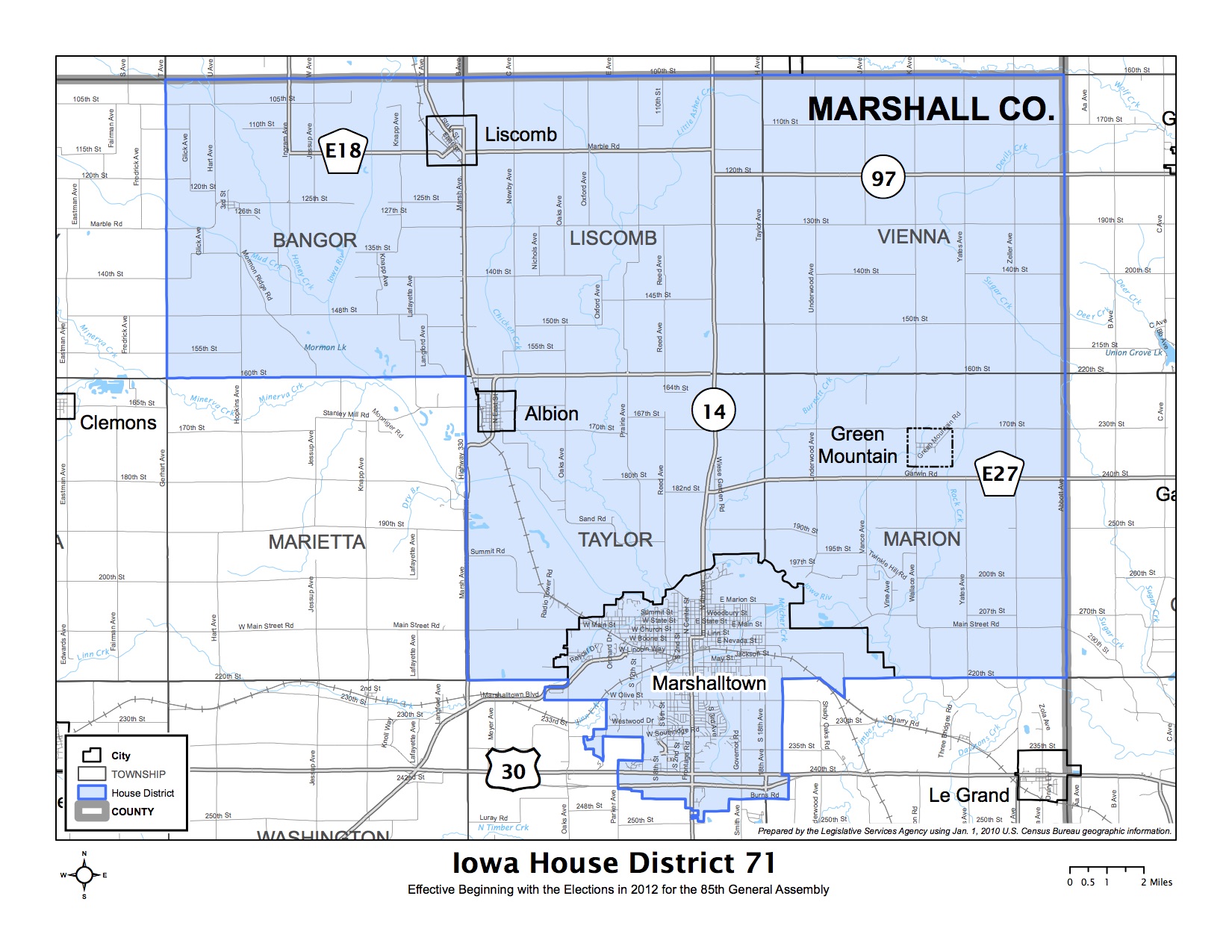 Smith has represented the area for 20 years, usually winning re-election easily. He defeated his GOP opponent in 2018 by 58.4 percent to 41.5 percent. Neither party spent significant funds on the race.
Marshall County is among the counties containing mid-sized Iowa cities where residents used to provide larger vote margins for Democratic candidates than they have done lately. However, this House district still leans Democratic. The latest official figures show 5,424 active registered Democrats, 4,613 Republicans, and 6,016 no-party voters live in House district 71. Those numbers don't include anyone who changed their party registration on February 3 in order to participate in the Iowa caucuses.
President Barack Obama carried the precincts in House district 71 with 56.6 percent of the vote to 42.2 percent for Mitt Romney in 2012. Although Democratic performance here was far worse in the last presidential election, Hillary Clinton still outpolled Donald Trump, 48.0 percent to 46.6 percent. Fred Hubbell received 52.5 percent of the vote in the district in the 2018 general election, while Governor Kim Reynolds won 45.4 percent.
This area is more diverse than most Iowa legislative districts. The city of Marshalltown's population is about 30 percent Latino and 5 percent Asian American, according to the latest available data from the U.S. Census Bureau. By comparison, about 6 percent of Iowa's population is Hispanic or Latino, and just under 3 percent is Asian.
House district 71 is the more Democratic half of Senate district 36, where challenger Dave Degner should give Republican State Senator Jeff Edler a competitive race. Bleeding Heartland previewed that match-up here.
BACKGROUND ON THE CANDIDATES
Both candidates have deep roots in the community. Cahill has been a teacher in the Marshalltown school district for more than 20 years and won a seat on the city council representing the first ward in 2017. In a February 20 telephone interview, she said Smith told her early last year that he did not intend to seek re-election in 2020. She'd been thinking for some time about running for the legislature when Smith retired.
About 90 percent of the territory in House district 71 is part of the city Cahill already represents. She told Bleeding Heartland that she will bring the same vision to her legislative campaign that she voiced during her city council race: supporting policies to make the area a better place for residents, businesses, and visitors.
The news release announcing her campaign quoted Cahill as saying,
"I taught at the same school for 18 years and in the Marshalltown district for over 20 years, where I have seen students of mine turn into young adults and start families of their own. While many are accomplished professionals in Marshalltown giving back to their community, I've seen too many leave our state or our community for Des Moines and other communities. It's essential to keep and attract families here to Marshalltown with strong public schools, affordable and accessible healthcare, and expansive skilled trade programs."

Sue Cahill is a current teacher at the Marshalltown Community School District. She works as a teacher leader and helps train new teachers. Sue also serves on the Marshalltown Youth Foundation, which helps fund music, arts and sports programs for children, The Marshalltown Read by Third Campaign, which supports educational success for all students. She is an active member and leader of the Marshalltown Education Association and the Iowa State Education Association. She attends St. Mary Church of the St. Francis Assisi Parish. […]

Sue and John Cahill were married for 24 years before he died of colon cancer in 2006. Sue has six adult children.
In the same written statement, Smith said he will be working hard to elect Cahill. "Sue has been an active member of our community for decades and she will be a strong voice for Marshalltown in the Iowa House." As the new leader of the Iowa Democratic Party, Smith will be focused on elections across the state, but his many connections in the area will be an asset to Cahill.
Cahill endorsed Pete Buttigieg for president in November. Bernie Sanders won the most delegates in Marshall County, followed by Buttigieg. (Precinct-level results are on the Iowa Democratic Party's official page, but the New York Times interactive map is more user-friendly.)
Reed has been thinking about running for the legislature for almost 20 years, he wrote on his campaign's Facebook page in late January. His formal announcement noted,
The candidate, originally from Independence, attended the University of Northern Iowa and graduated with a degree focused on Human Services Agency Administration. He has been a Marshalltown resident since 1994. Reed has served as the executive director of Central Iowa Juvenile Detention Center for more than 25 years.

"I have had the opportunity to work with the Iowa Legislature through my work with juvenile justice and children's mental health. During this time, I have gained a vast amount of knowledge about these issues and the legislative process that I want to take to the Statehouse in Des Moines. I will be a strong voice for the residents of Marshalltown and the surrounding community and will work hard to serve them." Reed said. […]

Reed has served on the Governor's Juvenile Justice Advisory Council for 15 years and has served as a Drug Court Panel Member for Marshall County Community Corrections.

He was also President of the Central Iowa Property Association, volunteered as a youth sports coach and for Special Olympics. He has volunteered for numerous school related extra-curricular activities and worked closely with Northstar Community Services and Central Iowa Community Services to provide housing for clients with disabilities.

Reed is also a small business owner, operating All American Property Management for over 25 years.
Republicans will probably invest resources in this race. All other things being equal, it is easier to win an open seat than to take down an incumbent. Given the area's recent voting history, I see Cahill favored to keep this House seat in Democratic hands. That said, a lot can change over the course of eight months, and the Democratic presidential nominee may help or hurt down-ballot candidates in areas like Marshalltown.
To follow the candidates on Facebook: