UPDATE: The commission recommended Mary Chicchelly, David May, and Matthew McDermott. I've added below highlights from Langholz's interview.
Iowa's State Judicial Nominating Commission will interview candidates to succeed retiring Supreme Court Justice David Wiggins on March 6. The fifteen applicants include two finalists Governor Kim Reynolds passed over for the vacancy she filled last month (District Court Judge Joel Barrows and Matthew McDermott) and several who have applied for previous vacancies, such as District Court Judges Mary Chicchelly and Patrick Tott, District Associate Judge Romonda Belcher, Assistant Attorney General Molly Weber, and Muscatine County Attorney Alan Ostergren.
Three applicants have provoked anxiety in Iowa legal circles. Bleeding Heartland discussed some problematic aspects of Ostergren's record when he applied for a Supreme Court vacancy last year. Guthrie County Attorney Brenna (Findley) Bird previously served as chief of staff for U.S. Representative Steve King and later as Governor Terry Branstad's legal counsel. In that capacity, a jury found last year, Bird and Branstad violated the constitutional rights of former Workers' Compensation Commissioner Chris Godfrey. While working in the Branstad administration, Bird was also involved in rushing through an effort to ban the use of telemedicine for abortions. The Iowa Supreme Court unanimously struck down that administrative rule in 2015.
The greatest concern has centered on Sam Langholz, the governor's senior legal counsel. He is widely perceived as Reynolds' top choice. Thanks to changes in the selection process Langholz helped engineer last year, the governor may have the votes on the State Judicial Nominating Commission to get her subordinate on Iowa's highest court.
That would be troubling for several reasons.

1. INEXPERIENCE
Langholz would be the least experienced person named to the Iowa Supreme Court in recent memory. He graduated from the University of Iowa law school--at the top of his class--only twelve years ago. Most justices previously served as lower court judges or had many more years of private practice under their belt. Langholz's application (enclosed in full below as Appendix 1) describes six phases of his career:
brief stints interning in the U.S. Attorney's Office for the Northern District of Iowa (where he did research and writing) and the Muscatine County Attorney's office (where he was lead counsel or sole counsel in about fifteen simple misdemeanor prosecutions);
a one-year clerkship for Judge Steven Colloton on the Eighth Circuit Court of Appeals;
sixteen months in private practice at a Des Moines law firm;
nearly four years as Iowa's State Public Defender, where most of his work was unrelated to litigation;
nearly four years in a senior post at the Iowa Department of Inspections and Appeals, where he heard hundreds of contested cases as an administrative law judge;
serving as the governor's senior legal counsel and policy adviser from July 2018 to the present.
This wide-ranging resume lacks the depth of practice normally seen in a Supreme Court justice. Langholz has not presided over civil or criminal trials, nor has he argued big cases in state or federal courts. He was chief counsel for the State Public Defender's office on eight appeals, arguing three times before the Iowa Court of Appeals.
His application also states (emphasis in original),
In total, in the past ten years, I have been associate counsel in one bench trial and I participated in eight appeals as chief counsel and two appeals as associate counsel

Outside of the ten-year period, I have had one additional jury trial and approximately fifteen additional bench trials. I was chief counsel or sole counsel in all these trials except for one bench trial, in which I was associate counsel.
Those trials were the simple misdemeanor cases he prosecuted in Muscatine County.
Langholz wrote that he has "developed substantive expertise in areas of administrative law, constitutional law, and state governmental law that would be a benefit to the Court." But where the application calls for "any case in which you wrote a significant opinion on federal or state constitutional issues," he answered, "None."
Due to his relative lack of qualifications, Langholz wasn't one of the finalists forwarded to the governor when he applied for a Polk County District Court judgeship in May 2018. It wasn't a close call, according to a source who witnessed interviews for that vacancy in Judicial District 5C.
Numerous attorneys have told me they believe Langholz is unqualified to serve on the Supreme Court. They didn't want to speak on the record, since they or their partners might at some point have cases before the justices. But prominent trial attorney Roxanne Conlin wrote in a February 27 Facebook post,
One of the applicants who is only 41 years old, has been an attorney for only 12 years, and is a current member of the Governor's political staff - Sam Langholz. This person at any other time in history, using any of the measure of top candidate for the Court, would not be considered properly prepared to be on the Supreme Court. He would never make it as one of the finalists. He has not tried a case as lead counsel. He is the founder of and current President of the Iowa Chapter of the Federalist Society. That organization is now vetting all of Trump's judges. It seems clear that his purpose on the court will be to advance policy viewpoints consistent with Governor Reynolds.

THERE ARE BETTER CANDIDATES. The Governor should not be allowed to push through a member of her staff to the highest Court in Iowa at age 41 just because she wants to.
Note: Langholz's application indicates that he served as president of the Iowa Lawyers Chapter of the Federalist Society from its founding in October 2009 until January 2019.
In a February 28 written statement, Democratic State Senator Rob Hogg encouraged Iowans to contact judicial nominating commission members
to oppose the three applicants (Brenna Findley Bird, Matthew McDermott, and Sam Langholz) who worked directly with Governor Reynolds or the Branstad-Reynolds Administration. Iowans can speak up to help stop a partisan takeover of the Iowa Supreme Court. I believe that Langholz and Bird, in particular, lack sufficient experience to be appointed to the Iowa Supreme Court.
I've heard no one question McDermott's qualifications, given the long list of significant cases he's worked on. As Bleeding Heartland discussed here, concerns about his fitness for the high court are grounded in his past work for the Republican Party of Iowa and his ties to some of its top office-holders.
2. POTENTIAL CONFLICTS OF INTEREST
I am not aware of any precedent for an Iowa governor's legal counsel to apply to serve on the Supreme Court. Langholz's work for Reynolds raises a number of questions, none of which he answered after I emailed him last week and again on March 2.
Supreme Court appointments
Evaluating judicial candidates is part of the legal counsel's job. When helping the governor choose the three Supreme Court justices she has appointed so far, did Langholz mention that he might apply for the high court during Reynolds' tenure?
Many observers, myself included, expected the governor to appoint McDermott to replace the late Chief Justice Mark Cady, but she selected Dana Oxley. Did Langholz steer Reynolds in that direction, knowing that having two women on the Supreme Court would increase the odds of the governor picking a man next time?
If not selected as one of the three finalists to replace Wiggins, will Langholz participate in Reynolds' interviews with the candidates or her consideration of their applications?
Lobbying for the judicial selection changes
Langholz worked hard in 2019 to persuade Iowa House Republicans to support an overhaul of the judicial selection process. The initial proposal would have eliminated any role for elected attorneys on the nominating commissions. The final version left district nominating commissions intact and allowed eight elected attorneys to stay on the State Judicial Nominating Commission, but guaranteed they would be outnumbered by the governor's nine appointees (currently all named by Reynolds or her predecessor Terry Branstad).
The merit-based system Iowa adopted in 1962 was designed to ensure the governor would select judges from a small pool of highly-qualified candidates, rather than filling the bench with cronies or like-minded partisans.
When lobbying to get last year's bill on the governor's desk, did Langholz mention to any Republican lawmakers that he had ambitions to serve on the Supreme Court himself? With his level of experience, the only realistic scenario for him to land on the short list would be for the nine appointed commissioners to outvote the elected attorneys.
By some credible accounts, one or more Iowa Supreme Court justices urged House Republican holdouts to approve the judicial selection changes during the closing days of the 2019 legislative session. As the point person on this issue for the governor's office, Langholz would have been in a position to coordinate such communication. Did he help make those connections? And did he mention to any supportive justices last year that he hoped to join their ranks soon?
State Judicial Nominating Commissioners
Applicants for the Iowa Court of Appeals or Supreme Court are asked to state whether any member of the State Judicial Nominating Commission is a relative by blood or marriage, or a current law partner or business partner. Langholz answered "N/A" (not applicable) on both counts.
Nevertheless, he is entangled with at least two of the commissioners, because the governor's legal counsel helps review candidates to serve on judicial nominating commissions. Reynolds has appointed four of the current State Judicial Nominating Commission members. She picked John Bloom and Kathy Pearson before Langholz joined her staff, but she named Kathleen Law (the commission's secretary) in December 2018 and Dan Huitink in May 2019.
When helping the governor vet candidates for the nominating commission, did Langholz mention to interested parties that he might interview for a Supreme Court vacancy during their terms? Langholz, Huitink, and Law did not respond to my inquiry.
Involvement in cases likely to come before the court
Langholz has advised Reynolds on policy decisions that led to lawsuits against the state, such as signing into law a ban on sex education grants to Planned Parenthood affiliates and language intended to prevent transgender Iowans from receiving Medicaid coverage for gender-affirming surgery.
Would he recuse himself from such cases if appointed to the court? His application didn't say, and he didn't answer my question.
On a related note, Bird promised on her application to recuse herself from considering Godfrey v. State (where she is an appellant) and any cases relating to her work as Fremont or Guthrie County attorney.
3. LIMITED PUBLIC INPUT
Since I began paying close attention to Iowa Supreme Court appointments, I have never seen such a compressed timeline for members of the public to contact commission members.
The first time Reynolds had an opportunity to name a Supreme Court justice, the deadline to apply was June 26, 2018, and the list of candidates was published the very next day. Members of the public had twelve days to send comments to commissioners.
When the commission was considering candidates to replace retiring Justice Daryl Hecht, the application deadline was January 16, 2019. Again, the list of applicants was published the next day. Public comments were accepted until January 30 (thirteen days).
After Chief Justice Mark Cady died unexpectedly, the application deadline for his would-be successors was December 23, 2019. Despite the intervening Christmas holiday, the judicial branch released the candidates' names and applications on December 26, with a twelve-day public comment period ending January 7.
This time, the application deadline was February 21. Five days passed before the list of applicants was released, leaving only seven days to send comments to the commissioners.
In addition, the deadline was moved up to 5:00 pm on March 4. A January news release had said public comments about the Supreme Court applicants could be sent to commissioners anytime before 11:59 pm on March 4.
Senator Hogg highlighted the delay in an Iowa Senate floor speech on February 27 (beginning around the 2:22:15 mark of this audio file). "What makes this particularly suspicious is that this list of applicants has not one, not two, but three applicants" who have worked for the Branstad or Reynolds administrations, he said. The shortened comment period "smells bad," since the contenders include three "politically extraordinarily well-connected applicants."
While Hogg had characterized the delay as "inexplicable," State Judicial Nominating Commission chair Trish Roberts provided the following explanation to Bleeding Heartland via email on February 28.
The application deadline was 11:59 p.m. on Friday, February 21. The Uniform Internal Rules state that the commission secretary shall prepare the list of applicants and provide information to state court administration so the website can be updated.

The commission secretary, Kathleen Law was out of town for a business trip from Thur, February 20 through Tues, February 25. Upon return, she performed the random drawing for interview slots, organized each application to be published, prepared news release, notified applicants of their interview time slots and provided information to state court administration on Wednesday, February 26 to be published. State court administration published this information to the website on February 26, making all information available to the public.
I was unable to confirm that account with Law. The only message I received from her was an auto-reply stating she was "out of the office from February 26-March 1 due to dr.'s orders from complications of the flu."
The Uniform Internal Rules adopted in 2019 do call for the secretary to "Prepare or cause to be prepared a list of the applicants [...] and update the Commission website with this list." But the optics are bad, given Langholz's job duties and Bird's past work for Governor Branstad.
Roberts replied to my follow-up message,
Your suggestion is well taken. I will request that a backup commission member be trained and prepared to step in for the commission secretary when future vacancies in the appellate courts occur. To have asked someone at the last minute for this current opening would have further delayed the process.
For any readers who have the time and inclination to comment before 5:00 pm on March 4, I've enclosed below as Appendix 2 phone and email contacts for all seventeen state judicial nominating commissioners.
4. THE CONSTITUTIONAL PROBLEM IN HIS OWN BACKYARD
Since early 2019, the governor's office has maintained I am not a "credentialed member of the media," and therefore not entitled to attend Reynolds' press conferences. Langholz did not reply to my messages last year seeking clarity on the policy, which did not and still does not exist in writing.
The Washington-based Institute for Free Speech took an interest in my credentialing problems and commissioned a memo about my situation by Robert Corn-Revere and Chelsea T. Kelly of the Davis, Wright, Tremaine law firm. Corn-Revere is a nationally renowned First Amendment lawyer who successfully represented Iowa State University students in a free speech case a few years ago.
The memo cited numerous court rulings and argued, "it appears clear that Ms. Belin should receive the same access and accommodations to the Legislature or the governor as traditional journalists."
The document concluded,
Upon considering the relevant facts and law, this memorandum concludes that Ms. Belin qualifies as a member of the media, as her blog communicates important information to the public on matters of governmental affairs. As such, she is entitled to the same First Amendment protections as "traditional" journalists. The Press Credentialing Policies of the Iowa Legislature and Governor's Office suffer from serious constitutional deficiencies to the extent they deny credentials to Ms. Belin based on her status as a blogger, and further to the extent that the Legislature arbitrarily applies the policy.
Institute for Free Speech president David Keating sent copies of the memo to Iowa legislative leaders, Reynolds, and the governor's chief of staff Sara Craig Gongol in April 2019. Through a public records request this year, I obtained copies of Keating's one-sided correspondence with the governor's office (enclosed below as Appendix 3).
Writing directly to Reynolds, Keating praised some Iowa policies related to free speech while pointing out that "The current credentialing policy is an area where Iowa can and should make improvements." He told Craig Gongol,
At this time, we do not intend to release this letter or memo to the media, though we may opt to do so at a later date. Rather, this is a serious effort to provide advice and a solution. [...]

We would be pleased to assist you and Gov. Reynolds to revise the policy to ensure its compliance with both the letter and spirit of the Constitution as well as to address legitimate concerns about having a manageable policy.
After hearing nothing back, Keating wrote to Langholz two weeks later, forwarding the memo and his message to Craig Gongol and repeating his offer to "assist you and Gov. Reynolds to revise the policy to ensure its compliance with both the letter and spirit of the Constitution as well as to address legitimate concerns about having a manageable policy."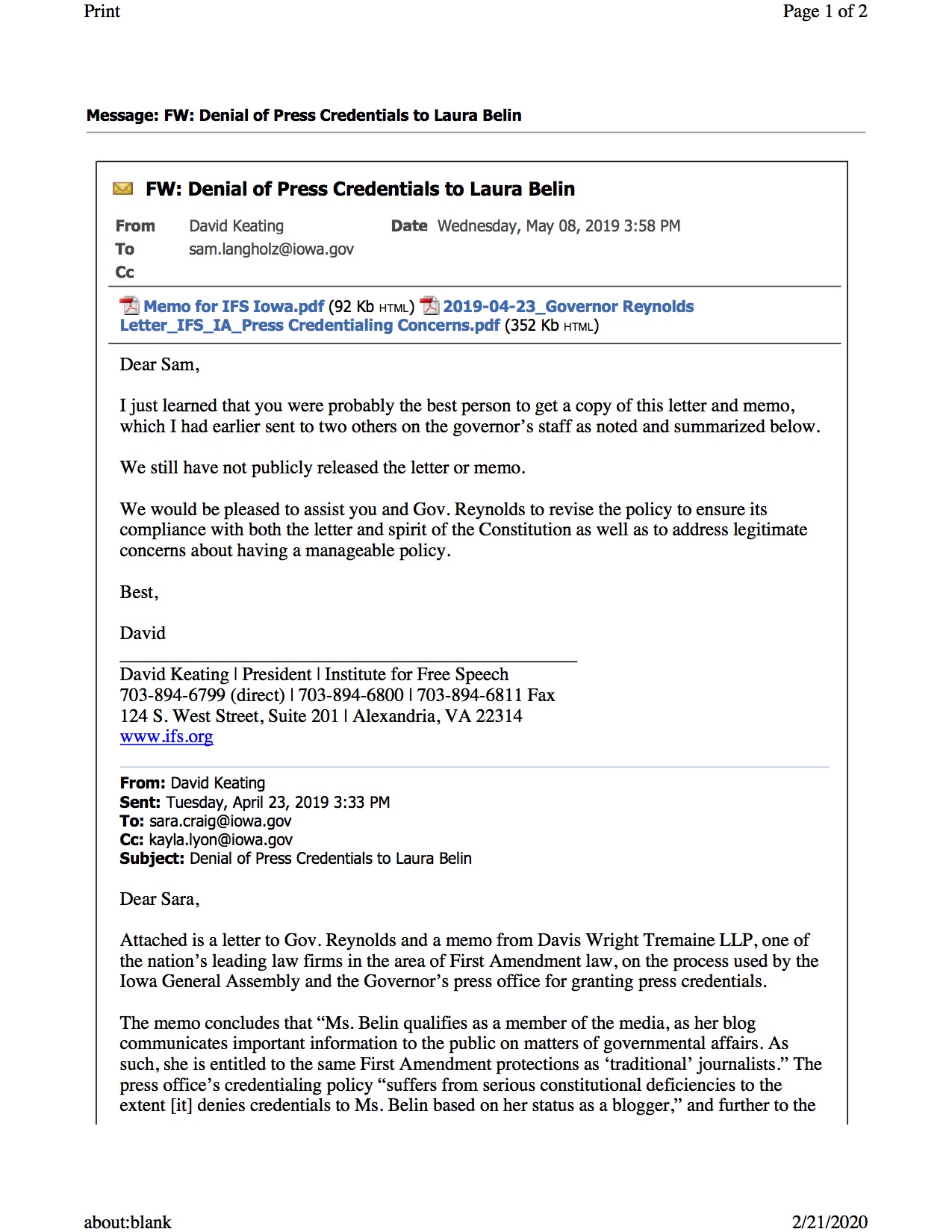 The Institute for Free Speech did not publicize this memo until January of this year, after the legislature and governor's office again denied me access they provide to similarly situated reporters.
I don't know whether Langholz discussed the credentialing matter with colleagues or the governor. Records show (and Keating confirmed) that no one representing Reynolds replied to the Institute for Free Speech.
In other words, after a well-known First Amendment attorney warned of "serious constitutional deficiencies" in an office policy, and the leader of a national organization offered to help resolve the problem quietly, Langholz engaged in no dialogue. He didn't even send a form letter to acknowledge receipt.
One of the Iowa Supreme Court's duties is to interpret the state constitution, which (like the U.S. Constitution) protects press freedom. Although Federalist Society types claim to be faithful to our country's founding documents, Langholz's apparent indifference to violations where he works doesn't give me confidence he would put constitutional concerns ahead of political expediency.
UPDATE: The State Judicial Nominating Commission did not include Langholz on the list of candidates forwarded to the governor on March 6.
During his interview, commissioner Helen Sinclair (a Branstad appointee) brought up what she called "the elephant in the room. And as you know, there's been a groundswell of comment saying that your appointment would reduce the appointment to a political one, instead of a merit one. What do you have to say to that?" Langholz replied,
I trust that this commission is going to do its job, that it's going to evaluate all of the candidates based on their merit, based on the applications, based on the letters of recommendation, with respect to me, particularly those letters that came in from people who know me, who have worked with me.

And I trust that this commission is not going to make a political decision. That it's going to pick three nominees that will be qualified to serve on the Iowa Supreme Court. And I trust that.
Christine Conover, one of the elected attorneys, followed up, saying the commission "has received dozens of letters expressing concern" that since Langholz currently works in the governor's office, his appointment to the Iowa Supreme Court would "detract from the independence that our judicial branch needs. Is that a relevant consideration for this commission? Could you address that?"
Respectfully, I don't think it is. I think your job is to consider the applicants that have been submitted, or that have put themselves forward to serve Iowans, to decide, you know, which of those applicants are the three best nominees to serve on the Supreme Court. And I don't think it's disqualifying to be currently serving in another role.

This is something, you know, that I thought about before deciding to apply. You know, it's something that happens all around the country. You know, I found--and I'm sure it's not an exhaustive list--at least sixteen examples just in the past ten years, of governors that have had current staff move to the judiciary. Some of those have been in states with commission systems like these, where the staff apply to the commission, the commission evaluates them, sends them as a nominee if they are qualified to serve. And in some cases, then, those individuals have gone on to serve in the Supreme Court. And it's not been a problem in the other states.

I recognize that the role, you know, my role changes [if I'm appointed]. You know, I'm not here today as a representative of the governor's office, in fact I'm on vacation right now. I would be taking a new judicial oath that I talked about, that is moving into an entirely different role, that's required to be fair and impartial. I don't--I recognize that.

I can understand why people who don't know me, who have had a political operation, you know, ginning them up to be writing in to you might be concerned about that, but I'm confident that if I am fortunate enough to be nominated and appointed, my work will speak for itself that I abide by the judicial oath. I won't be showing favor towards the governor or the state or any other party.
I've asked for the list of sixteen people Langholz referenced, who successfully applied for judicial positions while working on a governor's staff.
I'm also seeking comment on whether Langholz will help the governor interview the candidates and evaluate their applications. That would at minimum create the appearance of a conflict of interest. If Langholz intends to apply for the next Iowa Supreme Court vacancy (Justice Brent Appel will reach the mandatory retirement age in 2022), he has incentive to steer Reynolds toward appointing another woman, or perhaps one of the two finalists who have experience as district court judges, to improve his chances of being selected next time.
---
Appendix 1: Sam Langholz's application to serve on the Iowa Supreme Court and writing samples submitted
Appendix 2: Contact information for all seventeen members of Iowa's State Judicial Nominating Commission
Chairperson
Trish Roberts, Carroll, Iowa; trroberts@hotmail.com

Secretary
Kathleen Law, Des Moines, Iowa; kklaw@nyemaster.com

Commissioners

Steve Berger
319-461-4109
berger@netins.net

Henry Bevel
319-232-6555
bevel@s-c-law.com

John Bloom
515-494-7458
john.bloom52@gmail.com

Christine Conover
319-366-7641
cconover@simmonsperrine.com

Jeff Goodman
515-267-8600
Jeff.scjnc@gmail.com

John Gray
712-255-8838
john.gray@heidmanlaw.com

Lance Horbach
641-751-8050
lance.horbach@insurecentraliowa.com

Dan Huitink
641-629-6630
huitinksjnc@gmail.com

Kathleen Law
515-283-3116
kklaw@nyemaster.com

Dorothy O'Brien
563-355-6060
dao@emprights.com

Kathy Pearson
(c) 319-350-4604; 319-366-4451
kpearson@kaas-emp.com

Trish Roberts
(c) 712-830-9912
trroberts@hotmail.com

Helen Sinclair
319-361-6661
hsinclair@moes.biz

Leon Spies
319-337-4193
Spies@Spaflegal.com

Kristina Stanger
515-283-8009
kmstanger@nyemaster.com

Steve Sukup
(c) 515-238-6563; (w) 641-892-4222
steve@sukup.com

Janece M. Valentine
515-955-5544
Jvalentine@Valentinelaw.net
Appendix 3: Unanswered correspondence from David Keating, president of the Institute for Free Speech, to Governor Kim Reynolds, chief of staff Sara Craig Gongol, and Sam Langholz
Top image: Photo of Sam Langholz from his LinkedIn page.