Iowa Senate President Charles Schneider will not seek a third term, he announced on March 10, saying "the time is right for me to shift my focus to my career and family."
The suburban district Schneider has represented since 2013 was already one of the top Democratic targets for 2020.

Senate district 22 covers Clive, Windsor Heights, and part of West Des Moines in Polk County, along with Waukee and the Clive and West Des Moines neighborhoods in Dallas County.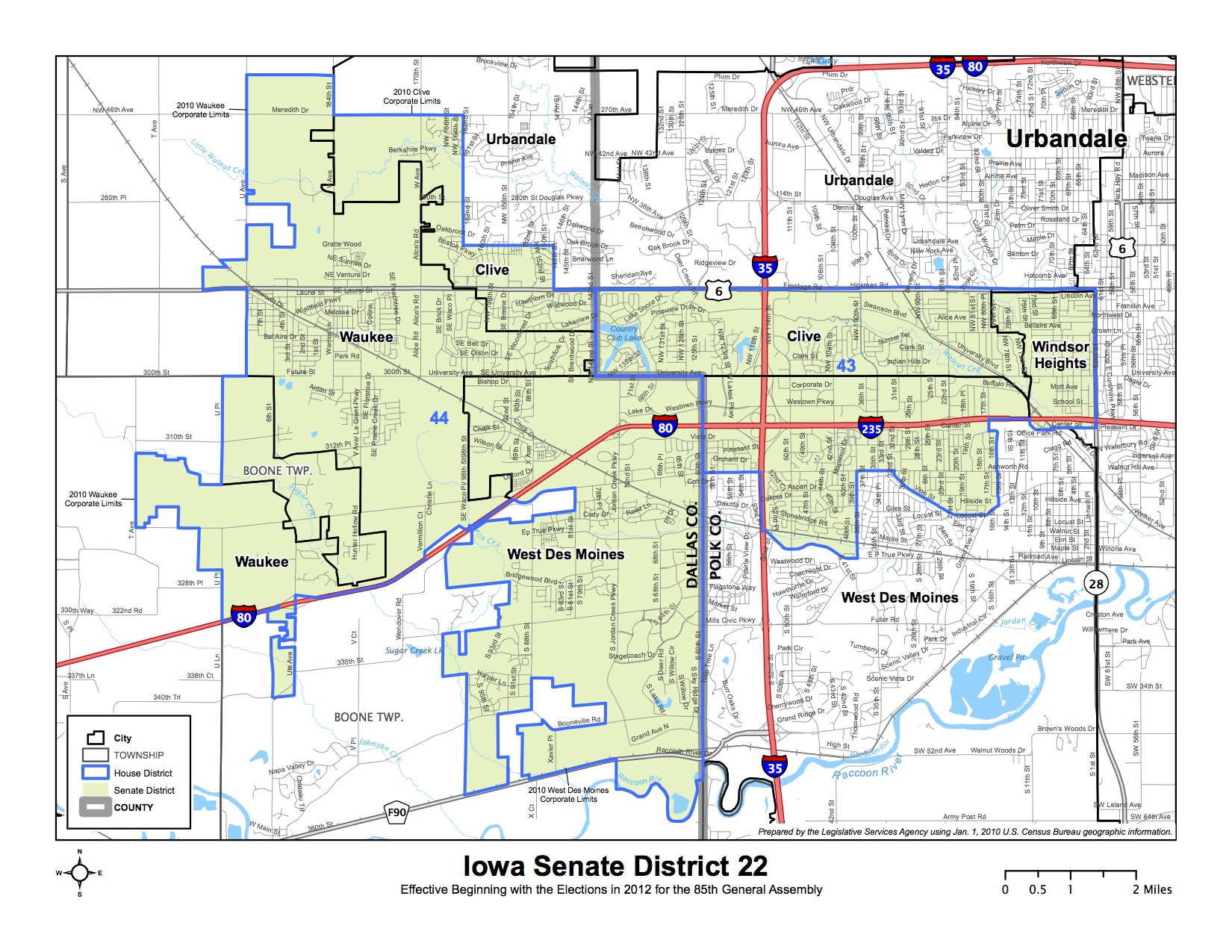 Like suburban areas across the country, this district has moved from red to purple over the past decade. Voters living in Senate district 22 favored Mitt Romney over Barack Obama by 52.5 percent to 46.5 percent in 2012. Four years later, they voted for Hillary Clinton over Donald Trump by 46.3 percent to 44.8 percent. In the 2018 governor's race, Fred Hubbell carried these precincts by a 53.4 percent to 45.2 percent margin.
For most of Schneider's tenure, Republicans represented both of the House districts that are part of his territory. But Democrats Jennifer Konfrst and Kenan Judge won open-seat races in House districts 43 and 44 in 2018.
The latest official figures, which take into account those who switched to participate in the Iowa caucuses, indicate that Senate district 22 contains 16,985 active registered Democrats, 15,954 Republicans, and 16,803 no-party voters.
Schneider's first re-election race in 2016 was not targeted by either party. But he would have had to work hard to earn a third term this year. His district is home to many public employees who were hurt by the 2017 collective bargaining law, and the various anti-choice bills Republicans have enacted since taking control are unpopular among suburban moderates. Trump at the top of the ballot wouldn't have helped Schneider's cause either.
Meanwhile, Democrats now appear likely to nominate Joe Biden for president. Republicans would no doubt prefer to campaign in the suburbs with Bernie Sanders at the top of the Democratic ticket. Though Biden didn't do particularly well in the western suburbs of Des Moines, he won more delegates in the Senate district 22 precincts than Sanders did. Pete Buttigieg carried many of the precincts, and Elizabeth Warren and Amy Klobuchar also did well here. (This New York Times interactive map has precinct-level caucus results.)
For many reasons, it's an ideal time for the second-ranking Iowa Senate Republican to focus on his non-political career and family.
At this writing, no Republican candidate has filed for Senate district 22. I've been unable to confirm rumors that Clive Mayor Scott Cirksena has been collecting signatures for a GOP bid here. He was elected to a third term as mayor in 2019 and previously served for two terms on the city council. Other Republican candidates may emerge, since it doesn't take long to collect the 100 signatures needed to qualify for the ballot in a state Senate race.
Three Democrats have been actively campaigning in Senate district 22. Tricia Gavin and Sarah Trone Garriott have already filed. Michael Libbie is also expected to submit his papers before the deadline of 5:00 pm on March 13. Bleeding Heartland is unlikely to endorse in this primary.
I'll update this post as needed.
UPDATE: Cirksena launched his candidacy on March 10. Some background from his news release:
Cirksena was first elected to the Clive City Council in 2003 and was re-elected to a second four- year term in 2007. He was subsequently elected to the position of Mayor in 2010 and re-elected to a third four-year term in 2017. He serves on the board of directors for Bravo Greater Des Moines and on the boards of the Metro Advisory Council, Dallas County Mayors, the Mid-Iowa Association of Local Governments, the Central Iowa Regional Drinking Water Commission, serves as Development Director for the Dallas County Foundation and is President of the Clive Community Foundation.

Cirksena also served on the Governor's Transportation 2020 Advisory Committee in 2011, the State of Iowa Climate Change Advisory Council/Transportation Land Use Committee in 2007 and the Des Moines International Airport Master Plan Review Committee in 2007. He is a member of the Iowa Motor Truck Association, has served as President of the Clive Lions Club and currently serves as Immediate Past President. He was also selected as Clive Citizen of the Year in 2007 and a Des Moines Business Record Forty Under 40 award recipient in 2003.
P.S.- I've lived in Windsor Heights for 35 years (my entire childhood and since moving back to Iowa 2002). For most of that time, this was a solid Republican area. No Democrat has ever represented me in the Iowa Senate, and before 2019, no Democrat had represented me in the state House.
SECOND UPDATE: Schneider's latest campaign finance report showed he raised $207,595.00 during 2019 (from many individual donors and political action committees) and had $186,985.61 cash on hand as of December 31. Those funds will likely go to the Republican Party of Iowa, to be used in state Senate races including district 22. The Iowa GOP spent hundreds of thousands of dollars in each of the most competitive Senate races in 2018.
LATER UPDATE: Porsha Hart also filed for the GOP nomination. Her campaign is on Facebook and Twitter.
Top image: Retiring Iowa Senate President Charles Schneider on the left, and Clive Mayor Scott Cirksena on the right.