Religious institutions across Iowa are now allowed to hold large services, under Governor Kim Reynolds' latest proclamation related to novel coronavirus, which took effect on May 1. While most churches declined to schedule in-person services for this Sunday morning, some are looking at ways to modify their space or practices in order to resume face-to-face worship soon.
In mid-March, the governor temporarily prohibited religious or spiritual gatherings of more than ten people. Her April 27 order lifted that ban, provided that houses of worship "implement reasonable measures […] to reduce the risk of transmission of COVID-19 consistent with guidance issued by the Iowa Department of Public Health." Among other things, the department recommends that people practice good hygiene and adjust the layout so congregants not from the same household can "sit at least six feet apart."
That advice is insufficient to keep those carrying the virus from infecting others.

"ISN'T IT A WONDERFUL THING?"
While many of Reynolds's steps "to open Iowa back up" apply only in 77 counties with relatively few confirmed COVID-19 cases to date, religious gatherings will be allowed to resume statewide, even in areas with rapidly spreading outbreaks linked to meatpacking plants or nursing homes.
When announcing her policy on April 27, Reynolds cited "significant constitutional liberties involved" in restricting religious worship. Two days later, a reporter asked whether the governor planned to attend in-person church services this weekend. She replied,
You know, I don't know. But isn't it a wonderful thing? Isn't this great? Iowans are gonna decide. Churches are gonna decide. It's not a mandate. It's an option.

So we have some that are going to continue to stay closed and that's wonderful, because they've provided opportunities to their members for online services.

We have maybe some services in smaller communities that it's a smaller congregation–they're going to social distance. They're going to make a combination so that their congregation feels safe about coming.

But that's a decision that Iowans will make, and religious services [institutions] will make across the state.
Reynolds added that she would probably continue to worship online, as her congregation (the Lutheran Church of Hope in West Des Moines) is holding virtual services for now.
The governor's policy assumes it is safe for Iowans to worship in the same physical space, as long as they adopt "reasonable measures" to reduce the risk of spread.
"CREATIVE MEANS," GOOD HYGIENE, AND SOCIAL DISTANCING
The Iowa Department of Public Health issued new Guidance for Spiritual and Religious Gatherings During COVID-19 on the same day Reynolds signed her latest order. The full text exemplifies the mixed messages that have been a feature of our state's response to the pandemic from the beginning.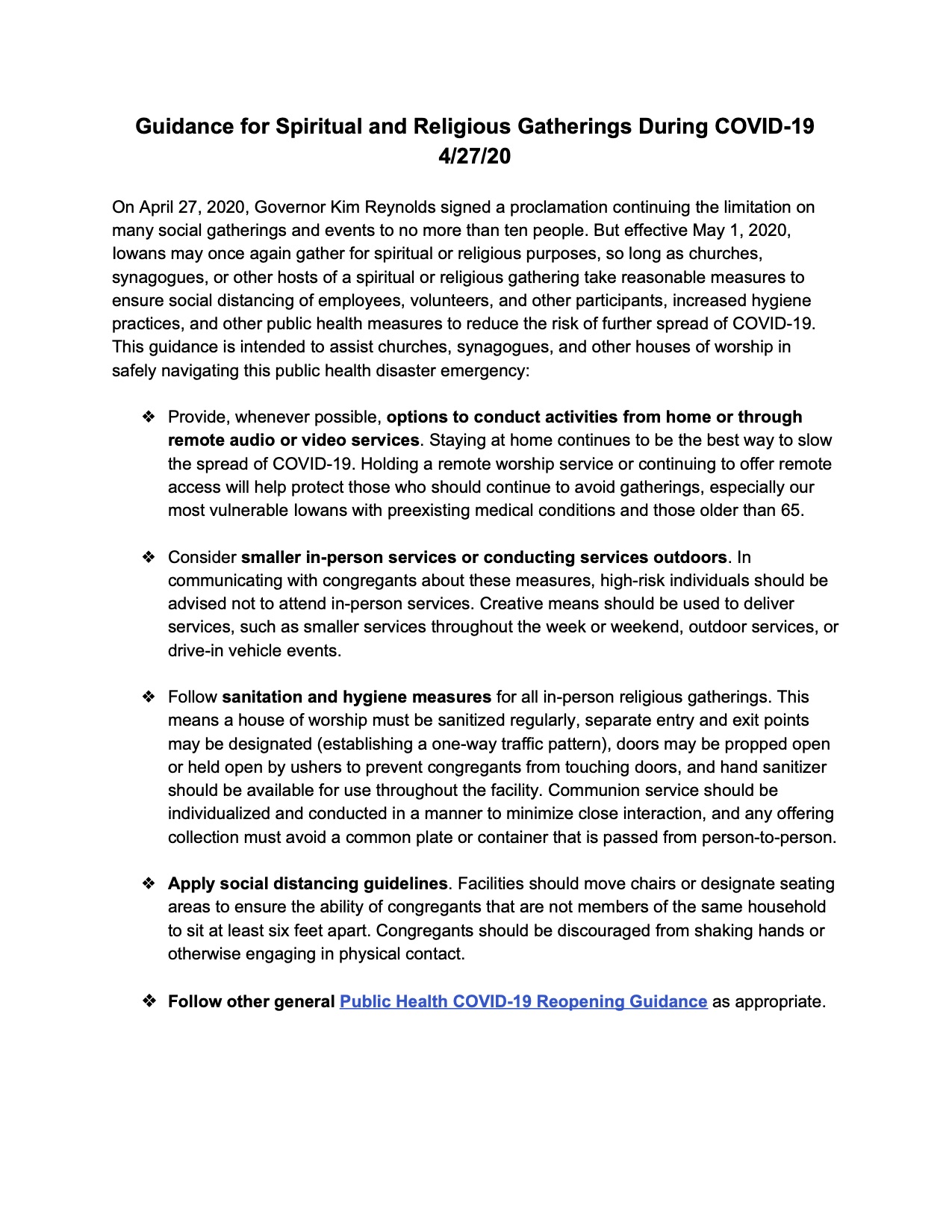 The official line–"Staying at home continues to be the best way to slow the spread of COVID-19"–is undermined in every subsequent paragraph.
The guidance suggests that only "high-risk individuals" need to avoid in-person services. It implies congregations can protect most people by meeting outdoors or diligently cleaning their facilities, designating seating areas so those who don't live together can sit at least six feet apart, and discouraging congregants "from shaking hands or otherwise engaging in physical contact."
IDPH Deputy Director Sarah Reisetter struck the same contradictory note when she summarized the new guidance at the governor's press conference on May 1. My transcript:
Places of worship must ensure social distancing of employees and congregants. Hand-washing and hand-sanitizing supplies should be readily available, and thorough cleaning should be conducted on a regular basis, especially for high-touch surfaces like door handles and arm rests.

We encourage the continuation of remote audio or video services for high-risk Iowans and others who choose to stay home but still wish to engage with their religious community.

Smaller in-person services or outdoor services can also be considered. Some churches are even offering drive-in services to continue efforts to slow the spread of the virus.

All congregants should consider wearing face coverings such as cloth face masks or face shields, and those in high-risk categories should refrain from attending services, since we know the virus is still spreading in some of our communities.
I'll have more to say below about the state promoting "creative" delivery of worship through a series of small services instead of one big weekly gathering.
First, let's consider whether social distancing and cleaning can stop COVID-19 from spreading at larger religious observances.
"A UNIQUE RISK FACTOR"
Worship services have contributed to major coronavirus outbreaks on three continents. Services usually involve sitting or standing in close proximity to others for an hour or more. Congregants may share the virus by holding hands, giving hugs, or passing a collection plate.
The IDPH wants churches to clean surfaces frequently, make hand sanitizer available, prop doors open, and avoid having congregants pass containers to one another. It's all good advice, but Dr. Rossana Rosa, an infectious disease specialist at UnityPoint, has urged Iowans not to get their hopes up about stopping coronavirus through sanitizing. "You can do all the deep cleanings you want but #COVID19 is spread through respiratory droplets from PERSON TO PERSON IN PROLONGED CLOSE CONTACT."
Maybe not only droplets: some evidence suggests the virus can be transmitted through aerosols, which would mean a person could become infected by breathing near where someone had coughed or sneezed, even if the person was not within six feet of the carrier.
There's another reason the general guidance of keeping six feet away from others would not be enough to keep an asymptomatic person from spreading COVID-19 in a congregation.
Most religious traditions incorporate singing or chanting in prayer rituals. Hymns are a treasured part of regular Sunday services in the Christian denominations with which most Iowans affiliate.
Dr. Tim Greiner, a professor of pathology and microbiology at the University of Nebraska Medical Center in Omaha, argued in a guest commentary for the Des Moines Register this weekend that allowing large religious gatherings in Iowa was "ill-advised."
I am writing today to discuss a unique risk factor that religious groups may have in spreading COVID-19. The outbreak in the United States that is most relevant to this topic is the one that occurred at Mount Vernon church in Washington state, where 45 of 60 members of the Skagit Valley Chorale became ill and two persons died.

According to KOMO television, they used hand sanitizer, practiced social distancing and did not share sheet music, and there was no hugging or shaking of hands. Other news sources reported that no one present was ill. Why would choirs and religious gatherings have a greater risk of outbreaks than gatherings in restaurants?

When individuals sing, they project their voices. Powerful voices project droplets at far greater distances than does casual conversation. […]

However, no one is talking about this risk as in-person worshipping plans are being made. I believe the typically advocated social distancing of six feet is inadequate when singing is involved.
If an asymptomatic person infected dozens of others at one choir practice despite the group's best efforts not to get close to each other, why would anyone assume large religious services in Iowa won't accelerate community spread?
For that matter, small-group worship isn't a great idea either.
WHAT ABOUT SMALL PRAYER GROUPS?
"Many Iowans are eager to return to church," Reynolds said at her May 1 news conference, adding that she appreciated the "thoughtful approach" of churches looking to meet the needs of congregants "in a safe and responsible way."
The governor invited Greg Baker, the vice president of church engagement for the social conservative organization FAMiLY Leader, to speak to reporters and the public. Predictably, he used the platform to promote core tenets of his own faith tradition and "highlighted the work of many Christian churches" without mentioning other religious groups, Ian Richardson reported for the Des Moines Register. (If you think Reynolds isn't making wise choices on COVID-19 mitigation, you should see how poorly she performs in the religious inclusivity department.)
Based on the FAMiLY Leader's contacts with many Christian churches, Baker said few congregations would jump right back into large in-person services. Rather, most churches in his group's sphere of influence will continue to hold either online or "parking lot" services (where congregants stay in their cars, listening to the clergy on a radio frequency) while they explore safe ways to restart larger group worship.
Baker also spoke of Iowa churches that have been meeting in groups of fewer than ten people throughout the pandemic, praising a congregation in Mason City that has maintained "these small group encouragement gatherings."
All along, the governor's policy of telling Iowans to stay home if you're sick and not meet in groups larger than ten has created the impression that people who don't feel sick needn't worry about socializing in small groups.
Now the state's official guidance for religious communities encourages the use of "creative means" to deliver services, "such as smaller services throughout the week or weekend."
Getting individuals from different households together for any purpose–game night, a barbecue, birthday party, or worship–creates opportunities for the virus to spread.
At least 70 COVID-19 cases in the Sacramento, California metro area are linked to a single Christian congregation. That church suspended regular services in its building but has continued to hold "Bible study and fellowship meetings in small groups at congregants' homes." While church officials claimed to have complied with state and local shelter-in-place orders, the Sacramento County health department said their contact tracing investigations indicated otherwise. Those small prayer meetings "have been directly linked to the clusters of cases in the community."
SOME CHURCHES REJECT PREMISE OF GOVERNOR'S ORDER
Those who urged Reynolds to lift the ban on large religious gatherings came mostly from the evangelical Christian community. Iowa's four Catholic bishops announced on April 28 that public Masses will remain suspended for the time being. Noting that the governor's proclamation renewed some people's hope that "regular parish life" would return, the bishops wrote,
Yet the spread of the COVID-19 disease remains a real and present danger. In particular, the health and survival of the elderly and other vulnerable populations is still a grave concern. Many parishioners and priests fall within these groups.

[…] Without an effective vaccine or widespread testing and contact data that justifies a change in course, we simply are not at a place where we can resume our previous prayer practices.
The same day, 21 Iowa leaders from ten denominations (mostly mainline Protestant) signed a statement urging congregations and members to refrain from in-person services.
We encourage and hope that congregations will worship and gather in community from afar continuing the use of technology and other means. Decisions to return to in-person gatherings in our congregations should be based on science, the best practices recommended by public health officials, and in consultation with the leaders of our faith communities.

It is by our faith that we are compelled to love our neighbor. In the midst of the COVID-19 pandemic, that love comes to expression by remaining physically apart. Loving our neighbor, and thereby the whole community, includes putting public health and the well being of others ahead of the natural desire to be physically present together in community and in worship.
Evangelicals represent a little more than a quarter of Iowa adults. While many clergy from those denominations welcomed the governor's action, there were also dissenting voices.
Eric Schumacher, a conservative pastor from the Baptist tradition, made a strong case against Reynolds' policy in this guest column for the Des Moines Register.
With the counsel of medical and scientific specialists, the state has determined that it is unsafe and unwise (and therefore illegal) to hold a mass gathering of more than 10 people. If this is true, then it is unsafe and unwise in every setting — spiritual beliefs do not change that. By couching it in terms of "significant constitutional liberties involved," the administration has done a disservice to both the state and the church.

For the state, the administration has set a precedent for matters of public health and safety in the context of religious assembly. The governor has given local churches the right to decide for themselves how to handle risks to public health and safety. What is to stop a spiritual community from building a facility that is unsafe and then appealing to the governor's declaration […].

For the church, we pastors — untrained in public health and safety, infectious diseases, and epidemiology — are now tasked with making public health decisions during a pandemic. […]

Why does this matter?

Differences of opinion about COVID response already exist among Christians along medical, political, and religious liberty lines. Reynolds' actions and statements have made it more difficult for pastors to preserve unity in their churches.
FINAL THOUGHTS
Those who are anxious to get back to their Sunday morning routine may wonder whether I can comprehend what they have sacrificed by not praying alongside their church family these past two months.
For what it's worth, although I am not Christian, I do understand that disruption to religious rituals can be upsetting. Jews around the world were not able to celebrate Passover with our loved ones last month. I doubt we will be able to worship together for the "high holidays" (Rosh Hashanah and Yom Kippur) this fall, which are important days of reflection for me.
This past week, I attended a funeral for the first time since before the pandemic. "Attended" doesn't feel like the right word. A handful of us drove to the cemetery and stayed in our cars, watching the rabbi from a distance. He was alone at the graveside, other than the funeral home staff filming the event for bereaved relatives who were unable to travel to Des Moines.
Community involvement is a huge part of Jewish funerals, as mourners recite certain prayers in unison and literally participate in the burial by taking turns shoveling earth into the grave. None of that is possible now, and COVID-19 is forcing shiva (gatherings to comfort friends and family during the week after a death) to occur online.
So I get that people are impatient and don't want to keep missing church indefinitely. They may feel that COVID-19 poses little risk to them, especially if they are under age 65 and have no underlying health conditions.
To paraphrase our governor's words (which unfortunately have not guided all of her recent decisions): if we all do our part and stay home as much as possible, we can flatten the curve, keep our health care system from being overwhelmed, and save lives.
__________________________
Top image: Governor Kim Reynolds speaks at her April 29 news conference, while Iowa Department of Public Health Deputy Director Sarah Reisetter looks on. Photo by Kelsey Kremer/Des Moines Register (pool).