Iowa Medical Director Dr. Caitlin Pedati received a 45 percent raise this summer despite a state policy limiting within-grade pay increases, records obtained by Bleeding Heartland show.
Department of Administrative Services (DAS) Interim Director Paul Trombino III advocated for Pedati to receive the unusually large raise three weeks after informing state agency directors that they could give employees within-grade salary hikes of up to 3 percent.
State rules also require that "any within grade pay increase must be accompanied by a current performance evaluation," Trombino reminded directors in the same memo. However, staff with the Iowa Department of Public Health (IDPH) and DAS did not answer questions about whether anyone has formally reviewed Pedati's work this year.

"DISCRETION UP TO A 3% WITHIN GRADE INCREASE"
Trombino is chief operating officer for Governor Kim Reynolds and since March has also served as interim director of the agency handling human resources for state government. In that role, Trombino emailed directors on June 8 to provide guidance on salry increases for the fiscal year to begin on July 1. "The policy for within grade increases for FY2021 allows Departments discretion up to a 3% within grade increase," unless a collective bargaining agreement specifies otherwise, he wrote.
The IDPH announced on June 16 that Director Gerd Clabaugh planned to retire at the end of July. The next day, records first obtained and reported by KCRG-TV show, Trombino emailed a DAS staffer asking about Pedati's current salary, range, and adjustments.
The governor's office announced on June 30 that Reynolds was appointing Department of Human Services (DHS) Director Kelly Garcia to be interim IDPH director. Trombino reached out to Garcia on June 29 with an idea. "I would like to adjust Caitlin's salary as I feel she is significantly underpaid. I am proposing to adjust her to $9,231 per biweekly or $240,006 per year. Please let me know your thoughts." That would have been a raise of approximately 31 percent from the $7,050.40 Pedati had been making per pay period since she received a 3 percent merit increase in December 2019, bringing her annual salary up to $183,310.40.
Garcia offered to look up the base salaries for other physicians employed by DHS, and she and Trombino spoke about the matter on July 1. Later the same day, Trombino informed a subordinate at DAS that he and Garcia wanted to increase Pedati's base salary to $10,194 biweekly or $265,044 annually, and "We would like to have this processed as soon as possible."
As Bleeding Heartland previously reported, that 45 percent raise went into effect with the pay period beginning June 26.
IDPH staff initially declined to specify who had signed off on Pedati's raise. Hours after this post went online August 3, Garcia told the Des Moines Register and Radio Iowa that she had approved the raise to bring Pedati's pay in line with that of other state physicians, and to reflect her "dual roles" as medical director and state epidemiologist.
Ethan Stein reported for KCRG-TV last month on the records indicating Trombino was first to suggest giving Pedati a raise.
Asked about the apparent discrepancy, DHS public information officer Matt Highland told KCRG (and repeated to Bleeding Heartland via email on November 12) that Garcia "became aware of a potential pay inequity" and discussed the matter with Trombino, "who had also been made aware and was supportive of addressing the concern."
They pulled data and compared Dr. Pedati's salary to the salaries of other physicians employed by the state, including physicians within the Iowa Department of Public Health (IDPH) and the Iowa Department of Human Services (DHS). There was a clear inequity.
Reasonable minds can differ on the "inequity" of the situation. At the time she received her huge raise, Pedati had been a state employee for two years, whereas other physicians had been working for the state for more than two decades.
One thing is not debatable, though: 45 percent is fifteen times more than the 3 percent state rules allow for a discretionary within-grade pay increase.
PEDATI'S PAY GRADE REMAINS UNCHANGED
Records provided to Bleeding Heartland indicate that Pedati's job was reclassified from "Physician" to "Physician Supervisor" in mid-August. The coordinator of the relevant DAS program wrote to a colleague on August 13, "Both classes are the same pay grade, so this reclassification would be considered a lateral transfer."
Other available information confirms that "physician" and "physician supervisor" fall under the same pay grade for the state of Iowa. When employees are moved into a higher pay grade, administrative rules permit salary increases of "up to 5 percent for each grade above the employee's current pay grade."
DAS staff processed Pedati's job reclassification at the same time Dr. Ann Garvey's job at IDPH was reclassified to "deputy state epidemiologist."
KCRG's Stein broke the news on November 9 that Garvey received a 28 percent raise, moving her annual pay from $126,127.80 to $162,136. In keeping with Pedati's wishes, that's the maximum salary allowed for Garvey's new job class.
Highland told KCRG and later repeated to Bleeding Heartland that Garvey's higher salary reflects "an enhanced role and increased responsibilities as the supervisor for the Center for Acute Disease Epidemiology," as well as Deputy State Epidemiologist and Public Health Veterinarian. "Her expertise has been critical in the COVID-19 response and she was given a raise to appropriately compensate her for the breadth and volume of work she performs and to reflect the new supervisory nature of her position," he added.
Garcia had asked Trombino on June 30 about reviewing Garvey's salary. The DAS director replied that Garvey "is not in the correct class relative to her responsibility which comes with a restriction. I have a proposed two-phase solution for Ann, one I need some assistance from you, the other is a new classification I have underway at DAS."
Although Trombino recognized the need to move Garvey into a new job class before awarding a large salary hike, he either didn't realize or didn't care that Pedati's raise far exceeded what is allowed for state employees remaining in the same pay grade.
Bleeding Heartland repeatedly asked communications staff at DAS, IDPH, and DHS why officials made an exception to policy for Pedati, but did not process Garvey's raise until her new job class had been created. I received no response from DAS or IDPH. On November 13 Highland declined further comment "beyond what we've already provided" regarding the raises for the state's top two epidemiologists.
PEDATI WASN'T ELIGIBLE FOR ANOTHER RAISE IN JUNE 2020
In late August, Trombino asked a DAS employee to double-check when Pedati's raise went into effect. He soon heard back, "It looks like she was given an increase on 6/25/2020. Her next increase eligibility date is 6/25/2021."
That inspired me to check Iowa's administrative code for rules on how much time must elapse between state employee raises. It turns out that
The minimum pay increase eligibility period for employees shall be 52 weeks, except that it shall be 26 weeks for new hires and employees who receive an increase in base pay as a result of a promotion, reclassification or pay grade change.
But hang on--Trombino was told in June that Pedati had received a 3 percent merit pay increase in December 2019.
Pedati wasn't a new hire in 2020, nor was she in a new pay grade when she got that 45 percent raise. No one even proposed reclassifying her job until after her raise had become public knowledge. Garcia told the Des Moines Register's Tony Leys on August 3 that "she will soon announce that she is promoting Pedati to a position equivalent to a deputy director of the health department," with responsibilities related to residential facilities and state prisons after the COVID-19 pandemic recedes. That promotion hadn't happened when Pedati began collecting much higher pay.
There's at least one other problem with the state medical director's outsized salary hike.
"MUST BE ACCOMPANIED BY A CURRENT PERFORMANCE EVALUATION"
In his June 8 email to agency directors, Trombino worte, "As noted in DAS rules, any within grade pay increase must be accompanied by a current performance evaluation."
Technically, the rule states, "To be eligible, a within grade pay increase must be accompanied by a current performance evaluation on which the employee received an overall rating of at least 'meets job expectations.'"
Records I received regarding Pedati's raise and job reclassification do not mention any formal review of her work this year. "Has Dr. Pedati received a recent performance evaluation?" I asked the various agencies' communications staff. "If so, when did that occur and who signed off on it?" Again, DAS and IDPH ignored the questions, while DHS declined additional comment.
Worth noting: the public health department's outgoing Director Clabaugh was not involved in discussions about Pedati's salary. Garcia hadn't begun serving as interim IDPH leader when she and Trombino hashed out the details, so she wouldn't have been in a position to conduct a performance evaluation.
Assuming IDPH officials followed state policy, Pedati's work should have been reviewed shortly before she got that 3 percent merit pay increase in December 2019.
I'll update this post as needed if further details become available.
_______________
Appendix: June 8 email from Department of Administrative Services Director Paul Trombino to state agency directors: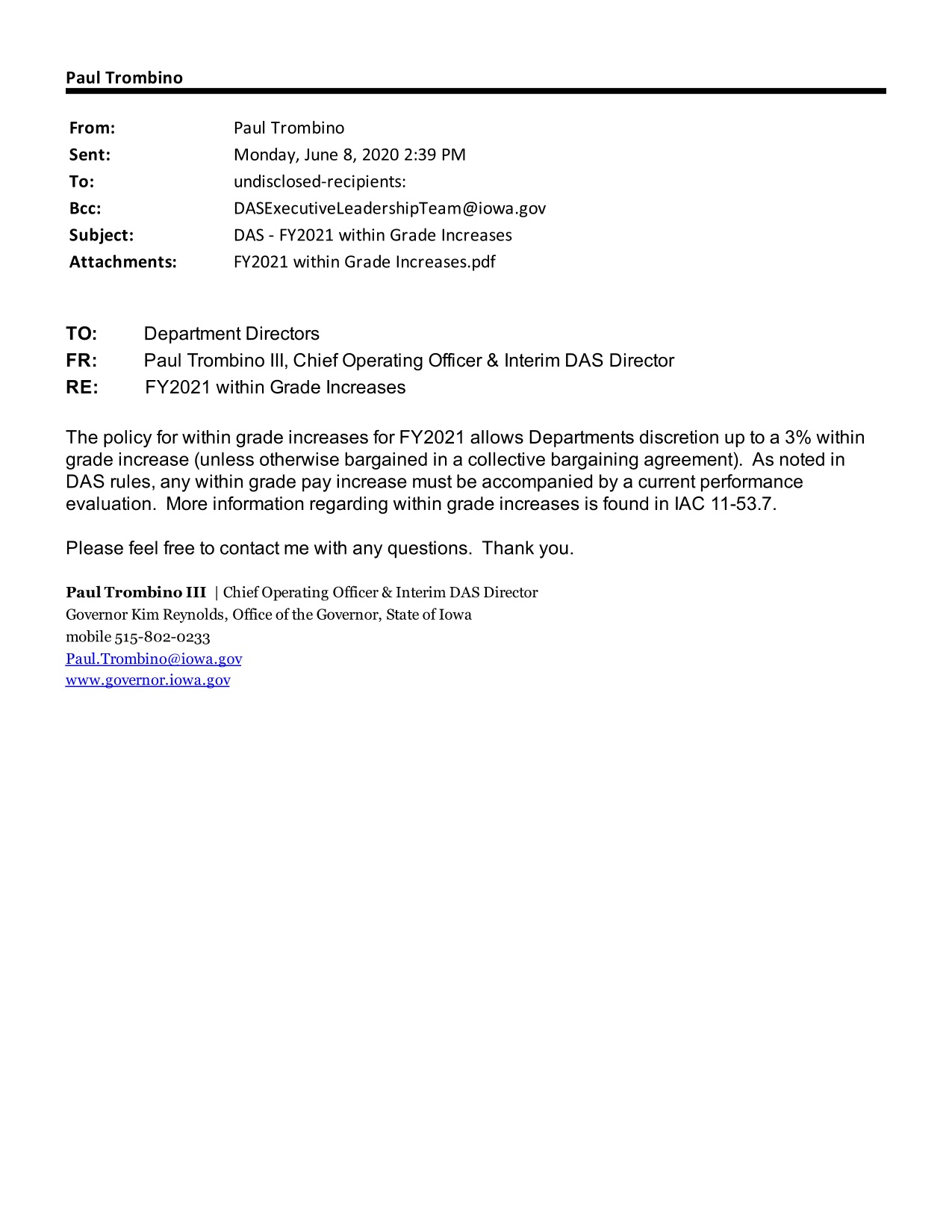 Memorandum attached to Trombino's June 8 email to directors: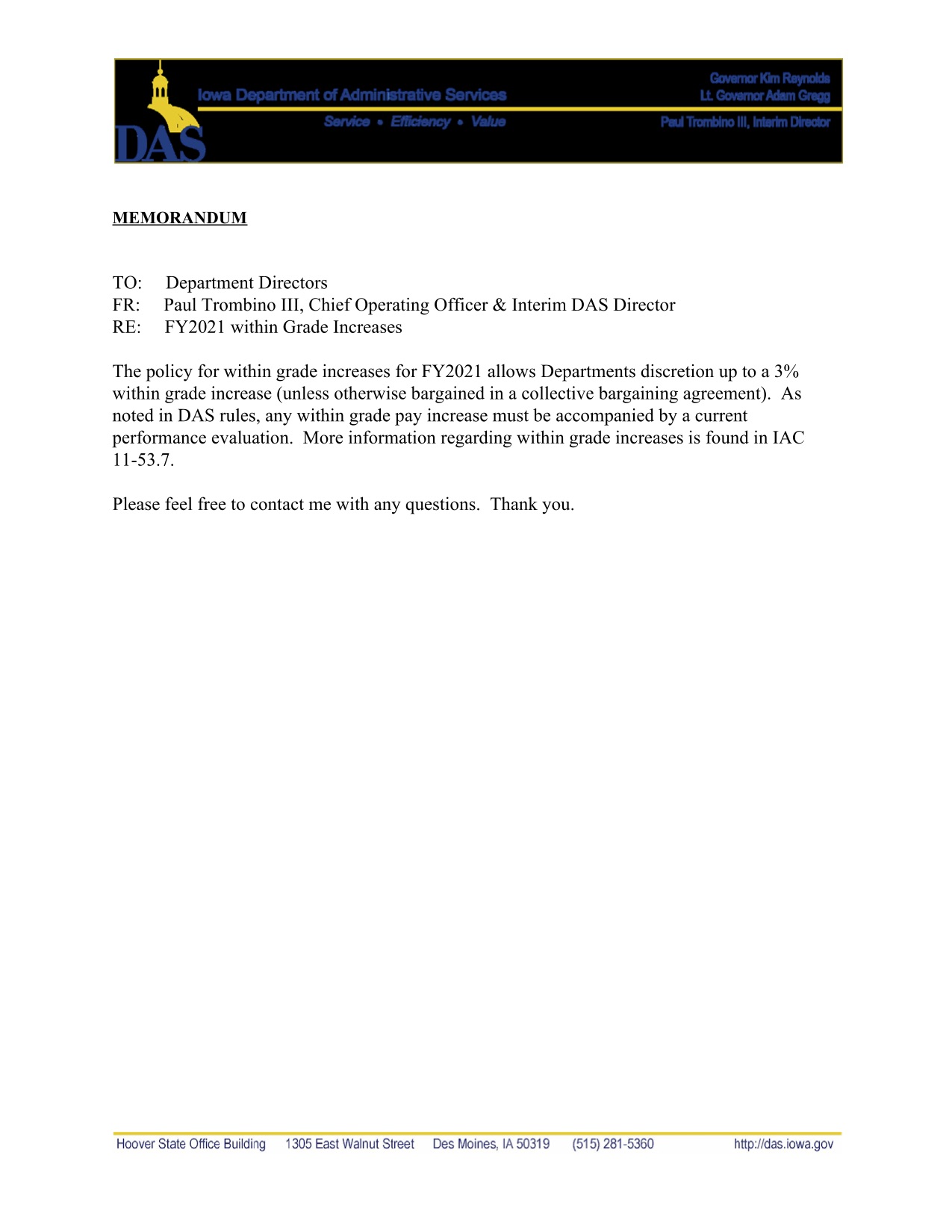 Top image: Dr. Caitlin Pedati's LinkedIn profile picture.