The base pay for Iowa's medical director and state epidemiologist Dr. Caitlin Pedati increased by 45 percent as the current fiscal year began on July 1, records obtained by Bleeding Heartland show. The additional $3,144 that Pedati began receiving per two-week pay period would translate to an extra $81,744 in base salary over twelve months.
The doctor leading the state's COVID-19 pandemic response also received more than $55,000 in overtime pay from March through early July, even though her job class would not normally be eligible for overtime compensation.

AN UNUSUALLY LARGE RAISE FOR STATE GOVERNMENT
Pedati's base pay was $7,050.40 per two-week pay period from March through late June. It rose to $10,194.40 during the pay period that ran from June 26 through July 9, according to Department of Administrative Services records. That agency's spokesperson Tami Wiencek confirmed via email the information reflects raises in the pay period including July 1.
State employees typically receive modest salary increases at the start of a fiscal year. Pedati's biweekly pay had increased from $6,844.80 when she joined the Iowa Department of Public Health in 2018 to $7,050.40 the following fiscal year. The 30 other state employees whose recent records Bleeding Heartland reviewed--all of whom earn more than $100,000 annually--saw their biweekly pay increase by amounts ranging from $85 to $122 as the 2021 fiscal year began.
Communications staff for IDPH and Governor Kim Reynolds did not respond to inquiries about the pay increase, such as:
Did Pedati request a specific salary increase? If not, who suggested a biweekly base pay of $10,194.40?
Did IDPH Director Gerd Clabaugh alone approve the raise, or did Reynolds, who has praised Pedati's work, weigh in on the decision?
Has the medical director recently been assigned additional duties or responsibilities? If so, what are they?
Will Pedati receive this higher salary indefinitely, or only as long as the governor's coronavirus disaster emergency proclamations remain in effect?
Was Clabaugh's departure connected to Pedati's pay hike? The IDPH director announced in mid-June that he would retire from the public sector on July 31 "to spend more time with family and seek new opportunities." Reynolds named Iowa Department of Human Services Director Kelly Garcia interim director of the health department. Officials later indicated no search is planned for Clabaugh's replacement, and Garcia will continue to lead both agencies.
UPDATE: Garcia told the Des Moines Register's Tony Leys that she proposed the raise, which Reynolds approved. Pedati will soon be promoted to a role that also involves "helping oversee medical care for residents of state facilities and of the state prisons."
If Pedati continues to earn $10,194.40 every two weeks, the extra $81,744 she will receive in base pay this fiscal year accounts for more than half of what the state will save by not paying Clabaugh from August 1 through the end of June 2021. Garcia told the Register Pedati's annual salary will increase from $183,310 last fiscal year to $265,044.
The IDPH did not clarify how much it will pay Garcia once she assumes the top job. If the the human services and health departments split responsibility for compensating their director, the IDPH's share would be substantially less than what Clabaugh was earning ($144,347.50 in gross pay for fiscal year 2019).
There is precedent for that kind of arrangement. The Iowa Economic Development Authority and Iowa Finance Authority have each paid part of Debi Durham's salary since early 2019, when Reynolds put her in charge of a second state agency. UPDATE: Garcia told Leys she's not getting a raise and will continue to receive $154,300 annually while leading both departments.
The health department's longtime communications director got the ax last month, ostensibly in a restructuring, which could also explain where money was found to cover Pedati's raise.
Wherever the money is coming from, a 45 percent salary increase is hard to fathom given Iowa's failed efforts to "manage the virus with precision," as will be discussed further below.
The medical director's base pay is only part of her total compensation.
PEDATI IS STATE'S TOP OVERTIME PAY RECIPIENT DURING PANDEMIC
In addition to her regular salary, Pedati received $55,515.58 in overtime compensation from early March through the pay period ending July 9. Under normal circumstances, physicians working in state government would not qualify for overtime.
That changed under little-noticed language in Reynolds' disaster emergency proclamations related to COVID-19. Section 2 of the first such document reads,
I temporarily suspend the regulatory provisions of 11 Iowa Administrative Code § 53.11 (3) prohibiting pay to those State of Iowa employees for hours worked in excess of 40 hours per workweek while present in the State's Emergency Operations Center or otherwise engaged in assigned disaster response missions or other activities. This suspension shall be retroactive to the initial activation of the State's Emergency Operations Center.
Subsequent proclamations have extended the waiver of overtime pay limits. It's Section 148 of the latest version, dated July 24.
The affected part of Iowa Administrative Code reads, "An employee in an overtime exempt job class shall not be paid for hours worked or in pay status over 40 hours in a workweek." The Department of Administrative Services has defined overtime eligibility for all state jobs; you can search position names here. A "0" in the overtime column means the job class does not qualify for additional pay beyond a 40-hour workweek.
I have found no evidence that previous Iowa governors lifted overtime pay restrictions in emergency proclamations relating to disasters such as the 2008 floods or the 2015 avian flu outbreak.
Department of Administrative Services records show that thousands of state employees received overtime pay from early March through late May. The vast majority of them held overtime eligible positions such as correctional officer, state trooper, highway technician, resident treatment worker at an in-patient facility, or workforce advisor processing unemployment claims.
Many people in overtime-exempt jobs also received pay for excess hours worked, among them senior IDPH officials.
How the overtime was calculated is unclear. During the two-week pay period beginning March 6, Pedati earned $14,310.65 in overtime on top of her base pay of $7,050.40--which would suggest she had worked consecutive 80-hour weeks. Granted, the suspension of overtime pay limits was "retroactive to the initial activation of the State's Emergency Operations Center," but that had happened on March 4, not weeks earlier.
During the next four pay periods, Pedati's overtime pay ranged from $5,508.13 to $6,874.14 (details enclosed below as Appendix 1). Since mid-May, the medical director's overtime compensation has declined slightly, but she continued to receive thousands in extra pay every two weeks. She was paid $4,014.05 in overtime for the period from June 26 to July 9--even as her base pay increased to $10,194.40.
Other IDPH officials holding overtime exempt positions who received generous overtime pay from early March through July 9 include (not an exhaustive list):
Ken Sharp, the agency's director for acute disease prevention, emergency response, and environmental health ($44,543.48);
Deputy Director Sarah Reisetter, who frequently spoke for the department at the governor's COVID-19 news conferences ($38,046.20);
Dr. Ann Garvey, the deputy state epidemiologist ($35,981.22);
Don Callaghan, chief of the bureau charged with reducing the impact and transmission of communicable diseases ($32,978.16);
Polly Carver-Kimm, the agency's longtime communications director who was forced out last month ($17,460.38). Carver-Kimm received no overtime pay after April, which is consistent with her account of being sidelined as the pandemic progressed.
No doubt all those employees have put in long hours. On the other hand, they are well-compensated by public sector standards and accepted jobs that didn't qualify for overtime. Worth noting: state records show no one on Reynolds' staff has received a dime in overtime pay since COVID-19 arrived, even though they too must be spending excess hours at work.
UPDATE: Garcia told the Des Moines Register that crisis funds from the Federal Emergency Management Agency were covering the overtime pay for state employees who normally are not eligible.
While reasonable minds can differ on whether Reynolds was right to waive overtime pay restrictions for those leading the pandemic response, it's hard to see any justification for Pedati's huge increase in base pay.
WISHFUL THINKING LANDS IOWA IN "RED ZONE"
A flattering profile published in May described Pedati as "Iowa's coronavirus whisperer," but "coronavirus wishful thinker" would be a more fitting moniker.
After returning from a White House visit in early May, Reynolds said "Iowans should be proud" of Pedati's work. The epidemiologist "did an excellent job" presenting how Iowa is managing virus activity and using the data "to be proactive in our response," she added. The governor also claimed--wrongly, it turned out--that Pedati had been invited to join the White House coronavirus task force.
The latest report from that task force, dated July 26, paints an ugly picture of where Iowa stands in the battle to contain COVID-19. The New York Times was first to publish the document. I pulled out the Iowa section.
Key points:
Iowa was in the "red zone" for cases, with some 106 new cases per 100,000 population during the previous week.
About 6.9 percent of all COVID-19 tests conducted came back positive, putting our state "in the yellow zone" for test positivity.
Eight counties (Dubuque, Marshall, Franklin, Wapello, Hardin, Emmet, Lyon, and Montgomery) were in the "red zone," with "new cases above 100 per 100,000 population" and at least 10 percent of diagnostic tests coming back positive.
Another 53 counties, containing the vast majority of Iowa residents, were in the "yellow zone."
The report offered a range of policy recommendations, such as "Limit gyms to 25% occupancy and close bars until percent positive rates are under 3%," "Limit social gatherings to 25 people or fewer," test all workers in nursing homes on a weekly basis, and step up contact tracing so household members of confirmed cases can be promptly tested.
Iowa did none of the above. On the contrary, Pedati joined the governor and state education director on July 30 to advocate for in-person schooling, even amid high COVID-19 positivity rates.
Out of step on in-person schooling
A pediatrician by training, Pedati emphasized during the governor's latest news conference how important it is for children to return to school, for their social and emotional development as well as academic progress.
Her plan does not conform to the current consensus among national and international health experts.
Dr. Robert Redfield, director of the U.S. Centers for Disease Control, told reporters on July 24 that schools should delay a return to in-person instruction "where the percent positivity rate within the community is greater than 5 percent." That's in line with World Health Organization recommendations.
Appearing on CNN on August 2, Dr. Deborah Birx, who coordinates the White House task force, said she shared Redfield's assessment. She urged schools to keep kids learning at home "if you have high caseload and active community spread," defined as a positivity rate of 5 percent or more.
U.S. Surgeon General Jerome Adams said last month "we like to see positivity rates less than 10% in a community" before schools reopen.
In contrast, the guidelines Pedati's team developed with the Department of Education would block Iowa school districts even from asking to close temporarily unless the positivity rate for COVID-19 tests in the county exceeded 15 percent and at least 10 percent of area students were absent due to illness.
The medical director claimed that research in other states and countries suggests "kids are not the drivers" transmitting coronavirus in school settings. She said children under age 18 make up only 6 percent of Iowa's reported COVID-19 cases. That's true, but since children have been largely sheltered since mid-March, there's no reason to be confident they won't rapidly spread the virus once they return to crowded classrooms.
Pedati's decisions on school closures are only the latest example of her questionable decision-making.
The rise and fall of the "matrix"
Bleeding Heartland discussed here the bizarre 12-point scale Pedati's team developed in late March, supposedly to determine whether Iowa needed to "dial up" or "dial down" its COVID-19 mitigation policies. At the time, Reynolds was resisting pressure to issue a shelter-in-place order. IDPH officials divided Iowa counties into six regions and gave each region a score on the matrix, creating the appearance of objective analysis.
But the "arbitrary" and "backward looking" scoring was a poor substitute for modeling the spread of the virus under different scenarios. Pedati's team dropped the matrix after only a month, in favor of a plan to relax restrictions in 77 Iowa counties where COVID-19 activity was supposedly minimal.
Ignoring University of Iowa modeling
The IDPH signed a contract with the University of Iowa College of Public Health in early April to provide state data in exchange for "a model that will predict the number, severity and timing of future infections, hospitalizations and deaths." Email correspondence shows Pedati was interested in the project and hoped to get an Iowa-specific model "within two weeks or so."
The University of Iowa team submitted a white paper in late April advocating for social distancing policies to "remain in place" to prevent a second wave of COVID-19 infections. A follow-up paper warned in early May, "Evidence shows that COVID-19 will continue to spread in Iowa, likely at an increasing rate."
The governor took a different path, with Pedati offering public support for her reopening approach. Deputy Director Reisetter explained that while the IDPH team appreciated the researchers' work, "A model is model, it's a forecast. It's an estimate of what we might see."
When similar questions came up in mid-May, as Reynolds issued one proclamation after another relaxing restrictions on business activity and large gatherings, the governor said IDPH experts were relying on "real-time data" to inform their "evidence-based decision making."
Pedati's team ignored the recommendations in the university researchers' final white paper, submitted in late May. That document encouraged state officials to promote the universal use of face shields to decrease COVID-19 transmission rates, and noted that face shields have several advantages over cloth masks. When the IDPH finally began a #StepUpMaskUpIA public relations campaign the last week of July, the accompanying graphics and guidance focused entirely on cloth face coverings, with no reference to face shields.
Refusing CDC help with meatpacking outbreaks
As Clark Kauffman was first to report for Iowa Capital Dispatch, Pedati twice declined offers from the CDC in April to help manage COVID-19 outbreaks in meatpacking plants.
The CDC official noted that in other states the CDC was helping in the meatpacking plants by coordinating the response and assisting with contact tracing, data entry, employee screening, foreign language barriers and other issues.

The available records give no indication of whether, or how, Pedati responded. An Iowa Department of Public Health spokesperson did not respond to questions from the Iowa Capital Dispatch about the CDC's offer.
The outbreak at Tyson's pork processing plant in Columbus Junction happened in early April. By the middle of that month, COVID-19 cases were spiking at several other food processing facilities. Why on earth would Pedati turn down help from the federal government?
Kauffman kept asking and getting no answer. The IDPH said it would cost nearly $10,000 to compile and review records Kauffman requested: "all written communications that Pedati sent to, or received from, either the CDC, the top two administrators at the IDPH, or the governor's office during April and May."
On July 17, Pedati told Iowa Capital Dispatch,
"We were working closely with our local partners to provide testing and implement strategies within different manufacturing sites to help limit the spread," she said. "And we were able to do those things with our local partners [meatpacking plants] and so, at the time, the additional assistance wasn't needed."
Really? Since the middle of April, infections surged in many meatpacking towns.
This table shows the Iowa counties with the highest per capita number of COVID-19 cases, as of August 2, according to the state's coronavirus website. I've put the meatpacking towns in parentheses. Note also that several counties on this list are adjacent to counties with large beef or pork processing plants; residents who commute to meatpacking jobs may be driving community spread in counties like Franklin and Hamilton.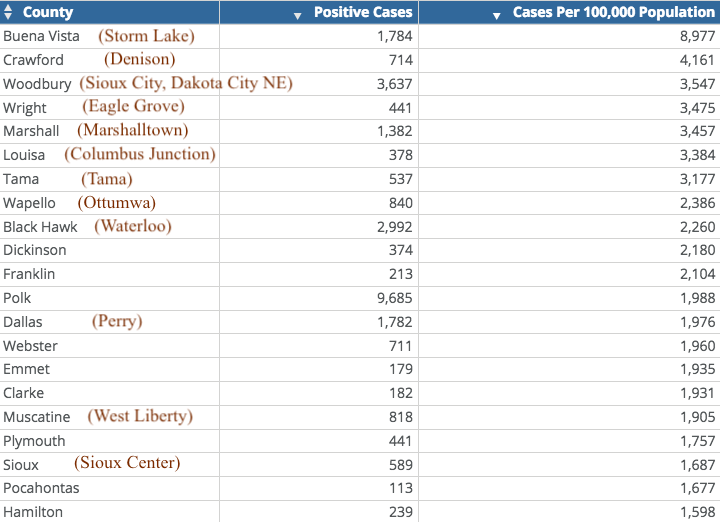 Failing to prevent outbreaks in counties that reopened early
The last week in April, Pedati vouched for the governor's plan to partly reopen 77 counties as of May 1. Iowa had just signed a contract with Utah-based companies to provide 3,000 COVID-19 tests per day. The medical director assured the public, "as we're expanding testing resources, we're able to identify additional cases, and we're able to implement control measures in a more targeted way."
It would be weeks before the State Hygienic Laboratory validated the machines provided under the Test Iowa contract, and weeks more before the number of daily tests reached the promised number. Nevertheless, Pedati claimed on April 27,
And because we're adding new tools and resources all the time, we're increasingly able to look at that quicker and at a more local level, so that, when we do notice something that may be driving a particular increase–whether it's associated with a long-term care setting, a particular community or household, or other sort of congregate situation–we're able to provide targeted resources and support to public health and clinicians and communities in those areas.
How did that work out?
Here's the same chart listing counties by total COVID-19 cases per capita as of August 2. The ones labeled "open" were among the 77 counties where Reynolds lifted many business restrictions on May 1. As you can see, some areas that had seen minimal virus activity in April had explosive growth in cases after reopening.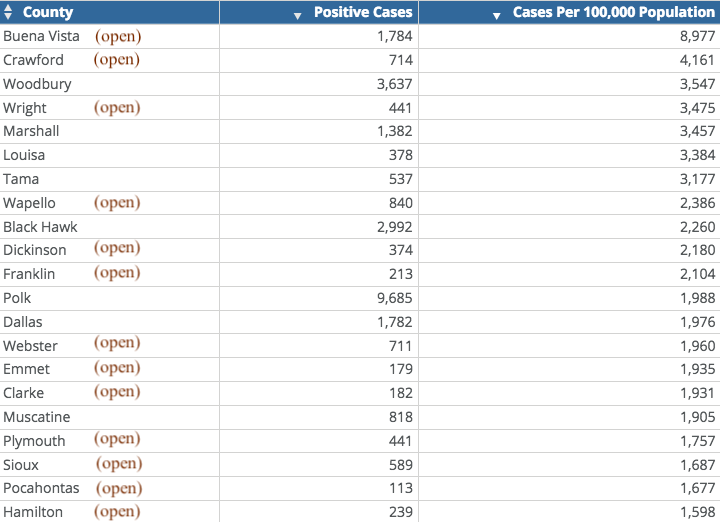 So much for the idea that expanded testing would allow officials to "mitigate and manage the virus with precision," eventually right "down to a zip code."
Questions surround accuracy of Iowa's COVID-19 reporting
Although Reynolds has regularly boasted of transparency during the pandemic, the IDPH has failed to disclose some workplace outbreaks in a timely manner and lowballed the number of employees infected in at least two food processing plants with outbreaks. Pedati's team did not provide data for a CDC study on COVID-19 in the meatpacking industry and racial disparities among affected workers.
The state website's case numbers for various counties don't always line up with the tally of local health officials. Bleeding Heartland discussed here why Van Buren County has considerably more cases than the state acknowledges, and how that could complicate efforts to manage school closures. Sara Konrad Baranowski has found similar discrepancies for case totals in Hardin County and has struggled to calculate an accurate positivity rate.
I've tried and failed to get a straight answer--or any answer--from IDPH on how the state counts COVID-19 deaths. The CDC publishes two sets of fatality numbers, and the state website doesn't clarify how the IDPH determines whether the virus was a contributing factor in an Iowan's death.
Contact tracing efforts fall short
Both Reynolds and Pedati have touted Iowa's case investigation and contact tracing efforts as part of a strategy to contain COVID-19. But Caroline Cummings of Sinclair Broadcast Group reported on July 29 that Iowa has only about 400 workers engaged in contact tracing, counting all state or local staff. Based on the number of positive cases and other factors, more than 3,000 people should be doing that work here.
Sources in multiple Iowa counties have told Bleeding Heartland that case investigation is not keeping up with the spread in their area. According to one source in a county where IDPH is handling contact tracing, workers employed by the state sometimes don't even call the index case who tested positive for COVID-19, let alone that person's close contacts.
When assigning credit or blame for state policies, the buck always stops with the governor. Reynolds' approval rating on COVID-19 is deservedly low.
Yet Pedati should also be held accountable for her role in the state's bungled response, which has caused preventable deaths. If Iowa's coronavirus cases, positivity rates, hospitalizations, and fatalities were steadily trending downward, then by all means, reward the epidemiology team's leader for a job well done.
As matters stand, any significant pay raise is unwarranted, and 45 percent is outlandish.
UPDATE: New IDPH Director Garcia told Radio Iowa's O.Kay Henderson,
"This decision was really focused around retention," Garcia said late this afternoon, "but also really focused around the job we've asked her to do in those dual roles." [...]

Garcia said she's "quite comfortable" with Pedati's current salary compared to what other physicians in state government are making.

"I did poll a variety of other salaries for positions both internal to the Department of Human Services, the Department of Public Health as well as the Department of Corrections," Garcia said during an interview with Radio Iowa, "and this salary adjustment is actually below what those other salaries are in comparison."
Is Garcia implying that Pedati threatened to walk if she didn't get a big raise?
The state salary book shows Dr. Patricia Quinlisk was making $10,234.40 per two-week pay period during her last year as state epidemiologist. That's in line with Pedati's new salary. But Quinlisk was a nationally known expert on infectious disease with more than two decades of experience in that position. Pedati's expertise and performance in the job so far are not commensurate with such high pay.
Regarding Garcia's comment to the Des Moines Register about using FEMA crisis funds to cover the overtime pay for Pedati and others, I question whether that is an appropriate use of the federal funding. The state should be directing crisis funds toward hiring more frontline workers, like people who are conducting COVID-19 tests or doing case investigation and contact tracing.
______________________
Appendix 1: Amounts of overtime pay Dr. Caitlin Pedati received per pay period during the COVID-19 pandemic, according to records provided by the Department of Administrative Services in July 2020
Two-week period beginning March 6, 2020: $14,310.65
Beginning March 20: $6,587.72
Beginning April 3: $6,852.11
Beginning April 17: $5,508.13
Beginning May 1: $6,874.14
Beginning May 15: $4,362.44
Beginning May 29: $3,701.46
Beginning June 12: $3,304.88
Beginning June 26: $4,014.05
Appendix 2: Iowa Administrative Code sections dealing with overtime pay
Top image: Dr. Caitlin Pedati speaks at Governor Kim Reynolds' news conference on June 10, 2020. Photo by Brian Powers/Des Moines Register (pool).