Governor Kim Reynolds and other officials with important roles in Iowa's COVID-19 response received talking points from Domo, Inc. before filming a promotional video for the company on state property last July.
The Utah-based firm, part of a group that received a $26 million no-bid contract to create the Test Iowa program, provided each interview subject with questions and "key statements" in advance, documents Bleeding Heartland received through a public records request show. State Medical Director Dr. Caitlin Pedati, the governor's chief operating officer Paul Trombino, and others voiced some of those messages on camera.
Despite official claims that "no state resources were used" for the video, email records indicate two of the governor's staffers spent time on preparations such as securing permissions to use different areas of the state capitol building. In addition, Trombino asked Dr. Michael Pentella, director of the State Hygienic Laboratory, to participate in the Test Iowa video.

A VIDEO WITHOUT PRECEDENT IN IOWA
Domo, which markets a "COVID-19 Crisis Command Center" to states, took down a web page with testimonials from Iowa officials a few hours after Ryan Foley reported on the video for the Associated Press last month. You can see how the page looked thanks to the Wayback Machine, and many of the quotes appear in a "customer story" document still available through Domo's website. I had saved a copy of the video and posted it on YouTube.
The governor's staff have ignored all of Bleeding Heartland's inquiries about the Domo video and have not provided any related records, requested more than six weeks ago. (Reynolds' office has numerous outstanding records requests, some dating as far back as last April.)
Fortunately, the Iowa Department of Administrative Services still complies with the state's open records law and had quite a few relevant documents. Trombino served as that department's interim director for much of 2020, while continuing to work in the governor's office.
A Domo crew filmed Trombino, Reynolds, and Pedati at the capitol in Des Moines on July 27, then drove to the State Hygienic Laboratory in Coralville to interview Iowa Department of Transportation Director Scott Marler and Pentella.
Gary Dickey, who was general counsel for Governor Tom Vilsack, was not aware of any precedent for Iowa officials appearing in a corporate promotional video. He speculated that the filming may have violated a state law prohibiting the use of state property "for any private purpose and for personal gain, to the detriment of the state," adding, "If it's not illegal, it's in extremely poor taste."
Reynolds was interviewed in her formal office, while Trombino was shown in a hallway and in room 102, where Pedati was filmed. Other footage shows the grand stairwell leading to the rotunda and the picturesque law library.
The Iowa legislature controls access to the capitol. Iowa House Chief Clerk Meghan Nelson did not respond to inquiries, so I have not been able to determine whether she knew the film shoot was for a private company's ad when she gave the governor's operations manager Jess Flaherty permission to use the space.
The Department of Administrative Services manages the Capitol Complex and handles event reservations. Records do not clarify whether agency staff were aware the film crew was working on a testimonial for a private company. In her initial communication, Flaherty said vaguely that "Governor Reynolds has a video interview" scheduled and asked about logistics for "our film crew."
The governor's staff have not responded to questions about whether any other for-profit company has been allowed to film a commercial in Reynolds' office. State Auditor Rob Sand told the Associated Press last month the "legality of this action certainly deserves additional scrutiny."
Records provided by the University of Iowa show Domo disclosed on its campus filming request form that Pentella would be interviewed at the state lab, and that two companies would use the footage "to showcase" technology products that are part of Test Iowa. The AP's Foley noted that the video "may contradict a university policy limiting product endorsements" (see here).
COMPANY PROVIDED "KEY STATEMENTS" ALONG WITH QUESTIONS
Domo's Iowa customer story was not scripted. However, the company let the interview subjects know ahead of time what the film crew would be asking and what kind of answers the company was looking for. On July 24, a Domo representative sent Flaherty a list of questions for the five people to be filmed. I've enclosed that file below as Appendix 1.
Domo provided "3 KEY STATEMENTS" for each state official above questions grouped into categories. Near the end, the interviewer was to ask, "If you were to give a 30 second pitch" to counterparts in other states about the Test Iowa program, "what would you say?"
For example, here's the first page of material provided to Reynolds. Suggested key statements highlight Domo's Crisis Response Service as a comprehensive, long-term solution that "was able to evolve" with the situation. A summary paragraph notes that the governor and her team meet daily to "make real-time decisions" about the pandemic based on changes in the data.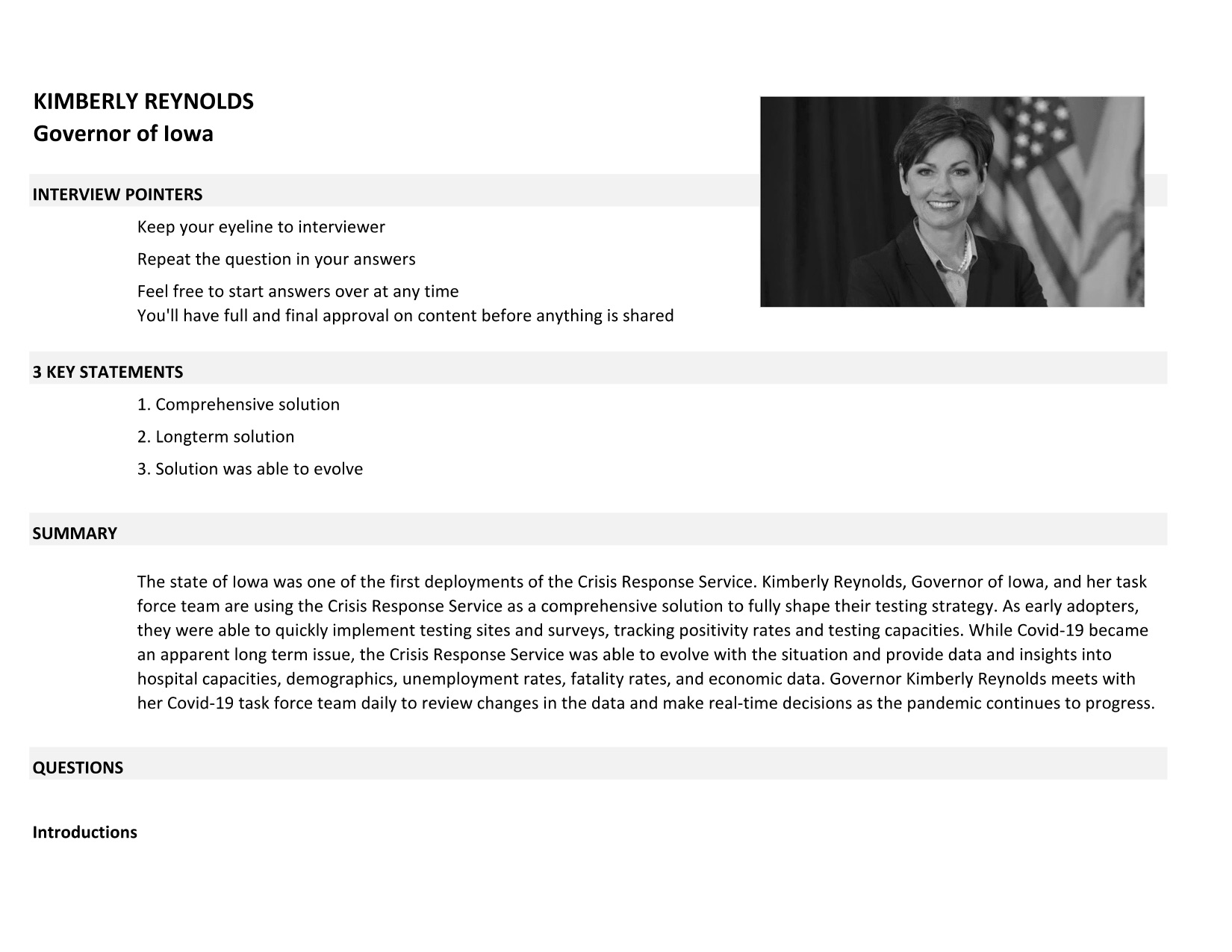 The video includes footage of Reynolds hitting several of those themes. Starting at the 4:24 mark, the governor says the Test Iowa assessment allows officials to "see where some of the hot spots are" and allocate resources "in a very strategic way." Later, she says the data "has allowed me to very confidently stand in front of Iowans and talk about why we're making the decisions that we are, and what we're basing them on."
The video wraps up with comments that will ring a bell for any regular viewer of the governor's COVID-19 news conferences: "It really helped us in making those critical decisions, and it gave me the confidence that I needed to be able to start to open up our economy and get individuals' lives and our livelihoods back on track."
Domo used portions of those quotes on its Iowa customer story web page and a corresponding pdf document.
The company set up a second interview with Reynolds via Zoom in early August. The evening before that meeting, a Domo employee sent the questions and talking points again. Right before the Zoom call, a company vice president sent Reynolds' staffers "the latest metrics for reference," saying, "These could be great to include in the Iowa video if the governor can rattle some of these off." As far as I can tell, nothing from that August call made the final cut.
DOMO SOUGHT TO PROMOTE TEST IOWA PARTNERS
Trombino and the CEO of Nomi Health signed the original Test Iowa contract. Qualtrics and Domo rounded out the trio of Utah companies as subcontractors. By the time the film crew came to Iowa in July, a fourth company had been added to the mix: Chatfunnels, which designed the automated chat function on Test Iowa's website.
Marketing this cluster as a package deal was a priority for Domo. The "key statements" provided to Trombino were "Metrics and results"; "Hurdles"; and "Domo, Chatfunnels, Qualtrics, Nomi."
Similarly, the first key statement for Pedati was "Qualtrics, Nomi," while the first for the DOT's Marler was "Nomi, Domo, Qualtrics," and the first for the hygienic lab's Pentella was "Nomi."
Although the Iowa Department of Public Health told me they had no written correspondence related to DOMO's plans to film at the capitol building, Pedati's remarks suggest she may have seen this document while preparing for her interview. The video shows the state medical director saying, "Working with our partners–Nomi Health, Domo, and Qualtrics–has allowed Iowa to expand our testing capacity, enhance the information we have available to us, and improve the way that public health serves Iowa." She later praises the assessment component and Domo interface, which gives officials "real-time information that we can then share with the public."
In one clip, Trombino walks through each company's role in Test Iowa: "What's been amazing is how each piece fits together and allows us to do something different." He credits Nomi Health for the "first piece," providing COVID-19 testing kits. The "second piece" was the online assessment, created by Qualtrics. Domo provided a third "key ingredient," helping officials get "better information," Trombino says. "You know, we tried a number of things, and nothing came close to what we've been able to accomplish with the data integration that Domo brings across the platforms […]."
Mid-way through the video, Trombino notes that the state eventually needed assistance answering questions from members of the public. "The key piece to that was Chatfunnels and the chat bot on the Test Iowa site. As soon as we got the Chatfunnels up, the numbers were phenomenal. […] We probably had close to 50 percent of them getting the answer that they were looking for from the Chatfunnel, and then they'd fall off." (Domo had highlighted the percentage of inquiries resolved by the chat bot in some communication with state officials).
Trombino's 30-second pitch comes near the end of the video: "The biggest advice that I would make to people that are looking at this system, is it allows you to break down those silos faster than I ever thought that I would have the opportunity to, because of the integration that the private sector brought."
ACCOMPLISHMENTS AND THE "VALUE OF PARTNERSHIP"
Domo could have created a power point listing successes of the Test Iowa program, but it's more compelling to have state officials say it in their own words. The preparation document encouraged Pentella to talk about "accomplishments" and Marler to stress the "value of partnership."
In one portion, Pentella explains,
Domo is very important to us, because Domo allows us to look each day at what we're going to be receiving, and make sure that we've reported out everything that we needed to report out every day. So Domo is a great planning tool for us. It tells us where we've been, and a great indication of where we're going.
Pentella also touts the lab's ability to process more than 4,000 tests some days, saying lab personnel are "really proud to have partnered with Test Iowa to make this possible."
The DOT director mentions daily testing capacity in the 3,000 to 4,000 range, adding that the state has been able to set up as many as twelve mobile testing sites around Iowa at once. By late July, the program had tested "well over 400,000" Iowans. Marler's big takeaway: "What we've learned in this journey that we've been on is we really have to focus on the data." In addition, "connecting data systems across different agencies… is very important to us as we look at having that clear picture we need to make those business decisions."
"YOU'LL HAVE FULL AND FINAL APPROVAL ON CONTENT"
The interview questions and talking points Domo sent to state officials before the July filming, and to Reynolds before the August Zoom session, assured each individual, "You'll have full and final approval on content before anything is shared."
Staff for the governor's office, Iowa Department of Public Health, and Department of Administrative Services have not responded to inquiries about whether Domo sought approval before putting the video online, and if so, when that occurred and which state employees reviewed the material. Records do not indicate that anyone at the University of Iowa cleared the video for release. UPDATE: A spokesperson confirmed, "no one at the university saw any part of the video prior to release," and Pentella "did not see any part of the video until a member of the media shared the link."
I'll update this post as more information becomes available.
P.S.- Reynolds famously said at an April news conference that a tip from the Iowa-born actor Ashton Kutcher prompted her team to look into Utah's testing program. Trombino told a different story in the Domo video. In his version, he had "a couple of long conversations with some of my counterparts in Utah" about the issues they were facing related to the pandemic. "And that was the key ingredient for us to make that decision and sort of really initiate the plan."
UPDATE: Iowa Department of Public Health staff informed Bleeding Heartland on February 5, "Dr. Pedati received final edited copy of the video; however, she was not asked to review it. She also did not provide input after receiving the final video."
---
Appendix 1: Final interview questions and talking points sent by Domo staff to the governor's office on July 24, 2020. The questions begin on page 11, after several pages showing the film crew's planned schedule. The pagination makes this document hard to read, because Domo seems to have sent the materials in horizontal alignment, while they were provided to me in vertical alignment, with many lines spilling over to another page. The Department of Administrative Services did not respond to Bleeding Heartland's request to provide this file paginated properly.
LATE UPDATE: Here is a more readable version of the talking points prepared for the governor.
Appendix 2: State of Iowa "customer story," which remained on Domo's website after the a similar page containing the video was taken down on January 7, 2021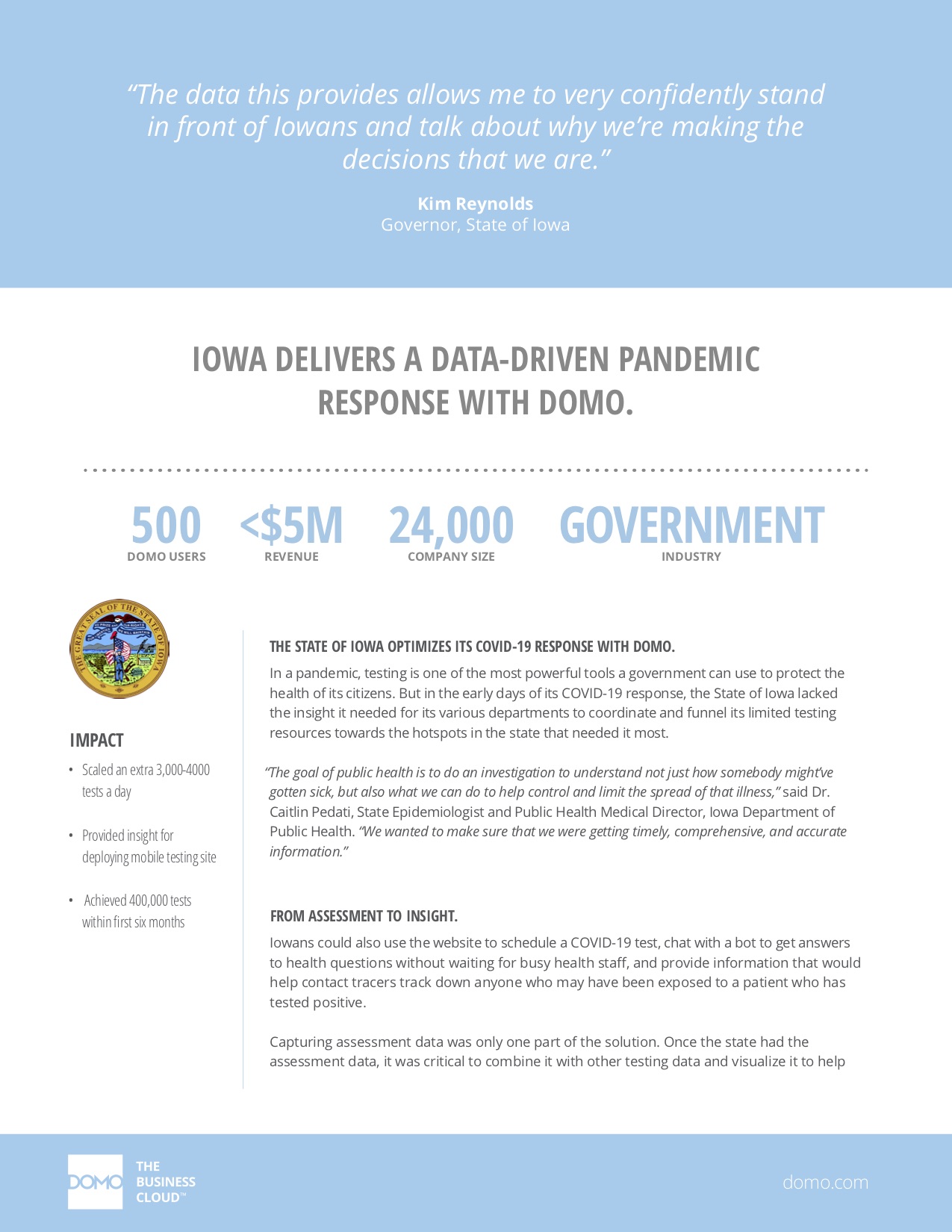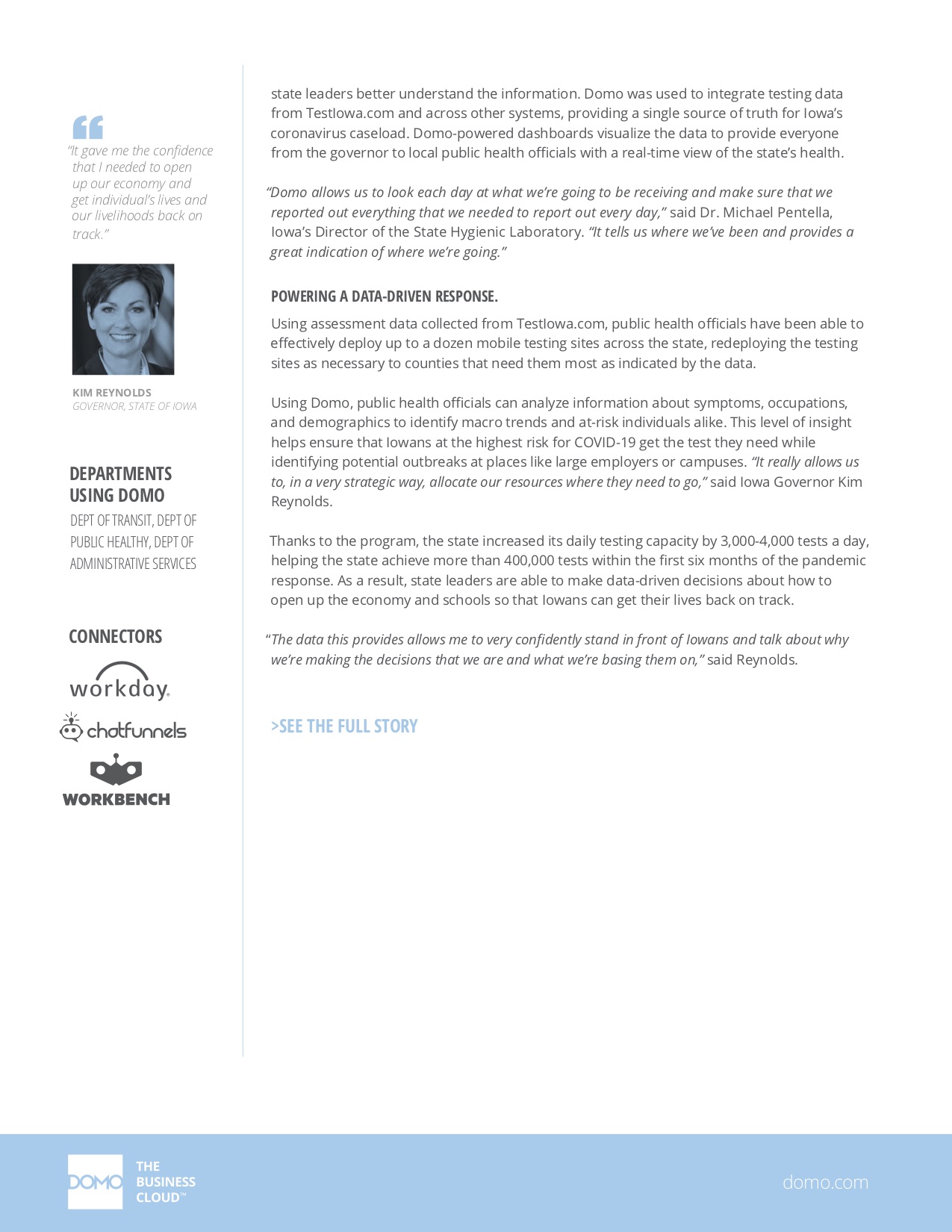 Appendix 3: Document Domo sent to the governor's office before a scheduled Zoom interview in August 2000. This document suggests the same key statements and questions as the file sent in late July but is more readable.
Top image: Screenshot from Domo video filmed inside Governor Kim Reynolds' office on July 27, 2020.