To the Iowans who coach student athletes or lead other public school-based activities:
As a new academic year begins this week, you may feel more emboldened to bring your religion into practices, games, or other school group gatherings. The U.S. Supreme Court ruled in June that high school football coach Joseph Kennedy was wrongly disciplined over his post-game prayers on the field.
Writing for a 6-3 majority in Kennedy v. Bremerton School District, Justice Neil Gorsuch mischaracterized Kennedy's actions as a "short, private, personal prayer." In fact, the coach sought public acclaim and extensive media coverage for giving thanks to God at the 50-yard line, sometimes surrounded by players.
No doubt the coaches who copy Kennedy will be celebrated in many Iowa communities.
I've been thinking about how coaches like him will change the school sports experience for students like me.
WHAT I GAINED FROM SCHOOL SPORTS
I was no standout athlete, but I did play tennis for West Des Moines Valley High School all four years. I have so many positive memories about the team.
If you just want to improve your physical fitness, you can exercise alone. Playing for the team, I bonded with doubles partners and got to know girls who weren't in any of my classes or other extracurriculars.
Match play taught me not only tennis tactics, but how to be gracious in victory, and how to bounce back from tough losses. (Being beaten by a superior player is no big deal—the worst setbacks are losing matches you should have won.)
Daily practices during the season reinforced the importance of honoring commitments, even when I didn't feel like doing drills or running a mile after school.
Some research has shown that being involved in a sport is associated with better mental health for teenagers. Not every student needs to play, of course. But public schools should make it easy and enjoyable to be part of a team, for the average athletes as well as for the jocks.
I have no idea whether our coach, Steve France, was a church-going or spiritual person. I remember his wisdom and kindness and words of encouragement. I remember never feeling out of place as a Jew on a mostly-Christian team. My friend who was part of central Iowa's tiny Zoroastrian community also played tennis for Valley all four years.
COACHES ARE POWERFUL FIGURES
As Justice Sonia Sotomayor wrote in her dissenting opinion, Kennedy had a long history of leading students in prayer. Coaches wield vast power over who gets playing time and almost everything about how a team functions. That's why some of the Bremerton football players felt coerced to join the post-game prayers, even though the coach did not explicitly demand their participation.
This photo shows one of Kennedy's gatherings at the center of the field. You wouldn't need to be told the coach wants others to join him in praising God. Even without his media tour that reached national television, it's obvious these prayers are a high priority for him.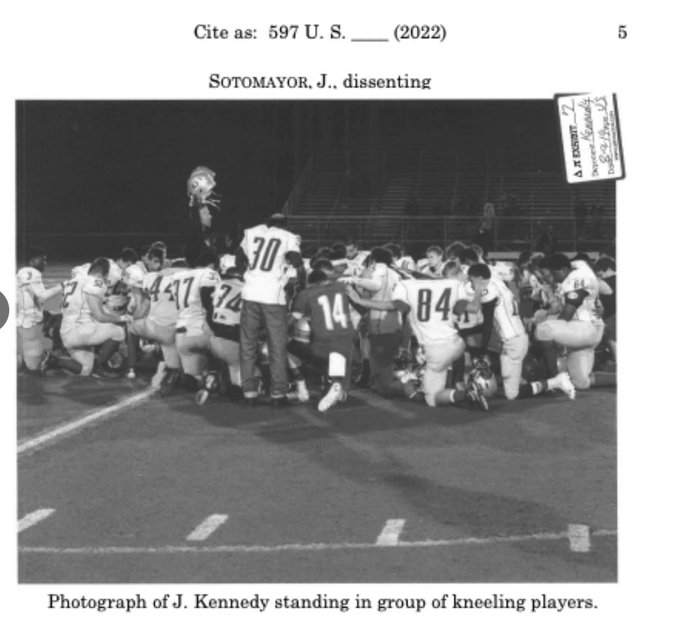 Christians can be oblivious to how others might feel about praying along with them. An April 14, 2022 post on the Newton High School girls soccer Instagram account explained, "A Newton Girls Soccer long standing tradition is to meet in the middle for a post game prayer. We give thanks for this wonderful game we are given the chance to play each and every day."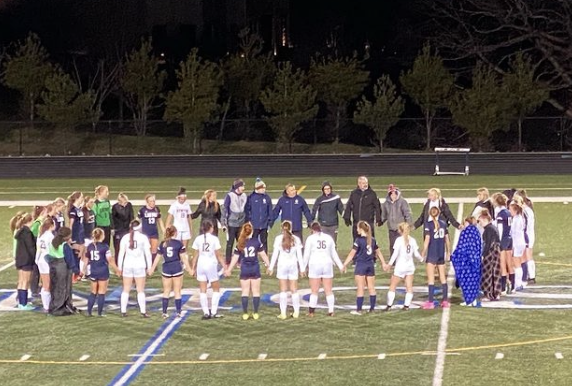 After I used the photo to illustrate the concept of public school authorities pressuring students, one Newton soccer player assured me the circles are student-led, and players "do NOT feel forced to come together and pray." How can she be sure? Peer pressure is strong at that age.
Anyway, as the picture shows, adults are part of the prayer circle. Whether or not coaches have instructed everyone to join, it's clear what's expected of the team. It would surely be noticed if some girls opted out.
Many adults have told me they always felt uncomfortable as they went along with similar traditions at their schools. Others avoided sports so as not to be put in that isolating, alienating situation.
I'm grateful Coach France never forced me to choose between honoring my own faith and being part of a team bonding ritual.
NOT ALL IOWANS ARE CHRISTIAN
I rarely write about growing up Jewish in Iowa, or raising Jewish children in an overwhelmingly Christian community. When I do highlight how some Iowa politicians promote Christianity or imply that real Americans are practicing Christians, I invariably hear from critics that I'm being too sensitive. After all, I chose to live in Iowa. What did I expect?
Iowa is not a monolith. According to the Pew Research Center, about one in five adults in our state have no religious affiliation, and thousands of families adhere to non-Christian faith traditions. While parochial schools understandably incorporate religion into all areas of education, public schools are supposed to be welcoming for all kids, with no favoritism for some family backgrounds or personal beliefs.
The Gorsuch opinion quoted from an earlier U.S. Supreme Court ruling to argue that "learning how to tolerate speech or prayer of all kinds is 'part of learning how to live in a pluralistic society,' a trait of character essential to 'a tolerant citizenry.'"
Believe me, Iowa's atheists and members of religious minority groups are bombarded with Christian imagery and observance in public spaces from a young age. They don't need additional exposure to Christian prayers through school activities.
The people who need lessons in pluralism are those who think it's fine for authority figures to bring their spiritual practices to a captive audience. (The irony is, many of those same conservative Christians would claim it's dangerous for school libraries to make certain books available to students who want to read them.)
Ian Millhiser, who covers the Supreme Court for Vox, warned that teachers and coaches inspired to pray "ostentatiously" at school activities "will do so at their own peril." Because Gorsuch's opinion in Kennedy v. Bremerton "relies so heavily on false facts," it "doesn't weigh whether a coach is allowed to do what Kennedy actually did."
I didn't write this post to spare you or your school district from potential legal trouble.
I'm asking you not to use your position to favor students who share your religion over others who also look to you for leadership and guidance.
Top image: Cropped photo showing Coach Steve France and about half of the Valley High School women's tennis team in 1987. Laura Belin is second from the left in the front row. Full team photo is here.