Like their counterparts across the country, top Iowa Republicans howled on August 24 when President Joe Biden rolled out a three-pronged student loan relief program.
Speaking at a town hall meeting, Senator Chuck Grassley asserted that it's "unfair" to forgive some student loans but not help other people who struggle to repay their obligations.
U.S. Representative Ashley Hinson denounced the plan as a "handout to the wealthy and a total slap in the face" to working people who didn't go to college or already paid off their student loans.
The outrage over student debt relief was striking, since Grassley and Hinson have not objected to some other federal government handouts, which benefited their own families.
PLAN TARGETS LOW- AND MIDDLE-INCOME BORROWERS
For borrowers who earn less than $125,000 annually (or $250,000 for a couple), Biden proposes to forgive $10,000 of student debt for individuals, or $20,000 for those who qualified for Pell grants, which assist students from lower-income families.
The Department of Education is proposing new administrative rules that will reduce monthly payments for borrowers from 10 percent to 5 percent of discretionary income. Other reforms will reduce the total number of years that some borrowers need to pay, and will cover unpaid monthly interest, so "no borrower's loan balance will grow as long as they make their monthly payments."
Although the proposal falls short of the relief many former students need (especially those who attended higher-priced colleges), a White House fact sheet estimated that about 43 million borrowers will receive some help from the student loan reforms. Of those, about 20 million will have their remaining debt wiped out. The Biden administration estimates that 87 percent of the loan forgiveness will go to people earning less than $75,000 annually, and 13 percent will go to people making between $75,000 and $125,000.
Borrowers who have paid off their student loans during the past two and a half years can get a refund on any federal student loan payments they have made since March 2020 (when the government halted mandatory monthly payments due to the COVID-19 pandemic).
The forgiveness will be life-changing for many; Anne Helen Petersen compiled about two dozen testimonials here. Reforms will also provide ongoing savings to many middle-income borrowers. This graphic comes from the White House fact sheet: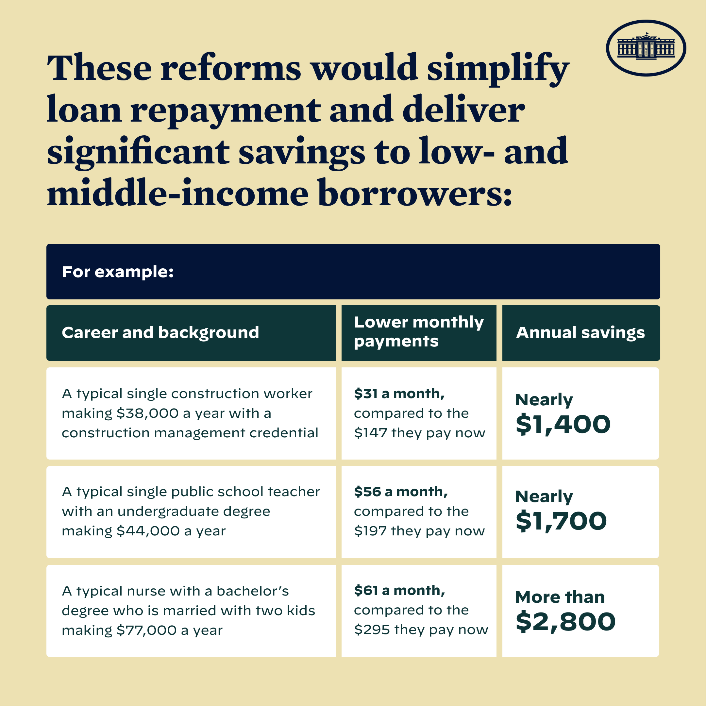 While Hinson claimed Biden's plan would benefit the wealthy, no one in the top 5 percent of earners would qualify. Contrast that with various Republican-backed state and federal tax cuts, which delivered the largest savings to people at the top of the income scale.
Speaking of which...
FEDERAL POLICIES ALREADY SUBSIDIZE COLLEGE FOR THE WEALTHY
College students from wealthy families don't typically need to take out student loans. In any event, the federal government already subsidizes many rich people's educations, through tax breaks for 529 savings accounts.
If a family has enough accumulated wealth or disposable income to sock away tens of thousands of dollars a year in a 529 savings account (or $150,000 per child when they establish the account), they may be able to cover K-12 private school tuition as well as college through funds that were shielded from federal taxes. That could easily add up to savings of tens of thousands of dollars for families who didn't need any government help to fund their children's education.
People of vast wealth can "create multiple 529 plans and throw hundreds of thousands of dollars into them in order to shave down the taxable estate" below $11.7 million, the threshold for federal estate tax. If children or grandchildren end up not needing the money for their education, the wealth can be passed down to the next generation, tax-free.
Middle-income families can also open 529 accounts, of course. But whatever savings they accrue won't reduce their tax burden in any meaningful way. They don't have that kind of spare cash.
Even worse, if a student from a working family will need financial aid to attend college, savings from 529 plans can reduce aid packages. That's not an issue for wealthy families, whose children wouldn't be eligible for financial aid anyway. They simply get the tax write-off.
Hinson said of the Biden student loan plan, "Those who didn't go to college, or those who have worked hard to pay off their student loans, should not be on the hook for someone else's degree." What about people who didn't go to college and have to pay higher taxes, or make do with fewer government services, because the richest people use loopholes like this one to avoid paying taxes?
Economist Duncan Black said of pundits criticizing the Biden debt relief plan plan, "all those health care workers they're weeping about for one day only already got screwed paying for rich people's tuition tax breaks." Don't hold your breath waiting for Republican politicians to complain about those.
GRASSLEY'S SELECTIVE CONCERN FOR FAIRNESS
Grassley tweeted about Biden's plan, "Ppl making up to $125,000 or a couple making up to $250,000 are getting student loans paid for by everyone else who didn't go to college or paid their own loans. Will fuel further inflation hurting those who can least afford it UNFAIR" (Analysts from Goldman Sachs don't expect the student debt relief package to have any significant impact on inflation.)
The senator further developed his talking point about fairness at an August 24 town hall in Rock Rapids (Lyon County). Video courtesy of Iowa Starting Line's Amie Rivers:
Rumors are flying (again) about a possible Biden announcement forgiving student loan debt today.

Grassley says he doesn't think that's legal for Biden to do, that he's sponsoring a bill to explicitly make that illegal, and he thinks it's not fair to forgive debt. pic.twitter.com/qiWuxC4K34

— Amie Rivers (@amierrivers) August 24, 2022
My partial transcript:
It's unfair to those people that worked their way through college, or maybe didn't go to college, to forgive the loans [...]

It seems to me it could lead to a slippery slope. If you're going to start forgiving part or all of a student loan, where do you go with other people that have trouble with loans they took out? [...]

But I think it's very unfair in the first place. And I think if you benefit from a college education, you ought to have some skin in the game.
Working your way through college was doable for Grassley's generation, and even for my generation. But it's not realistic anymore.
Iowa Starting Line's Ty Rushing pointed out that tuition at what is now the University of Northern Iowa ranged from $40 per quarter to $53 per quarter when Grassley attended during the 1950s. That works out to a little less than $600 per quarter in today's dollars. Tuition alone now costs Iowa residents $7,780 at UNI, with total costs (including mandatory fees and room and board) topping $18,000 annually.
After the Rock Rapids town hall, Grassley elaborated on the "fairness" issue when speaking to reporters. This video posted on the senator's Facebook page is clipped from a segment broadcast on KCAU-TV.
Grassley asserted that student loan relief discourages people from keeping their word when they sign a contract. But many Americans with education-related debt have paid the value of their original loan several times over. They are getting crushed by compounding interest accruals.
Referring to people who didn't go to college, Grassley said, "Maybe they've got a mortgage on their home, or a loan on their car. Why shouldn't they get the same benefit? It seems to me it's unfair."
The senator has never objected to the massive federal subsidies directed at farmers. Nothing like that kind of benefit is available to people working in most other fields, even though they could use the help.
Many farmers received debt relief and interest rate adjustments during the 1980s. Displaced workers in other sectors did not receive the same financial assistance.
The federal funds kept rolling long after the farm crisis abated. In 2019 alone, Iowa farmers received $2.34 billion in federal government subsidies, according to the Environmental Working Group's database. Crop insurance subsidies accounted for about $342 million of that amount, paid for by American taxpayers who mostly are not engaged in farming.
The Environmental Working Group's Midwest director, Anne Schechinger, noted, "While student loan debt relief will be $10k-$20k per person, farmers can get up to $125k per person/$250k per married couple in #farmsubsidies every year. And no limit on crop insurance."
When the Trump administration directed billions of dollars to compensate farmers for the impact of the trade war Donald Trump started, most of the money went to wealthy farmers, not struggling small operators. Some those ag bailout funds went to "city slickers," the EWG found.
Grassley and his immediate family members have cashed numerous checks from the federal government. Using the EWG's online database, Dan Hendrickson of KCAU-TV reported, "Grassley and his family have collected more than $1.75 million in federal farm subsidies in the last two decades." The largest amount has gone to the senator's son Robin, who collected $1,312,787 in various subsidies between 1995 and 2020. The senator has personally received $430,603 in subsidies, after helping to shape the Farm Bill as a member of the Senate Agriculture Committee.
HINSON NEVER COMPLAINED ABOUT PPP LOAN FORGIVENESS
Many Republicans who have bashed the student loan plan personally benefited from the Paycheck Protection Program (PPP), created during the early weeks of the COVID-19 pandemic.
The PPP loans directed more than $800 billion in forgivable loans to millions of borrowers. Most who benefited were legitimate businesses or nonprofit organizations. (Disclosure: I am board president for one nonprofit that received two PPP loans, both forgiven.)
Many business owners received vastly more help through the PPP than any individual student borrower will obtain through Biden's new policy. ProPublica created a tool for searching PPP loans by organization, lender, zip code and business type. In my home town of Windsor Heights, a small Des Moines suburb with a population around 5,200, scores of businesses had PPP loans forgiven. Most received more than $10,000, and some received six-figure amounts.
The PPP program was designed to assist businesses that suffered significant revenue losses due to the pandemic. But others that were minimally impacted by COVID-19 (such as conservative podcasters or think tanks) received forgivable loans too. Fraudsters may have claimed tens of billions of dollars through the PPP program as well.
Several online sleuths pointed me to one entry from ProPublica's database. Transportation Insurance and Consultants, Inc. of Waterloo received a PPP loan of $142,029.25 and had $143,043.18 forgiven. A phone call to the company's Waterloo office confirmed this firm does business as Elliott Hartman Insurance Services. (Transportation Insurance and Consultants is the name registered with the Iowa Secretary of State's office.)
Matthew Arenholz, who is married to Ashley Hinson, has been a co-owner of the business since 2006. He is listed as the company's treasurer on the Secretary of State's website. UPDATE: Hinson's office told some reporters that her husband is a partner but no longer a co-owner.
I don't have a problem with this firm receiving assistance, so employees could stay on the payroll during the pandemic. But going by Republican logic, that's unfair to Americans who didn't qualify for PPP loans.
If Hinson is bent out of shape about student borrowers receiving $10,000 or $20,000 in forgiveness, maybe she should ask her husband to repay the federal government from his company's bank account.
Final note: Governor Kim Reynolds tweeted, "Biden didn't cancel debt, he sent the bill to we, the people!" That's rich, coming from the governor who loves to brag about allocating money to projects that wouldn't have been possible without Biden's American Rescue Plan. Reynolds has also signed into law several tax cuts skewed toward wealthy Iowans and corporations. When those fully phase in, and the extra federal cash stops flowing, "we the people" are going to suffer huge cuts in public services.
UPDATE: Hinson tweeted on August 26, "No one forced people to take out student loans they couldn't afford to pay back." But as mentioned above, many with student loan debt have repaid the original amount they borrowed and more.
Hinson grew up in West Des Moines and attended the University of Southern California, where she graduated in 2004. I can't find exact tuition figures for her time as an undergraduate, but out-of-staters paid $25,254 in annual tuition and fees to attend USC for the 2005/2006 academic year. If Hinson didn't graduate with significant debt, she is very fortunate.
And if her family did cover the cost of her college tuition, as was common for many people who attended Valley High School, Hinson shouldn't point fingers at those who had to borrow to get a degree.
SECOND UPDATE: Lyz Lenz reported on her Substack column,
The head of the Iowa GOP, Jeff Kaufmann, also criticized the plan, calling it a "slap in the face." Kaufmann's son, Iowa State House Rep. Robert Freeman Kaufmann, received not one, but two PPP loans. The first for $13,302 and the second $19,454. Additionally, Kaufmann's brother, Steven, received $20,955. It's important to know that Kaufmann's family runs a farming and live stock enterprise. So, family businesses run together. I found additional family members who benefitted from PPP loans. All those loans were, of course, forgiven.
Lenz also mentioned that two of Representative Randy Feenstra's former employers received PPP loans that were forgiven, as did the private school where his wife is employed.
LATER UPDATE: Tom Barton reported for the Cedar Rapids Gazette on Hinson's August 26 conference call with some reporters. (I have never been allowed to participate in those.) Hinson objected to those comparing PPP loans with student debt forgiveness.
"The PPP program, with its flaws, was intended to help keep people employed during a national crisis — a completely different intent behind the program and behind what that forgiveness was designed to do," Hinson said Friday during her weekly conference call with Iowa reporters. [...]

Hinson contends unlike President Joe Biden's executive action forgiving student loan debt, PPP was approved by Congress as a temporary, bipartisan program.

PPP loans were conceived as forgivable from the outset, conditioned on keeping workers on the payroll at time of national crisis. Federal student loans were offered on very different terms with the intention they be repaid, she said.
AUGUST 28 UPDATE: State Senator Herman Quirmbach, the ranking Democrat on the Senate Education Committee and a longtime economics professor at Iowa State University, offered some feedback on how feasible it was (and is) for college students to cover costs with other work. A few years ago, he analyzed "how many hours a student would have to work in a year at minimum wage to pay tuition, room, and board at the supposedly affordable ISU."
I love that comparison because it highlights the intersection between the minimum wage, which has increased at a little more than half the rate of inflation over the last half century, and ISU tuition that has increased at roughly twice the rate of inflation. Two problems crash head on.
Here is the graph illustrating the findings.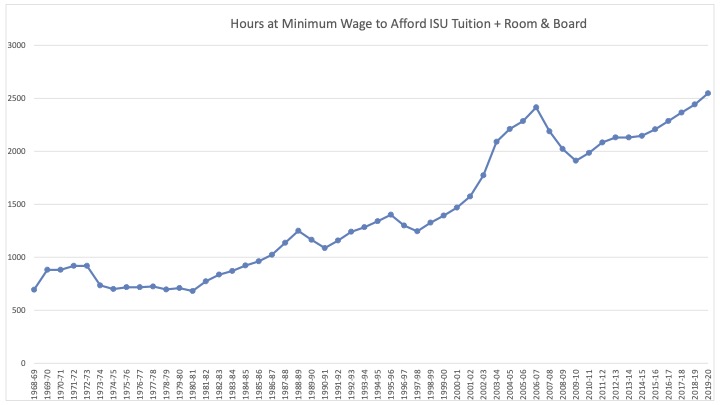 Graph created by Herman Quirmbach
He commented, "The key dividing line is at 992 hours, which is the total hours from a 14-week summer job at 40 hrs/wk plus 36 weeks term-time at 12 hrs/wk." That amount of outside work at minimum wage hasn't been sufficient to pay a student's way through college at ISU since about 1986.
"These days, even working full-time year round (= 2080 hrs = 40 hrs/wk * 52 wks) at minimum wage wouldn't cut it at Iowa State," Quirmbach added.
The question that really should be addressed is the underlying one of why students are in so much debt in the first place. The key reason as far as I'm concerned is that there has been a massive national disinvestment in public higher education over the last several decades. Iowa is not alone in this, but it has done its best/worst.
This graph shows how the burden for funding Iowa's state universities has shifted "away from state funding and to tuition" over the past four decades.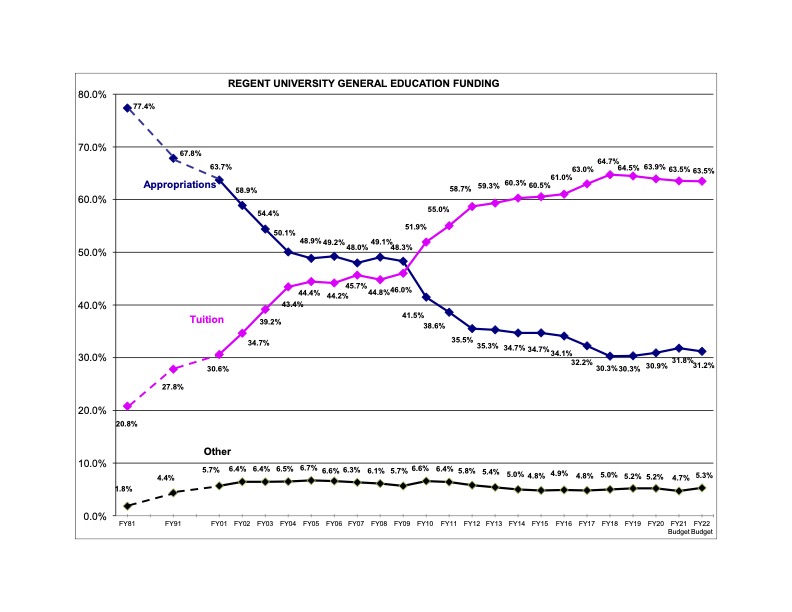 "Over the last six years, state support for the public universities and the community colleges has fallen behind inflation by a cumulative total of $500 million in today's dollars," Quirmbach said.
Declining state funding is one reason an estimated "429,000 Iowans owed $13.3 billion in student loan debt as of March 31, according to Federal Student Aid data" cited by the Des Moines Register.
Top image: Photo of Senator Chuck Grassley (left) cropped from a KCAU-TV video posted on the senator's official Facebook page, August 25. Photo of Representative Ashley Hinson (right) cropped from a picture posted on her official Twitter account on August 24.