During the first election cycle after redistricting, it's typical for many Iowa politicians to move, seeking more favorable territory or to avoid a match-up against another incumbent. What set this year apart from a normal campaign under a new map: major controversies related to those address changes.
Iowa Senate Majority Leader Jack Whitver faced a formal challenge to his voter registration, after a resident of his new district claimed he didn't meet the constitutional requirement to be on the November ballot.
And this week, Iowa Starting Line's Pat Rynard was first to report that U.S. Representative Mariannette Miller-Meeks declared herself to be living at a friend's house, on the last day she could change her voter registration without showing proof of address.
While Whitver played it close to the line, he successfully laid the groundwork for his voter registration change. Polk County Auditor Jamie Fitzgerald determined last week that Whitver's declared residency at a condo in Grimes was valid. The top Iowa Senate Republican also avoided any voter fraud allegations by not casting a ballot in the 2022 primary or general elections.
In contrast, the circumstances surrounding Miller-Meeks' address change raise legitimate questions about whether she committed election misconduct or perjury, which are both class "D" felonies in Iowa.
Staff for Miller-Meeks did not respond to Bleeding Heartland's inquiries about her voter registration. Nor did State Senator Chris Cournoyer, whose Scott County home the member of Congress now claims as a residence.
DIFFERENT RULES FOR STATE, FEDERAL OFFICES
The Iowa Constitution requires candidates for state legislature to have "an actual residence" in the district where they are running for at least 60 days before the general election. So Whitver needed to show that by early September, he was residing within the new Iowa Senate district 23.
The U.S. Constitution requires that candidates for Congress live in the state where they are running for office, but not necessarily in the U.S. House district where they are on the ballot. So even though Iowa's new map placed Wapello County outside the first Congressional district, where Miller-Meeks opted to seek re-election, she had no obligation to move from the Ottumwa home she has long shared with her husband.
Nevertheless, Miller-Meeks claimed on several occasions to have "a residence in Le Claire" or "a place in Le Claire" in addition to her Ottumwa residence.
WHITVER'S PAPER TRAIL
The Iowa Senate leader planned ahead to support his claim to live at the Grimes condo he and his wife have owned since 2019. Documents provided as part of a sworn affidavit showed that in early August, before changing his voter registration address, Whitver asked to withdraw his homestead tax exemption on his Ankeny home and changed his driver's license to reflect the Grimes address.
He also had utility bills in his name listing the Grimes address, and by early September had changed the address on his payroll records and on documents filed with the Iowa Secretary of State's office and the Iowa Ethics and Campaign Disclosure Board. The senator stipulated in his affidavit that he "moved into" the condo on September 4 and has used the property as his "primary nighttime residence."
Was Whitver actually living in the Grimes condo for 60 full days before the election? Maybe not. During a November 30 hearing on the challenge to Whitver's voter registration, Shayla McCormally (the attorney representing challenger Ann Gale) noted that water bills for the unit show no usage—"not a drop of water"—until sometime after September 9. The condo used minimal water prior to October 10.
McCormally also pointed out that by Whitver's own admission, he didn't move into the condo until several weeks after changing his voter registration on August 8.
But the Iowa Code section on voter registration states that provisions should be "liberally construed" to "facilitate the registration of eligible residents." Another subsection states, "A person's declaration of residency for voter registration and voting purposes is presumed to be valid unless a preponderance of evidence indicates that another location should be considered the person's voting residence […]." (emphasis added)
Another subsection reads, "A person's residence, for voting purposes only, is the place which the person declares is the person's home with the intent to remain there permanently or for a definite, or indefinite or indeterminable length of time."
During the November 30 hearing, Whitver's attorney Charlie Smithson repeated those words for emphasis: "for a definite, or indefinite or indeterminable length of time." (Smithson is the secretary of the Iowa Senate, but he told reporters he was representing Whitver in his personal capacity for no fee.)
Whitver did not attend the hearing, so he was not forced to answer any questions about how many nights he had spent at the condo or whether he planned to remain there. It appears that he won't be apart from his wife and children for long. Caleb Hunter, spokesperson for the Iowa Senate Republicans, told reporters on December 5,
In addition to his currently established residence in Grimes, Senator Whitver and his wife signed a contract last summer to purchase a lot near Polk City within the boundaries of Senate District 23. The plat was just recently finalized in mid-November and they expect to close on that lot before the end of 2022.
It's fair to say Whitver gamed the system. Whereas Democratic State Senator Sarah Trone Garriott made real personal sacrifices to seek office this year in Senate district 14 (selling her Windsor Heights house, putting her kids in new schools), Whitver's family didn't need to change a thing. He just spent some nights at a condo.
But Iowa law favors the registrant. The challenger has the burden of proof. So arguably, the Polk County auditor was legally correct to find that evidence supported Whitver's declaration of intent to live at that Grimes condo.
Miller-Meeks' situation is quite different.
A LAST-MINUTE CHANGE TO HER FRIEND'S ADDRESS
The Scott County auditor's office confirmed to Iowa Starting Line and the Quad-City Times that on October 24, Miller-Meeks changed her voter registration to the Le Claire home where Cournoyer lives with her children. Rynard explained why the date matters:
That Oct. 24 date is important because it was the last day you could pre-register to vote in Iowa before the 2022 election. Doing so then would have given others the least amount of time to discover where in Scott County she sought to vote. Doing a same-day registration after that date would have required Miller-Meeks to show proof of residency for her new address.
Iowa law provides the following options for voters to prove their address when registering or changing their registration on the same day they cast a ballot, if their other ID doesn't list their current address.
Residential lease
Property tax statement
Utility bill
Bank statement
Paycheck
Government check
Other government document
It's unlikely any bill, bank statement, or government document would show Miller-Meeks was living at the Cournoyer home in Le Claire. Bleeding Heartland received no reply from Miller-Meeks' staff or Cournoyer to various questions about the arrangement. Has Miller-Meeks been paying rent to live in the Le Claire home, or contributed to other household expenses? Does she have her own bedroom or living space? Does she receive mail or bills at the address? Approximately how many nights has she stayed over?
All would be relevant to determine whether Miller-Meeks was truthful when she changed her voter registration to the Cournoyer home.
Iowa's official voter registration form requires the registrant to "swear or affirm under penalty of perjury that […] I live at the address listed above."
For good measure, the form warns, "If you sign this form and you know the information is not true, you may be convicted of perjury and fined up to $10,245 and/or jailed for up to 5 years." This image is a screenshot of the lower part of the official form.

The Iowa Code section on perjury states that a person who "makes a false statement of material facts" while "under oath or affirmation […] commits a class 'D' felony."
The code section on election misconduct in the first degree, which is also a class "D" felony, describes many possible manifestations of that crime. One is "registration fraud," when a person "Produces, procures, submits, or accepts a voter registration application that is known by the person to be materially false, fictitious, forged, or fraudulent."
If Miller-Meeks was not actually living at the address where she registered to vote in late October, she could face criminal exposure, whether or not she voted.
TO VOTE OR NOT TO VOTE?
The reporters covering the hearing on Whitver's challenge exchanged shocked glances when McCormally revealed that Whitver, who had voted in every regular or special election since 2004, did not cast a ballot in the 2022 primary or general elections. He was as reliable as a voter could be—until he was up for re-election this year.
From one perspective, it made sense that Whitver didn't vote in the primary. Sure, it looks odd to sit out the election, when Republicans had competitive primaries for U.S. Senate and House. Then again, Whitver wasn't yet living in Grimes, and voting from the Ankeny district he was fleeing might have raised awkward questions.
But why wouldn't Whitver vote for himself in November, from his new residence? His campaign Facebook page had urged supporters to vote, repeatedly. Smithson shrugged when asked to confirm that Whitver hadn't cast a ballot.
The Iowa Senate GOP spokesperson Hunter confirmed by email later on November 30,
On the evening of Election Day, Senator Whitver intended to vote with his children to show them in person the greatness of the American tradition of voting and to cast his vote in one of the most critical elections in our nation's history. Instead, he was made aware Democrats planned to challenge his ability to cast a ballot. Despite the fact that this issue was already litigated before a panel with a majority of Democrats in March, they tried one more time to rerun the same, tired issue.

Without a full understanding of what the challenge entailed and the processes used to evaluate it, he left to discuss the challenge, the law, and the process to review the challenge with his team. With the limited amount of time before the polls closed, it was not possible to fully evaluate the issues related to it and he was not able to get back to the precinct.

Happily their anti-democracy behavior was irrelevant because Senator Whitver's vote wasn't critical to his reelection considering he won by over 5,000 votes.
The Trump-like grandiosity obscures some relevant facts. The state panel that considered a challenge to Whitver's residency in March did not render a judgment on the "same, tired issue." Rather, they tossed the objection because the senator wasn't yet obligated to reside in Iowa Senate district 23. He had until 60 days before the general election to move there. The recent challenge questioned whether Whitver had actually moved to Grimes by the constitutional deadline.
Was this powerful legislator so afraid to encounter a few Democratic protesters at his Grimes precinct that he sat out "one of the most critical elections in our nation's history"? Or was he merely exercising an abundance of caution? (He is an attorney by trade.)
Hunter's bravado notwithstanding, choosing not to vote suggests Whitver may not have been entirely confident his new residency would be upheld. Ethan Stein's reporting for KCRG-TV on how the Grimes condo had used no water for most of the year got a lot of traction during the last couple of weeks before the general election.
By not voting, Whitver eliminated any chance that he could be charged with vote fraud, which Iowa Code defines as one form of election misconduct in the first degree. Examples include when a person "votes or attempts to vote at an election knowing oneself not to be qualified."
The Scott County auditor's office has not confirmed whether Miller-Meeks voted in the general election. In a video she filmed from Davenport and posted on Twitter November 7, she said she had just voted for the Republican ticket and the pro-gun constitutional amendment. All Iowa county auditors' offices were open the day before the election for in-person early voting.
As it happens, the Iowa Code subsection on "vote fraud" includes the following scenario: "Makes a false or untrue statement in an application for an absentee ballot or makes or signs a false certification or affidavit in connection with an absentee ballot." The statute on fraudulent practices (an aggravated misdemeanor) could also come into play: "Makes any entry in or alteration of any public records […] knowing the same to be false."
Miller-Meeks is a doctor, not a lawyer, and it shows.
The most bizarre aspect of this controversy is that it would have been so easy for her to establish a legitimate claim to reside in any of the counties in Iowa's new first Congressional district.
IOWA LAW ON VOTER RESIDENCE FAVORS THE WEALTHY
I had no doubt the Polk County auditor would clear Whitver of wrongdoing in the dispute over his residency, because of what I learned a year ago while investigating two other examples of questionable voting.
Voting from a home under construction
Five days before the November 2, 2021 city elections, former Des Moines city council member Christine Hensley changed her voter registration to an address on the south side of Des Moines. Staff in the Polk County elections office approved the address change, which allowed Hensley to cast a ballot in the Ward 3 city council race, even though she was residing in Clear Lake (Cerro Gordo County) while her future home was being built.
Hensley's name was not yet on the title for the property, but she told me in a November 2021 telephone interview that she had provided documents showing she and her husband were having the home built. (The title transferred to the Hensleys in February 2022, and they moved into the property at that time, I confirmed last month.)
Hensley acknowledged she wasn't receiving mail at the address when she changed her voter registration. I went to the development shortly after the election and confirmed the house had no mailbox and was not habitable at the time Hensley voted.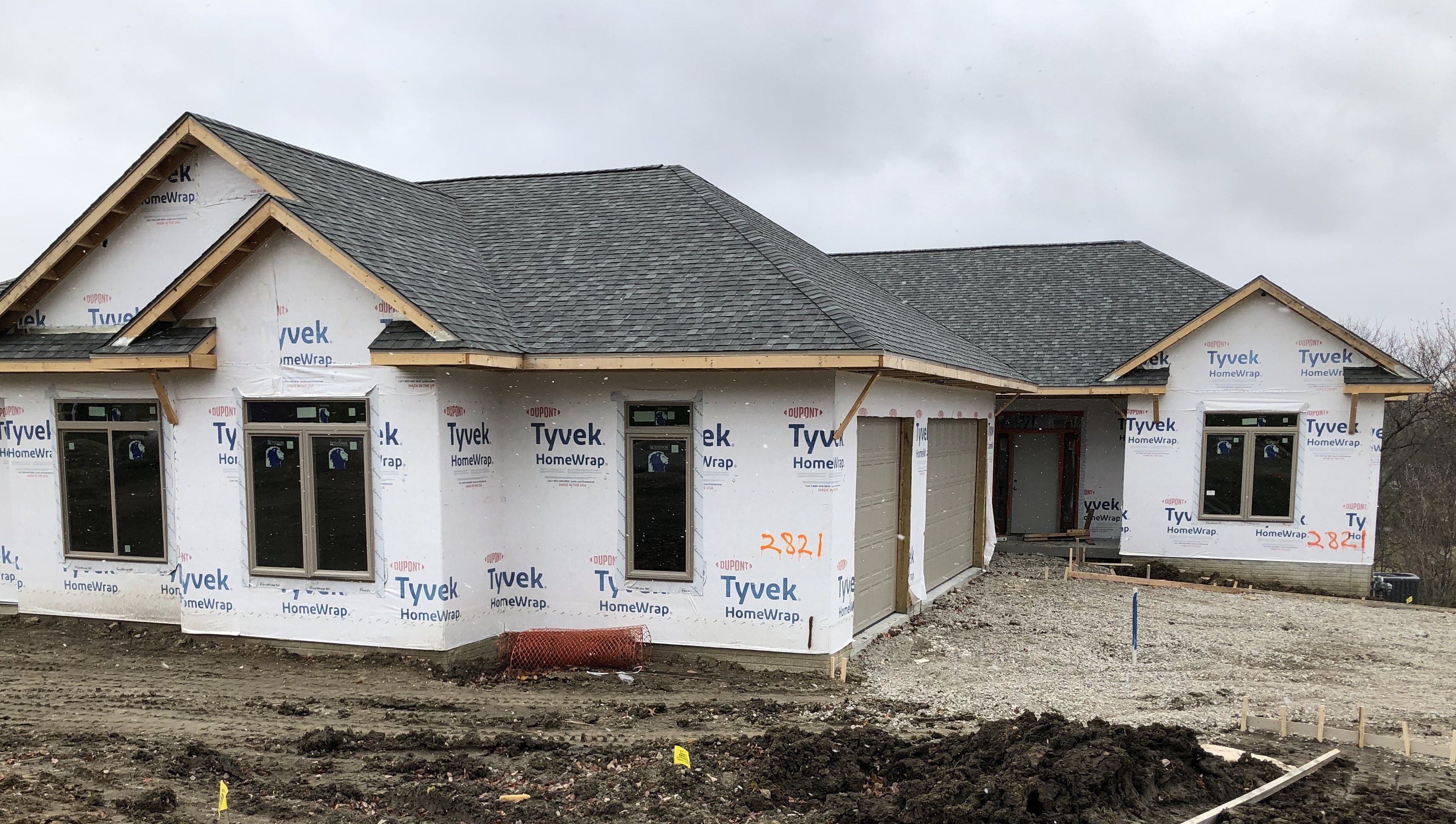 Fitzgerald told Bleeding Heartland via email last year that when Hensley came to the elections office to vote, she "showed proof of residency" at the new address. He added, "In my previous discussion with her, she considers this to be her residence even though she was temporarily away at the time of the election. She is only registered at one location."
One could debate whether it's accurate to say you are "temporarily away" from a home where you've never lived. But my research led me to conclude that Iowa law allows a voter to declare an intent to live at a specific address, whether or not they are spending much time there.
Current Des Moines city council member Joe Gatto was allowed to run for office in Ward 4 in 2014 after a panel agreed he met residency requirements. Although Gatto's wife and children were living in a house on the west side (Ward 3), he stipulated that he considered the Ward 4 house (recently acquired from his mother) to be his residence. He said he regularly slept at the south side home, received mail there, and listed that address on his driver's license and voter registration documents. The arrangement continued when he was re-elected to represent Ward 4 in 2015 and 2019.
Voting from a home being used as an Airbnb
I also learned in November 2021 that outgoing Council Bluffs city council member Melissa Head had voted in the recent city election from her longstanding address, even though she had moved outside city limits nearly a year earlier. Numerous Instagram posts from the winter, spring, summer, and fall of 2021—including one from election day—indicated that Head was living in an a-frame on Caribou Circle.
According to her voter registration records (obtained through a public records request), Head was still registered at an address on Park Avenue in Council Bluffs. Dozens of Airbnb reviews showed that property was being listed for short-term rentals throughout 2021. Some of Head's Instagram posts from that period referred to the home as the "Park AirBNB." Yet she voted from that address in the 2021 city election. (In an Instagram post from November 8 of this year, Head mentioned that she voted at a new location for the first time in more than 20 years.)
My efforts to reach Head via phone and email last year were unsuccessful. I wondered whether the city council member had broken any rules or laws by continuing to serve while living primarily outside the city.
I let the matter drop because the Pottawattamie County assessor's website showed Head's name was on the title for the Park Avenue address, which was still being used as her mailing address. As far as I could tell, she continued to pay taxes and utilities on the property. I concluded that the presumption of residency would be in her favor, even if her social media made clear she hardly spent any nights at that home anymore.
To my knowledge, no Council Bluffs resident challenged Head's voter registration or any city council vote taken after she had begun living at the Caribou residence. She did not seek re-election in 2021, saying she planned to move outside the city.
The big takeaway for me (long before the controversy surrounding Whitver) was that if an Iowan is wealthy enough to have multiple residences, that person can probably vote from any of their addresses.
THE BOTTOM LINE
I have no idea whether Miller-Meeks will face any legal scrutiny over her voter registration. One factor working in her favor is that Republicans dominate the Scott County offices, and the newly-elected county attorney is Republican Kelly Cunningham-Haan. The local powers that be have no interest in making her look bad.
Republican Secretary of State Paul Pate, who loves to talk about "election integrity" and making it "easy to vote but hard to cheat," has not commented publicly on the news about Miller-Meeks' address change.
I'm astounded that an experienced politician and member of Congress would put herself in this situation. Miller-Meeks has considerable means, her personal financial disclosures show. Surely she could have spent a few thousand dollars to rent an inexpensive apartment somewhere in the first district for several months before the general election.
That way, she would have had a rental agreement and some utility bills to back up her claim to residence, if anyone questioned it. She wouldn't have needed to change her voting address on the very last day of pre-registration, raising suspicions that she was trying to hide the ball, or had guilty knowledge that not everything was above board.
Alternatively, she could have played it safe like Whitver and not cast a ballot in the general election. That would look bad if it became publicly known later, but it wouldn't involve any possible crimes. Remember, she didn't need to establish residence in the first district to run for Congress.
Miller-Meeks has skated close to the edge before. She flubbed her personal financial disclosures more than once, and used a large amount of taxpayer funds from her franking budget for radio ads that echoed Republican campaign themes, right up to the end of the legal window for such advertising.
But none of that compares to this debacle. Journalists in Iowa and Washington should keep pressing Miller-Meeks for answers: on what basis did she claim, on penalty of perjury, "I live at the address listed above"?
Cournoyer has some explaining to do as well. Rynard observed that her actions "could bring more attention to the culture of the Iowa Senate Republicans, and whether the caucus is developing a habit of playing it fast-and-loose with Iowa election laws—or at the very least, the perception of them." Cournoyer could even have some criminal exposure herself (aiding and abetting), if she encouraged Miller-Meeks to claim her home as a residence, or was part of a conspiracy to provide false information on a voter registration form.
Top photo of Jack Whitver cropped from an image posted to his Facebook page on November 8. Top photo of Mariannette Miller-Meeks cropped from a video she posted on Twitter November 7.