Last week the Des Moines-based Child & Family Policy Center released "Iowa Kids Count 2010: Trends in the Well-Being of Iowa Children." Highlights from the report are after the jump. While several indicators showed improvement in children's health between 2000 and 2010, the economic circumstances of Iowa children and families deteriorated significantly.
Iowa Kids Count covers data on 20 indicators related to children's health, educational achievement and economic circumstances. The full report is here (46-page pdf file). For each indicator, the authors compiled statistics for all 99 Iowa counties, as well as statewide data and composite data for Iowa's rural, small urban and metropolitan counties. "Rural" counties are those in which the largest town's population is below 5,000. "Small urban" counties contain at least one town with a population between 5,000 and 50,000. Iowa's nine "metropolitan" counties contain a city with a population greater than 50,000. These maps (pdf) show which counties fall into each category. Click here for links to pdf files containing county-level statistics on individual indicators, such as child poverty rates or child abuse and neglect figures for each county.
This page summarizes the changes in Iowa over the past decade: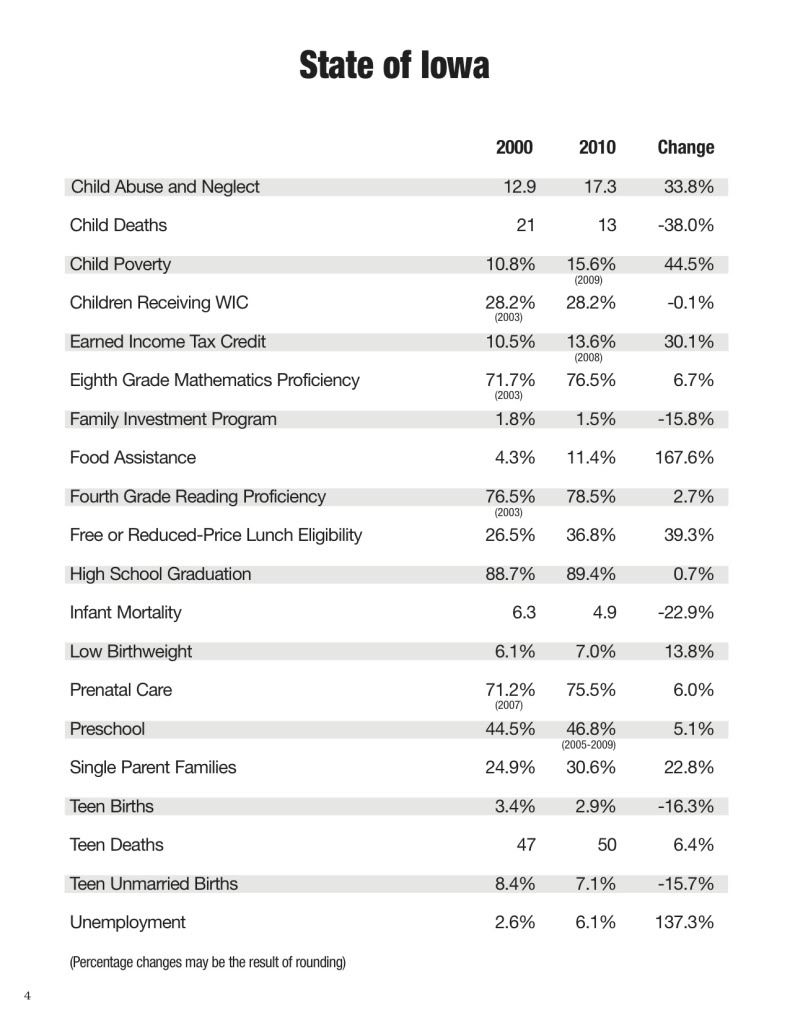 A few contrasts struck me. The huge increases in poverty, free school lunch eligibility and unemployment aren't surprising, given that 2000 was at the tail end of an economic expansion, while 2010 was in the middle of a historically deep recession. But look at how the rate of children receiving federal Women, Infants and Children (WIC) assistance barely changed over the decade, even as the needs increased. (The percentage of individuals receiving some form of food assistance was way up.) The number of Iowans receiving assistance under the state's Family Investment Program actually decreased.
The health statistics were generally encouraging, with the exception of the distressing rise in child abuse and neglect cases. I was surprised to see that infant mortality declined significantly in Iowa, even as low birthweight births increased. The number of child deaths for kids under age 14 dropped, while the number of teen deaths increased. The teen birth rate decreased in Iowa, but not by as much as the nationwide rate (see the bottom of this page).
Statistics on high school graduation, fourth-grade reading proficiency, preschool enrollment and eight-grade math proficiency all showed marginal improvements over the decade.
Any relevant comments are welcome in this thread. I enclose the 2012 legislative priorities for Every Child Counts, which is the Child & Family Policy Center's advocacy arm. The case for expanding Iowa's Earned Income Tax Credit is very strong, as Charles Bruner discussed in this brief for the Iowa Fiscal Partnership (a joint initiative of the Iowa Policy Project and the Child & Family Policy Center). I still believe that blocking the expansion of that tax credit was one of Terry Branstad's worst actions as governor, as well as one of the dumbest moves in Iowa politics last year.