Democrat Dave Grussing announced earlier this month that he will challenge two-term Republican State Representative Tedd Gassman again in Iowa House district 7, which covers Emmet and Winnebago counties plus half of Kossuth County on Iowa's northern border. A detailed district map is below, along with background on both candidates. Grussing's campaign is on the web at Grussing for Iowa House and on Facebook here. His key campaign issues include job creation for rural Iowa, more funding for K-12 schools and community colleges, "encouraging veterans and military retirees to locate in Iowa," and raising the minimum wage. Grussing has also expressed concern about Governor Terry Branstad's unilateral decision to close two in-patient mental health institutions and privatize Medicaid.
House district 7 has been one of the most competitive state legislative districts in recent election cycles. Democrat John Wittneben defeated Republican Lannie Miller in an open-seat race by just 32 votes in 2010. That campaign likely would have ended differently if Iowa Republican leaders and key GOP-leaning interest groups such as the Iowa Farm Bureau Federation and the Iowa Association of Business and Industry had not left Miller behind. Redistricting following the 2010 census made House district less friendly territory for a Democrat, and Wittneben lost his 2012 re-election bid to Gassman by just 44 votes.
House district 7 leans Republican, with 5,269 active registered Democrats, 6,323 Republicans, and 8,307 no-party voters, according to the latest figures from the Iowa Secretary of State's office. Voters living in the district supported Mitt Romney over Barack Obama by 51.82 percent to 46.97 percent in 2012 and favored Joni Ernst over Bruce Braley in last year's U.S. Senate race by 55.71 percent to 38.56 percent, nearly double Ernst's statewide margin of victory. Grussing's challenge to Gassman was one of seven Iowa House races the progressive group Democracy for America targeted last cycle, probably because of Gassman's narrow win in 2012. But Gassman easily won by more than 1,700 votes.
Even in a presidential election year, when more Democrats turn out to vote, Grussing will need to outperform the incumbent substantially among independents and win some crossover Republican votes. That's not an insurmountable task for a hard-working candidate, though. Especially since Gassman promised during the 2014 campaign to "support education at all levels," saying "his first priority would be to approve a supplemental state aid bill for K-12 education." Although Gassman served as vice chair of the House Education Committee during the 2015 legislative session, to my knowledge he did not speak out for investing more in education as Republican House leaders refused for months to compromise on school funding. Nor did I hear of him criticizing Branstad's decision to strike nearly $65 million in K-12, community college, and state university funding from the supplemental spending bill lawmakers approved. Gassman certainly didn't try to override Branstad's vetoes. Grussing should remind voters frequently that their elected representative stood by while the governor blew a hole in the budgets of K-12 school districts and Iowa Lakes Community College in Emmetsburg.
In addition, for lack of a more tactful way to say this, Gassman is kind of weird. He has often put himself way outside the mainstream, even in his own party. For instance, during an Iowa House subcommittee hearing to consider his 2013 bill to end no-fault divorce for couples with children under age 18, Gassman speculated that his daughter and son-in-law's divorce put his 16-year-old granddaughter at risk of becoming "more promiscuous." Only six of his fellow Iowa House Republicans co-sponsored that no-fault divorce bill. The same year, Gassman was among just ten GOP state representatives to co-sponsor a bill that would have banned county recorders from issuing marriage licenses to same-sex couples "until such time as an amendment to the Constitution of the State of Iowa defining marriage as the legal union of one man and one woman is submitted to the electorate for ratification." The bill was clearly unconstitutional and would have created a circus like what Kentucky experienced this summer, thanks to rogue county clerk Kim Davis.
Gassman's not a strong fundraiser, although his campaign disclosure reports for 2013 and 2014 (see here, here, and here) show that he receives a fair amount of "free money" from political action committees that give the same amount to dozens of state lawmakers. During the 2014 campaign, Grussing benefited from a number of labor union PAC donations, which will likely come through again if he can demonstrate he is running an active campaign.

Iowa House district 7 covers Emmet and Winnebago counties plus half of Kossuth County, including the county seat Algona.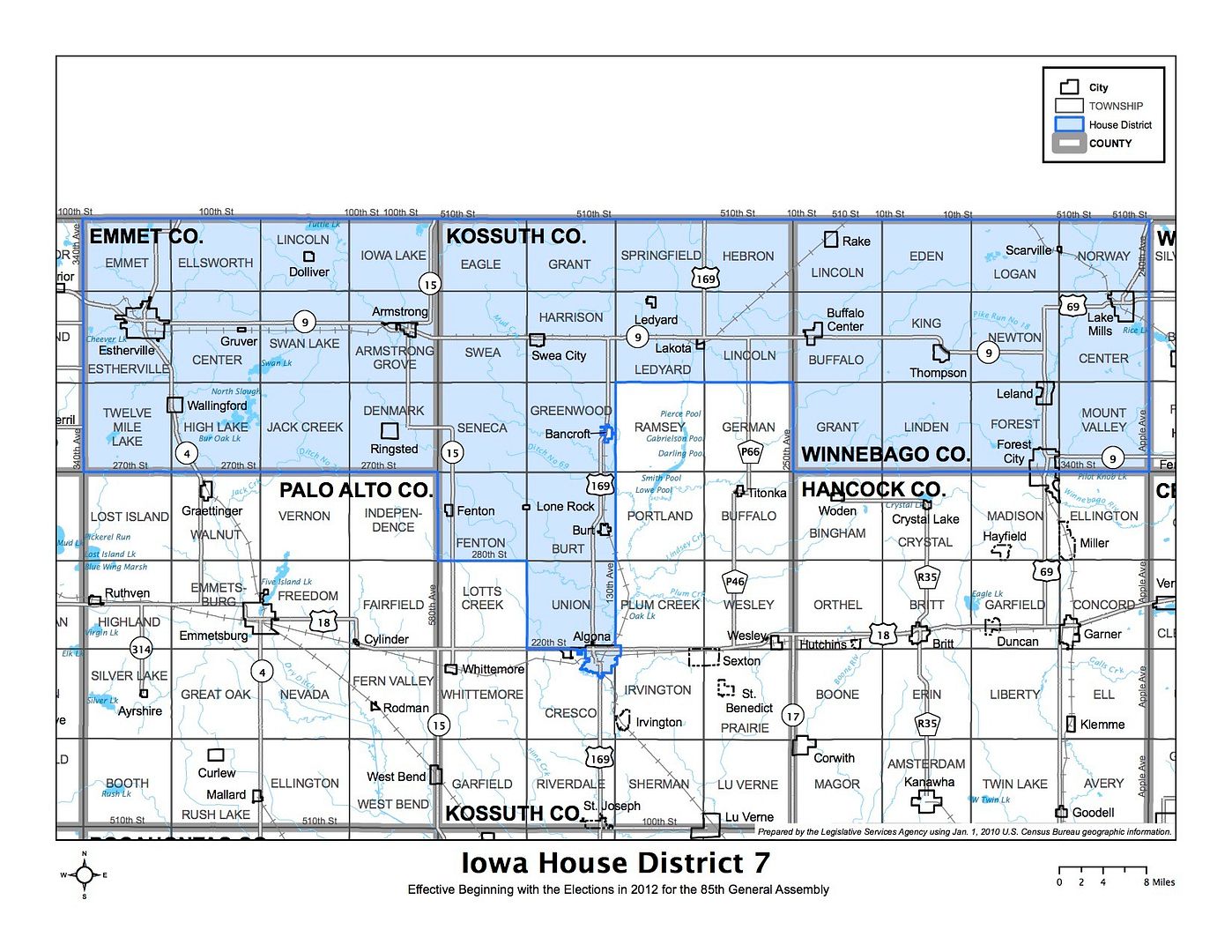 Gassman's official bio is one of the shortest I have seen on the Iowa House Republicans website:
Born on March 6th 1943 in Valentine Nebraska, Tedd grew up in Todd County, South Dakota and graduated from Todd County High School in 1961. Graduated from Southern State Teachers College in Springfield, South Dakota with a B.S.E. with a major in math and a minor in physics in 1965.

Tedd taught school until 1975 and has been in business for himself since that time. He is married to his high school sweetheart, Mary Joell and they have three grown children.
During the 2015 legislative session, Gassman was vice chair of the House Education Committee and also served on the Administration & Regulation Appropriations Subcommittee, the Environmental Protection Committee, the Labor Committee, and the Local Government Committee. It's worth noting that House leaders tapped several other Republicans first elected in 2012 (as was Gassman) to chair committees.
Excerpt from Dave Grussing's November 5 Facebook post announcing his decision to run in Iowa House district 7 again:
I decided to run because I am terribly concerned about the failure of our state to adequately fund K-12 and higher education, while at the same time, the Governor bypasses the Legislature to unilaterally grant more tax breaks to big businesses.

I am also concerned about the Governor's actions in disregarding the wishes of the Legislature and taking it upon himself to veto funding for two of the four mental health centers that the Iowa Code says the state must maintain. Add into that his insistence on privatizing Medicare [sic] coverage and we have a situation where those least able to care for themselves are going to be put in jeopardy.

I also am 100% convinced that we need to devote more resources into developing alternative energy sources. There is no reason that Iowa can not lead the nation in utilization of renewable sources of energy like wind, ethanol, and solar energy.

Finally, the minimum wage in Iowa needs to be raised. When I was growing up, my family didn't have lots of money. But I was always taught by my parents and both sets of grandparents, that if a person worked hard and did their best, they could provide a living for their family. Sadly, this is no longer the case. There is no excuse for any one who is working 40 hours a week to be living in poverty. Every state surrounding Iowa, with the exception of Scott Walker's Wisconsin, have raised their minimum wage. It's time for Iowa to raise our minimum wage as well.
Iowa House Democrats press release, November 13:
Army Vet Dave Grussing Announces Run for State Representative

November 13, 2015 11:46 am by: iowahouse Leave a comment A+ / A-
DaveGrussing Army veteran and Armstrong native, Dave Grussing, announced he will run for State Representative in House District 7, which includes Emmet County, Winnebago County, and part of Kossuth County including Algona.

"As a veteran of the U.S. Army and former police officer, I'm excited about this opportunity to serve my state and country again," said Grussing, who is a lifetime member of the VFW. "As a State Representative, I'll listen to the people of District 7 and do what's best for our communities. I'll work together with people from both sides of the aisle and find common sense solutions to the challenges we face."

Grussing is a graduate of Armstrong High School, Iowa Lakes Community College, and Iowa State University. After graduation from ISU, Grussing served in the U.S. Army and Army Reserves for 28 years and has also worked as a police officer in Estherville, IA, and Stillwater, OK. He is an active member of his community, serving on the Emmet County Community Foundation, Armstrong Betterment Club, Armstrong Heritage Museum, and former president of the Armstrong/Ringsted Music Boosters. In addition, Grussing served for five years on the Armstrong City Council.

"I will be a strong voice for rural Iowa in the House. It's essential that our K-12 education system receives the funding needed to help all Iowa students succeed. I will help make sure rural schools get our share of state funding and state job creation initiatives don't leave out rural areas. There is also more we can do to bring good jobs to our area if we focus on key industries like renewable energy and advanced manufacturing," added Grussing, a Democrat.

"I'll also work to raise wages in rural areas because no one should be working full time and still living in poverty. I don't come from a wealthy family, but I was always taught that if you worked hard and gave a job your best effort, you could support your family," said Grussing. "Hard-working families deserve a boost and a high-quality of life."

Grussing and his wife, Sherry, have two sons. Matthew is a 1LT in the U.S. Army, currently serving at Ft. Stewart, GA, and Christopher is a sophomore at North Union High School in Armstrong. They are members of the First Presbyterian Church in Armstrong.

"Over the next year, I look forward to meeting folks at their doorstep and hearing their ideas to grow the middle class and create good jobs in rural Iowa," concluded Grussing.