The new RABA Research poll for Simpson College found U.S. Senator Chuck Grassley leading Democratic challenger Patty Judge by 50 percent to 37 percent. Full results are here, and I've enclosed the cross-tabs on the Senate results after the jump. Bleeding Heartland covered key findings from Simpson/RABA on the presidential race here.

From the polling memo:
The Simpson/RABA poll shows room for Judge to grow. While Grassley has 90 percent of Republicans supporting him, Judge is only at 73 percent among Democrats.

"If Patty Judge can consolidate her party support in the coming weeks, this race will tighten," said Professor Kedron Bardwell, chair of Simpson College's political science department. "But knocking off any long-time incumbent senator is a difficult task."
Democratic respondents favor Judge by 73 percent to 11 percent, with 16 percent undecided. Republicans split 90 percent to 5 percent, with just 5 percent undecided. No-party voters support Grassley by 49 percent to 33 percent, with 17 percent undecided.
Grassley leads among male respondents by 56 percent to 35 percent and among women by 46 percent to 38 percent. He leads by much more among respondents without a college degree (55-33) than among those who have completed a bachelor's (47-40).
Several polls last month found Grassley slightly above the 50 percent mark and leading Judge by 9 or 10 points. Last week a Public Policy Polling survey conducted for an advocacy group showed Grassley ahead by only 6 percent.
Erin Murphy noted in his story for the Quad-City Times, "RABA Research is run by Brad Anderson, a Democrat who ran President Barack Obama's 2012 re-election campaign in Iowa and ran for Iowa Secretary of State in 2012, and Tim Albrecht, who was Republican Gov. Terry Branstad's communications director."
Any comments about the Senate race are welcome in this thread.
Cross-tabs for the question about the Senate race:
Explanation of methodology: The Simpson/RABA poll was conducted Sept. 6-8 among a random sample of 1,054 voters on landline and cellular phones, with supplemental cell phone-only households surveyed online. The margin of error is plus or minus 3 points.
UPDATE: Forgot to mention that the latest television commercial for Grassley is a 60-second positive spot about his role in promoting the wind energy industry.
Two weeks ago, Grassley's campaign launched the first negative tv ad he has run for many years.
Also worth noting: Albrecht has done communications work for the Republican Party of Iowa this year, including sending out numerous press releases bashing Judge during the spring and summer. However, when Public Policy Polling released a survey in June showing a surprisingly narrow lead for Grassley, Albrecht objected that it was a conflict of interest, since PPP had done an internal poll for Judge's campaign before the Democratic primary.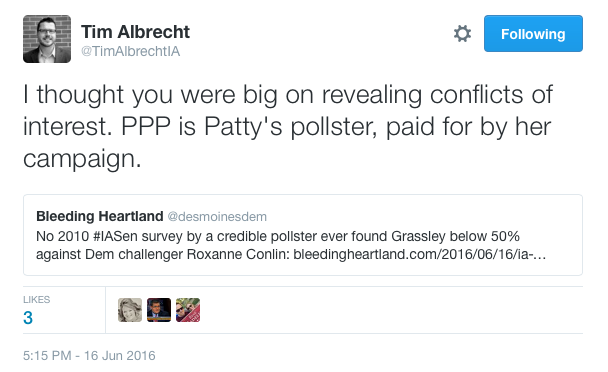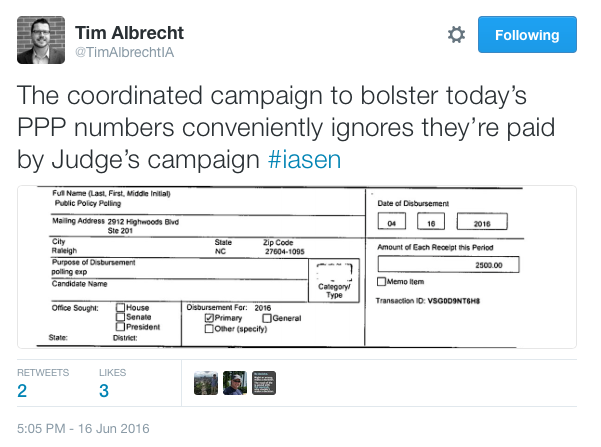 SECOND UPDATE: Pat Rynard has a harsher assessment of the entire RABA Research project.
it's thoroughly ridiculous for a political operative to run around trashing the credibility of polls on a shaky rationale and then to turn around and insist that his new polling firm is completely trustworthy. Especially when he's still working for partisan political campaigns. And perhaps Albrecht could get the benefit of the doubt here if he hadn't spent the last several years acting like an unprofessional frat boy on Twitter, mocking Democrats with ridiculous, over-the-top accusations and peppering many of his tweets with "LULZ." [...]

The other rather funny part of this story is Brad Anderson's role in it, the Democratic side of RABA. There were some raised eyebrows behind the scenes in Iowa Democratic politics when Anderson signed on to the project, and he's found himself in an interesting position today. After a rough morning of news for the Judge campaign with many outlets picking up the bad numbers, Anderson took to Twitter to downplay the results. [...]

It's pretty hilarious to watch a Democrat try to spin a 13-point deficit into a scenario where Grassley goes down like Jim Leach. Even funnier is that he's part of the polling firm himself. He's trying to downplay what his own survey found! And best of all: Anderson worked at Link Strategies for many years, the same firm that is running Judge's campaign. His own former co-workers are trying to discredit his polling firm. [...]

So on one side at RABA, you have a current Republican adviser running polls on the races he's involved in, while on the other side you have a Democratic operative trying to downplay the results when they're not good for Democrats.

Maybe, just maybe, it wasn't the best idea to have two political operatives start up an independent polling firm that surveys Iowa races.
Meanwhile, Anderson touched on the subject in his post on five reasons Judge "could ABSOLUTELY still win the Senate race":
RABA Research recently partnered with Simpson College to release our first statewide Iowa poll which showed Sen. Chuck Grassley up in the U.S. Senate race over Patty Judge 50% to 37%. For full disclosure I am a strong Patty Judge supporter and I worked for her in the governor's office for more than a year. I've also donated to her campaign and I believe she will win (more on that later).

When it comes to polling RABA has a bipartisan partnership that is designed to take the bias out of our numbers. Did our GOP partners love when we released numbers showing Hillary Clinton with a 15-point lead after the conventions? Probably not. Do I love showing a 13-point lead for Grassley? Nope, but I do enjoy working with my Democratic and Republican partners, along with the incredibly talented Simpson College team on sifting through the data to see what is going on with the electorate as it stands today.