For the first time in his six re-election campaigns, U.S. Senator Chuck Grassley is on the air with a second commercial criticizing his Democratic challenger.
And in a move without precedent for a major-party candidate in Iowa, Grassley backed out of participating in a scheduled debate on Iowa Public Television, which would have been broadcast statewide.
Rescinding his acceptance of Iowa Public TV's invitation looks like a risk-averse strategy. After several polls during the summer found Grassley 9 or 10 points ahead of former Lieutenant Governor Patty Judge, the last four public surveys showed double-digit leads for Grassley: 55 percent to 43 percent according to Quinnipiac, 56-39 according to Monmouth, 54-37 according to Loras College, and 50-37 according to RABA Research.
On the other hand, confident incumbents typically stay positive in their own tv ads, as Grassley has done in every previous re-election campaign.
Follow me after the the jump for the video and transcript of Grassley's latest negative tv ad, along with statements from both campaigns and Iowa Public Television regarding the senator's change of heart about the debate.

Before launching his first attack ad on Patty Judge in late August, Grassley had not run a negative television commercial in any of his Senate re-election bids. His only previous paid negative advertising was a radio spot criticizing Democratic challenger David Osterberg in 1998.
Immediately after Labor Day, Grassley's campaign was back on tv with a positive message about the incumbent's role in promoting wind energy. A week later, Grassley's campaign started running a spot emphasizing his bipartisan work on the Senate Judiciary Committee. Scroll to the end of this post to see both videos; the second recalls themes from an ad Grassley aired before this year's primary election.
Grassley's campaign rolled out its latest attack on Judge on September 23. "Miss" contrasts the incumbent's record-breaking streak of consecutive Senate floor votes with Judge's attendance record as a member of the Iowa Senate and lieutenant governor:
My transcript:
Grassley's voice: I'm Chuck Grassley, and I approve this message. [viewer sees color footage of Grassley walking, dressed in a suit for work]

Female voice-over: In 23 years, Chuck Grassley hasn't missed a single vote. [Grassley keeps walking, words on screen SENATOR GRASSLEY 7,600+ consecutive votes. Senate.gov ]

In just six years, Senator Patty Judge missed 182 votes. [viewer sees black-and-white photo of Judge, words IOWA STATE SENATE: PATTY JUDGE MISSED 182 VOTES. BOTTOM HALF OF ATTENDANCE IN LAST TERM. Iowa Senate Journal, 1993-1998]

State Fair board member Judge missed 76 percent of their meetings. [another black-and-white photo of Judge, words IOWA STATE FAIR BOARD: PATTY JUDGE MISSED 76.3% OF MEETINGS. State Fair Board Attendance Records]

Iowa Economic Development Commission member Judge missed 69 of 72 meetings. [another black-and-white photo of Judge, words IOWA ECONOMIC DEVELOPMENT COMMISSION: PATTY JUDGE MISSED 69 OF 72 MEETINGS. Iowa Department of Economic Development Attendance Record]

The Register called Patty Judge "a habitual no-show." [different black-and-white photo of Judge; words on screen JUDGE: "HABITUAL NO-SHOW" The Des Moines Register, 5/16/06]

Grassley works. Judge? Hmmm--not so much. [Color footage of Grassley, slightly nodding his head; then another black-and-white photo of Judge with words "JUDGE? NOT SO MUCH. PART TIME WORK. FULL TIME PAY."]
Grassley is rightly proud of his Senate voting streak, but commission meetings are not the same thing as votes on legislation. An apples-to-apples comparison would require examining the senator's attendance on every board or commission to which he's ever been named. We also don't know why Judge missed those Iowa Senate votes. David Osterberg's missed state legislative votes, featured in the Grassley campaign's negative radio ad from 1998, had happened while the lawmaker's father was dying.
Nevertheless, this commercial strikes me as a more effective line of attack than Grassley's first hit piece on Judge.
The most shocking news from Iowa's Senate race dropped as big political news so often does, late on a Friday afternoon. Here's the statement Iowa Public Television released on September 30:
IPTV Cancels Iowa Press Debate: U.S. Senate Race

Senator Grassley rescinded his acceptance to participate

Today Iowa Public Television cancelled the Iowa Press debate for the U.S. Senate race scheduled for October 20, 2016. Senator Grassley (R-New Hartford) rescinded his acceptance of IPTV's invitation, leaving former Lieutenant Governor Patty Judge (D-Albia) as the sole participant. Judge accepted IPTV's invitation on September 23, 2016. Grassley's campaign issued a press release on August 5, 2016, announcing his participation in IPTV's debate.

The hour-long debate had been scheduled to begin at 7 p.m. in front of a live audience in the Maytag Auditorium at IPTV's studios in Johnston. The program would have aired live on statewide IPTV and been live streamed on Iptv.org. The candidates had previously agreed to answer questions and discuss their platforms, concerns and future plans for the state of Iowa.

"Iowa Public Television has a longstanding tradition of candidate debates through Iowa Press, the longest-running statewide public affairs program," said Molly Phillips, IPTV Executive Director and General Manager. "We are disappointed the debate will not be available to all Iowans on our air, online or in our studio."

Iowa Public Television is Iowa's only statewide network, reaching nearly 2 million people over the air each month and more than 1.4 million viewers online annually.
Grassley's campaign countered with this statement a little later on September 30. Note that the title is misleading, since the October 19 debate will not be broadcast on television statewide.
Grassley Campaign Accepts Statewide Television Debate

Timing provides opportunity to reach greater number of Iowans

Des Moines – Grassley Works campaign manager Bob Haus said today that the campaign has accepted an invitation from Quincy Media Group for a debate on Oct. 19, at 7 p.m., at Morningside College in Sioux City.

The debate will be broadcast on KTIV in Sioux City, KWWL in Waterloo/Cedar Rapids, KTTC in Rochester, MN (serving North Central Iowa), and WGEM in Quincy, IL (serving Southeast Iowa). It will also be streamed live on the stations' websites.

"Senator Grassley looks forward to another debate with a statewide audience. Just like he has in his previous reelections, he's committed to taking part in these question and answer discussions to continue demonstrating to Iowans why he's the best person to represent them in the United States Senate," said Grassley Committee campaign manager Bob Haus.

The debate will air in the hour immediately preceding the second presidential debate. With the first presidential debate receiving record viewership numbers, the Quincy Media/KTIV/KWWL debate will provide an opportunity to reach a much larger audience.

Grassley Works has already accepted a debate with WHO radio, and discussions are ongoing for additional debates.

Grassley was also invited to participate in a debate on Iowa Public Television as he had in past cycles. The campaign tentatively accepted the invitation, but an agreement could not be reached on the format.

The Quincy Media invitation, which will be broadcast on four television stations, and the internet, offers the opportunity to reach an even greater number of Iowans.

Grassley has debated his opponents in each of his bids for the United States Senate, including two against Roxanne Conlin, the Democratic nominee in 2010.
I sought further details on the alleged dispute over the IPTV debate's format, but have not heard back from Grassley's campaign. Judge's campaign manager accused Grassley of "being disingenuous and dishonest with Iowa voters. The Judge campaign agreed with all requests around the Iowa Public Television Debate and formally agreed last week to participate on October 20th at the IPTV studio in Johnston. There were no disagreements or even discussions between the two campaigns on debate format as Grassley's campaign is now falsely claiming."
UPDATE: On October 3, Iowa Public Television Communications Manager Tonya Weber clarified that Grassley's campaign withdrew from the IPTV debate "citing an alternate plan for a televised debate as Senator Grassley's reason for withdrawing. All of IPTV's Iowa Press debates follow the same format, which is non-negotiable. All Iowa Press Debates are live streamed on Iptv.org and open to the public."
Judge's campaign followed up with this press release on October 1:
Fact #38: Chuck Grassley breaks word on debates; won't say why
Grassley rescinds acceptance of only statewide debate in U.S Senate race

DES MOINES, Iowa – Yesterday, with no explanation, Chuck Grassley took the unprecedented step of pulling out of the statewide, Iowa Public Television debate that both candidates had previously agreed to. Because Chuck Grassley is breaking his word and ducking the Iowa Public Television debate, voters are left without a statewide broadcast debate and any televised debate in the state's largest media market.

"After 42 years in Washington, Iowans can't count on Chuck Grassley to keep his word," said Patty Judge Spokesperson Sam Roecker. "Chuck Grassley accepted Iowa Public Television's invitation and for weeks he and his campaign have told Iowans that he'll participate. Now, he has suddenly pulled out of the only statewide debate in this race with no reasonable explanation and refuses to give Iowans the opportunity to see both candidates on the same debate stage. This is just the latest example of how Chuck Grassley has changed and is continuing to turn his back on Iowa. Chuck Grassley owes Iowans an explanation for why he's breaking his word and ducking the Iowa Public Television debate."
An October 2 press release from the Judge campaign highlighted Grassley's many past appearances on Iowa Public Television's "Iowa Press" program:
Fact #37: Chuck Grassley loves Iowa Press
Grassley has been on Iowa Press multiple times, now his campaign withdraws from debate

DES MOINES, Iowa – Chuck Grassley claims that he doesn't want to debate Patty Judge on Iowa Press, but that wasn't the case last year. Or in 2013. Or 2010, when he sat down with his opponent Roxanne Conlin on Iowa Public Television to discuss issues important to Iowans. He's even claimed that he's always glad to be on Iowa Press.

"Chuck Grassley has been on Iowa Press countless times during his 42 years in office, why has he suddenly pulled out of his Iowa Press Debate with Patty Judge?" said Patty Judge Spokesperson Sam Roecker. "Sadly, Chuck Grassley and his campaign refuse to explain their sudden decision to cancel the scheduled Iowa Press Debate. It's clear that Chuck Grassley knows Iowans have grown tired of his political games, and he doesn't want to defend his recent record of turning his back on Iowa."

Last week, Chuck Grassley unexpectedly cancelled a previously agreed upon debate on Iowa Public Television with Patty Judge. The Grassley campaign has refused to disclose their explanation. Judge remains willing to participate in the Iowa Press Debate.
I will update this post as needed. Any comments about the Senate race are welcome in this thread.
P.S.- KCCI-TV's story on the cancelled debate featured the worst headline I've seen from any Iowa media outlet lately: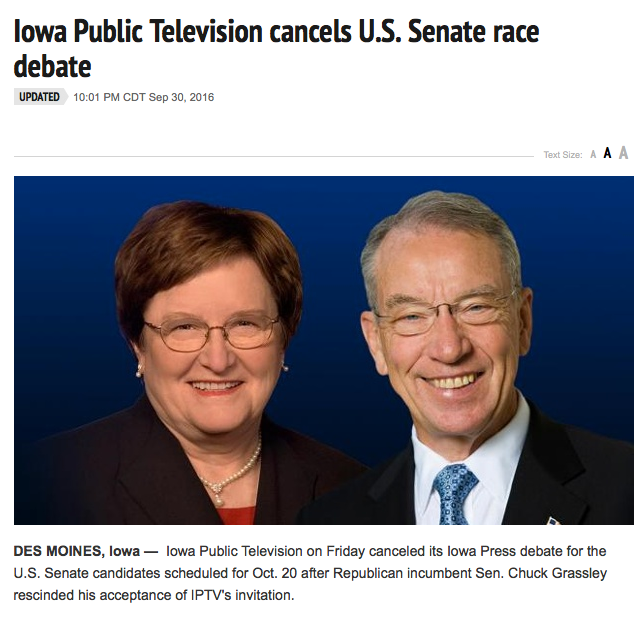 News flash to KCCI reporters and producers: the story here was Grassley backing out of a debate to which he had agreed. I cannot think of any previous Democratic or Republican candidate refusing to debate his or her opponent on Iowa Public Television.
UPDATE: The Cedar Rapids Gazette also made a poor choice on the headline for this story.
The story on the Gazette's website included the sub-headline, "But he rejects one on Iowa Public Television." That was the big news.
The Des Moines Register put the right headline on its story ("Grassley cancels Iowa Press debate against Judge") but buried the piece on page 17.
OCTOBER 4 UPDATE: Rod Boshart followed up on this story for the Cedar Rapids Gazette:
On Monday, Grassley's campaign issued a statement calling Judge a "debate dodger" with a "clear record of snubbing Iowans," and urging her to accept the WHO radio debate that all Iowa voters could access online.

"Patty Judge has an unfortunate history of dodging debates and chronic absenteeism on the campaign trail, starving voters of critical information about where she stands on the important issues facing our state and nation," said Grassley Committee campaign manager Bob Haus in a statement.

He said she should accept the radio format instead of engaging in "more politically motivated stalling tactics." [...]

He also blamed Judge's request to locate the IPTV debate in Davenport as the format snafu that prevented an agreement.

Judge, in a teleconference Monday, gave a blunt response to Grassley's contentions, telling reporters: "That's absolutely a lie. You know, I'm not even going to try to sugar coat that. That's just a downright lie."

"We had said we would like to have that in Davenport. However, we were told by public television that wouldn't work for them, we said fine. We agreed to the public television debate. Grassley had already agreed. After we agreed to the same terms and conditions that he had previously agreed to, he pulled out, and that's the straight truth," Judge said.

Judge said it is "an embarrassment to democracy" that voters in central Iowa, southwest Iowa and the Quad Cities television markets won't have an opportunity to watch the candidates answer the same questions on the same stage. She said she would accept the WHO radio debate if it also were televised, and she called for both candidates to participate in a televised debate on KCCI co-sponsored by the Des Moines Register.
Gazette columnist Todd Dorman commented,
Grassley probably figures there's not much reason to debate at Dairy Queen or any place else because his opponent is already licked. It's the age-old strategy. If you've got a decent lead, there's not much reason to create big moments where the train can be derailed. The Sioux City debate is an undercard for the third presidential debate that same evening. The WHO debate is just four days before Election Day. The early vote already is rolling in.

Still, Grassley should have stuck with the one statewide debate on his dance card. Nobody believes he's really got a problem with IPTV's format. It's a ruse, with sprinkles.

Every statewide general election race should have a three-debate minimum, with some geographic diversity. Heck, Cedar Rapids hasn't hosted a general election debate in a statewide campaign since 2010 when Chet Culver and Terry Branstad squared off at Coe College. Cedar Rapids hasn't hosted a U.S. Senate debate since Greg Ganske and Tom Harkin in 2002.

It's not that debates are monumentally valuable. Often, they're dull as dirt. But they are among the only moments left in a modern campaign where candidates need to think on their feet and stray from their script. They're also among the last remnants of the pre-Trumpian notion campaigns are for persuading voters, not just whipping up an outraged partisan parfait.
Grassley tv ad launched on September 7, "Wind":
Grassley tv ad launched on September 15, "Accomplish":