Iowa Republicans have spent hundreds of thousands of dollars this fall on television commercials and direct mail highlighting supposedly wasteful spending by Democratic state lawmakers. For the fourth election cycle in a row, many of these attacks repeat zombie lies from the 2010 campaign about money spent on "heated sidewalks" and a "trolley for lobbyists."
As Bleeding Heartland explained here, Iowa House and Senate Democrats never approved money for heated sidewalks. They simply rejected a GOP amendment to a 2010 appropriations bill, which would have prohibited using state funds for "geothermal systems for melting snow and ice from streets or sidewalks." The amendment was pointless, because planners of the award-winning streetscape project in question had already ruled out heated sidewalks in favor of porous pavement.
What about the Republican hit pieces claiming Democrats spent money on a "trolley for lobbyists"?

When Democrats controlled both chambers of the Iowa legislature from 2007 through 2010, lawmakers approved funding for a "Capitol Complex Shuttle" to be operated by the Des Moines Area Regional Transit Authority (DART). Appropriations bills included $120,000 for that purpose in 2007, $170,000 in 2008, $200,000 in 2009, and $200,000 in 2010.
The city of Des Moines and local businesses also helped cover the costs of the service known as the Free D-Line Downtown Shuttle. DART continues to operate that route, which was never designated for lobbyists. Anyone wanting to visit popular sites in downtown Des Moines can use it. When the legislature is in session (January through April or May), many people who want to meet with lawmakers find taking the shuttle to the Capitol more convenient than driving. Parking around the statehouse is usually in short supply. In fact, lobbyists often take up the good parking spaces near the Capitol early in the morning.
More clues the D-Line isn't a "trolley for lobbyists": it runs year-round, including on Saturdays, when no official business would be happening at the statehouse even if the House or Senate were in session. The shuttle runs to the Capitol because that's a popular spot for tourists and locals to visit.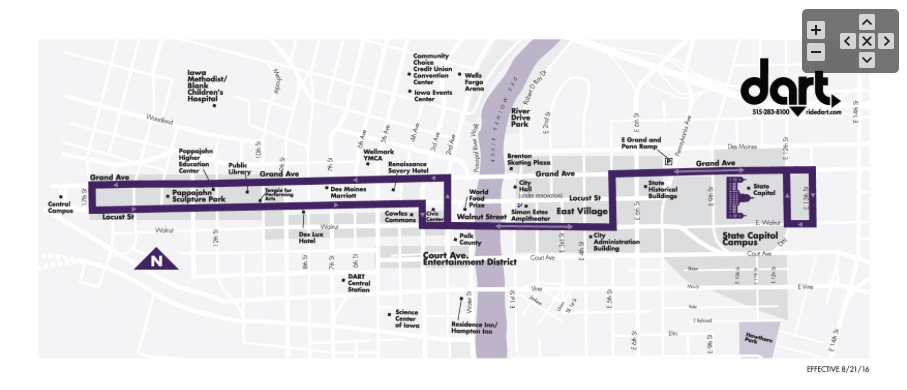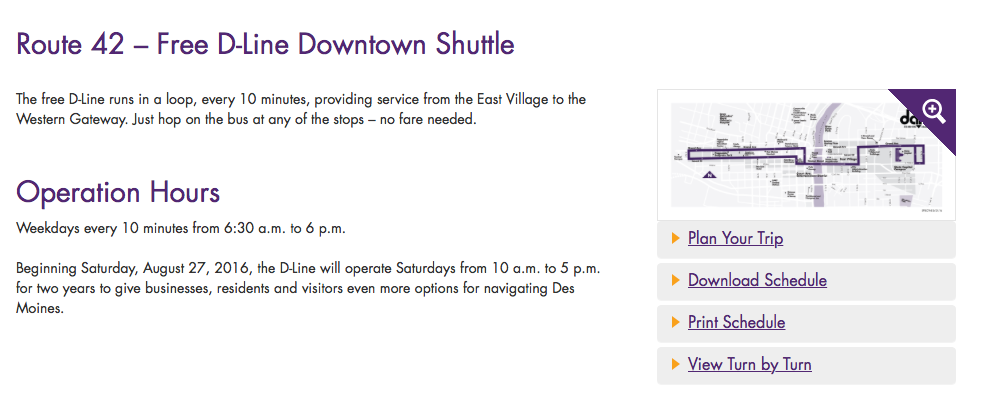 In recent years, Republican and Democratic lawmakers have had profound disagreements over the state budget and policies affecting hundreds of thousands of Iowans. Disputes over funding for K-12 schools and higher education involved tens of millions of dollars and repeatedly sent the legislature into overtime.
Notice how Republican ads never tell Iowans not to vote for Senator so-and-so, because he or she wanted to spend millions more on your children's schools. They never bash Senator so-and-so for voting to give 100,000 Iowans health care coverage by expanding Medicaid. They don't criticize Senator so-and-so for demanding better oversight of Governor Terry Branstad's Medicaid privatization, a train wreck for Iowa care providers as well as patients.
Instead, they resort to lies and half-truths about a "spending spree" that in some cases involved no money whatsoever (heated sidewalks, "ritzy golf tournament"), and in other cases involved a few hundred thousand dollars out a multi-billion-dollar state budget ("trolley for lobbyists").
Iowans deserve a real debate over issues the state legislature will address during the next two years.
P.S.-Multiple commercials targeting State Senator Steve Sodders falsely accuse him of spending $600,000 on the "trolley for lobbyists." Sodders won his first Senate race in 2008, so was only present to vote for the 2009 and 2010 capitol complex shuttle appropriations.