Dan Charleston's second campaign to become chief law enforcement officer in Iowa's largest county hasn't received enough attention. Thanks to guest author Siouxsie for giving the Republican the scrutiny he deserves. -promoted by desmoinesdem
Dan Charleston is running for Polk County Sheriff. He's getting a lot of support because of his popular "no speed cameras" platform. He's also publicly stated that he'd remove Des Moines's status as a "Sanctuary City," fight the rampant gang infestation in our city, and be the "Constitutional Sheriff" this county needs. Recently he's been chiming in with a call to "Drain the Swamp", the slogan for the Trump campaign's last minute effort to try to find an issue that doesn't turn the stomach of more moderate voters.
There are some problems with these positions.

Speed Cameras
As Rekha Basu points out in her recent Des Moines Register article, "Candidate ignores the limits to sheriff's power," at best Charleston potentially has authority over two of the mobile camera units. The county attorney and board of supervisors already noted that the county sheriff does not have the authority to override the decisions made by the board.
Dan disagrees. He believes he will have ultimate authority over enforcement of all local, state and federal judicial, legislative and administrative activity in his county. The buck stops with Dan. Every buck. And that is the core of the removal of the mobile speed cameras. If elected, he will remove them because they are in his county, and because he has made the personal decision that the cameras are unconstitutional in that it denies due process.
The problem with Charleston's position is that the Iowa Supreme Court has ruled otherwise. In a 2015 case (CITY OF SIOUX CITY vs. MICHAEL JON JACOBSMA) the Supreme Court explicitly stated,
"The overwhelming majority of cases considering due process challenges to such a framework in civil ATE ordinances have concluded they are not so arbitrary or irrational to offend due process. … Under the rational basis framework adopted by the parties in this case, we come to the same conclusion under article I, section 1 of the Iowa Constitution, even if we apply a somewhat more stringent rational basis test than would ordinarily result under federal due process caselaw."
But decisions by the Iowa Supreme Court don't matter to a "constitutional sheriff." Sheriffs are the ultimate arbiter of constitutionality in their county, per both Charleston and the Constitutional Sheriffs and Peace Officers Association (CSPOA).
Constitutional Sheriffs
The camera issue is just a seed of the invasive species that is the Constitutional Sheriff movement, to which Charleston repeatedly refers on various social media platforms. The Southern Poverty Law Center, a non-profit organization whose mission, in part, is to monitor hate and extremist groups, is tracking this movement. So is the Center for Public Integrity, the country's oldest and largest nonpartisan, nonprofit investigative news organizations, whose mission is to serve democracy by revealing abuses of power, corruption and betrayal of public trust by powerful public and private institutions, using the tools of investigative journalism.
The CSPOA is the brainchild of former Sheriff Richard Mack and the infamous Sheriff Joe Arpaio, spurred by Mack's involvement with the Oathkeepers, another organization he founded. You may be familiar with Sheriff Joe's famous human rights violations. Now he's trying to fight criminal charges against him for contempt of court related to his continued racial profiling policies.
Charleston occasionally quotes Arpaio and Mack on social media platforms.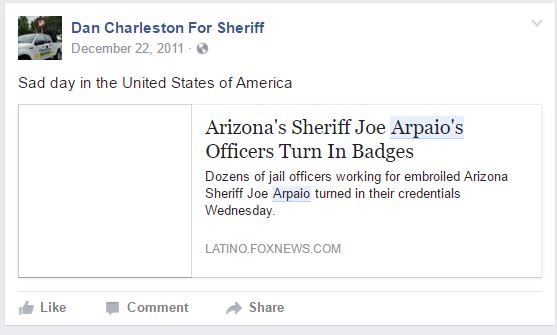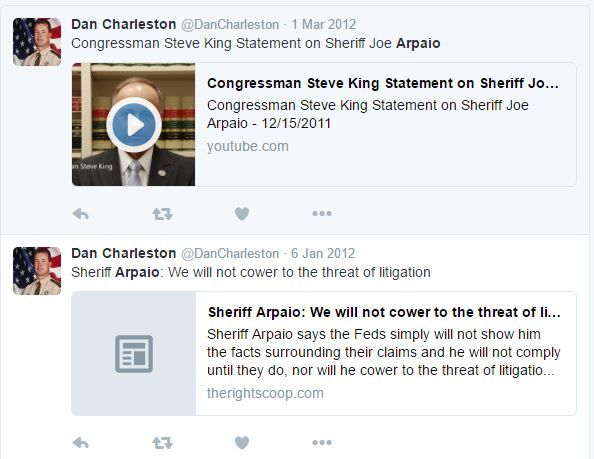 Mack recently testified in federal court on behalf of the Bundy crew over their armed takeover of the Malheur Wildlife Refuge in Oregon. During the occupation, he went to a town outside of Malheur to rally the community to support the occupiers while maligning the actual county sheriff for allowing the federal government to do its job, instead of forcefully removing them from his county. The jury ultimately acquitted the handful of Bundy cult who were prosecuted in the first trial, because as Juror #4 stated, "this verdict was a statement."
That acquittal ignited the spirit of the Paiute tribe, whose sacred land was destroyed by the armed militia to create a new road at Malheur, as they wanted a shortcut between two buildings. It also stunned locals and communities who support the wildlife refuge and natural habitat maintenance.
Just days after the refuge takeover was reported, Charleston tweeted the following link to a post on his Facebook page in covert support of the Bundy occupation: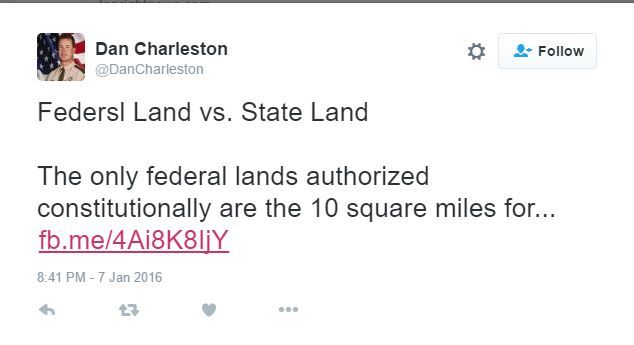 The comment by Charleston was updated; an earlier version didn't make reference to any peaceful resolution.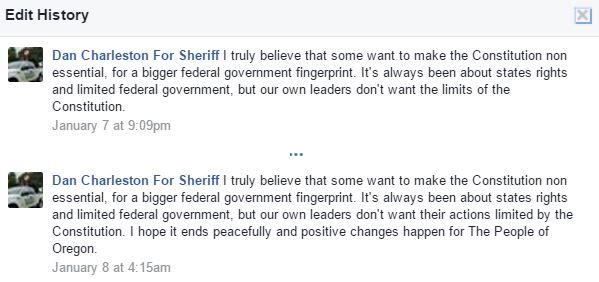 This movement relies heavily on a misinterpretation of federal and constitutional law. Likely responsible for stoking the flames of this interpretation: Navin-Chandra Naidu.
Naidu is a close legal advisor to the Bundys, as well as the legal advisor of the CSPOA and a self-proclaimed "constitutional judge" or "ecclesiastical judge". In fact, he is neither a judge nor an attorney. Journalists in the US and internationally have covered his fraudulent activity. Naidu also appears to have posed as a doctor at one point, in order to get a foothold into the cash-rich alternative medicine industry. The American Bar Association uses him as an example of a fraudulent "non-attorney." While the CSPOA website recently scrubbed his bio and information, you can find it utilizing https://web.archive.org/.
An interesting side note: in a dramatic moment during the occupation, two of the more notorious occupiers temporarily lost custody of their children. The mother slipped out of the refuge with "Judge Naidu" who recorded them live on YouTube stealing their scared little girls from their temporary placement at gunpoint. While I can no longer find the video, I did watch it live. The girls were moved to Missouri to be with family. I'll note that they were already with family, as a relative of the father had been awarded temporary custody.
There are many resources to learn more about these "constitutional jurists" online, who act in concert with "constitutional sheriffs" and the belief that they can convene secret courts to indict and convict those they feel have acted unconstitutionally. They believe they can send orders to their constitutional sheriffs (who in turn can deputize any like-minded citizen) to arrest, detain, incarcerate or execute based on the decisions made in these "constitutional" courts.
All of these examples help demonstrate the true extremism inherent in the CSPOA and its supporters, including Charleston, who once demanded that his boss, Polk County Sheriff Bill McCarthy, sign the CSPOA pledge. McCarthy declined, and Charleston still holds contempt for his boss for doing so, bitterly citing this incident during public interviews.
A long list of counties in the US–in Florida, New Mexico, North Carolina, Arizona, California, Wisconsin, Michigan, Oregon, and Texas, among other places–have sheparded notorious "constitutional sheriffs."
These officers claim a right not to enforce "unconstitutional regulations or orders." They have engaged in discriminatory "misconduct that violates the Constitution and federal law." They have obstructed justice and used their authority to intimidate voters. Their actions have sparked calls for U.S. Justice Department investigations and in one case led to an inmate's death later ruled a homicide. These sheriffs ride roughshod over citizens of their counties, believing they are above the law because they are the arbiters of the law. They align themselves with and openly support anti-government extremist groups like the Bundys, Oathkeepers, etc.
And now we have one right here in Polk County, Iowa, who wants to take away two annoying speed cameras. He knows that will get him the populist votes he needs to win, and that's all he needs to add Polk County to that list.
Shady Timeline
In the bio Charleston posted on his candidate web page, he makes the following claim about his time in California.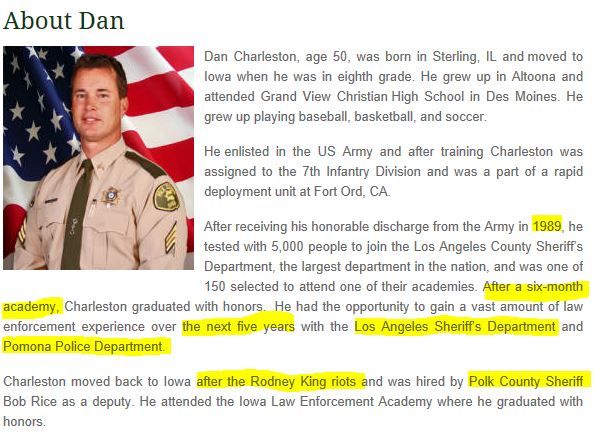 That's a confusing timeline, but lets see if we can figure it out.
1989 – Honorable Discharge US Army
1989ish – 6 months at academy
1990-1995 – LA Sheriff Dept AND/or Pomona Police Department
*1992 – Rodney King riot, and Charleston moves to Iowa(?)
1995 – Because he claims he worked in CA for 5 years, it's more likely he returned to Iowa approx 1995. So he's referencing the King riots for a specific reason. Either that's when he left the better paying and better benefits Los Angeles Sheriff job for Pomona after the riots, or it's a dog whistle. That's weird. Maybe he thinks no one remembers when the riots happened.
1996? – Attended Iowa Law Enforcement Academy (He'd already aced the CA academy, not sure about the rules of needing to go through another complete training)
1996? – Hired by Bob Rice into the Polk County Sheriff's Office.
From this timeline, it looks like he's been in the Polk County Sheriff's office for 20 years.
If you try to view his LinkedIn profile to obtain a clearer picture of his work experience, you'd be disappointed because it's pretty sparse.
But wait, another article in the Des Moines Register illuminated that crevice-filled bio: Rekha Basu's column "Polk County report cites sergeant for harassment, gender bias."
From her account, we learned Dan's story about leaving because of the riots is inaccurate. He was discharged by Pomona City Police Department in 1994 for falsifying a report. A judge rejected his appeal with this admonition:
"The importance of a police officer's credibility cannot be overstated. His or her fellow officers rely upon it when they make decisions in the field. … The public relies on an officer's honesty and credibility when he or she testifies in court."
It appears that Charleston may be using some version of the scary black man trope to make up an excuse for having to move back home.
This Section Is Weird
Back to the extremist group association. One litmus test to use to see how deep an extremist is with their radical anti-government beliefs is to mention Agenda 21. It's similar to asking someone who they think really did 9/11, but because they need to take a much deeper dive to get to the more detailed and nuanced crazy at the bottom of this ocean of conspiracy theories, I find it a more accurate indicator of extremist viewpoints.
So here's what Agenda 21 actually is:


And this is what it isn't. (TLDR: a global conspiracy that ends with encampment and restructuring of the wholesome family unit)
Here's what Charleston thinks about it.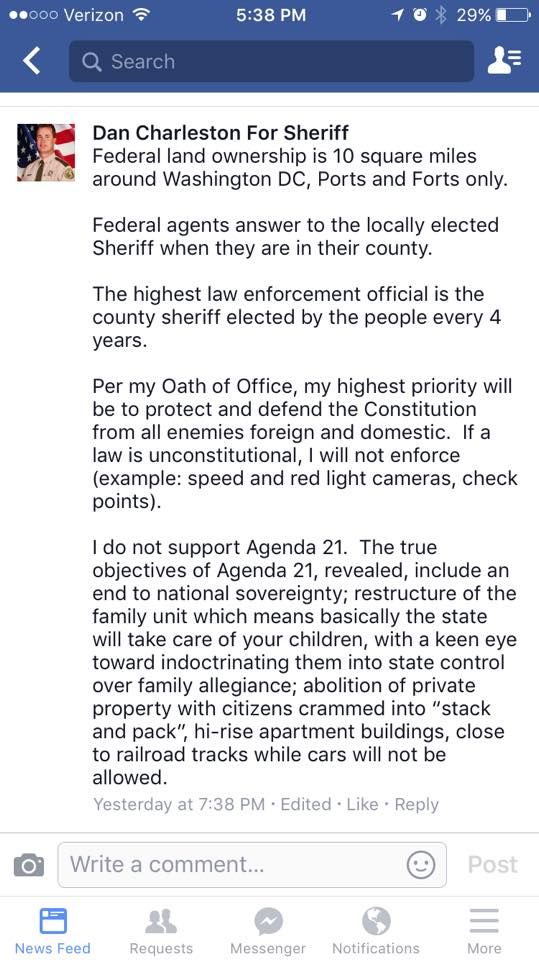 No report on how he feels about steel beams.
Much Ado About Nothing
I've seen his campaign truck many times. I always think it's an official Polk County Sheriff's truck initially. How is that legal?
Top image: cards from Dan Charleston's 2012 campaign for Polk County sheriff