While delivering his final condition of the state address to Iowa lawmakers on Tuesday, Governor Terry Branstad warned that he was offering "difficult" recommendations to cover a shortfall of more than $100 million in the current-year budget. His speech played up the good news: "My proposal does not include across-the-board cuts, does not reduce funding for K through 12 education, does not reduce property tax credits and does not include furloughs for state employees."
The bad news was buried deep in a 196-page two-year budget blueprint. Nearly a third of the governor's proposed spending cuts this year would fall on Iowa's public universities and community colleges. The underfunding doesn't stop there.

Branstad provoked an outcry in the summer of 2015 with line-item vetoes cutting $55.7 million earmarked for K-12 school districts, $2.5 million for community colleges, nearly $2.9 million for the University of Iowa, $2.25 million for Iowa State University, and $1.1 million for the University of Northern Iowa. The K-12 spending vetoes received far more attention than the higher education funding, which isn't surprising. Large or small, all counties, towns, and cities contain public school districts, which had to scramble to fill holes after the new fiscal year had begun.
The governor appears to have learned his lesson. Here's the page showing $110 million in spending cuts that would bring the budget into balance for fiscal year 2017, which ends on June 30. (Democratic State Senator Matt McCoy pointed out that $110 million is roughly the same sum Branstad's administration provided in state tax benefits for a Lee County fertilizer plant the company would have built regardless.)
Anyway, as Branstad promised, his mid-year cuts wouldn't touch K-12 education. But the plan would axe some $25.5 million from the Board of Regents, which oversees the three state universities, between now and June 30. Community colleges would lose about $8.7 million.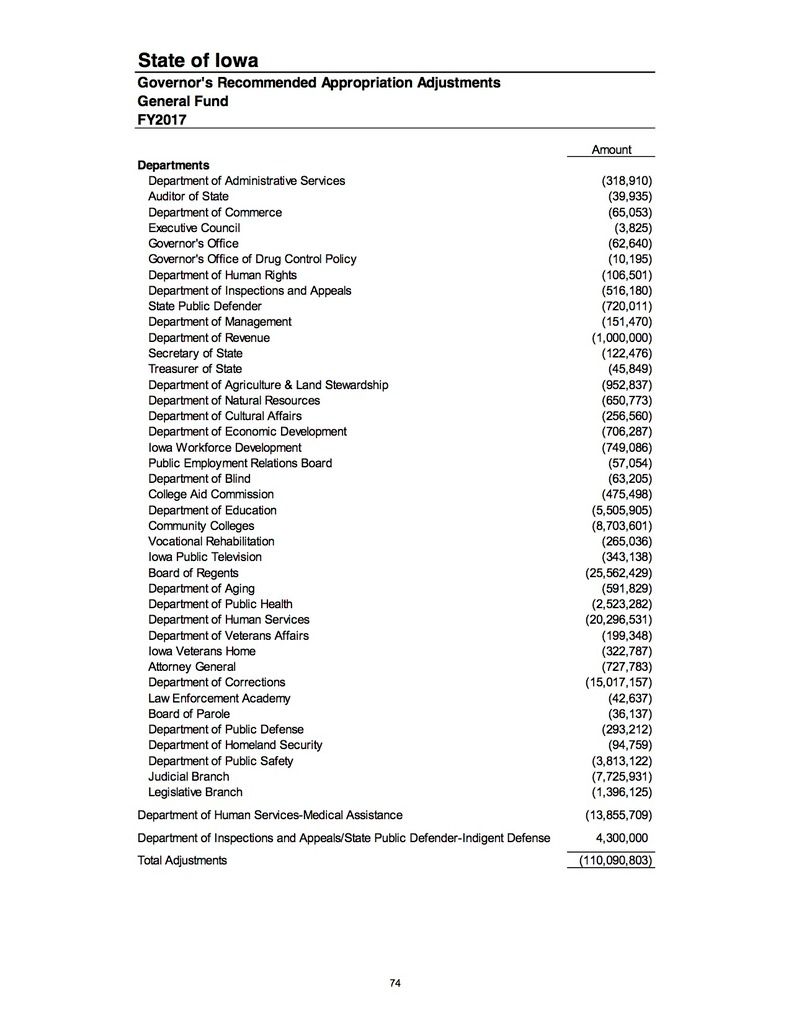 Pages 91 through 94 of the proposed budget show Branstad's education funding recommendations for fiscal years 2018 and 2019. I enclose those pages at the end of this post. "Merged Area Schools–Gen Aid" is the main line item for Iowa's 15 community colleges.
The Iowa Department of Education proposed just under $204.3 million for community colleges in FY 2018, which begins on July 1, and the same amount for FY 2019. Keep in mind that an unchanged funding level is a decrease in real terms, because community colleges would have to cover some rising costs without a corresponding increase in state support.
Branstad is recommending that Iowa lawmakers allocate about $199.7 million to community colleges next year and $203.9 in FY 2019.
The news is worse for the state universities.
Board of Regents total request for FY 2018: $624.5 million
Branstad's recommendation: $587.2 million
Board of Regents request for the University of Iowa in FY 2018: $236.9 million
Branstad's recommendation: $227.0 million
Board of Regents request for Iowa State University in FY 2018: $188.1 million
Branstad's recommendation: $180.3 million
Board of Regents request for the University of Northern Iowa in FY 2018: $101.5 million
Branstad's recommendation: $94.9 million
Board of Regents total request for FY 2019: $637.0 million
Branstad's recommendation: $598.0 million
Board of Regents request for the University of Iowa in FY 2019: $241.6 million
Branstad's recommendation: $231.7 million
Board of Regents request for Iowa State University in FY 2019: $191.8 million
Branstad's recommendation: $184.0 million
Board of Regents request for the University of Northern Iowa in FY 2019: $103.5 million
Branstad's recommendation: $96.9 million
Regents President Bruce Rastetter issued a politically correct statement on behalf of the whole board:
The Board of Regents appreciates Governor Branstad's and Lieutenant Governor Reynolds' continued support for higher education.

They have been very supportive of our two-year funding model that the Board passed in the fall. This new approach provides for more predictability, transparency and long-term planning for students and their families.

We understand the revenue constraints the state is facing for the current fiscal year. We will work with our institutions to make the required reductions in a way that has the least effect on students.

We will work with the Governor and General Assembly in the upcoming legislative session to ensure Iowa public universities receive the level of funding that is needed to provide the quality education that our students deserve.
Nothing says "predictability, transparency and long-term planning" like springing a $25 million cut on universities more than halfway through the fiscal year.
Statehouse Democrats slammed the proposal. Speaking to Iowa Public Television following Branstad's address, Iowa Senate Democratic leader Rob Hogg urged colleagues not to "balance the budget on the backs of students in our community colleges and state universities." He told Iowa Public Radio that $25 million in cuts works out to more $300 per student at each state university, adding, "We are not in a fiscal crisis and so let's find a better solution."
Jeff Charis-Carlson's story for the Des Moines Register noted that "Democratic senators have called on Branstad to dip into the state's $738 million reserve funds to cover the bulk of the $110 million shortfall."
Vanessa Miller reported for the Cedar Rapids Gazette,
"It's a disaster for public university students and community college students who are going to see their tuition go up as a result of this mismanagement," said state Sen. Joe Bolkcom, D-Iowa City.

After seeing two consecutive years of less-than-requested state funding, the Board of Regents in December approved a third straight tuition hike for resident undergraduates. The 2 percent increase for the 2017-2018 school year pushes resident undergrad rates to $7,270 at the University of Iowa and $7,240 at Iowa State University and the University of Northern Iowa.

Collectively, the increases were projected to generate $28.8 million for the 2018 budget year. If approved, Branstad's proposal to cut $25.6 million from the universities' base funding would nearly wipe out that new tuition revenue.

Although Branstad laid out a two-year spending plan Tuesday calling for a 2 percent increase in higher education funding both years — amounting to $15.7 million more in 2018 and 2019 — state appropriations would come in under the regents' requests because of this year's hit.

Even after two years, said Sen. Herman Quirmbach, D-Ames, state support for the universities' general education budgets would be less than current levels.
Charis-Carlson paraphrased community college leaders as saying "they would work to ensure that their students would not be adversely affected" by this year's cuts. Nor is it a sure thing that tuition at state universities will go up for the coming academic year:
When approving their request in September, the regents said an additional $12.7 million was the minimum needed for the board to hold undergraduate tuition increases to only 2 percent for the next two years. Rastetter said in December that Iowa families could count on 2017-18 base tuition for resident undergraduate students being $7,270 at the University of Iowa and $7,240 at both UNI and Iowa State University.

"Tuition is locked in for 2017-18," Josh Lehman, a spokesman for the regents, said Tuesday. "We've said that publicly."
I wonder where the regents will find tens of millions of dollars in savings without raising tuition.
Whether Iowa House and Senate Republicans who control both legislative chambers will go along with Branstad's proposal is an open question. I haven't received any information about Senate GOP discussions on the mid-year budget cuts.
Among House Republicans, one plan for balancing this year's budget calls for spending $22 million less on education before June 30, without specifying how much would come from K-12 schools versus higher education. That proposal is not final and includes some provisions Branstad would resist, such as a $2.5 million reduction in the commercial property tax replacement and a $24 million reduction in funds provided to cities and counties as "backfill" for revenue local governments lost because of the costly 2013 commercial property tax cut. The plan would draw nothing from Iowa's reserve funds.
Other relevant facts as lawmakers consider painful budget cuts:
• No Republican in the Iowa Senate and only one in the House (Walt Rogers of Waterloo/Cedar Falls) represent areas that include state universities. Some have community colleges in their districts, though.
• ISU's new lobbyist is Kristin Failor, She worked for the Iowa House Republican caucus for three years and is married to Ed Failor, Jr., the top aide to Senate Majority Leader Bill Dix.
Any comments about education funding or the state budget are welcome in this thread.
Pages 91 through 94 of Governor Terry Branstad's proposed budget for fiscal years 2018 and 2019: