See important update below: Jon Muller questions whether the University of Iowa "committed an act of scholarship fraud."
Three weeks after Governor Terry Branstad signed into law large mid-year budget cuts for Iowa's state universities, some 3,015 incoming or current students at the University of Iowa learned that they will be picking up part of the tab.

The University of Iowa will receive at least $8 million less in state funding between now and June 30, and potentially a larger cut, after Branstad's Department of Management Director David Roederer decides how to spread around an additional $11.5 million in "miscellaneous reductions."
Earlier this month, University of Iowa President Bruce Harreld warned,
"Clearly a lot of our state support goes for residents of the state and helping them get here, and our student financial aid is going to have to take a major portion of that," Harreld said. "When legislators decide to reduce money to us, by definition they are asking us to reconsider student financial aid." [...]

The university already includes language in its financial aid letters explaining to students that "if state support or budgetary issues change, we might have to reconsider your individual support," he said.
On February 22, Harreld delivered the bad news in a letter enclosed in full below.
Multiple news reports referred to 2,440 students who will lose scholarships. According to university spokesperson Jeneane Beck, that number covers only resident undergraduates. Beck provided the following figures in parentheses to indicate how many students, including non-residents, will be affected by each of five scholarship programs being discontinued:
Iowa Heritage - Legacy Program for incoming freshmen (2859)
Iowa Heritage Transfer - Legacy program for incoming Transfer students (106)
Iowa Heritage Presidents - Initial group of awards for Presidential Scholars (one year) (22)
Iowa CC 2+2 - Funds for students enrolled in one of our 2+2 Community College programs (15)
CC Academic Scholarship - Awards for high achieving transfer students from Community Colleges (13)

The total savings is $4,343,699.
That's 3,015 people who will not receive funding the University of Iowa offered to support their studies.
Beck confirmed that university administrators decided to eliminate those five scholarships permanently, not just halt them for the 2017/2018 academic year.
The university has placed a priority on need-based and merit scholarships.

Also, the $8 million reduction from the legislature comes out of our base budget, returning us to the level of state funding provided in fiscal year 2014. This means that even if the state increases appropriations for next year, we will still receive less money than we did last year.
Vanessa Miller reported for the Cedar Rapids Gazette that the first three scholarships listed above are worth $1,500 each year to students. The Iowa CC 2+2 has provided $1,000 per year for two years, and those on the CC Academic Scholarship have received variable amounts between $200 and $6,000.
Most Iowa families don't have an extra $1,500 lying around. In his letter to students, Harreld promised that the university's financial aid office will be revising the awards for those who completed the Free Application for Federal Student Aid. Economist Austin Frerick discussed here last year,
Over the past 15 years, Iowa has radically altered its higher education system from one that invests in its citizens to one which forces students to take on excessive debts while recruiting wealthy students from out of state. FAFSA has been the key instrument in creating this current predicament. The process was never meant to be this way. The story of the privatization of higher education and reliance on FAFSA is a story of neglect and bureaucratic inertia.
Returning to that subject last July, Frerick noted,
State appropriations in fiscal year 2017 for the University of Iowa, Iowa State University, and the University of Northern Iowa is still LESS than it was in 2001, down 32 percent when you adjust for inflation. And while investment falls, tuition and student debt continues to soar to record highs.

I updated the figures from a previous post on the subject and the trend lines have only intensified.

Graph 1 shows that the schools are becoming increasingly dependent on higher tuition and student fees to make up for the declining state support.
Frerick created that graph using the fiscal year 2017 budget Branstad signed into law. But under the recent Republican "de-appropriations" bill, the three state universities will receive at least $18 million less than was initially allocated for the year ending June 30. The universities could lose more when Roederer announces the "miscellaneous reductions."
Jeff Charis-Carlson reported for the Des Moines Register today,
Senate Democrats took to the floor Thursday denouncing the cuts as collateral damage from changes to the state's commercial property tax that led to lower revenues. They pledged to support legislation to provide additional funds to UI to stave off the cuts. [...]

Republican legislative leaders, however, called on UI use some of the $2 billion recently raised by the UI Foundation to make up the difference.

"It's very disappointing that the University of Iowa is choosing to play politics with scholarships and the lives of parents and students," Linda Upmeyer, speaker of the Iowa House, said in a statement. "In January, (Regent) President (Bruce) Rastetter said that the regent universities would be able to make reductions, based on the governor's budget recommendation, with minimal impact on students. We then softened those reductions further."
Why didn't the University of Iowa pull money from its foundation to cover these five undergraduate scholarships? Beck told me,
Endowment funds are established according to donor restriction. The original gift amount is retained permanently and a portion of the income is made available to the UI annually, as required by Iowa law. Neither the principal nor the income can be directed to needs other than those consistent with donor intent.
Speaking to journalists today,
Rastetter emphasized that the discontinued scholarships were not given based on merit or financial need.

He also noted that UI is not "taking back" scholarships. Instead, he said it's a forewarning that in the fall, those scholarships will be unavailable to those students, but that could be reversed. He said students and families may write to the university if they expect to experience hardship because of the loss of those scholarships. [...]

"It's not hitting students that frankly can afford to come to college," Rastetter said. "They've tried to minimize, the best they can, that scholarship decline."
Although university administrators can be criticized for imposing additional costs and debt on students and their families, the ultimate responsibility for this situation falls on Iowa Republican lawmakers. They chose deep cuts for higher education to help make ends meet. Iowa's mid-year budget cuts in 2009 happened as the "Great Recession" "caused the largest collapse in state revenues on record." In contrast, Barbara Rodriguez reported for the Associated Press last month,
Branstad's proposed cuts come even as Iowa's tax revenue grows by several percentage points every year.

"This is a pinch right here, and it's not common," said Jeff Robinson, a senior analysist for the non-partisan Legislative Services Agency.
In a January 2016 brief for the Iowa Fiscal Partnership, Peter Fisher explained our state's "largely self-inflicted" revenue shortfall.
Why is revenue growth a problem in a state that has done better than most in recovering from the Great Recession? The answers can be found in the growth in business tax breaks. Business tax credits already on the books drained $178 million from the state treasury in fiscal year 2015, then grew by $94 million to $272 million in FY16, and are expected to remain at about that level next year. The six largest credits (or groups of credits) account for 84 percent of the total (Table 1).
State Representative Todd Prichard pointed out this week that while dealing with a budget crisis he characterized as an "unforced error," GOP lawmakers "didn't even look at some of these tax credits that are out there. And we really don't know whether we're getting a return on investment from these tax credits."
State Representative Chris Hall, ranking Democrat on the Iowa House Appropriations Committee, released a two-page memo last month on what caused the current budget crunch. Scroll down to read the whole document. Here are Hall's closing two paragraphs:
The Iowa GOP has lost all credibility on budgeting. After giving away the state's budget surplus, policies enacted by the Branstad-Reynolds administration & Republicans have slowed the state's economy and left the budget in the red.

We know today that the Republicans' failed fiscal policies are not working for Iowa families. With new tax breaks for corporations now topping $500 million annually, Iowa would not be faced with a budget deficit today if the GOP had used better judgment in managing the state budget. Unfortunately, Iowa students and working families are being forced to pay for the GOP tax giveaways.
The pain won't stop with the 3,015 students who just lost their University of Iowa scholarships.
UPDATE: Jon Muller, a University of Iowa alumnus and parent of a current undergraduate, posted the following on Facebook on February 23. (shared with permission)
Proof that the University of Iowa May Have Committed an Act of Scholarship Fraud

I woke up this morning to discover my son lost his Heritage Scholarship at The University of Iowa. It was not his only scholarship, but it was worth $1,500 per year, or an additional $4,500 over the next 3 years.

President Bruce Harreld claimed, according to the Des Moines Register yesterday afternoon, that "the university always include[s] language in its financial aid packages stating that the amounts could change depending on the university's financial health."

I called the Admissions Office and the President's office and asked for proof they'd sent me that kind of warning. The only contingency I recall reading was a requirement that Ben keep up his grades and maintain full time status.

The only warning came in a link to an email regarding the initial award last April. The email was not sent to me, but only to Ben. I had Ben forward me the email, and sure enough, it linked to Scholarship Policies and Guidelines, and included the following language. "In the event there are reductions in state funding for the University of Iowa, support for institutional scholarships and grants may be impacted. If that happens, academic awards may be reduced within the academic year accordingly."

Now, I was still dubious that meant they were going to rescind scholarships already awarded, but it might be something they could try to hang their hat on. I asked both the Admissions Office and the President's Office this morning if that link had been edited since April when my son accepted the award. Neither knew, but said they would get back to me. I haven't received word yet.

James, our amazing IT guy, told me about a cool web site where you can find archived web pages. The language on the Policies link in my son's April email did not exist last April. I hit other archived dates, and it didn't show up in September 2016 either. The last archived date was December 17, 2016. There was still no warning that these scholarships could be rescinded.

Now, obviously Mr. Harreld's team must have thought it important enough to warn students about this kind of eventuality to edit their page. They surely knew if there was no warning, then a 4-year promise of a scholarship would have to be honored. Why else edit the web page? What's the point of warning us after you've already decided to rescind the scholarships?

Why would the University target cuts directly to students who are children of Alumni? A case of "cutting the firehouse"? To get us riled up at the Legislature maybe? Who knows. Insofar as I live in the firehouse, I do not approve, regardless of the rationale.

I'm not a lawyer, but I have one, and we will be visiting tomorrow. I apologize for not having more interesting information, but I've only known about this for 10 hours. I will see if I can post some screenshots of the archived pages in the comments below.
SECOND UPDATE: The University of Iowa has not responded to my request for comment on Muller's post. A reader linked to an archived version of the financial aid page from the University of Iowa's website, as of January 1, 2017. It does not contain the disclaimer that appears on that page now: "In the event there are reductions in state funding for the University of Iowa, support for institutional scholarships and grants may be impacted. If that happens, academic awards may be reduced within the academic year."
A current undergraduate forwarded a copy of the award notification he or she received before the first semester at the University of Iowa. I have redacted the student's name and ID number. This document says nothing about the possibility of scholarships being rescinded if the university faces a cut in state funding.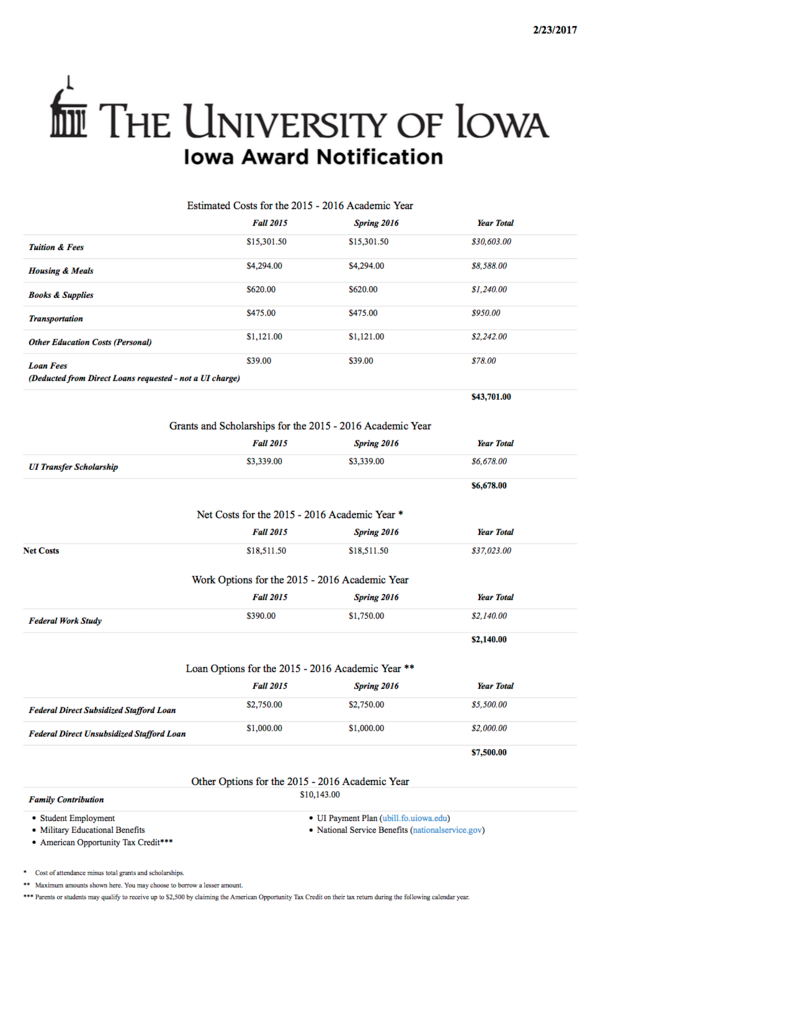 LATER UPDATE: A number of parents of affected University of Iowa students have expressed sentiments similar to what one mother told me: "I have her original scholarship letter. I've never seen the language you quoted." University officials may have a legal battle on their hands soon.
FEBRUARY 24 UPDATE: Ditchwalk posted the old and new text from the university website side by side.
Jeff Charis-Carlson interviewed Muller for this story in the Iowa City Press-Citizen:
Jon Muller is now one of a growing number of affected parents who are considering legal action against UI for breech of contract.

"Right now we have one client, but we've had been contacted by others," said Steve Wandro of the Des Moines-based firm Wandro & Associates. "It looks like we will have a large group of parents who will be asking us to represent them."

Other affected students and their parents also have formed a new group on Facebook, Iowa Scholarship Class Action Network, and are exploring the possibility of bringing a class action suit against the university and the Iowa Board of Regents. [...]

"There is nothing that we're aware of – not one thing – that indicates that when these students made their decision to accept their scholarship there was any 'out' for (UI) based on finances," Wandro said. "Where (UI) is coming from on this, we just don't know."
Marissa Payne and Sarah Storz reported for the Daily Iowan,
UI freshman Madison Osborn, who came here on the Iowa Heritage Scholarship, said she felt shock and anger about the announcement.

"I'm paying college out of my own pockets, and I've been saving money for years," Osborn said. "I chose to go here because of the scholarship, or else I would've just gone to community college."

Despite the financial setback, she said, she will continue attending the UI by applying for more scholarships and taking out more student loans.

"If they were going to take out scholarships, they should've waited to do it for future-year students, not ones who are currently attending," Osborne said.
Beck sent me further comments on behalf of the university on February 24:
The Iowa Heritage Award was a renewable scholarship. Current students were not required to apply annually and did not receive annual award notices. If the students continued to meet the terms and conditions of the scholarship, the award was posted to their UI account.

The terms and conditions language on the scholarships website was updated on January 18 to reflect the change in state funding.

In the event there are reductions in state funding for the University of Iowa, support for institutional scholarships and grants may be impacted. If that happens, academic awards may be reduced within the academic year accordingly.

Award letters mailed to new financial aid recipients on January 24 referred them to the updated terms and conditions. That did not include current students who received the Iowa Heritage Award who instead received notices that the program was ending due to budget cuts.

The $8 million reduction from the legislature comes out of our base budget, returning us to the level of state funding provided in fiscal year 2014. This means that even if the state increases appropriations for next year, we will still receive less funding than we did last year. Therefore, single-year solutions or short-term decreases in spending are not a viable option. It is not possible to simply absorb the cut.