Iowa House and Senate Republicans approved about $32 million in additional spending for public K-12 school districts today, which works out to $67 per pupil, according to the non-partisan Legislative Services Agency. The 1 percent increase in allowable growth, sometimes called supplemental state aid, is the third-smallest by percentage since Iowa adopted the current school funding system in the early 1970s.

In February 2017, Republican lawmakers passed and Governor Terry Branstad signed a 1.11 percent increase in allowable growth for K-12 schools for fiscal year 2018. At the time, it was the third-smallest percentage increase in four decades, as you can see from this chart provided by Democratic legislative staff.
Governor Kim Reynolds' fiscal year 2019 budget proposed a 1.5 percent increase ($54 million) in state funding for public school districts. But she didn't object or threaten a veto when key Republican lawmakers opted for 1 percent in House File 2230.
During today's House and Senate debates, Democrats repeatedly pointed out that in recent years, state school funding has failed to match the rising cost of educating students. This chart prepared by Iowa School Finance Information Systems illustrates that trend. Bleeding Heartland guest author Jon Muller is a partner in that company, which provides "electronic finance tools and financial consulting services to Iowa public schools."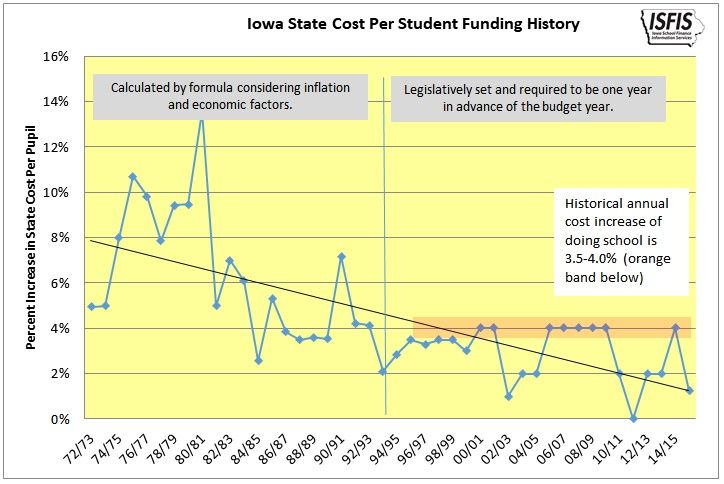 State Representative Sharon Steckman, the ranking Democrat on the House Education Committee, offered an amendment to raise allowable growth to 3 percent. House members rejected it along party lines and eventually approved the bill by the same 57 to 40 vote.
During the Senate debate several hours later, Democrats Tod Bowman, Rita Hart, Rob Hogg, Nate Boulton, and Herman Quirmbach all criticized inadequate education spending, as did independent State Senator David Johnson. Quirmbach noted that over the entire Branstad/Reynolds administration, the inflation-adjusted increase in K-12 funding averaged just 0.07 percent per year, "functionally no increase at all above inflation for the last eight years." Considering only fiscal year 2018 (1.11 percent growth) and fiscal year 2019 (1 percent), he added, per-pupil funding adjusted for inflation works out to a decrease of 0.5 percent each year. "The dollar increases have been so tiny that they haven't even kept up with inflation." (Quirmbach's speech begins at 5:52:45 in this video.)
Republicans including Senate Education Committee Chair Amy Sinclair countered that public education is a high priority for GOP lawmakers. They noted that K-12 schools are getting a funding increase at a time when many areas of state government face cuts due to revenue shortfalls. They also touted their plan to allocate $10 million to help school districts cover high transportation costs, a problem in many rural areas.
House File 2230 cleared the Senate in the early evening by 29 votes to 21, with Johnson joining all 20 Democrats in opposition. Since senators had approved an amendment adding $14 million "for various transportation expenses and to close some inequity in cost-per-pupil spending across school districts," the bill goes back to the lower chamber, Barbara Rodriguez reported for the Associated Press. "It's unclear if House Republicans support the extra money," Rodriguez added.
Next up: Republican lawmakers will reconcile competing plans to cut current-year expenditures in order to balance the budget. The governor suggested about $27 million in cuts to be implemented before the end of the fiscal year on June 30. Senate Republicans proposed deeper cuts totaling $52 million. Today House Republicans rolled out their plan, with $33.8 million in spending reductions.
UPDATE: House and Senate Republicans failed to reach agreement on this bill by the end of the week, meaning they missed the deadline to set school funding within the first 30 days of the legislative session.
The group Parents for Great Iowa Schools shared this graphic to demonstrate the reality behind Republican talking points about "new money" invested in K-12 education since 2011. Note the $97 million for property tax relief, which "costs the state more but doesn't give additional funding to schools," the $150 million for "teacher development" funds that cannot be used for classroom needs or school programs, and $70.6 million that "reflect the increase in enrollment" in K-12 schools over the past seven years.