Theresa Greenfield's failure to qualify for the Democratic primary ballot in Iowa's third Congressional district was one of the strangest plot twists in our state's recent political history. With influential endorsers and the funds to compete on television, Greenfield would have been a strong contender to either win the nomination or prevent any candidate from clearing the 35 percent threshold on June 5. EMILY's List might have stayed out of a race with two pro-choice women in a field of four candidates, rather than spending heavily to help Cindy Axne in the final weeks.
Greenfield's unsuccessful mad dash to collect a new set of petitions on the last day of the filing period reminded tipster Darrell Hanson of a last-minute scramble to salvage another well-known candidate's Congressional bid.

Our story unfolded in what was then the third Congressional district, covering a large swath of northeast Iowa including the Cedar Falls/Waterloo metro. The IA-03 counties are yellow on this version of the 1980s political map: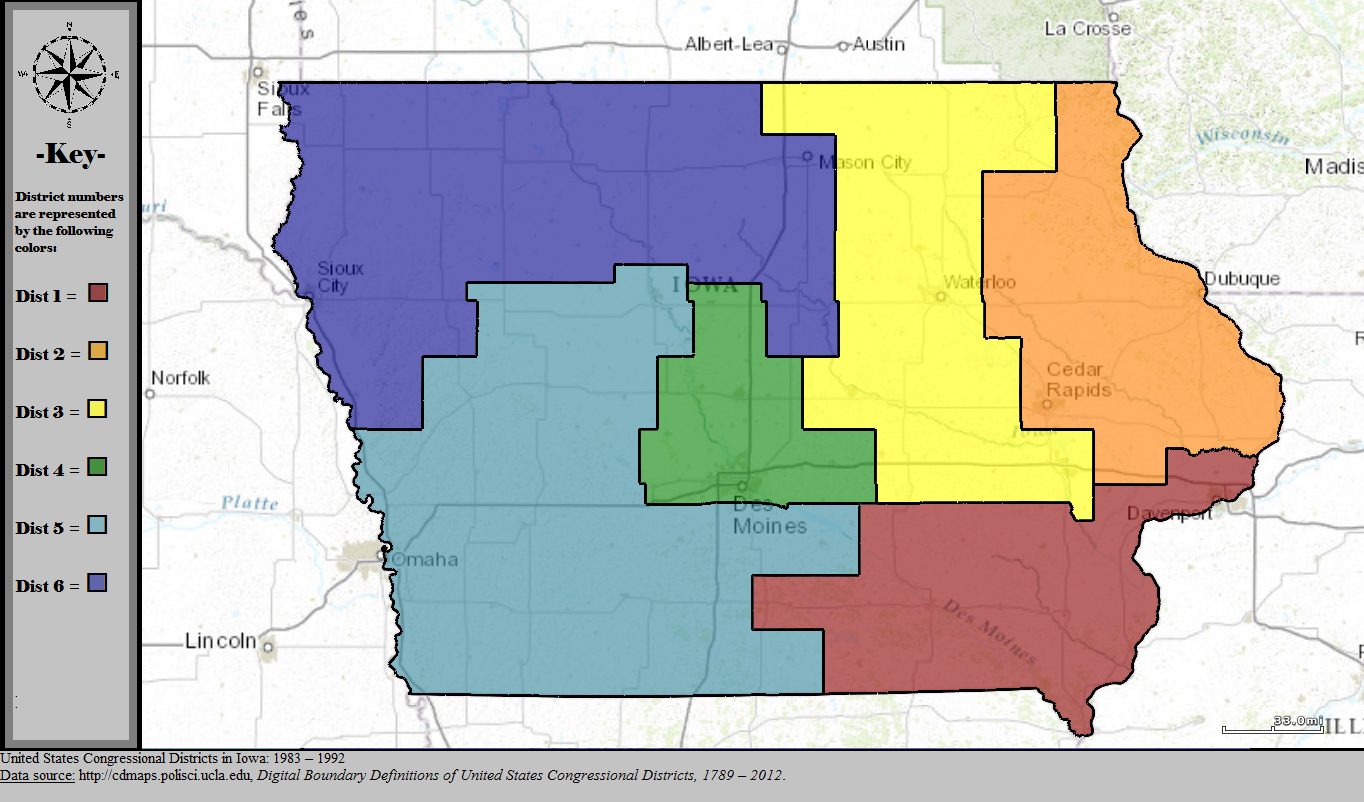 Republicans had long dominated that part of Iowa. Chuck Grassley represented much of the same area in the U.S. House during the 1970s. His successor, Representative Cooper Evans, was retiring in 1986.
Two men were seeking the GOP nomination: State Representative John McIntee of Waterloo and attorney Don Redfern of Cedar Falls. McIntee was perceived to be relatively moderate, Redfern more conservative. Hanson (a Republican state lawmaker at the time) remembers hearing that Redfern was putting together a strong campaign.
A staffer brought Redfern's nominating papers to the Secretary of State's office at about 3:45 pm on the last day of the filing period, according to reports by David Yepsen for the Des Moines Register and Judy Daubenmier for the Cedar Rapids Gazette. Redfern had plenty of signatures on his petitions, but the notarized affidavit of candidacy was missing. From Daubenmier's account:
Redfern learned of the problem about 4 p.m. in Cedar Falls and immediately flew to Des Moines, where he was met at the airport by a police escort that accompanied him, with sirens shrieking, to the Capitol.

But at precisely 5 p.m., he had not appeared at the state office, prompting Elections Director Sandra Steinbach to announce, "It's 5 o'clock. He's not here. He's not on the ballot."

When Redfern arrived at approximately 5:15 p.m. Steinbach told him, "I'm very sorry," and handed back his nominating petitions.
McIntee described himself as "dumbfounded" by the turn of events. Yepsen paraphrased Democratic candidate Lowell Norland as saying "there will be no divisive GOP primary that might have helped Democrats. Also, the Republicans will save money for the fall contest [...]."
Norland lost the Democratic primary to Dave Nagle. In a telephone interview this spring, Nagle recalled perceiving the Republican race as a "real toss up." He didn't know who would have won that primary, but he sensed it would have been an easier general election battle against Redfern. "I didn't regard it as necessarily good fortune" that he missed the ballot. Incidentally, Nagle felt the Secretary of State's office "should have stayed open for him" and was surprised they did not.
Nagle defeated McIntee in November by a comfortable margin of 54.6 percent to 45.4 percent.
Redfern was the "heir apparent" and unopposed for the 1988 GOP nomination in IA-03. But Nagle told me his opponent's "failure to file correctly" two years earlier "hurt him with the public." It wasn't that he or news organizations focused on the issue; rather, "It just laid there." Nagle remembered hearing people say at public events, "Is that the guy who couldn't his papers filed?" or "Are you the one that couldn't get his papers filed?" He would answer, "No, that was the other guy."
Forgetting that affidavit of candidacy "damned him twice," Nagle concluded; it kept Redfern "out of a race that he could have won," and "hurt him in the race when he did get in."
Nagle won re-election by 63.4 percent to 36.6 percent, an even larger margin than the impressive statewide win by Michael Dukakis the same year.
Redfern did not respond to multiple e-mails and telephone calls seeking his perspective on his 1986 debacle. At the time, he took responsibility for the error and did not blame his campaign staff. He went on to win an Iowa Senate special election in 1993 and was re-elected to the state legislature twice before retiring in 2004 to return to his private law practice in Cedar Falls and spend more time with his two young children.
Top image: Partial headline from David Yepsen's story in the Des Moines Register on March 29, 1986.