A New York Times poll of Iowa's first Congressional district this week found Democratic challenger Abby Finkenauer leading two-term Representative Rod Blum by 51.5 percent to 37 percent. Finkenauer led by double digits in every turnout model the pollsters applied to the raw data. Blum's favorability of 35 percent was even lower than President Donald Trump's 39 percent approval rating among respondents.
As national Republican strategists and GOP-aligned advocacy groups write off Blum and election forecasters increasingly view IA-01 as a probable Democratic pickup, I've been thinking about how a Blum implosion could affect down-ballot Republicans. With no straight-ticket option for Iowa voters this year, coat-tails may be less important than they were in the past. Nevertheless, it can't be good for GOP legislative candidates that Finkenauer's campaign has had field organizers working across the district for at least six months to identify and turn out supporters.
Democrats need a net gain of ten Iowa House seats to win a majority in the lower chamber (currently split 59 R/41 D). At least eight potentially competitive GOP-held state House districts are located within the first Congressional district.

A reminder of where the 20 counties in IA-01 are: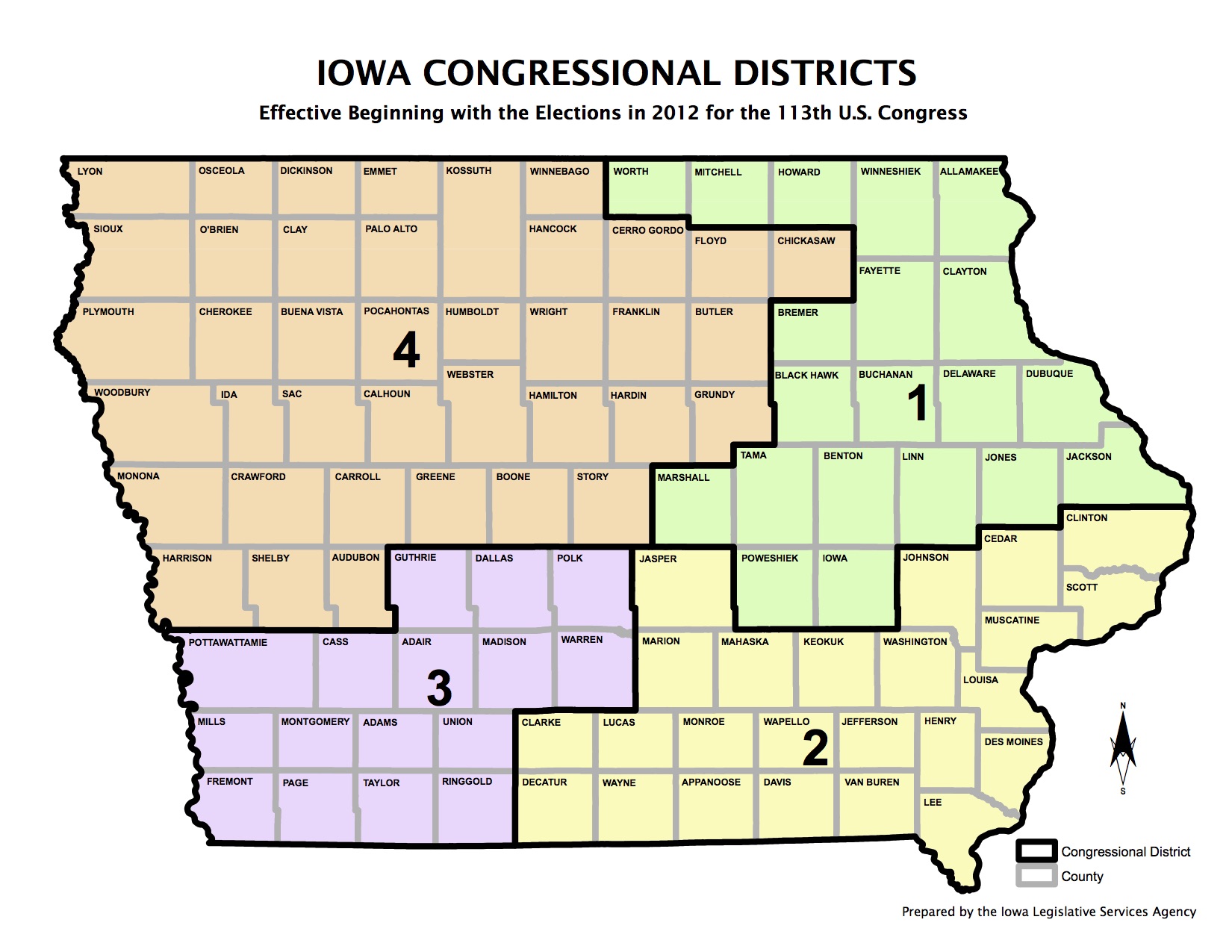 Here are some salient facts about the Iowa House races in that part of the state. (For a statewide review of prospects for the lower chamber, check out Josh Hughes' analysis from July.)
First-term Republican incumbent Jane Bloomingdale faces Democrat Tim Knutson in House district 51. This stretch along Iowa's northern border includes Howard County, which saw a larger swing in presidential voting than any other county in the U.S. in 2016. Voters here favored Barack Obama in 2012 by 55.2 percent to 43.5 percent for Mitt Romney, but Donald Trump outpolled Hillary Clinton by 58.9 percent to 35.7 percent. The top-of-the-ticket result was more balanced in the last midterm election, with 48.0 of House district 51 voters backing Joni Ernst in the U.S. Senate race and 47.7 percent supporting Bruce Braley.
The latest voter registration totals may reassure Bloomingdale: 4,915 active Democrats, 6,449 Republicans, and 8,035 no-party voters. Knutson needs a strong Democratic turnout as well as a good margin among independents, who are far less likely than partisans to vote in a non-presidential year.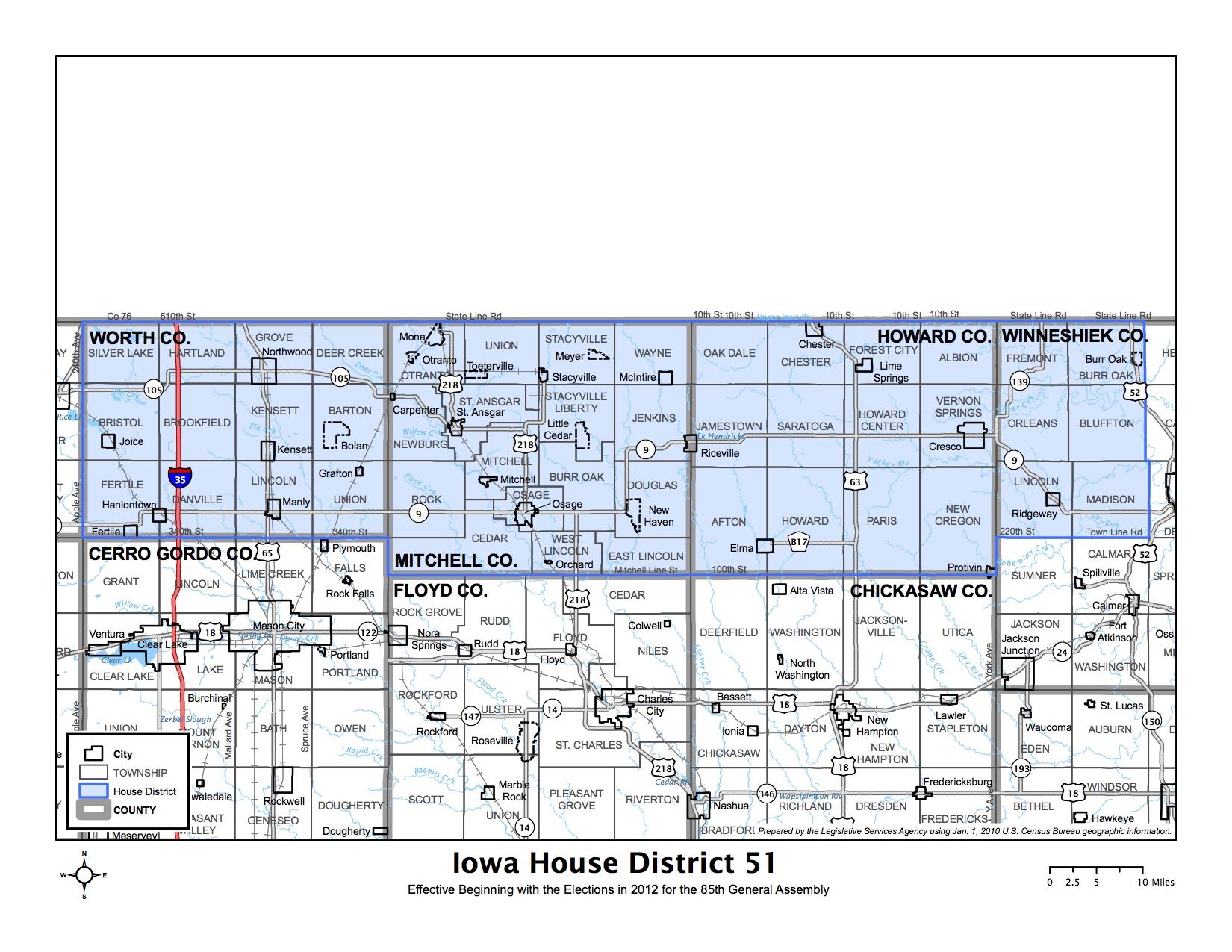 In House district 55 next door, first-term Republican Michael Bergan faces Kayla Koether, who has out-raised the incumbent. Bergan has postured as a moderate but supported most of the extreme bills that came to the House floor during the last two years, including the collective bargaining screw job, the cruel overhaul of workers' compensation, and the ban on nearly all abortions, which Bergan had opposed in committee. However, he voted against this year's anti-consumer, anti-conservation energy bill.
The GOP voter registration advantage is smaller here: 5,691 active Democrats, 6,460 Republicans, and 6,933 no-party voters. The swing to Trump was less pronounced: from 55.2 percent for Obama in 2012 to 50.6 percent to Trump. Koether needs a strong turnout in the liberal college town of Decorah, where progressives built a strong organization and nearly prevailed in a local referendum this spring. If Democrats fall short here, winning back the House majority will be a tall order.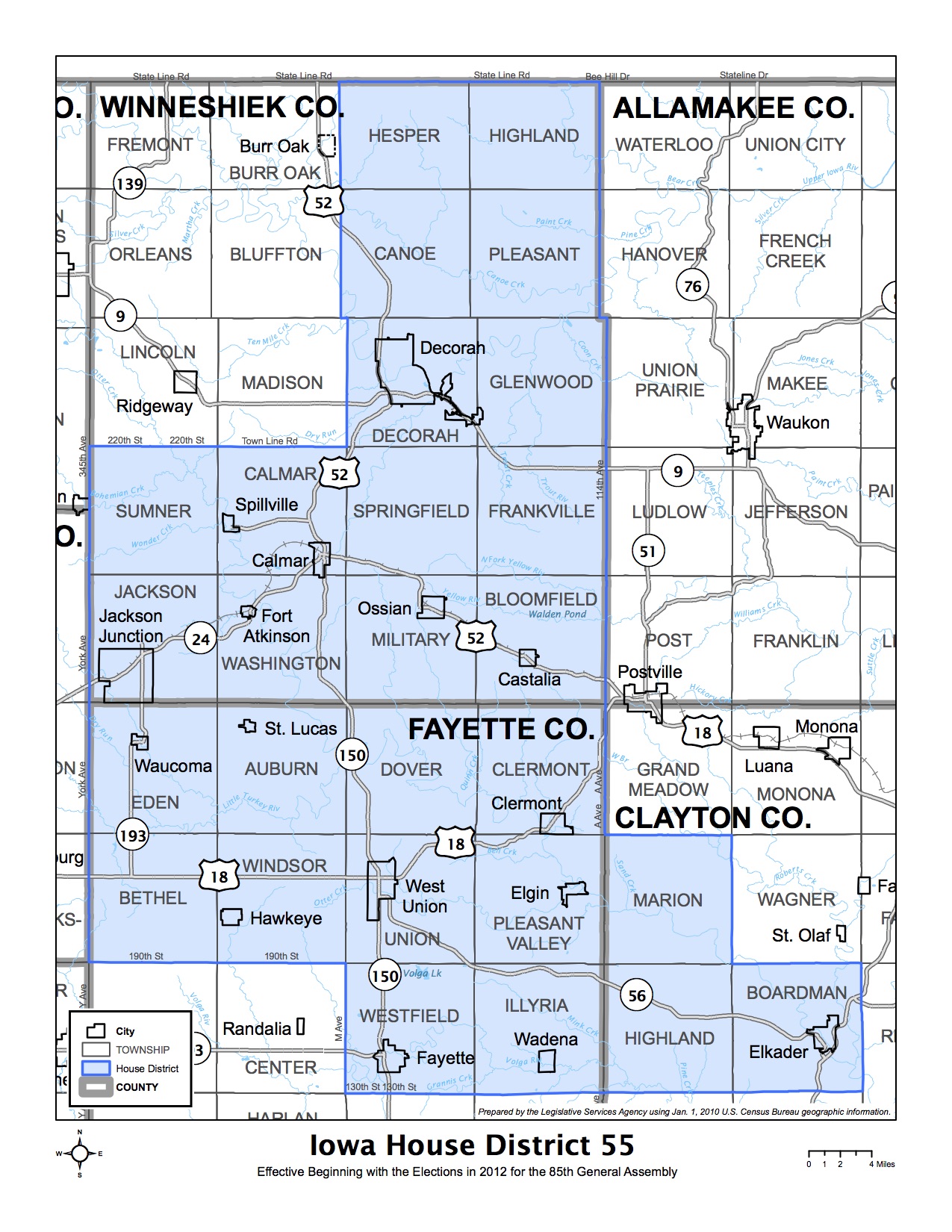 The open seat in House district 56 is probably a must-win for Democrats as well. Lori Egan's three decades of experience as a nurse are a plus; national polls have shown health care is a hugely salient issue for voters this year, and Fred Hubbell is making the mismanagement of Iowa's Medicaid program a central theme of his campaign for governor.
One red flag: Egan has raised little money despite being a "spotlight" candidate for the Democratic Legislative Campaign Committee. But will House Republicans spend heavily on behalf of young activist Anne Osmundson (who clerked for retiring lawmaker Kristi Hager) when so many incumbents in their caucus could be threatened?
On paper, the numbers favor Osmundson: just 4,778 active registered Democrats, 7,200 Republicans, and 7,055 no-part voters. Some 59.8 percent of House district 56 voters backed Trump, a huge swing from Obama's 52.0 percent showing in 2012. On the other hand, Democrat Patti Ruff defeated a Republican state House incumbent here in 2012 and held on in 2014, even as Ernst outpolled Braley by 13 points at the top of the ticket. I wouldn't count Egan out.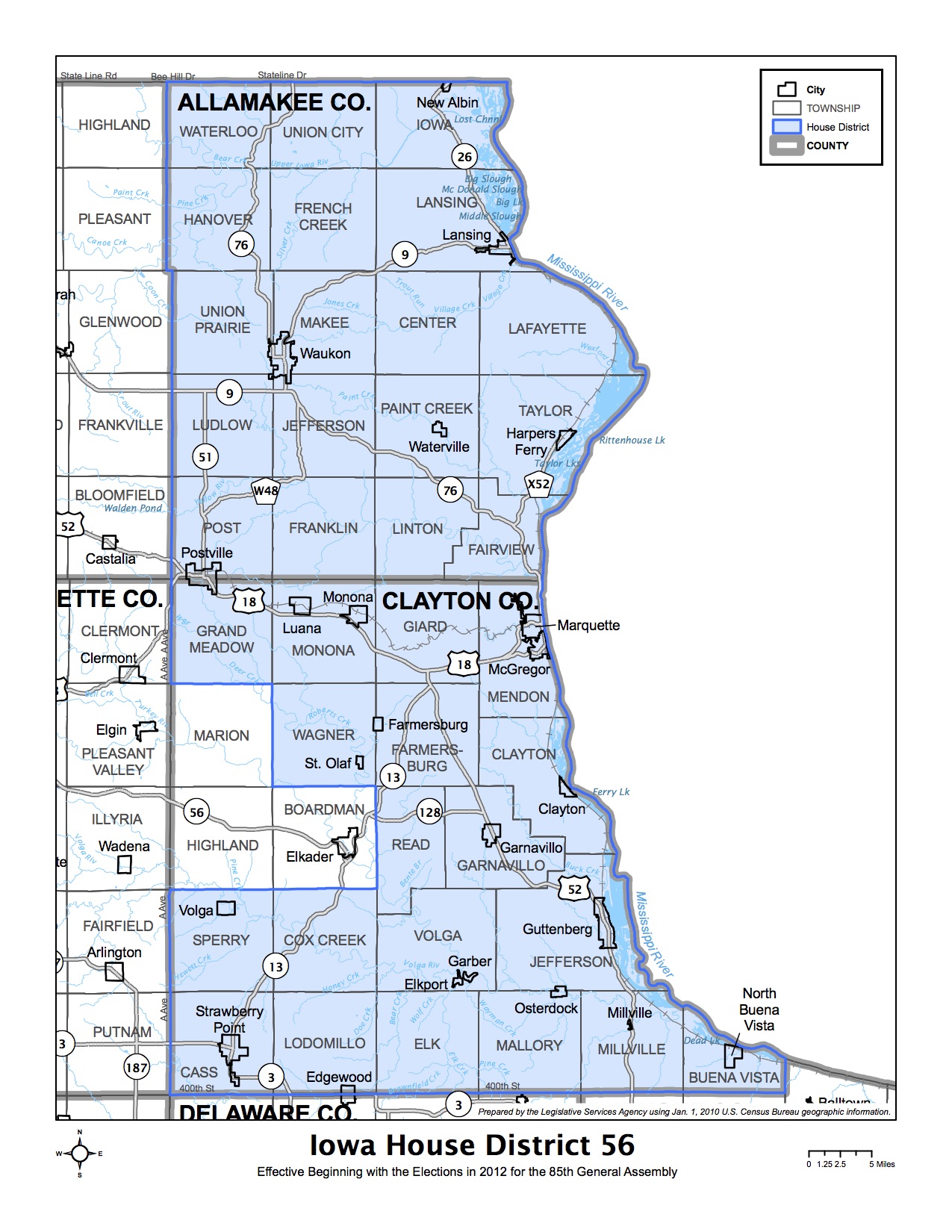 Democratic leaders must like their chances in House district 57, because this week they started running a television commercial for challenger Nancy Fett. It's a solid introduction for the teacher who is emphasizing her faith and commitment to education.
Fett faces State Representative Shannon Lundgren, another first-term Republican who benefited from the large swing to Trump in eastern Iowa. Mitt Romney barely outpolled Obama in House district 57 by 50.0 percent to 49.0 percent, but Trump carried the same precincts by a 20-point margin.
Though this part of Dubuque County doesn't lean as heavily to Democrats as does the city of Dubuque, the voter registrations favor Fett: 7,965 active Democrats, 6,580 Republicans, and 8,282 no-party voters.
Lundgren floor-managed the six-week abortion ban, passed near the end of the legislative session. Is her position on reproductive rights a good fit for her constituents or too extreme, even for this heavily Catholic area? Also worth noting: House district 57 makes up one half of Iowa Senate district 29, which may be in play. It's not yet clear how hard Senate GOP leaders will fight to take out Democratic State Senator Tod Bowman.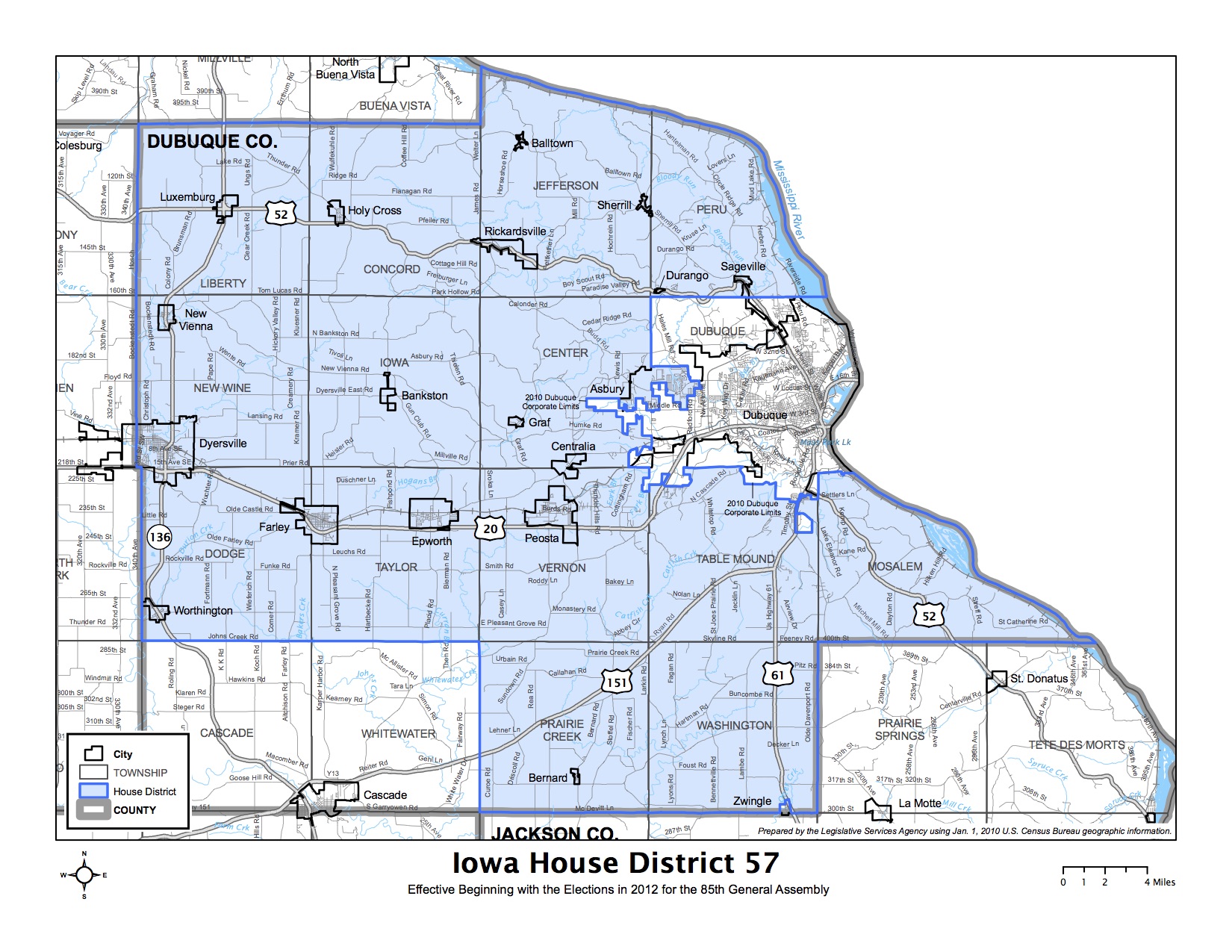 A good tv ad for the Democratic challenger in House district 60 started running this week as well. "Engineer Dave Williams is a fixer," the narrator says.
I've been pessimistic about the odds of beating four-term Republican Walt Rogers, but Democratic polling must have shown he is vulnerable. He certainly should be. The chair of the House Education Committee has been a leading advocate for diverting money away from K-12 public schools through a voucher scheme marketed as "educational savings accounts." In addition, he has supported budgets that underfunded higher education, even though many of his constituents have close ties to the University of Northern Iowa.
Paradoxically, Trump carried House district 60 but received a slightly lower share of the vote than Romney had when losing this district four years earlier. Though Clinton underperformed Obama, a significant number of voters in this highly educated area supported third-party presidential candidates rather than Trump in 2016.
The latest voter registration totals show 6,580 active Democrats, 7,004 Republicans, and 7,613 no-party voters.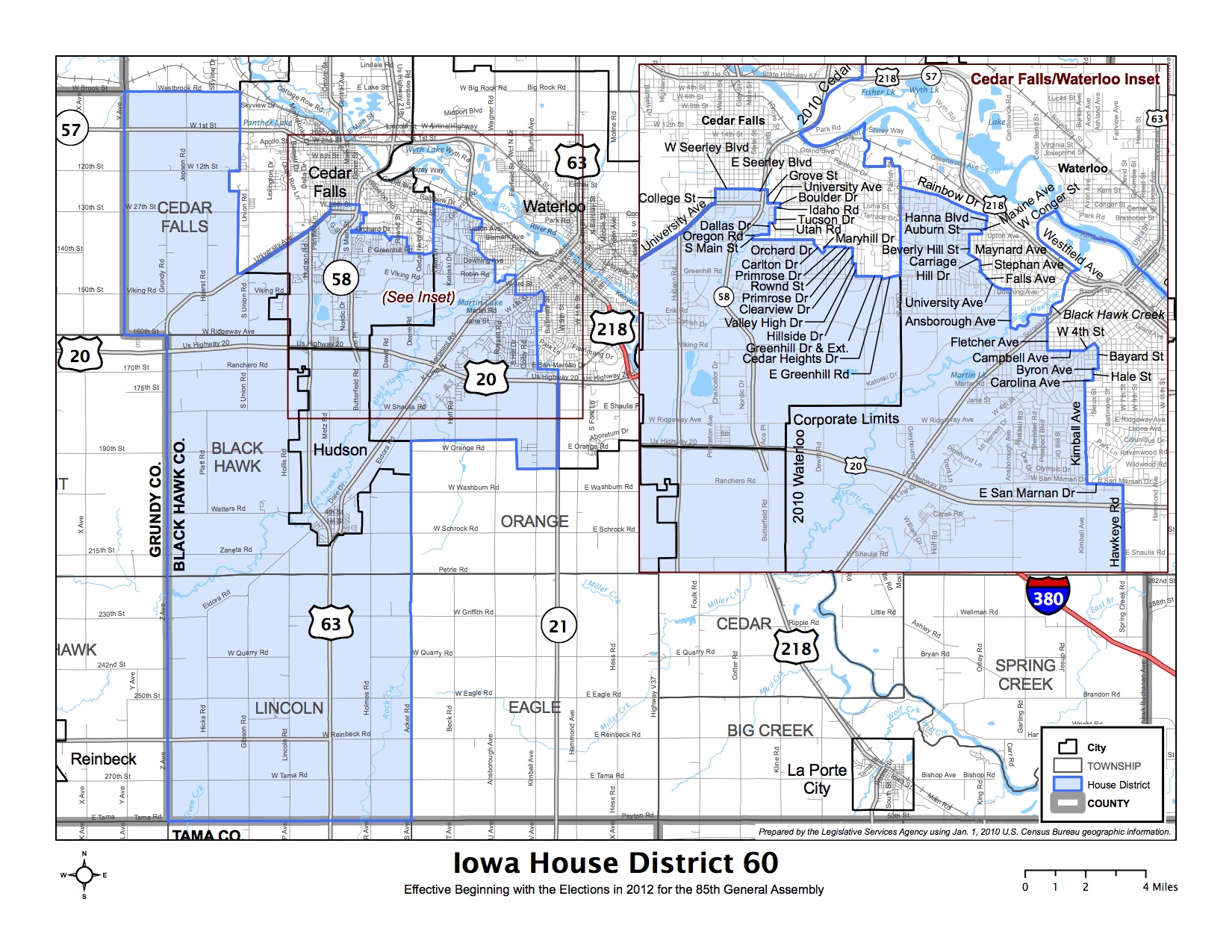 If there's any justice in the world, first-term Republican Ashley Hinson will pay a price in House district 67. When leadership needed her to fall in line, this self-styled "libertarian" on Planned Parenthood services voted to defund the state's leading provider of reproductive health care in 2017. This year, Hinson outdid herself by backing the most restrictive abortion ban in the country, a clear violation of women's constitutional rights. Why? I can't tell you, because this former television reporter has never responded to a single one of my inquiries about her stance on any issue.
This suburban district in Cedar Rapids is unusual in that residents favored Clinton in 2016 (47.2 percent to 45.7 percent) after Romney narrowly carried the same precincts four years earlier (49.5 percent to 49.2 percent). The Trump brand won't be strong here, that's for sure.
Democratic challenger Eric Gjerde is another DLCC "spotlight" candidate and had more than $43,000 cash on hand in mid-July. He'll need support from the state party to be financially competitive with Hinson. She's a better fundraiser than most of her colleagues and had nearly $65,000 in the bank two months ago.
According to the latest figures, House district 67 contains 6,503 active registered Democrats, 7,187 Republicans, and 8,175 no-party voters.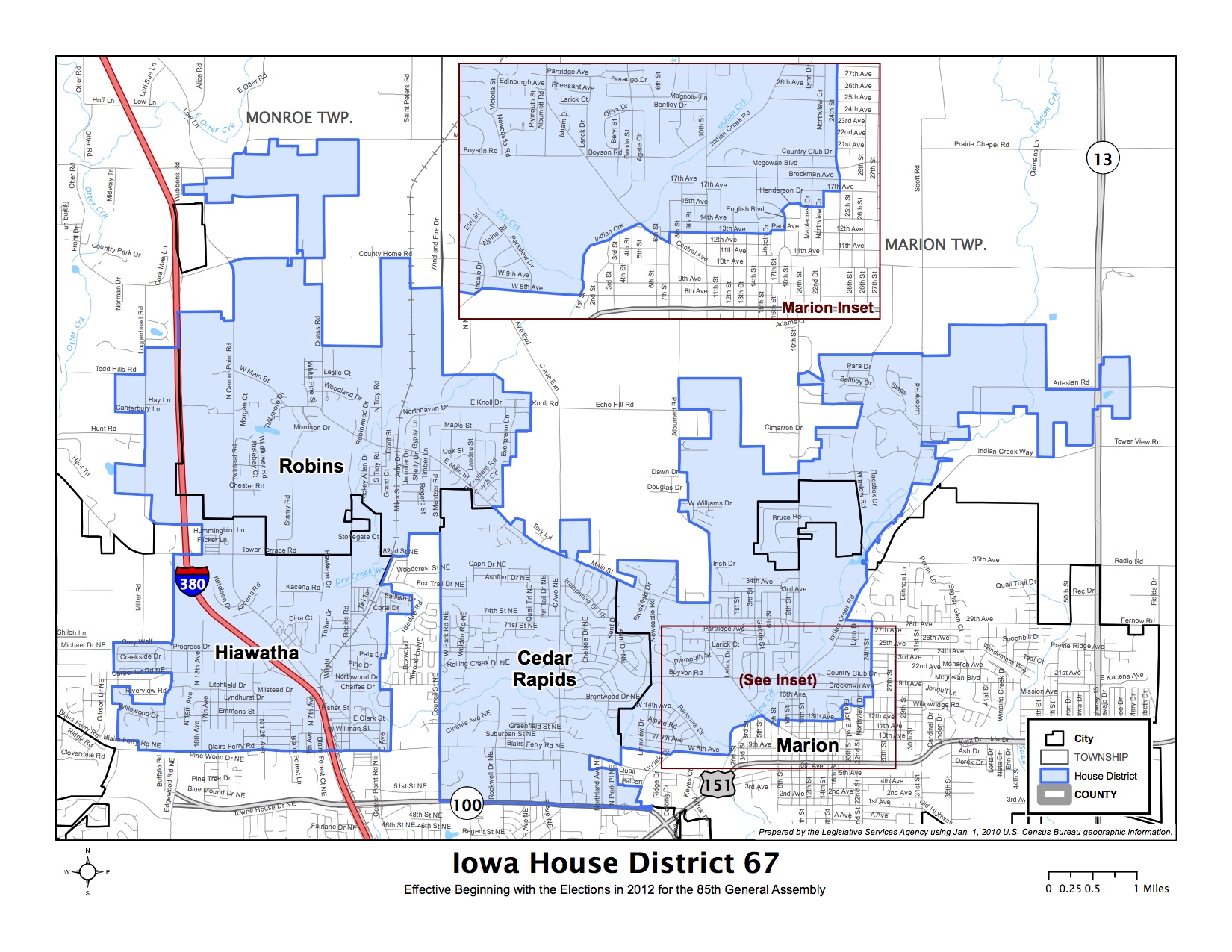 House district 68 covers more suburban neighborhoods in the Cedar Rapids metro area. Democratic candidate Molly Donahue, a longtime public school teacher, fell short against State Representative Ken Rizer two years ago, but Rizer's retirement makes this open seat a top pickup opportunity. Clinton underperformed Obama here but still outpolled Trump by 48.2 percent to 44.5 percent. The current voter registration numbers are also encouraging: 7,038 active Democrats, 6,188 Republicans, and 8,210 no-party voters.
As Josh Hughes noted, Donahue is far from the best fundraiser in the crop of Democratic state House candidates. GOP nominee Randy Ray is even weaker in that department, but Republican leaders have the capacity to spend hundreds of thousands of dollars here. The question is whether they will want to make that investment in a district that's trending against them, rather than focus their resources on incumbent protection.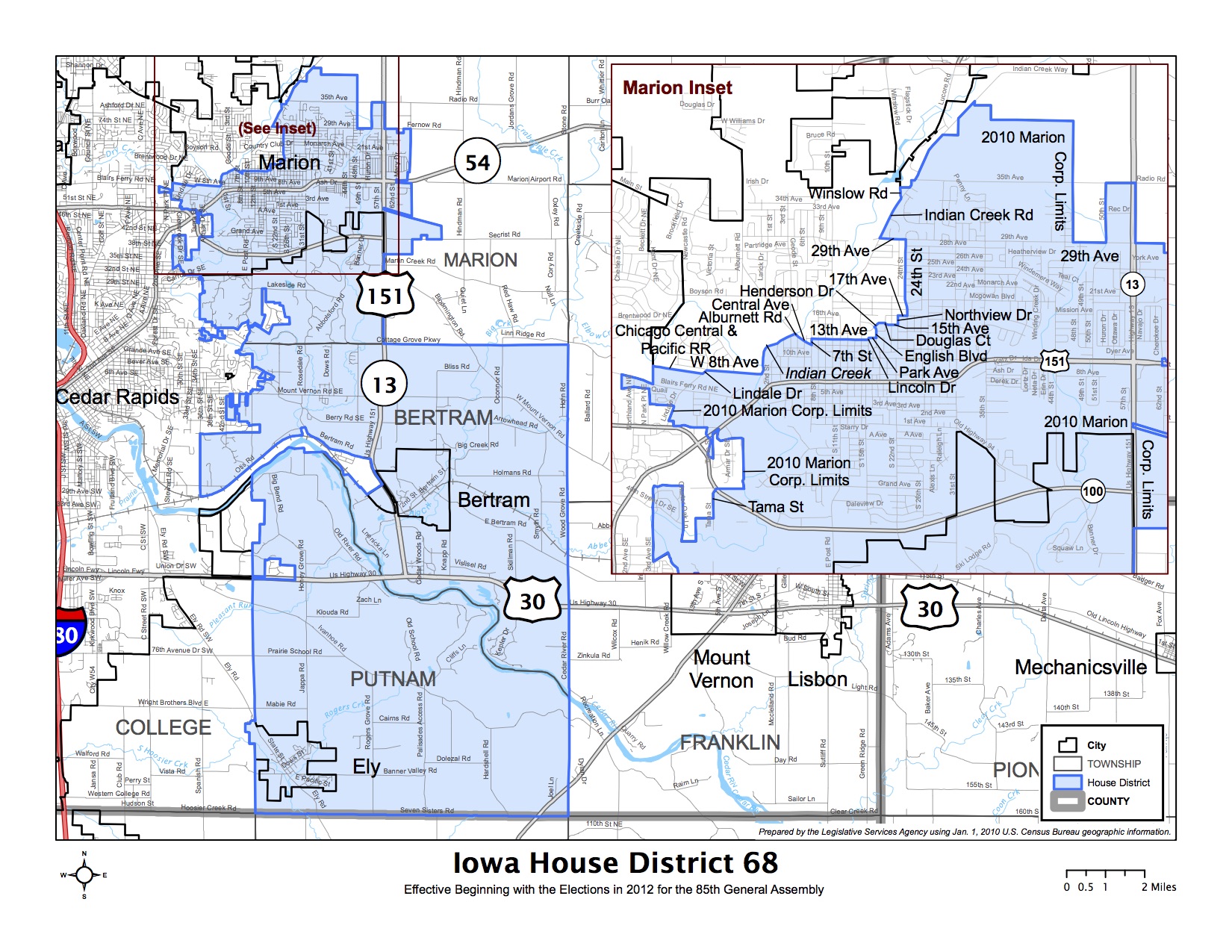 Democrats had high hopes of picking up House district 95 two years ago, but Louis Zumbach won the open seat by nearly 2,800 votes. The swing to Trump was large here, from a 5-point margin for Obama in 2012 to a nearly 10-point margin for the 2016 GOP nominee.
Toward the end of this year's legislative session, Zumbach showed an independent streak by voting against both the six-week abortion ban and the energy bill that was a giveaway to utility companies.
This district is nearly evenly divided politically. As of early September, its precincts contained 6,333 active registered Democrats, 6,428 Republicans, and 8,235 no-party voters.
Democratic challenger Christian Andrews has been working the doors hard and reported more cash on hand in July than Zumbach. I share Josh Hughes' view that the incumbent is slightly favored here, but both parties are likely to spend money on this race. The previous Republican to represent this area won by only 200 votes in 2012, the last good general election for Iowa Democrats.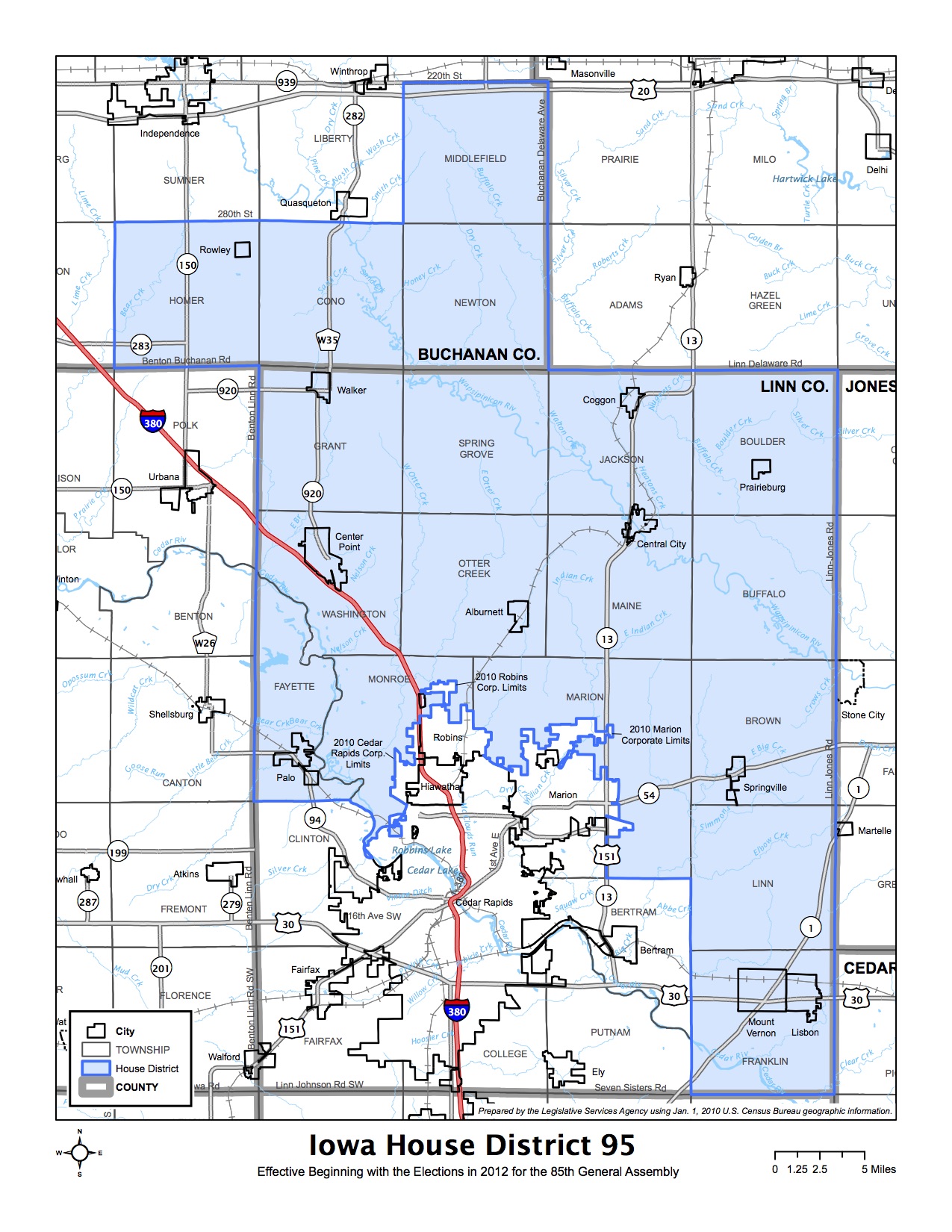 Final note: two other conceivably competitive Iowa House districts are located within the first Congressional district. Although Democrats have a voter registration advantage in House district 58, I consider that race a likely Republican hold. State Representative Andy McKean is an unusually well-positioned incumbent, with a long record of previous service as state senator and county supervisor.
House district 63 was among the closest legislative races in 2012, and the GOP voter registration advantage is not large. However, the lopsided results there in 2014 and 2016 make me skeptical State Representative Sandy Salmon can be beaten. I'd love to be proven wrong about that, because she is one of the worst in the House GOP caucus.