Republicans are all but guaranteed to maintain control of the Iowa Senate after November and could expand their majority, now at 29 out of 50 seats. However, Democrats have a chance to pick up a few districts as they work toward winning back the chamber in 2020.

Only the odd-numbered Senate districts are on the ballot in 2018. Of the 25 state senators not up for re-election this year, nineteen are Republicans and just six are Democrats, a reminder of what a bloodbath the 2016 election was for the party.
The GOP is guaranteed to pick up Senate district 1, where independent State Senator David Johnson is retiring and Republican Zach Whiting is the only candidate on the ballot. Republican State Senator Jason Schultz also has no opponent.
Democrats have six Senate incumbents not up for re-election in 2018 and another six with no Republican challenger (Tony Bisignano, Herman Quirmbach, Bill Dotzler, Todd Taylor, Zach Wahls, and Jim Lykam).
In other words, Republicans have a 21 to 12 advantage before we consider any potentially competitive Senate races.
Of the districts where both Republicans and Democrats have candidates, lopsided voter registration numbers and recent election outcomes give GOP incumbents a strong advantage in the following races:
Senate district 3 (Jim Carlin)
Senate district 11 (Tom Shipley)
Senate district 25 (Annette Sweeney)
The same factors make Democrats a safe bet to hold the following seats:
Senate district 21 (open seat, Claire Celsi is the Democratic nominee)
Senate district 33 (Rob Hogg)
Senate district 43 (Joe Bolkcom)
To sum up: Republicans are nearly assured of holding 24 Senate seats after November, while Democrats have only 15 seats in the bag.
That leaves eleven Iowa Senate races to watch. I've grouped them into four categories.
REPUBLICAN-HELD OPEN SEAT
Democrats were targeting two open seats formerly represented by Republicans swept in by the 2010 wave. But a few weeks ago, Senator Rick Bertrand reversed his decision to retire. Consequently, only one GOP-held Senate district lacks an incumbent.
Senate district 41 covers a large area, but most of its residents live in or near the cities of Ottumwa or Fairfield. Neither party holds a clear advantage on paper. The latest available statistics show this district contains 13,542 active registered Democrats, 10,645 Republicans, and 10,970 no-party voters. But Donald Trump crushed Hillary Clinton here by 56.9 percent to 37.9 percent. In the 2014 election, Republican U.S. Senate candidate Joni Ernst outpolled Bruce Braley by 49.3 percent to 45.5 percent.
Democrat Mary Stewart, a retired educator, will face Republican Mariannette Miller-Meeks, a three-time GOP nominee for Congress. Bleeding Heartland posted more background on Stewart and Miller-Meeks here. Expect heavy spending by both parties on direct mail, radio and/or television advertising for this race.
Rating: toss-up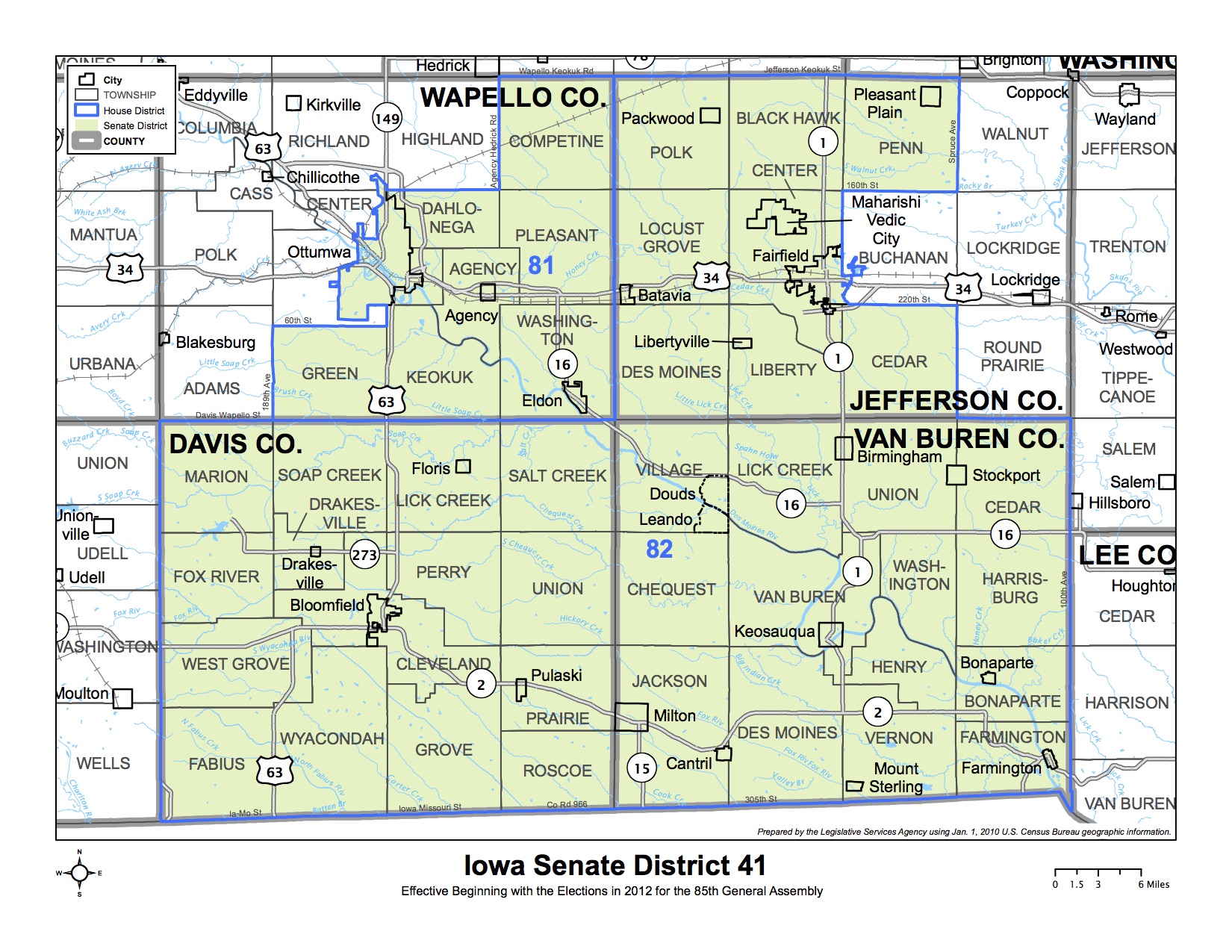 DEMOCRATIC-HELD OPEN SEATS
If Democrats lose both of these races, they will have almost no chance to control the Iowa Senate until after the next round of redistricting (assuming Iowa still has non-partisan redistricting after 2020--I suspect Republicans will bring back gerrymandering if they have an opportunity).
Senate district 15 is by far the Democratic-held seat most likely to flip. As Bleeding Heartland discussed in more detail here, the unexpected retirement of State Senator Chaz Allen prompted rising Republican star Zach Nunn to jump into this race. The third-ranking member of the Iowa House GOP leadership team has already been elected twice by voters living in House district 30. Furthermore, Nunn's territory in Polk County has grown faster since the last census than the other half of the Senate district. His opponent will be the much less well-known Dan Nieland, who lost the June Democratic primary in House district 30.
This district is one of Iowa's most evenly-divided in terms of voter registration, with 14,511 active registered Democrats, 13,819 Republicans, and 15,118 no-party voters at the beginning of September. But residents have favored Republicans in top-of-the-ballot races the last two election cycles. When Allen won this open seat in 2014, voters here preferred Ernst for U.S. Senate by 52.5 percent to 42.7 percent for Braley. Trump beat Clinton by 54.1 percent to 39.5 percent.
Rating: likely Republican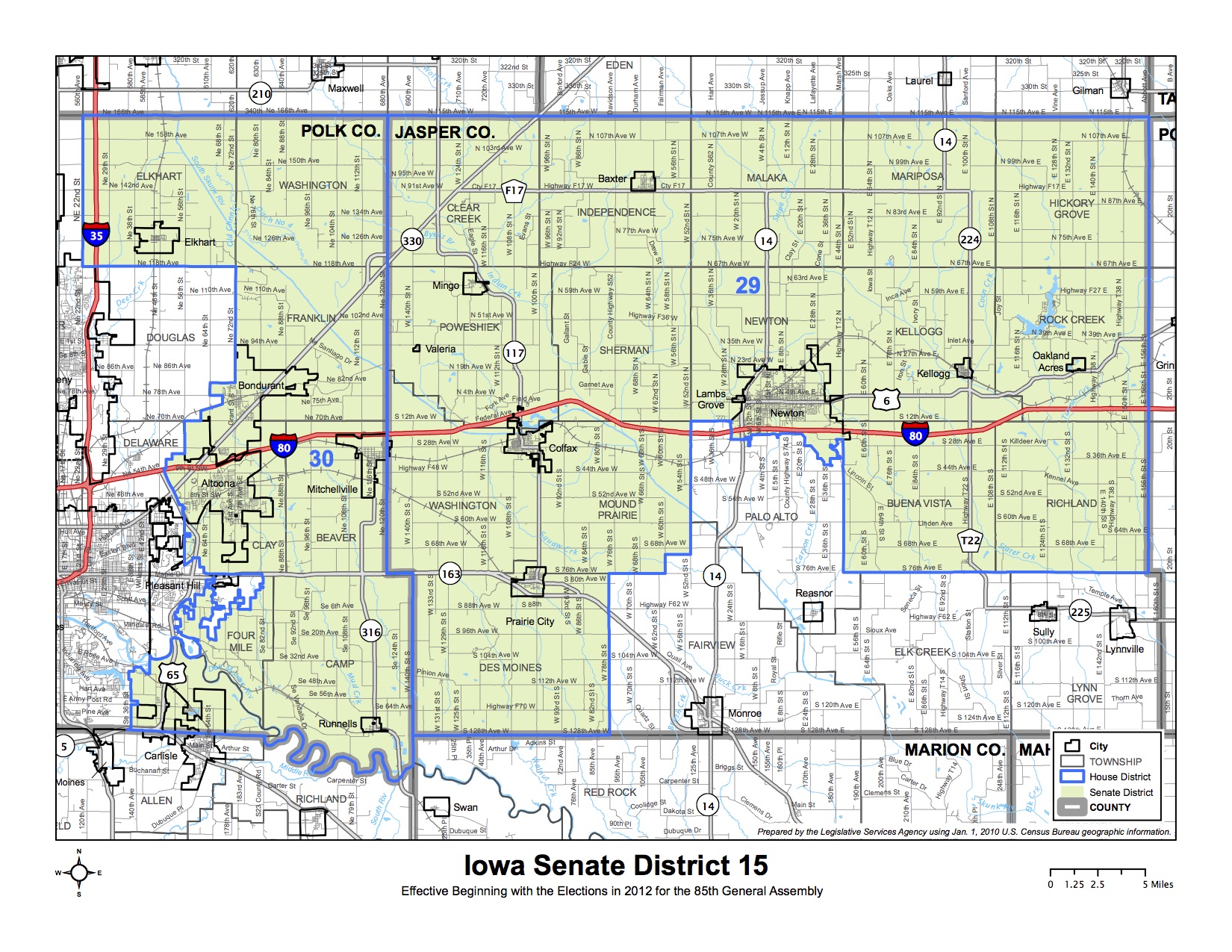 Senate district 49 is open because Senator Rita Hart agreed to accept the Democratic nomination for lieutenant governor. Democrats recruited Patti Robinson, who has a background as an educator and Medicaid case manager. Republican small business owner and Pleasant Valley School Board President Chris Cournoyer has been actively campaigning since late 2017. Bleeding Heartland published more background on both candidates in a July profile of this race, which I consider a toss-up.
Neither party has a significant advantage on paper. The latest voter registration numbers show 11,645 active registered Democrats, 10,965 Republicans, and 17,465 no-party voters. Residents of Senate district 49 favored Ernst in 2014 by 50.0 percent to 45.7 percent and Trump in 2016 by 51.7 percent to 42.0 percent.
Rating: toss-up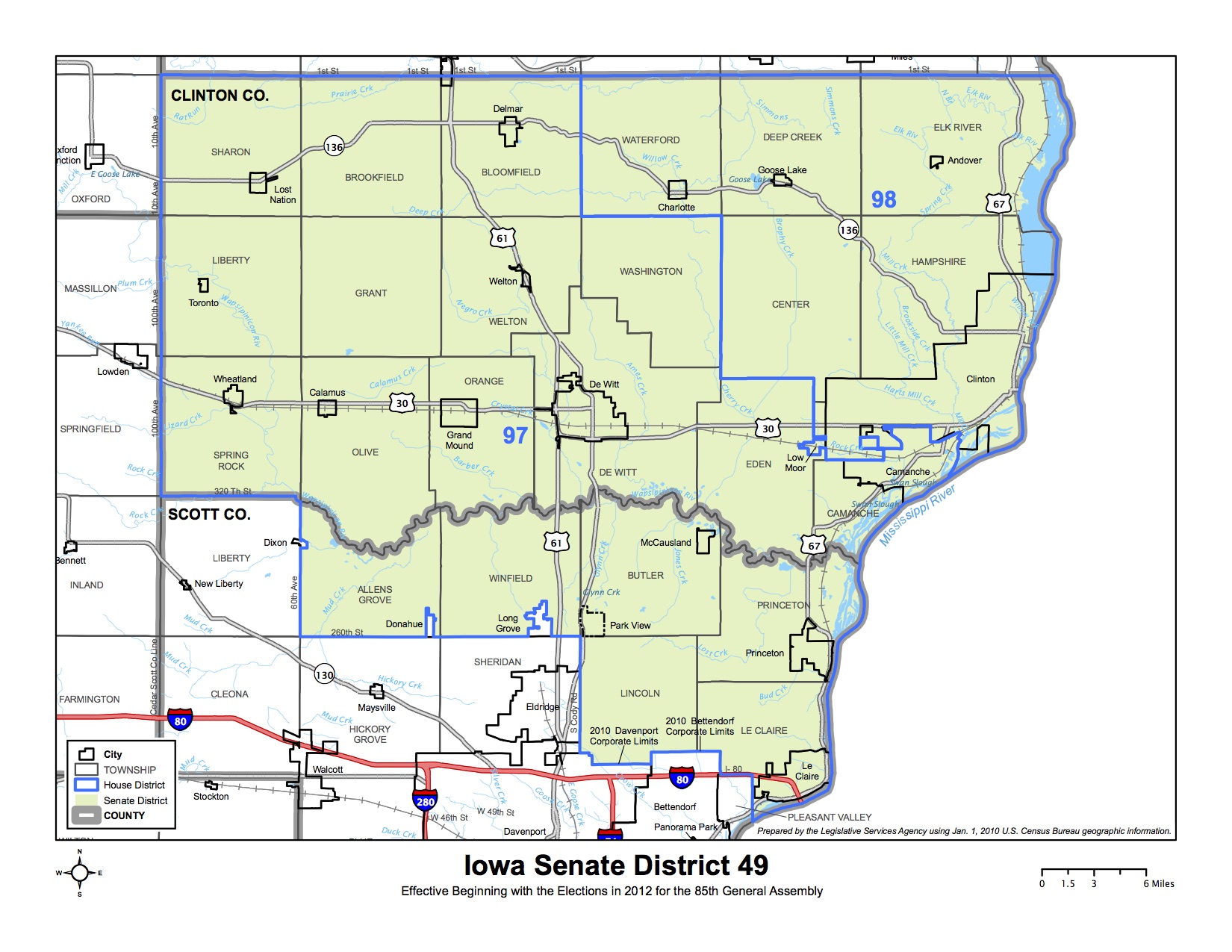 REPUBLICAN INCUMBENTS FACING DEMOCRATIC CHALLENGERS
Senate district 5 was a Republican pickup in 2014, when financial advisor Tim Kraayenbrink defeated three-term Democratic incumbent Daryl Beall. Though Beall had survived the 2010 GOP wave, his territory changed substantially under Iowa's new political map. Democratic leaders had more trouble recruiting a challenger here than in most of the other state legislative districts this cycle. Kraayenbrink will face John O'Brien, a principal of a school for at-risk children and Army veteran who formerly ran a construction company with his brother. He previously served on the city council in Atlantic, where he grew up, which is not part of Senate district 5.
Registered Republicans outnumber Democrats here by 13,423 to 10,262, and 14,687 active registered voters are affiliated with no party. That might not sound like a large GOP advantage, but the recent voting history makes clear this race is an uphill climb for a Democrat. Ernst outpolled Braley in Senate district 5 by 59.1 percent to 36.1 percent in the last midterm, and Trump nearly doubled Clinton's vote share: 63.2 percent to 31.9 percent.
Rating: likely Republican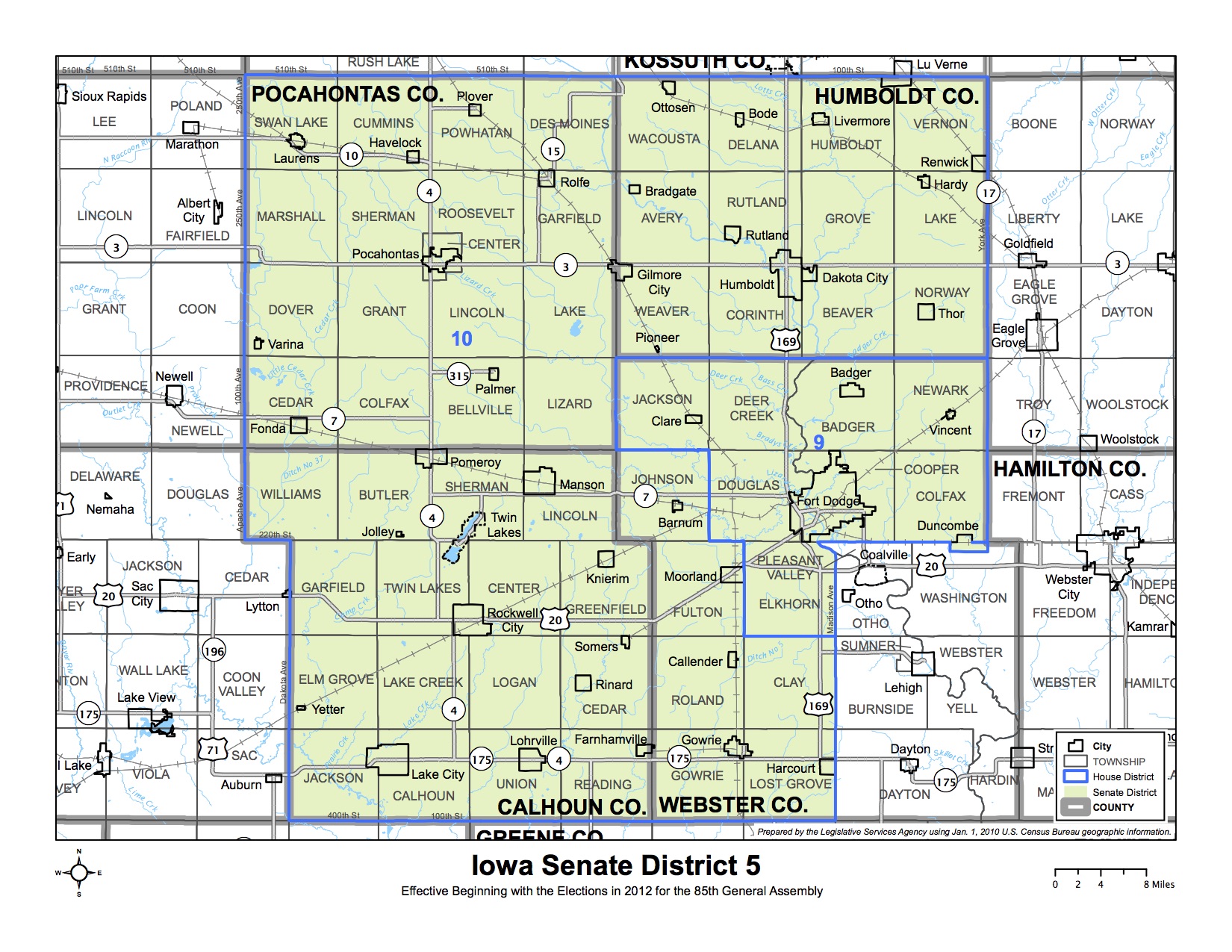 Senate district 7, covering much of Sioux City, is the best prospect for Democrats in this group. Although it was bad luck that Republican bigwigs including Governor Kim Reynolds talked Rick Bertrand out of retiring, Democrats have a strong candidate in former Woodbury County Supervisor Jackie Smith (click here for more background). Local activists are highly engaged.
The latest figures show Senate district 7 contains 11,111 active registered Democrats, 9,055 Republicans, and 10,160 no-party voters. Trump carried this area by a smaller margin than most other GOP-held legislative districts: 49.7 percent to 44.1 percent. Ernst's margin in the 2014 U.S. Senate race was similar: 50.0 percent to 44.7 percent.
Rating: toss-up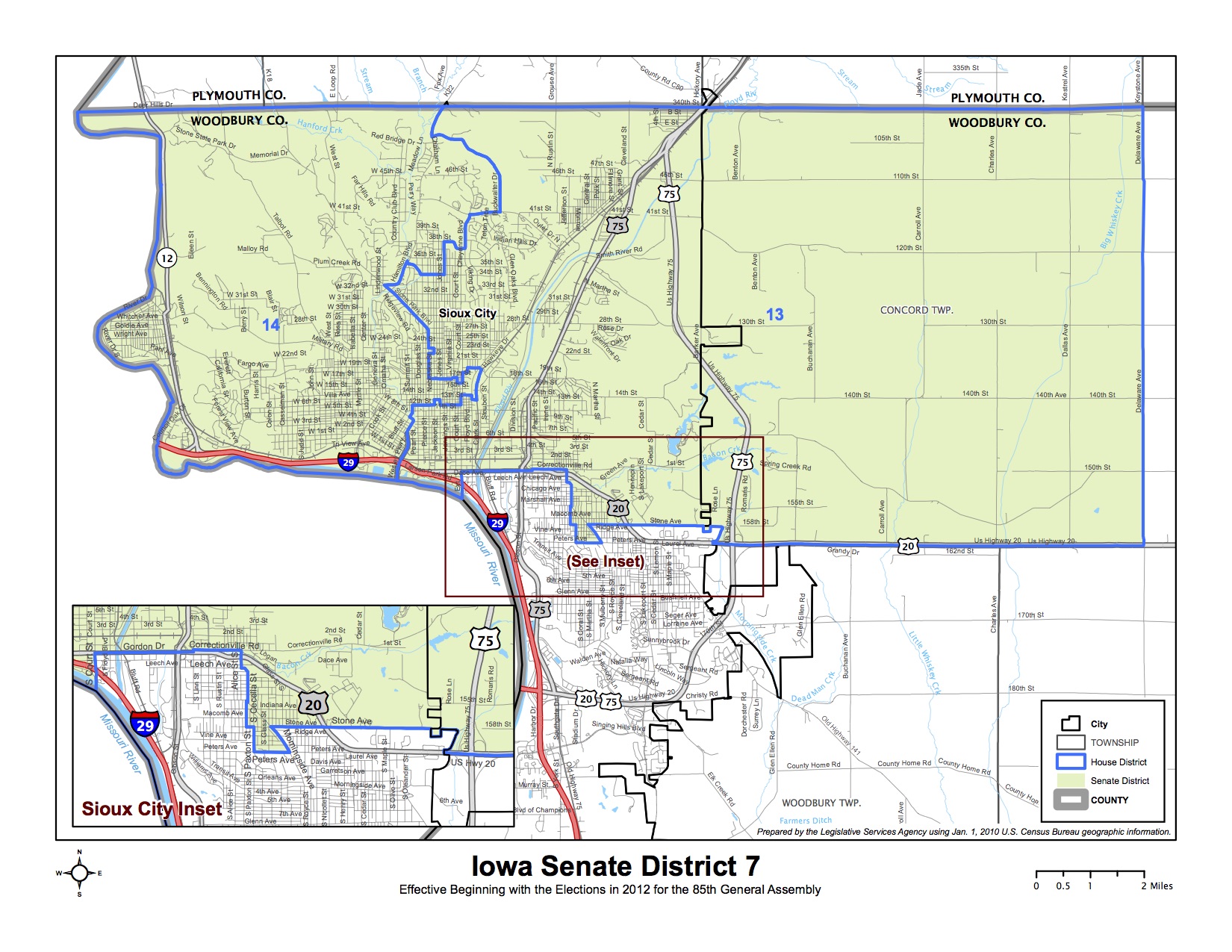 Senate district 13 didn't make the cut when I started thinking about competitive Iowa Senate races last year. But if 2018 turns out to be a good year for Democrats, this seat could flip. Republican Senator Julian Garrett didn't face a strong opponent in 2014 and won re-election by more than 6,000 votes. This year's nominee Vicky Brenner has strong connections both in Madison County where she lives and in Warren County, where thousands of families know her as a retired Indianola High School teacher. She has been working hard and raised an impressive amount of money for a first-time candidate. Her campaign had $43,171.34 in the bank in the middle of July, compared to $17,682.31 for Garrett.
A wild card in this race is Fred Hubbell. The Democratic nominee for governor is a longtime trustee and major donor to Simpson College, a large employer in the district. I don't expect Hubbell to have big coat-tails in most legislative races, but his contacts in the area could bring out more supporters and help Brenner.
No question, the territory favors Garrett: 12,330 active registered Democrats, 15,503 Republicans, and 15,234 no-party voters. Ernst carried Senate district 13 by 56.9 percent to 38.6 percent in 2014. Trump's vote share was similar: 56.7 percent to 36.8 percent.
Rating: likely Republican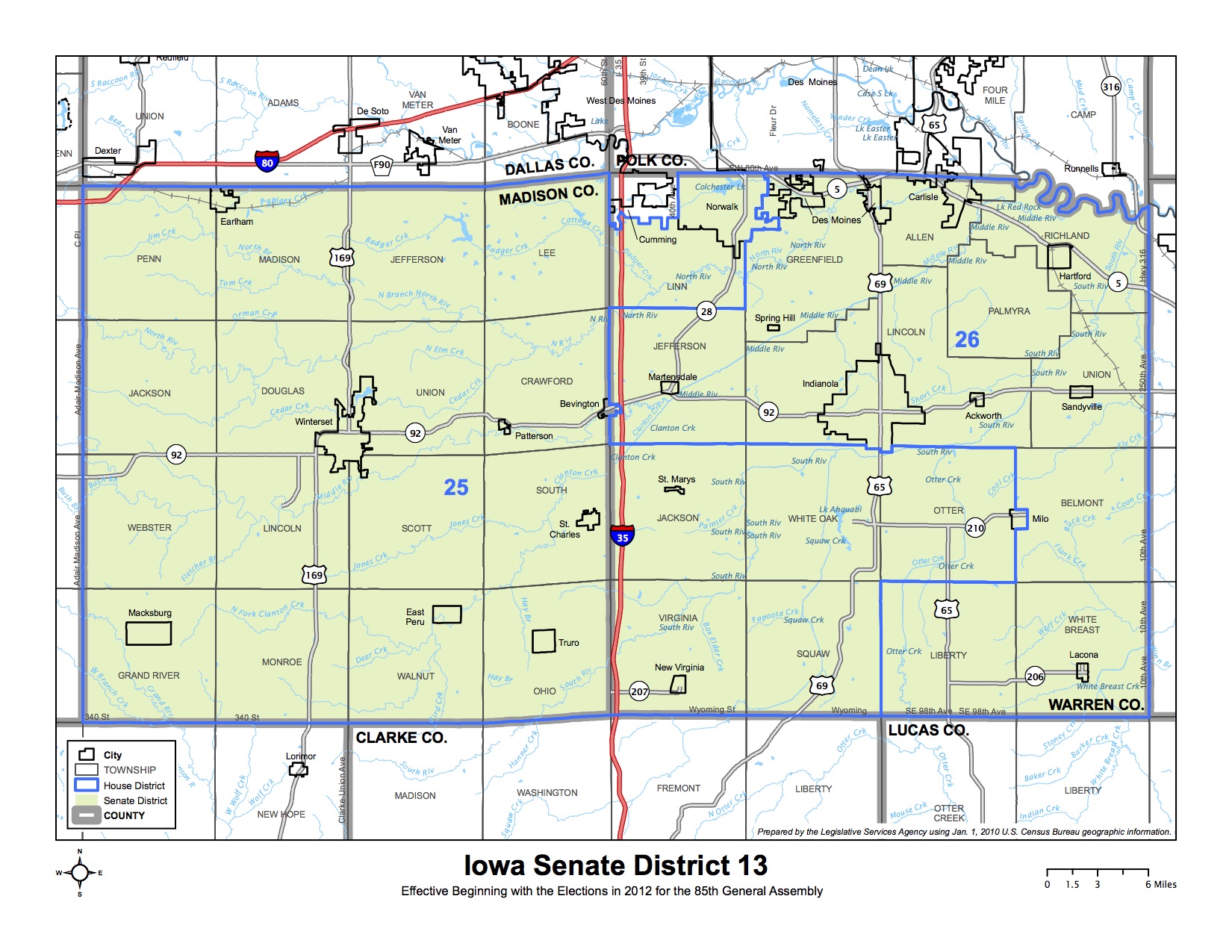 Senate district 19 is another seat I didn't view as likely to be competitive last year. Republican Jack Whitver didn't even have an opponent in 2014. That was then, this is now. Amber Gustafson, a former state chapter leader of Moms Demand Action for Gun Sense in America, is running a strong campaign.
Whitver is still favored. He moved up this year from Senate president to majority leader after Bill Dix resigned in disgrace, so he has raised tons of money. As of mid-July, his campaign had $445,262.48 cash on hand. Though most of those funds will go to the Republican Party of Iowa to be used in other Senate districts, Whitver will have plenty to spend in his district if he feels pressure.
The Ankeny area has traditionally been a conservative suburb, but with more young people moving in over the past decade, the Republican advantage is not what it once was. Senate district 19 contains 14,596 active registered Democrats, 17,710 Republicans, and 16,226 no-party voters. At this point of the 2014 campaign, GOP voters in Whitver's district outnumbered Democrats by nearly 4,000.
Ankeny also has a much higher share of adults with college degrees (45.9 percent) than does Iowa as a whole (27.2 percent), which is no doubt why Senate district 19 is one of the few GOP-held state legislative districts where Trump underperformed Mitt Romney. The 2012 GOP presidential nominee carried 52.5 percent of the vote in these precincts, whereas Trump won 50.2 percent four years later. Voters here preferred Ernst in the 2014 U.S. Senate race by 56.4 percent to 40.0 percent.
Heather Matson, the Democratic challenger in House district 38 (half of this Senate district) has had a team of interns from Jason Kander's Let America Vote organization canvassing on her behalf since June. The Ankeny Area Democrats have a thriving volunteer base, and the main Des Moines Area Community College campus is located within Senate district 19. Those factors can only help Gustafson, who's been knocking on doors herself for many months. Don't be shocked if an upset happens here.
Rating: likely Republican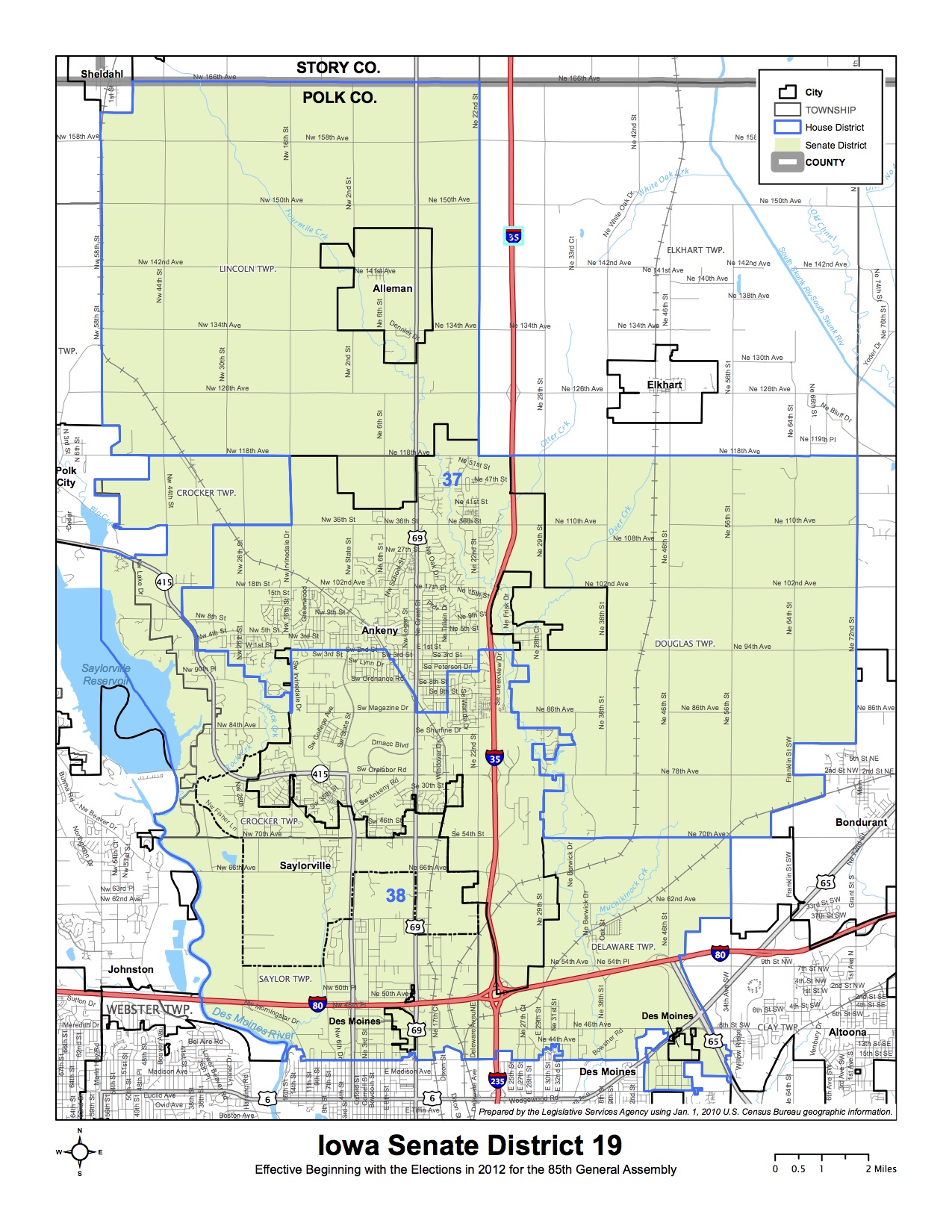 Senate district 47 is similar demographically to Ankeny, covering mostly well-off areas in the Quad Cities. Some 49 percent of adults in Bettendorf, the population center of the district, have a bachelor's degree or higher. Two-term incumbent Roby Smith is the only Republican senator up for re-election this year whose constituents voted for Clinton in the last presidential election; she received 47.1 percent of the vote to 46.5 percent for Trump. Four years earlier, Obama had carried the district with 50.6 percent of the vote. Ernst won the Senate district 47 precincts by a comfortable margin in 2014, though: 53.0 percent to 44.5 percent.
The latest voter registration totals show 13,293 active registered Democrats, 14,697 Republicans, and 17,908 no-party voters.
Democratic challenger Marie Gleason has worked for 20 years at John Deere, a major employer in the Quad Cities. Many new volunteers have become active with the Scott County Democrats since the 2016 election, and there is a strong Indivisible chapter in the area. So while Smith won re-election in 2014 by about 3,400 votes, this year's race should be much closer. Nevertheless, Senate district 47 is a steep climb.
Rating: likely Republican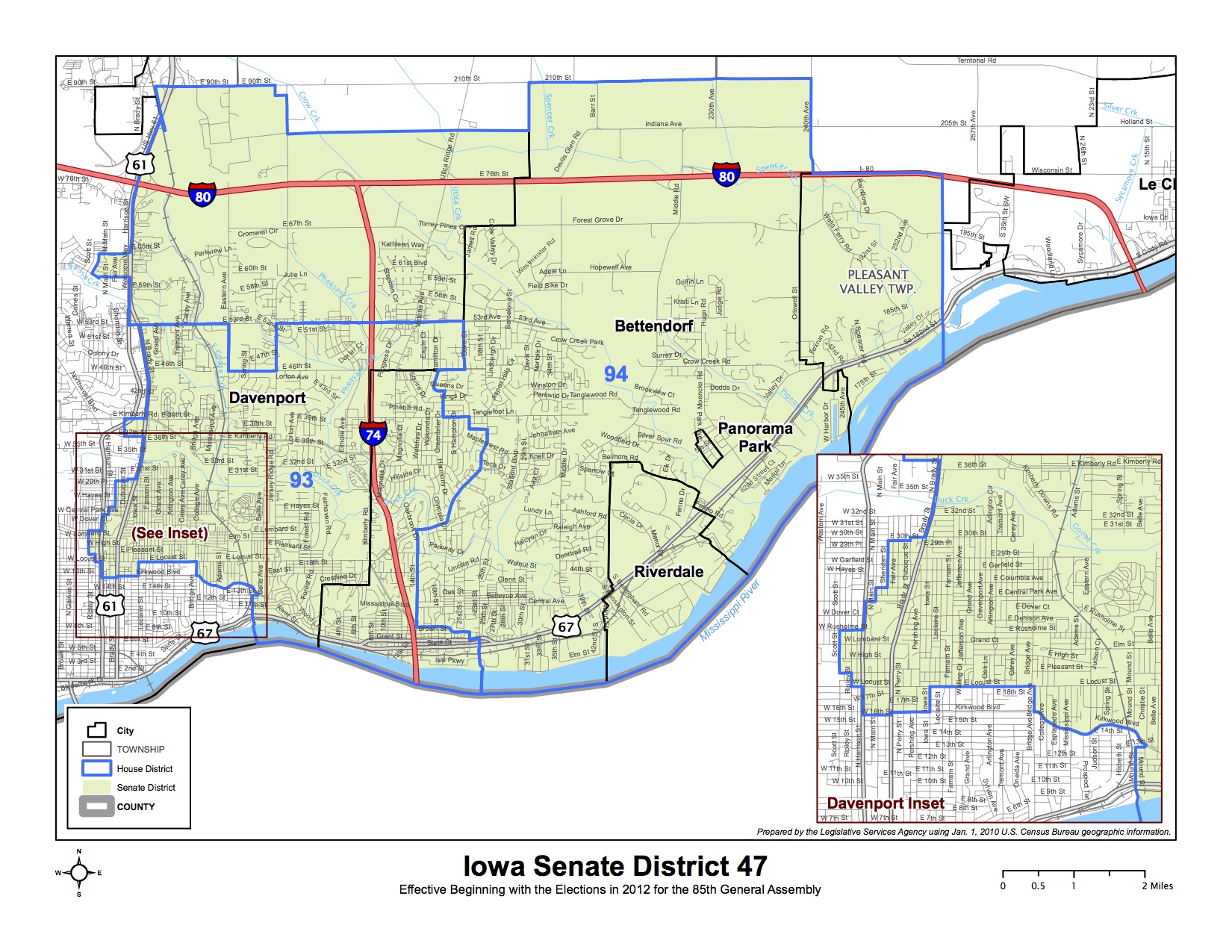 DEMOCRATIC INCUMBENTS FACING REPUBLICAN CHALLENGERS
Democrats will likely lose the open Senate district 15, so they can't afford to give up any more ground.
Four-term incumbent and Senate minority whip Amanda Ragan is well-positioned in Senate district 27, but this could be her toughest re-election campaign, despite a more favorable environment for Democrats statewide. Republicans didn't recruit top-tier challengers here in 2010 or 2014 and didn't invest much in the race. In contrast, Shannon Latham comes from a well-known family and is co-owner and vice president of Latham Hi-Tech Seeds. She should have the resources to spend far more than the $31,506.12 her campaign had on hand in mid-July. (Ragan's filing reported $86,799.42 on hand.)
According to the latest figures, Senate district 27 contains 10,345 active registered Democrats, 12,844 Republicans, and 15,844 no-party voters. That's only slightly larger than the GOP voter registration advantage here at this stage of the 2014 campaign. Ragan won re-election that year by nearly 2,900 votes despite a terrible rout of Democratic candidates statewide.
A large swing in presidential voting was apparent across northeast Iowa in 2016, and this area was no exception. Trump outpolled Clinton in Senate district 27 by 54.8 percent to 39.8 percent, whereas Obama had won 53.0 percent of the vote in 2012 to 45.9 percent for Romney. On the other hand, Braley did less badly here in the 2014 U.S. Senate race than he did statewide, losing to Ernst by only a 3-point margin.
I see Ragan as favored to win again, but Democrats will probably need to spend much more money on this race than they did in the later stages of the 2014 campaign.
Rating: lean Democrat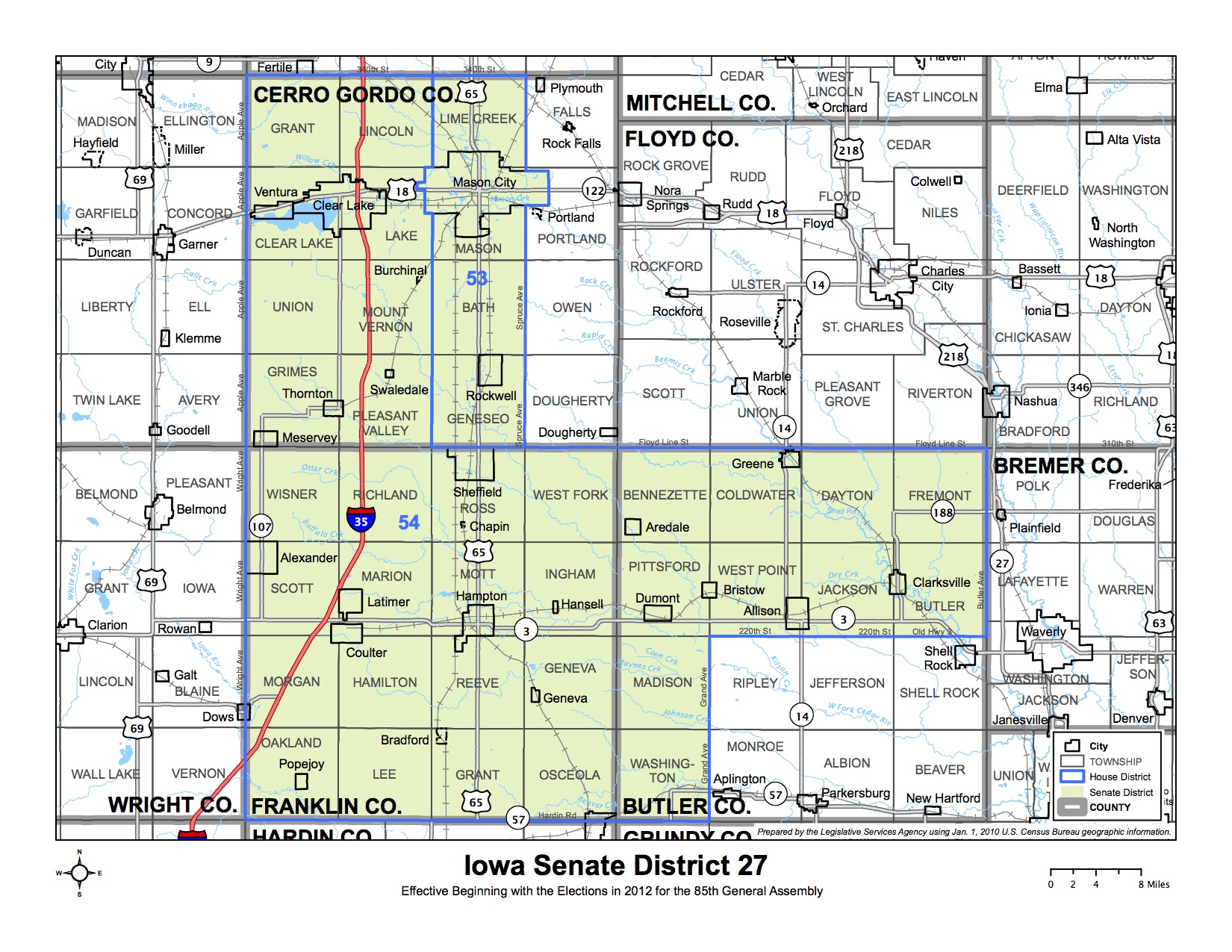 Senate district 29 was a snoozefest in 2014. Senator Tod Bowman drew an extremely weak challenger, and the Republican Party didn't invest in the race. However, GOP operatives have been talking up this year's recruit Carrie Koelker, who has long worked in economic development in the area.
As Jeff Singer pointed out at Daily Kos last year, five Iowa Senate Democrats represent districts that swung from Obama 2012 to Trump 2016, and Bowman's district is the "Trumpiest seat in the bunch." Obama carried these precincts by 52.2 percent to 46.8 percent for Romney, while Trump won 57.7 percent and Clinton only 37.2 percent. Moreover, as Bleeding Heartland discussed in July,
• Republicans hold both of the Iowa House seats contained in Bowman's district (Shannon Lundgren in House district 57 and Andy McKean in House district 58).

• Dubuque County voted for the GOP presidential candidate in 2016 for the first time since 1956, largely thanks to precincts outside the city of Dubuque, which are part of Bowman's Senate district.
According to the latest official figures, there are 14,678 active registered Democrats, 11,807 Republicans, and 17,411 no-party voters in Senate district 29. That's a comfortable cushion, but four years ago, Democrats outnumbered Republicans here by about 4,000.
I was surprised Bowman didn't raise much money after the legislature adjourned this spring. He reported $37,209.25 cash on hand in mid-July. For someone with lots of business contacts, Koelker hasn't been an effective fundraiser and had just $9,264.98 in the bank at that time. Republicans could easily spend six figures here if they see an opening, though.
Final note: Bowman was one of four Democratic senators to vote for the sweeping Republican pro-gun bill in 2017, which included "Stand Your Ground" and relaxed rules on permits and concealed carry. His vote could keep the gun advocacy groups from getting involved in Senate district 29. The Iowa Firearms Coalition targeted several Senate Democrats during the 2016 campaign.
Rating: likely Democrat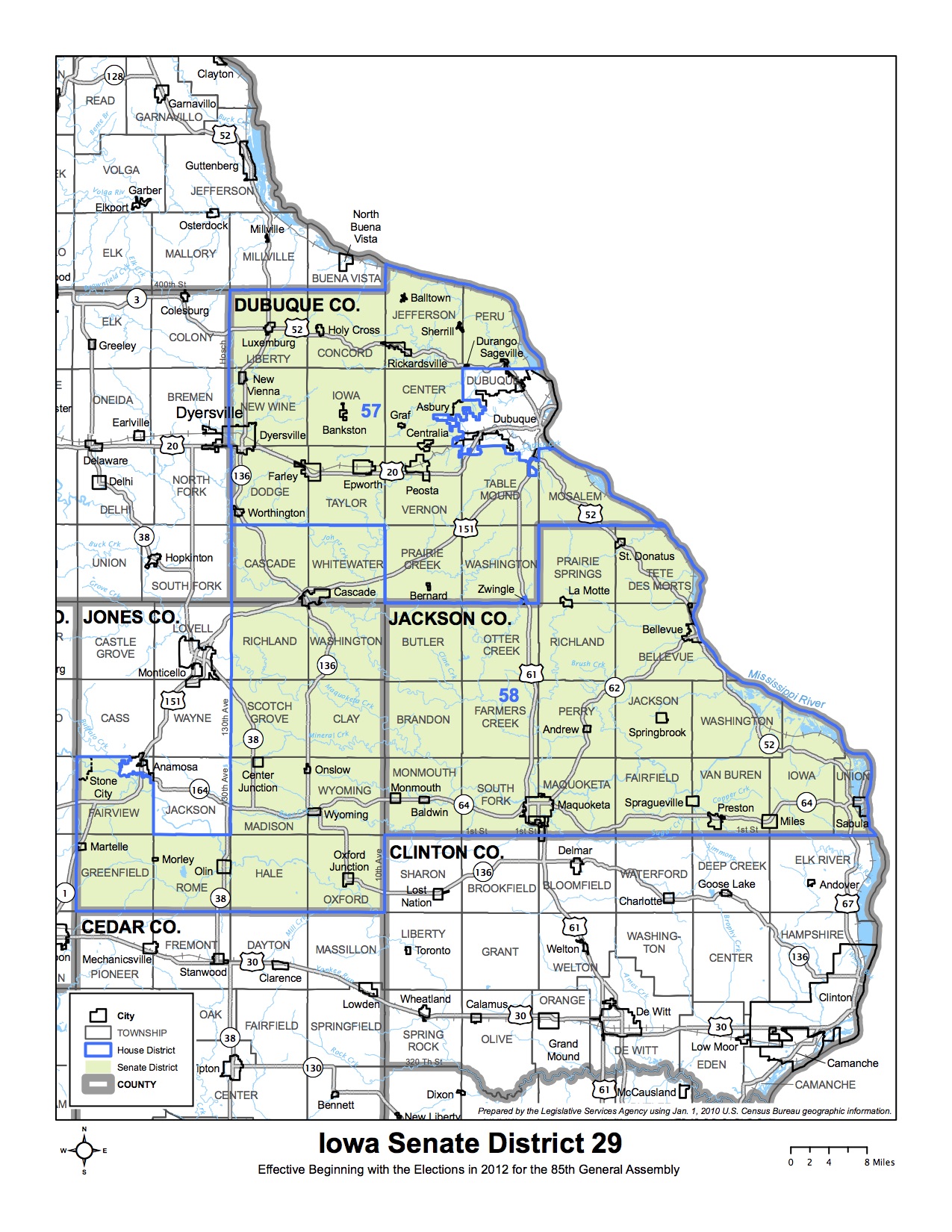 Senate district 39 was one of the few bright spots for Iowa Democrats on election night 2014. Johnson County Deputy Sheriff Kevin Kinney preserved the 26-24 Senate majority by winning the seat vacated by retiring Republican Sandy Greiner. GOP leaders had challengers lined up in most of the Senate districts by the end of 2017, but farmer and Iowa Pork Producers member Heather Hora filed close to the March deadline.
On paper, this district looks like a toss-up: 13,175 active registered Democrats, 13,279 Republicans, and 15,149 no-party voters. I give the incumbent an edge, though. He won his first race even as Ernst carried his district by nearly 6 points. Trump outpolled Clinton here, but not by much: 48.7 percent to 44.9 percent.
Other factors working in Kinney's favor: law enforcement candidates have often done well in Iowa legislative races. (He's retired now from the sheriff's office but it still widely known for that work.) Johnson County has been gaining population faster than the other half of this district. While the most progressive areas of "the People's Republic" are not part of Senate district 39, a large pool of Democratic volunteers will be nearby to help Kinney if signs point to trouble.
As of mid-July, Kinney's campaign had $38,461.85 cash on hand and Hora's only $6,087.45. No one should get complacent, because Republicans could dump a lot of money here in a hurry. But I expect the GOP to focus on other pickup opportunities and defending their own seats.
Rating: likely Democrat