Prospects for Democrats to gain ground in the Iowa Senate took a sharp turn for the worse over the past week. The party's best pickup opportunity became a more difficult race when GOP incumbent Rick Bertrand unexpectedly decided to seek a third term after all. Meanwhile, Republicans landed their strongest possible candidate for a Democratic-held seat now open because of Senator Chaz Allen's unexpected retirement.

Republicans hold 29 of the 50 Iowa Senate seats and will win Senate district 1, where independent State Senator David Johnson is retiring and Democrats have no candidate.
A net gain of at least two seats this year would give Democrats a realistic chance of winning the Iowa Senate majority in 2020. Until this week, two GOP-held seats were open, both covering areas Democrats have represented in the recent past. Now Democrats are competing in only one Senate race with no incumbent: district 41, including the Ottumwa and Fairfield areas.
FROM LIKELY PICKUP TO TOSS-UP IN SENATE DISTRICT 7
Iowa Senate district 7 covers the north and west sides of Sioux City and some other parts of Woodbury County.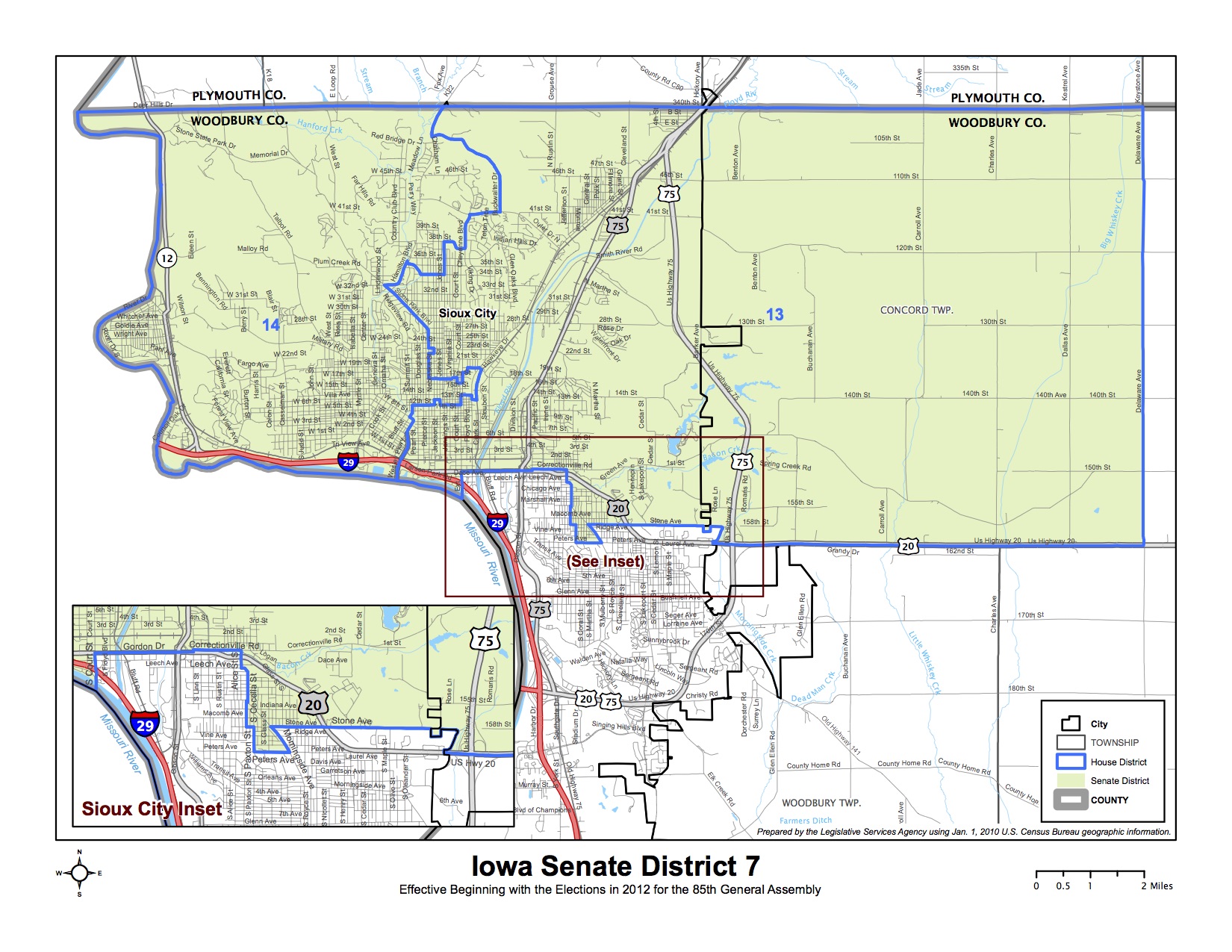 Democrat Steve Warnstadt represented much of this area until he retired in 2010. Bertrand won the open seat by a small margin in a GOP landslide year and won re-election in 2014 by double digits.
He had long indicated he was unlikely to run for the legislature again and seemed to have little incentive to stick around, having lost his committee chairmanship after the 2017 session. Bertrand was by far the most vocal Republican critic of his caucus leader Bill Dix, saying GOP leaders hadn't made any significant changes in response to a sexual harassment scandal. Dix himself resigned in March, two days before Bertrand announced he wasn't running again.
In his April retirement speech, Bertrand told Senate colleagues, "You know, I sincerely believe, and I talk term limits a lot. And although the temptation to run again is very strong–and it is very strong, and the power of incumbency, and this whole family thing, it's a good gig. But I said two terms, and two terms it is. I believe more of us need to think that way." The relevant portion begins at 2:20 in this video.
Democrat Jackie Smith, a former Woodbury Council supervisor, was widely seen as a strong favorite to win the open seat. But after little-known Republican Steven Stokes ended his campaign last week, heavy hitters set about recruiting Bertrand. A GOP special convention nominated him by acclamation on August 13. Bret Hayworth reported for the Sioux City Journal,
Bertrand on Tuesday acknowledged he had "unplugged" and grew a beard after the legislative session ended some weeks ago. He said calls of support to run for the seat again by people such as Gov. Kim Reynolds made an impression.

"You feel good when you are asked…when your governor calls you personally," he said.
Bertrand told the Des Moines Register's William Petroski on August 15 that Senate Majority Leader Jack Whitver had also asked him to run again.
"Ten days ago, I was on a roof shingling. So I had pretty much moved on," Bertrand said. "But I am a party man and a conservative first, and we are in the majority in the Senate and we want to keep that momentum going. So at this point, when your party comes asking, I think you have to step up."
Smith held a press conference on August 15 to "welcome" Bertrand back to the race. She highlighted his broken promise to serve only two terms and his terrible attendance record. The Sioux City Republican missed more floor votes and committee meetings than any other senator in either party. Bleeding Heartland covered his absences in 2017 here. While I didn't count every missed day this year, a review of Senate Journals shows Bertrand often was not present in the chamber.
Woodbury County Democrats are well-organized, and Smith is well-known in the area. She's knocked thousands of doors already, she said this week. So this race will not be a walk for Bertrand like his last re-election. But beating an incumbent is almost always harder than winning an open seat.
The latest voter registration totals show an advantage for Smith: 11,128 active registered Democrats, 9,090 Republicans, and 10,092 no-party voters. However, the recent voting history paints a less rosy picture: voters in Senate district 7 favored Republican Joni Ernst over Bruce Braley in the 2014 U.S. Senate race by 50.0 percent to 44.7 percent, and favored Donald Trump over Hillary Clinton in 2016 by 49.7 percent to 44.9 percent.
Republican leaders were unlikely to sink much money into Senate district 7 with Stokes on the ballot, but they may have promised Bertrand substantial financial help.
RAPID REVERSAL OF FORTUNE IN SENATE DISTRICT 15
What has transpired over the past month in Senate district 15 is the fastest reversal of fortune I can recall for any party in an Iowa legislative race.
First-term incumbent Chaz Allen was set to cruise to re-election. Although his district swung from 51.7 percent Barack Obama/46.8 percent Mitt Romney in 2012 to 39.5 percent Clinton/54.1 percent Trump, Allen's Republican challenger Tim Shay had not raised or spent a single dollar through mid-July.
When Allen announced his retirement last month, I had a feeling the no-hoper might stand aside. Indeed, Shay soon backed out of the race.
The worst-case scenario for Democrats came to pass on August 9. State Representative Zach Nunn, the third-ranking Iowa House Republican, confirmed he will run for the Senate instead of for re-election in House district 30. Since 2014, Nunn has represented the Polk County side of the Senate district.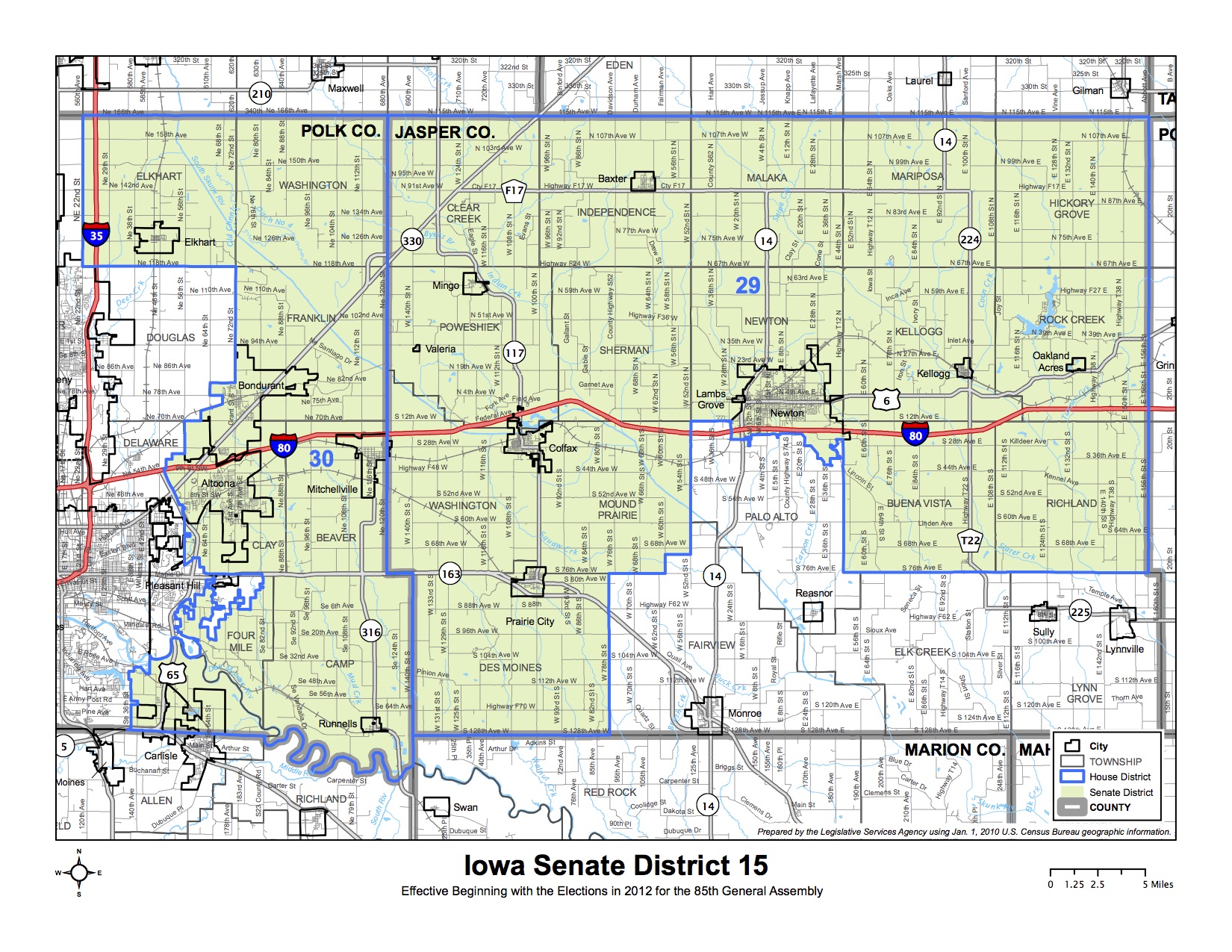 Shortly after the 2010 census, the two halves of Senate district 15 had roughly the same number of residents. But as rapid population growth has continued in the eastern suburbs of Des Moines, House district 30 has become significantly larger than House district 29, covering most of Jasper County. The area Nunn represents now has about 3,000 more registered voters than House Democrat Wes Breckenridge's territory next door. Overall, Senate district 15 contains 14,492 active registered Democrats, 13,785 Republicans, and 15,025 no-party voters.
Nunn is well-liked locally, having won re-election by more than 4,000 votes in 2016. He is guaranteed to have higher name recognition than his opponent.
Democrats had nominated Taylor Van De Krol at a special convention on August 2, but he ended his campaign for unspecified "personal reasons" on August 15. Democrats have scheduled another convention for August 22. Southeast Polk school board member Lori Slings, who competed against Van De Krol last time around, confirmed to Bleeding Heartland that she will seek the nomination again. She'll have at least one rival: Dan Nieland, who was challenging Nunn but lost the Democratic primary in House district 30 to Kent Balduchi.
To sum up: a month ago, Democrats had a well-known incumbent facing a nearly invisible challenger here. Instead, the Democratic nominee will be starting from scratch less than three months before the election, while the better-known Republican had $23,496.83 in the bank already last month.
In my mind, Senate district 15 went from likely Democrat to likely Republican.
Any comments about the Iowa Senate races are welcome in this thread. A forthcoming Bleeding Heartland post will cover the contested seats more comprehensively.
P.S.–One bright spot for Democrats: Nunn's departure gives Balduchi a good chance to win House district 30 in November, adding to the long list of Democratic pickup opportunities in the lower chamber.
UPDATE: Nieland won the Democratic nomination at the August 22 special convention. From the Senate Democrats news release:
Nieland, who was nominated at a special convention Wednesday night at the Jasper County Democrats' Office, said he will focus on changing the priorities in the Iowa Legislature and putting more focus on solving real problems facing Iowans.

"The people of Jasper and Polk counties deserve a new State Senator who will fight for Iowans that work an honest day for an honest wage," he said. "I will work with Democrats and Republican at the Statehouse to expand access to affordable health care, make our schools great again, and provide our workers with tech training to boost their careers."

Dan Nieland and his wife Leesa own and operate Pine Hollow Stables, a 50-acre horse-boarding facility west of Mitchellville. Dan is also an Adjunct Instructor for Des Moines Area Community College. He teaches traditional college courses as well as dual enrollment courses to high school juniors and seniors, including management, marketing, human relations and entrepreneurship.

Their daughter is a freshman at the University of Missouri – Columbia.

An Iowa native, Nieland has a bachelor's degree from the University of Northern Iowa and a master's degree in Business Administration from Lindenwood University in St. Charles, Missouri.

"I am committed to listening and working hard to solve problems and to help Iowans improve their communities," he said. "It's time to elect more leaders who have the courage to stand up and support the kind of change that is needed."
Top image: State Senator Rick Bertrand on the left, State Representative Zach Nunn on the right.