Josh Hughes analyzes sixteen Iowa House races likely to be competitive and points to other districts that could also be in play. Hughes is a Drake University undergraduate and vice president of the I-35 school board. -promoted by desmoinesdem
Iowa Democrats have had a pretty good summer. In recent weeks, election forecasters have moved the races for governor and third Congressional district to "toss-up" status, Fred Hubbell and other Iowa Democrats have blown past Republicans in fundraising, and Iowa Republicans have begun to hit the panic button on an election many believed would not be competitive just one year ago. Democrats appear to have the wind at their back for the first time in several election cycles here, after blowout losses in 2016 and 2014.
Winning back Terrace Hill and Congressional seats is at the forefront of many activists' minds. Doing so would be hugely impressive and important to stopping reactionary right-wing legislation at the state and federal levels. However, in order to not just stop the bad stuff but also advance good legislation, Democrats will need to do more than just defeat Governor Kim Reynolds. The race for the Iowa legislature, where 25 of 50 Senate seats and all 100 Iowa House seats are up for election this year, will determine what kind of policy will be possible over the next two years in our state.

In April, I wrote an introductory piece about fifteen seats that would decide which party controls the Iowa House. Since then, a lot of new data has become available for analysis of these races. Democrats have 95 nominees, and there have been three separate campaign finance reports to examine.
Additionally, voting trends from the primary point to where there is significant Democratic enthusiasm. While examining primary turnout isn't remotely definitive of general election outcome (see: 2016), it will take fewer voters to swing elections in a midterm year with lower turnout. For that reason, looking at where Democrats were excited to vote in the primary and where turnout lagged can be revealing.
These data points, taken in consideration with district-by-district numbers for President Obama's 2012 successful Iowa re-election campaign, Brad Anderson's narrow 2014 defeat for Secretary of State, and Hillary Clinton's 2016 Iowa loss, it's possible to rate the 71 districts with both a Democrat and Republican on the ballot on the likelihood that either party will win. My ratings are not conclusive, but they do represent a holistic analysis of the districts, candidates, and electoral environment.
Note: I do not indicate any seats (save those without a major-party opponent) as safe for either party. In a mid-term year with a volatile electoral climate, no seat is truly safe. Instead, parties enjoy "strong" positions in districts which are unlikely to flip.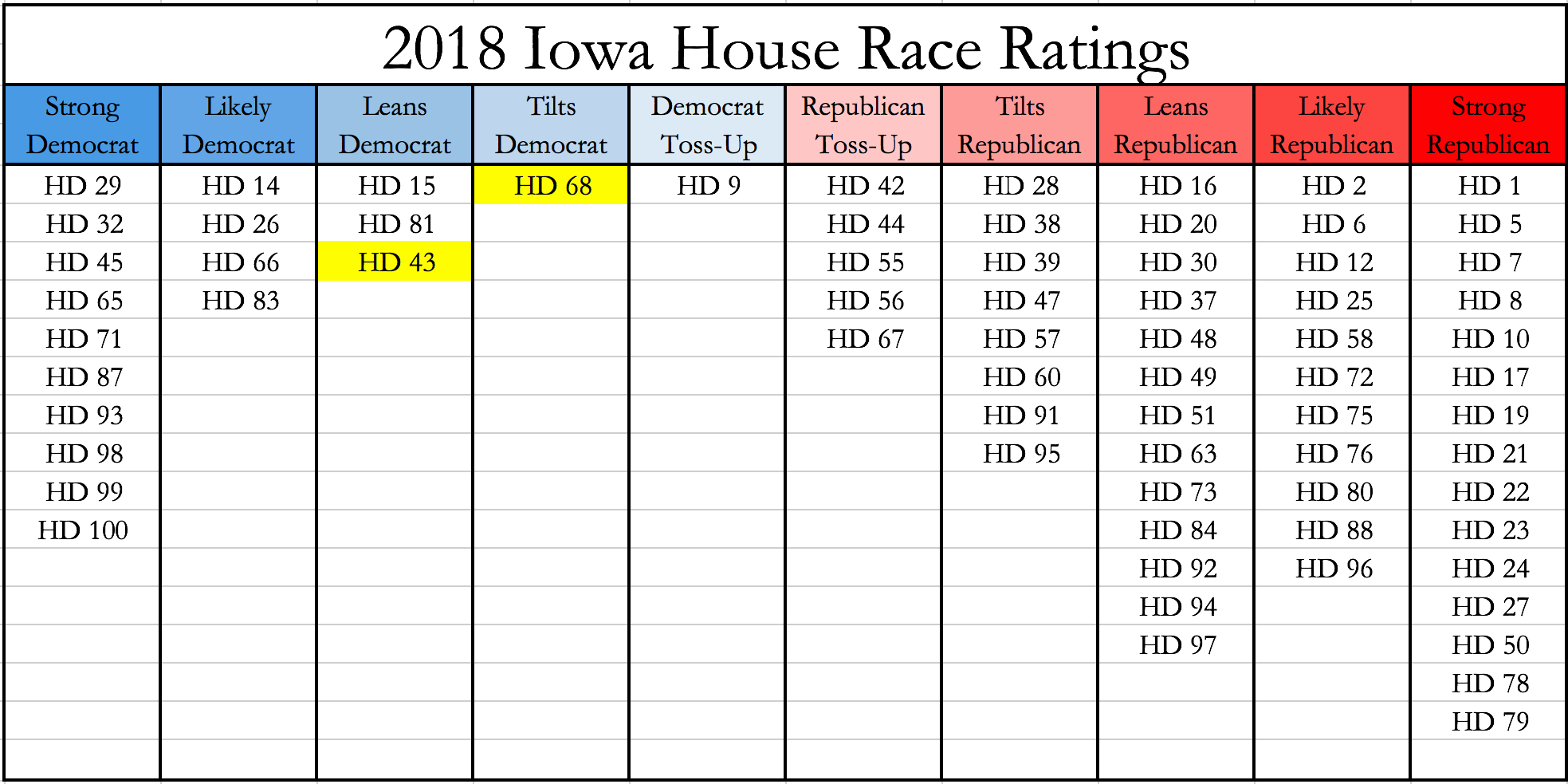 THE FLIPS
Currently, the model projects that two Republican held seats without an incumbent running are likely to flip this November. The first and more likely of the two flips is House district 43 in Windsor Heights, Clive, and West Des Moines in Polk County. After running a close race in 2016 against the House Majority leader, Democrat Jennifer Konfrst opted for a re-match, only to scare the incumbent into a nearby, much more Republican-leaning seat in Dallas County. Republicans nominated Michael Boal, son of former State Representative and current House Chief Clerk Carmine Boal.
There was some question if Republican leadership would invest heavily in this seat won by both Obama and Hillary Clinton after the incumbent chose to flee westward. For now, the answer appears to be no. Konfrst has led Boal in fundraising, and has a massive $51,257 to $3,697 cash-on-hand (COH) advantage. Konfrst's residual name recognition as a second-time candidate, her impressive fundraising, the lack of incumbent running, and the partisan lean of the seat indicate this seat Leans Democrat.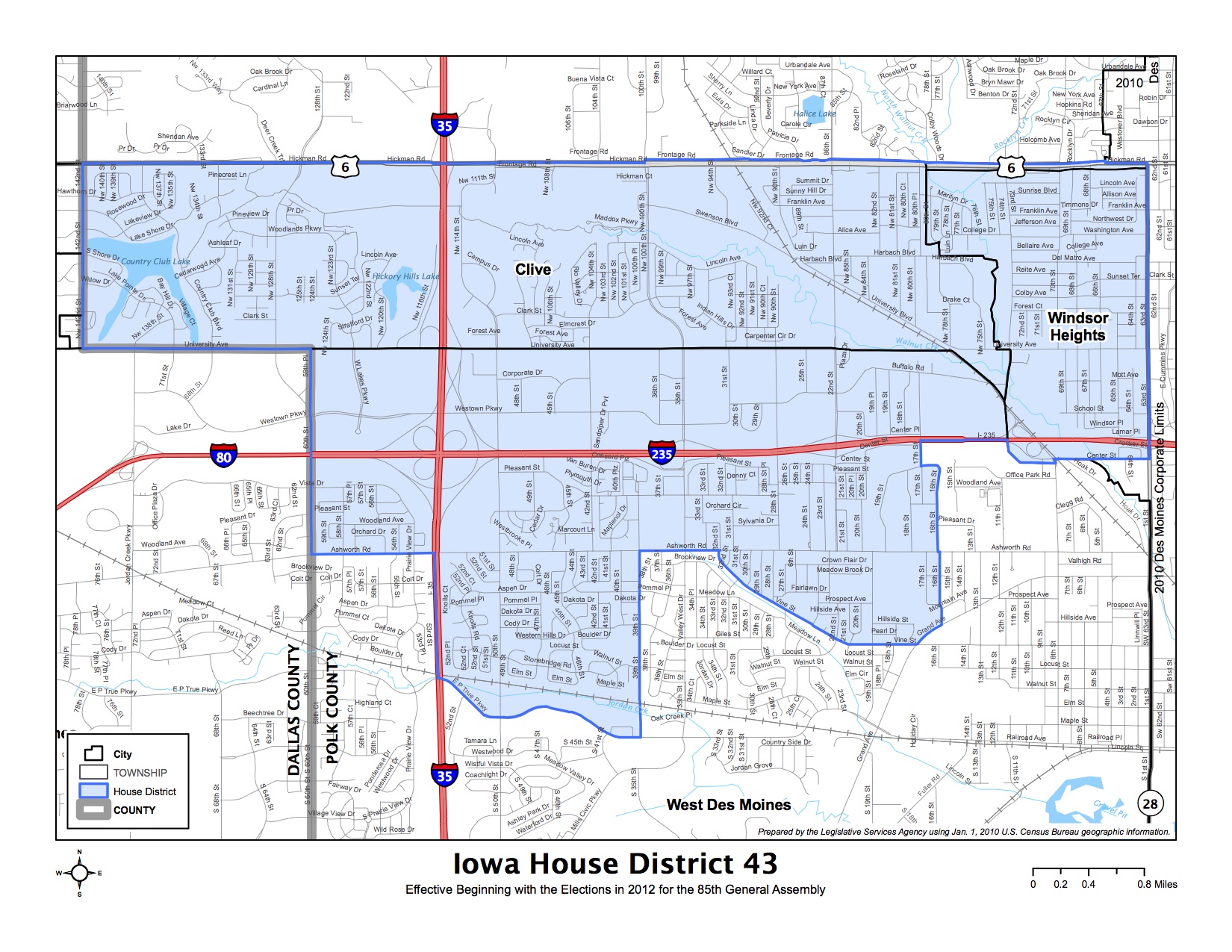 The other projected flip comes in another Obama-Clinton district, House district 68 in suburban Cedar Rapids and Marion. Representative Ken Rizer, who first won this seat in 2014 and again in 2016 is not running for re-election and has left the Republican Party. His 2016 opponent, Molly Donahue won a primary for the right to run for this now open seat. Democrats enjoy a voter registration advantage here, which only grew after the 2018 Primary.
Donahue does not enjoy the fundraising success that Konfrst and many other candidates have– her COH total as of July 19 was just $9,332. However, the Republican nominated to run here, Randy Ray, has an even weaker $1,023 COH. It's unclear if Republicans will spend large sums here to elect Ray– after all, with a 59-41 seat majority, they can afford to lose a few seats. Between the partisan lean of the seat, the lack of incumbent running, and the Democrat's financial edge, this seat Tilts Democrat.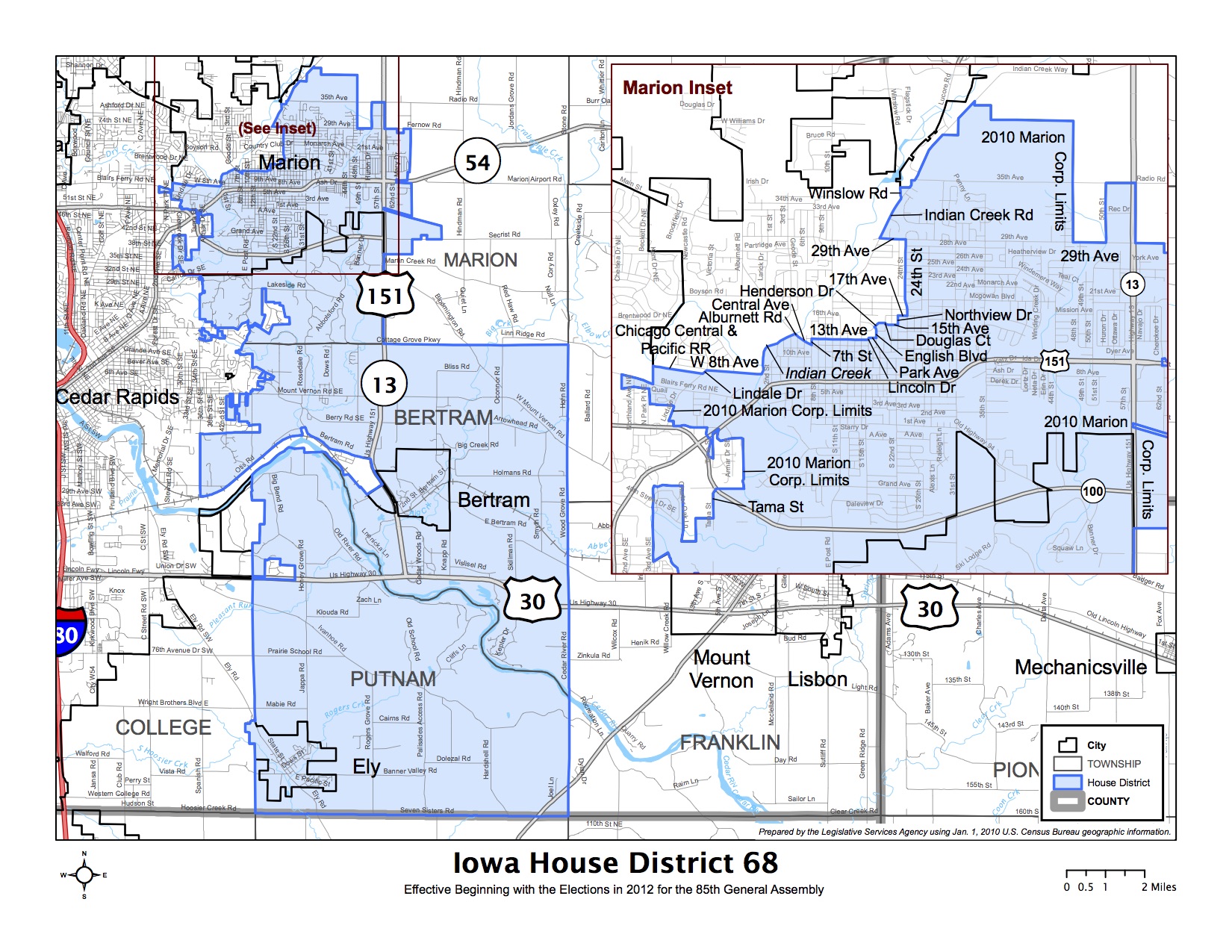 THE TOSS-UPS
With such a huge number of contested races this year, the inclusion of just six seats in the "toss-up" category might be an unpopular position. However, the factors moving the model in these seats are far more of a mixed bag for Democrats than they are for the flips. These are seats where neither party has an identifiable advantage.
The first, and only Democratic-held seat on this list, is House district 9 in Fort Dodge. Longtime Representative Helen Miller announced earlier this year that she would retire, immediately putting this Obama/Trump seat in play. Democrats have nominated Fort Dodge native and local doctor Megan Srinivas, while Republicans nominated nurse Ann Meyer. Both candidates have raised significant amounts of money, a sign both parties see this seat as a toss-up and critical to winning a majority. The Democrat leads in COH, $46,414 to $41,372– an impressive feat considering Srinivas has been in the race for a shorter time.
This seat contains more registered Democrats than Republicans, but the advantage has narrowed in the past few years. The question here: will registered Democrats who either voted for Trump or didn't vote at all return to the fold this year? This will be a costly battle to the finish, securing its status as a true toss-up.
Something fishy is going on in House district 42 in West Des Moines, where Republican Peter Cownie is being challenged by Democrat Kristin Sunde. This seat, which Republicans spent six-figures to defend in 2016, is very similar politically to its northern neighbor, House district 43. However, unlike the Clive seat, the incumbent chose to seek another term here– a big factor in a state where voters generally re-elect incumbents. However, this is an Obama/Clinton seat– and Sunde is no slouch at fundraising: she's sitting on $28,967 compared to her opponent's $48,603. Cownie is well connected and a good fundraiser, but expect both parties to spend heavily here. The now strong Democratic lean of the seat, considered against the presence of the incumbent and his likely financial advantage makes this seat a toss-up.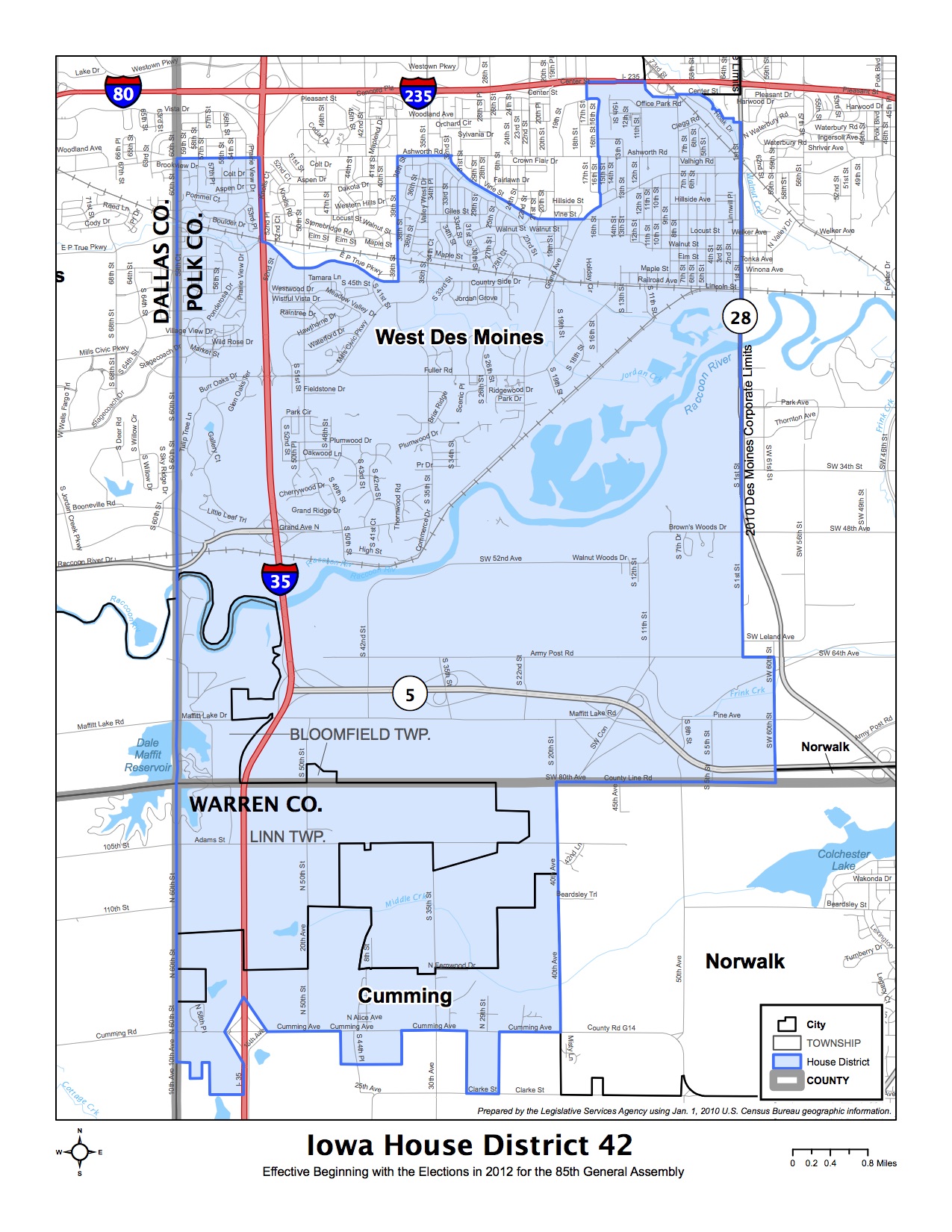 Two years ago, Democrats did not even field a challenger to GOP incumbent Rob Taylor in his Waukee and West Des Moines based House district 44. Today, that same district is one of the party's most promising pick-up opportunities. Democrat Kenan Judge, a well known local businessman and former Hy-Vee executive has blown the fundraising game out of the water– raising more than $100,000 in a matter of months. With the incumbent choosing not to seek re-election, Judge faces Waukee City Councilwoman Anna Bergman, who currently has just one fifth of the Democrat's COH. However, the Republican lean of this seat shouldn't be understated, and that's why it remains a toss-up. Mitt Romney carried this seat by a 14 percent margin, and while Trump vastly underperformed here (winning the district by 48 percent to 45 percent), the Republican voter registration advantage is still nearly 3,000. Both parties will be heavily involved here, and the seat will be decided by a close margin. Toss-Up.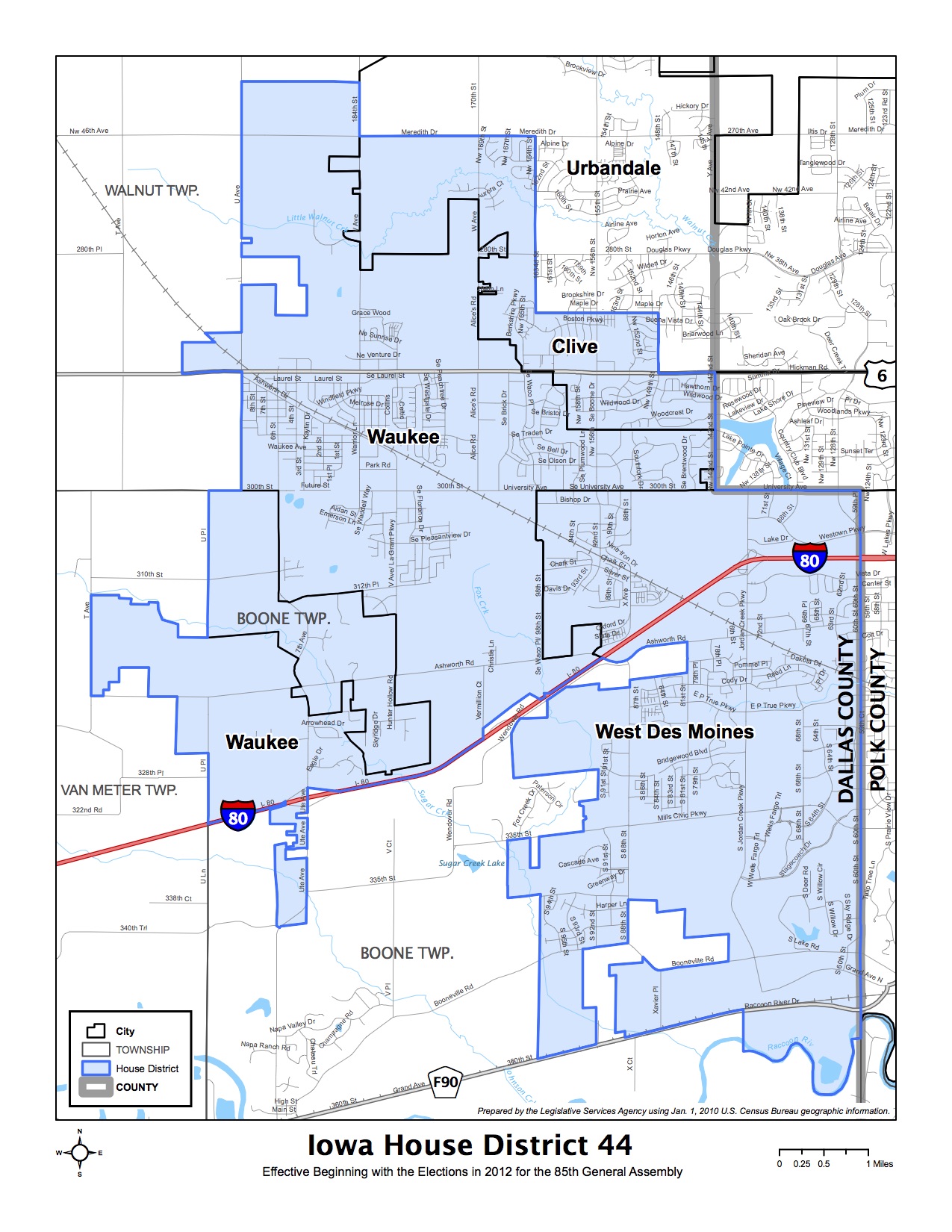 A pair of seats in the northeastern corner of the state make up the next two toss-ups– House districts 55 and 56. The former, containing the city of Decorah as well as parts of rural Winneshiek and Fayette counties, has been a target for Democrats ever since they lost it in 2014. This year, Kayla Koether, a young candidate who works in rural development and appears to have a strong grassroots operation is giving the incumbent, Representative Michael Bergan, a solid run for his money. Bergan has some tough votes to answer for– including the abortion ban and collective bargaining repeal. Koether has been a solid fundraiser as well–she has nearly $39,000 in the bank compared to Bergan's laughable $1,102. Koether also stands to gain from the excitement of Decorah activists for another Winneshiek native on the statewide ballot, state auditor candidate Rob Sand.
However, despite being a strong Obama district, this one swung to Trump by nearly 19 percent. Koether will need to keep up the excitement in Decorah and make inroads into the rural parts of the district to pull off the win. Not impossible, but no small feat.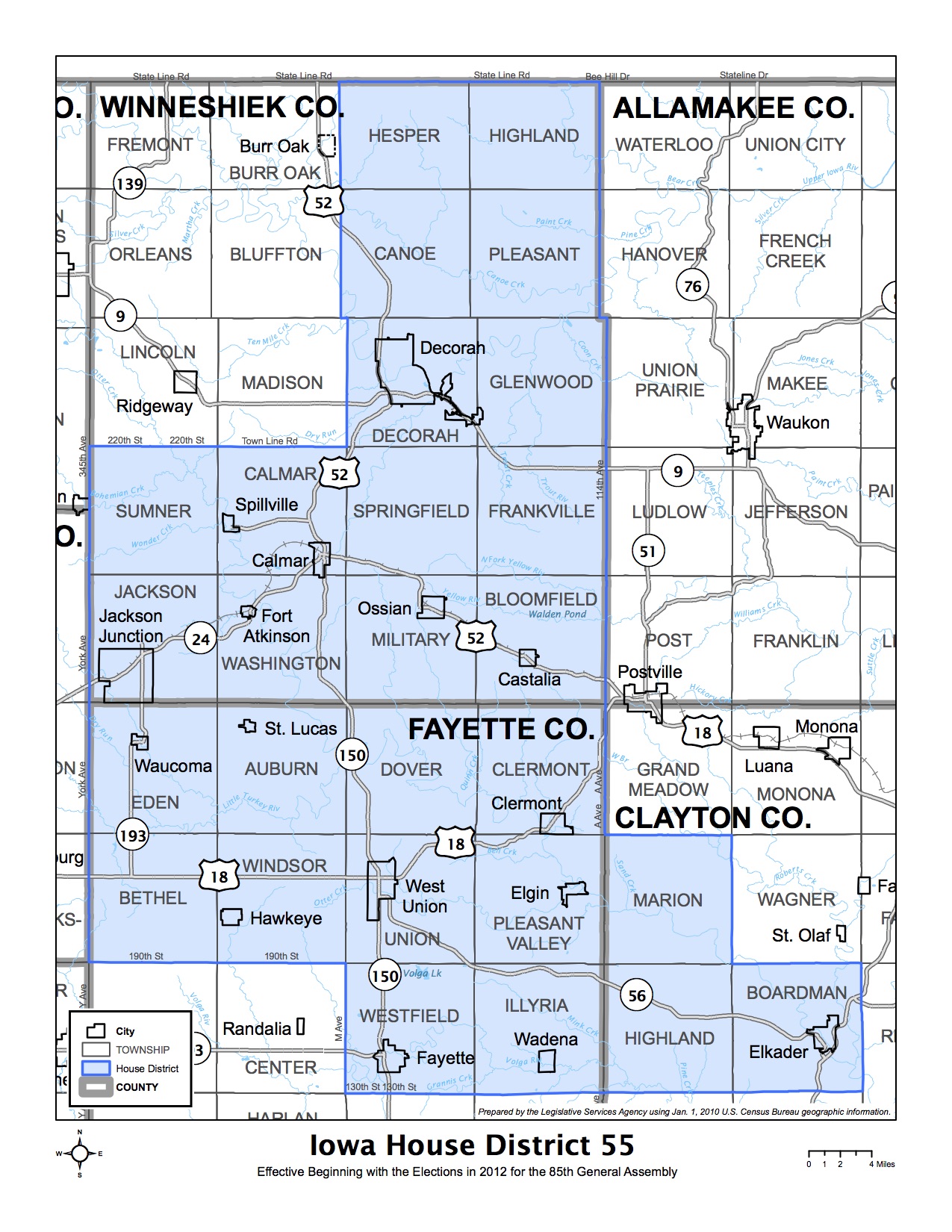 Across the county line in Allamakee and Clayton counties, Democrats are hoping that Lori Egan will be able to win back this rural and working class seat. This district, which Obama twice won before flipping hard to Trump, has been interesting to watch. After Egan announced her candidacy in 2017, the incumbent Republican announced she would not be seeking re-election during the 2018 Session. The sole Republican who filed for the seat before the deadline turned out to be a Democrat playing dirty, hoping to lock this seat up. No Republican appeared on the primary ballot here, and the party only just recently nominated the incumbent's former legislative clerk, Anne Osmundson. The district has a GOP lean, but Egan has been working hard for much longer than Osmundson on the trail. Both parties will likely spend heavily here, so the race remains a toss-up.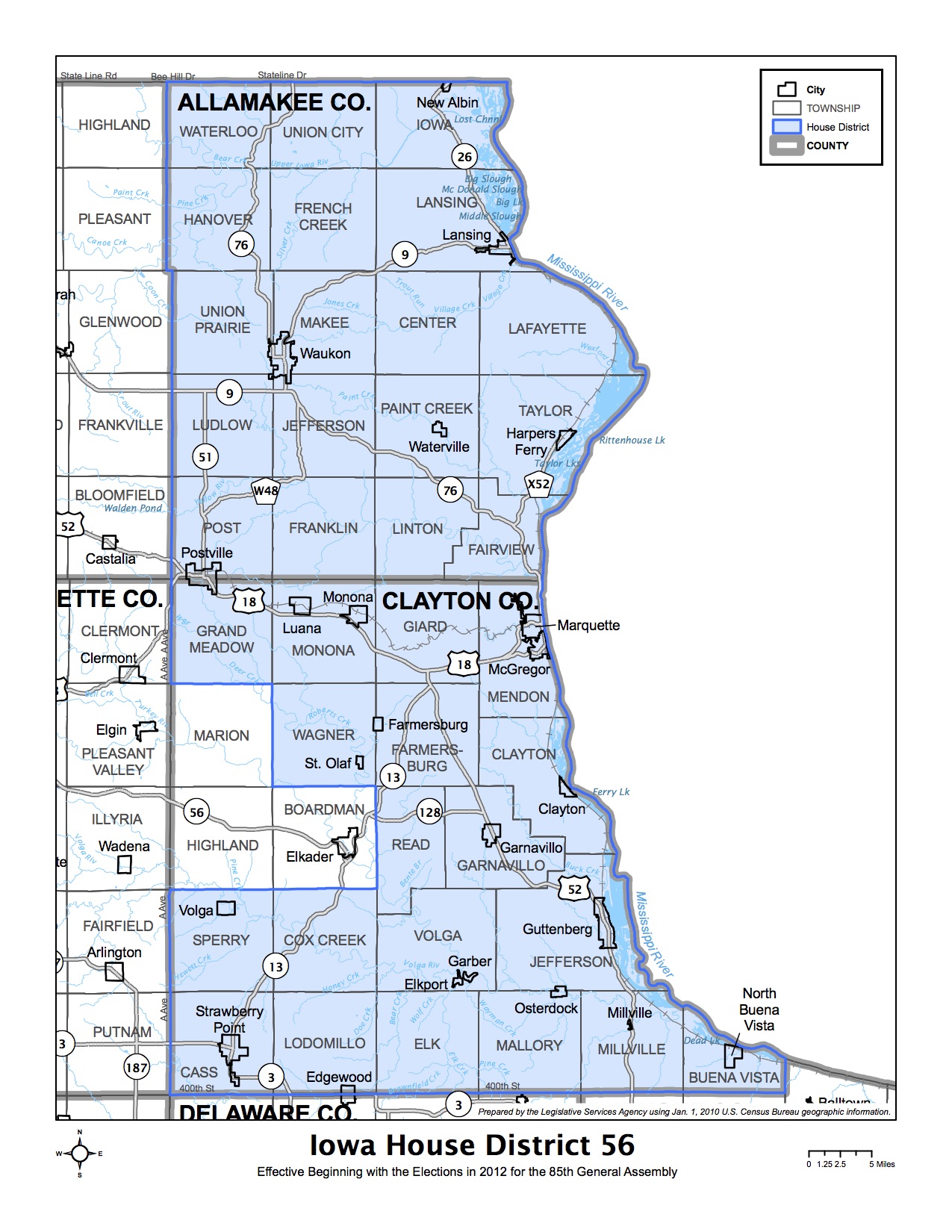 Despite winning her first election with nearly two-thirds of the vote, Republican Ashley Hinson is in for a tough race in a very different climate this year in the suburban Cedar Rapids and Hiawatha House district 67. Politically, this seat is fascinating. Only one other district in the entire state voted for Romney in 2012 and swung to Clinton in 2016 (the other is House district 40 in Urbandale). Hinson, who was a local news anchor, was able to outperform her party's nominee by nearly 20 percent to win her first term. Since then, she's angered many local activists by claiming to be pro-choice while supporting the patently unconstitutional six-week abortion ban. Hinson also voted to gut public employees' collective bargaining rights, no small thing in a district with a significant working population.
Hinson faces Democrat Eric Gjerde, a local educator and Linn County Sheriff's Deputy. Both candidates are well funded– Hinson leads in COH $64,731 to Gjerde's $43,328. While Hinson has taken some bad votes, she is well known and her temperament seems to be a much better fit for the district than was Donald Trump's, meaning she is likely to outperform the Republican lean. But Gjerde is a strong candidate, and Hinson shouldn't take anything for granted– it's a toss-up.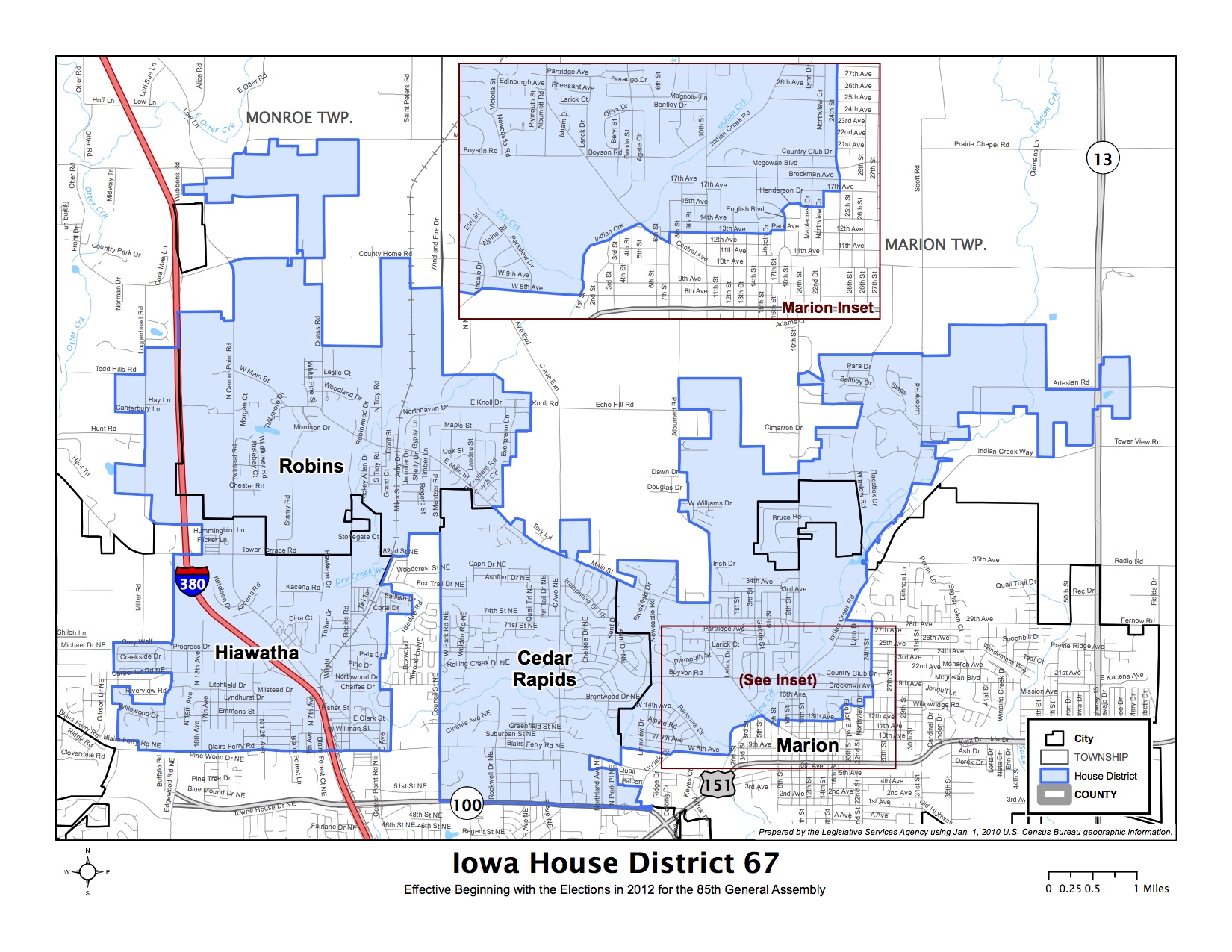 THE TILTING
The difficult thing about rating races is attempting to quantify electoral data into qualitative terms, such as "tilt" or "lean." The following eight "Tilt Republican" districts are ones where the race is effectively a toss-up, but the Republican has an identifiable advantage, usually incumbency. Democratic gains here are not impossible, but GOP nominees currently are better positioned.
First, House district 28 around Knoxville in Marion and Jasper counties. This seat was 10 percent more GOP than Iowa in 2012 and about 22 percent more GOP than the state in 2016. But Democrats have an opening here for a number of reasons, primarily in the candidate they recruited. Ann Fields, who served as the first woman president of William Penn University in nearby Oskaloosa, is a well-known local who has impressed with her fundraising. The incumbent is not seeking another term, and Fields will face State Patrolman John Thorup. Fields led in COH $12,806 to Thorup's $52. Fields is running a strong campaign on decidedly red turf, but Democrats have some history of doing well here. The race tilts Republican.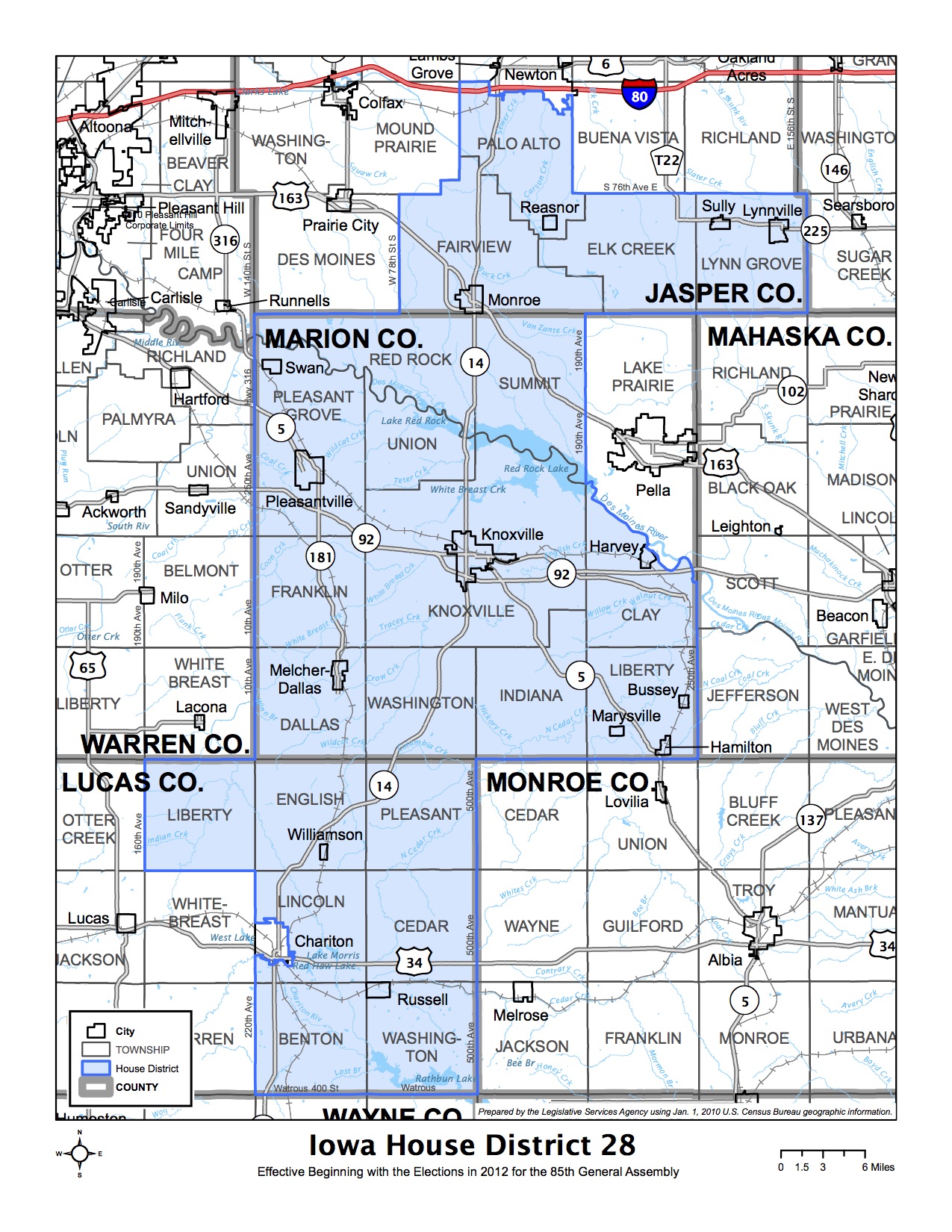 After a tough race in 2016, Democrat Heather Matson is back for a rematch with incumbent Kevin Koester in House district 38. The district narrowly supported Obama in 2012, only to swing to a 7 percent Trump win. Koester has represented this seat since 2008; he is well known and won't be easy to beat. But Matson is in a stronger position today than she was at this point two years ago. She leads the incumbent nearly 2-1 in COH and raised more in the post-primary period this year than in her last attempt. This seat was about 6 percent more Republican than Iowa on the whole in 2012, but in 2016 it was about 2 percent more Democratic. Matson has the resources to capitalize on that momentum, but with a well-known incumbent, Republicans still have a narrow edge.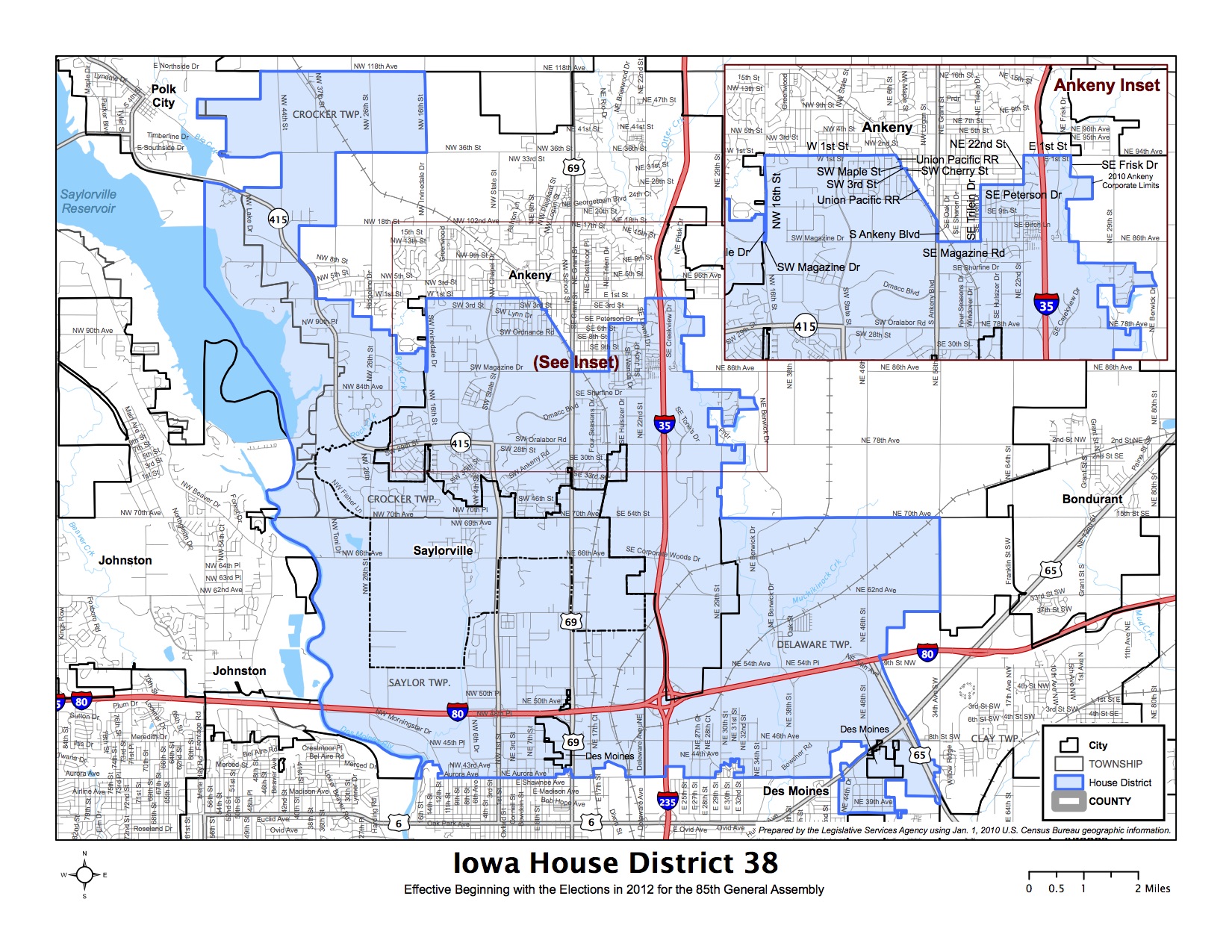 Just next door in Johnston in Grimes, a situation similar to the one in Waukee is playing out. After Mitt Romney carried the precincts in House district 39 by 13 percent, Donald Trump won them by just 5 percent and with only a plurality. The incumbent, Jake Highfill, is running for re-election against local attorney Karin Derry. Derry has impressed many political watchers with her strong fundraising– she's currently got $41,366 in the bank compared to her opponent's $7,077. However, Highfill won't be left wanting for funds in the fall– his most recent disclosure shows that 64 percent of his campaign contributions came from PACs, with the rest from large individual donors. Derry is making what was once a strong GOP seat competitive, but it's not easy to run against an incumbent with many deep-pocketed friends.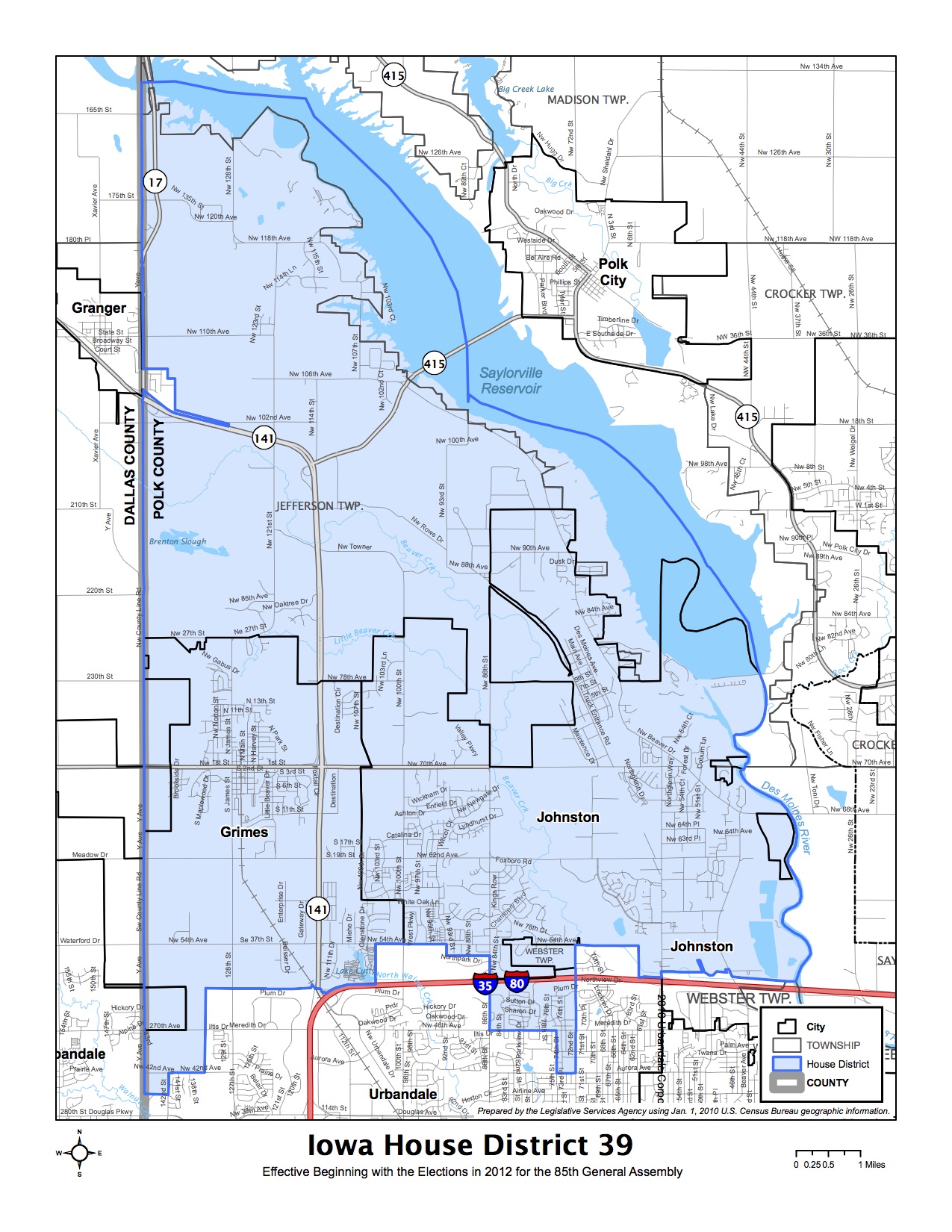 One of the most interesting pick-up opportunities for Democrats this fall comes northwest of Des Moines in Boone and Greene counties, House district 47. Incumbent Representative Chip Baltimore, who won a variation of this seat from a Democrat in the 2010 wave, is not seeking re-election. The district voted for Obama twice but swung hard to Trump. Democrats have nominated David Weaver, a local farmer who has proved to be an effective fundraiser: he leads in COH $26,143 to Republican Phil Thompson's $3,210. Weaver has been outspoken on the negative impacts that the trade war is causing on farming communities, and with his resources, he'll be able to get his name and message out to those who might be feeling the brunt of the President's policies. Weaver is in a strong position, but this is a Trump seat that historically has only been marginally Democratic.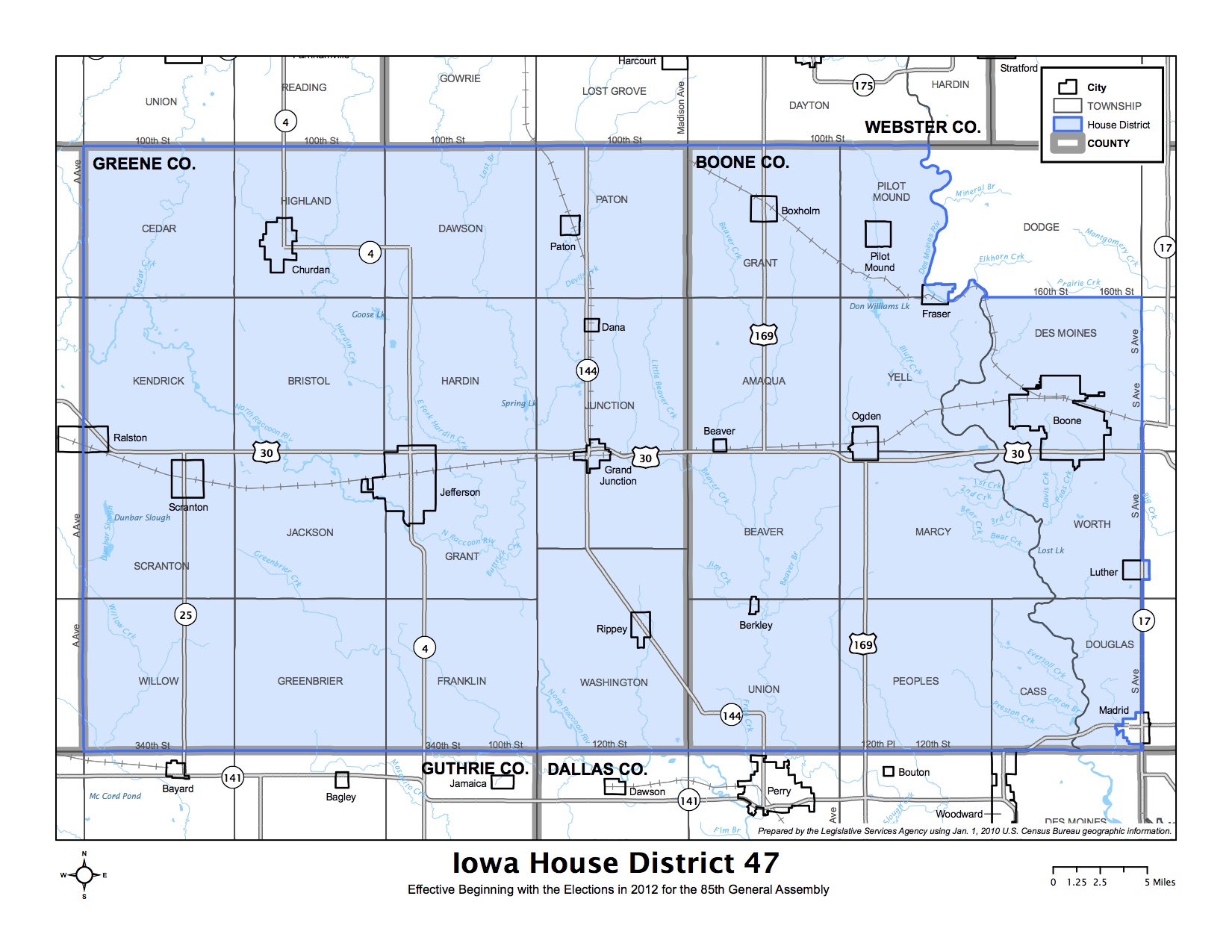 Democrats lost a good legislator when Nancy Dunkel retired in 2016. It's likely that retirement also lost them House district 57 in rural Dubuque county. Republican Shannon Lundgren was able to ride the Trump wave to a relatively narrow victory over a touted Democratic opponent. Since that time, Lundgren has proven herself a relatively shrewd politician. She voted against the Chapter 20 collective bargaining bill and has been the face of the House GOP's anti-abortion crusade, both strong assets for her in this heavily working class and Catholic area. Democrats have a strong candidate in Nancy Fett, and she's nearly even in COH with the incumbent even after an expensive primary. However, it's still no small thing to knock off an incumbent, keeping this race, which both parties will likely invest in, at Tilts Republican.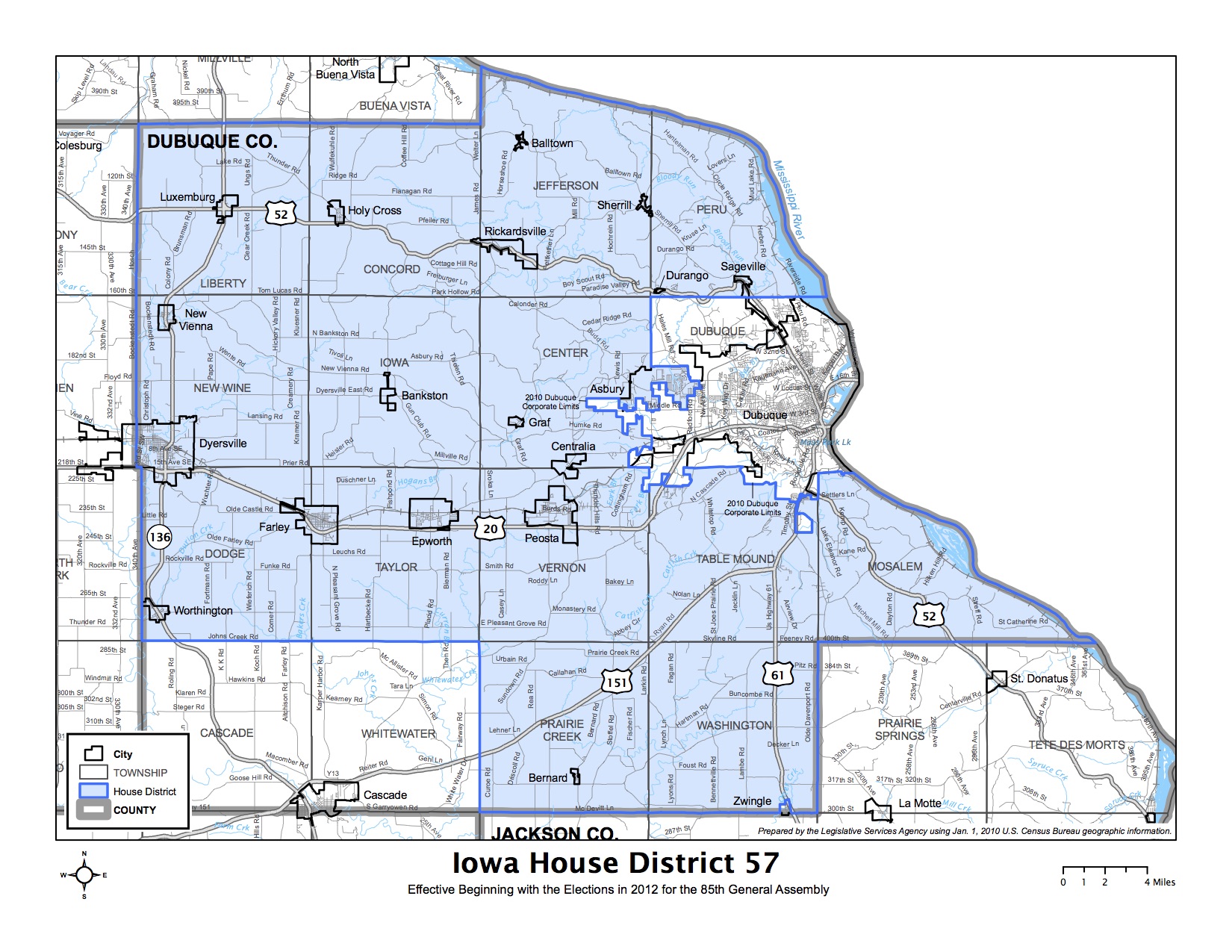 The path to a Democratic majority almost certainly runs through House district 60 in suburban Waterloo. Incumbent Representative Walt Rogers first won in the 2010 GOP wave, and has since won several tough races in his district. Democrats have nominated Dave Williams, a former John Deere executive in this narrow Obama–Trump district. Rogers won't be easy to beat, but the incumbent has never faced an electoral environment like what 2018 is shaping up to be. Williams will need to run up the score in the more suburban parts of the district in order to win, which won't be easy with an incumbent on the ballot.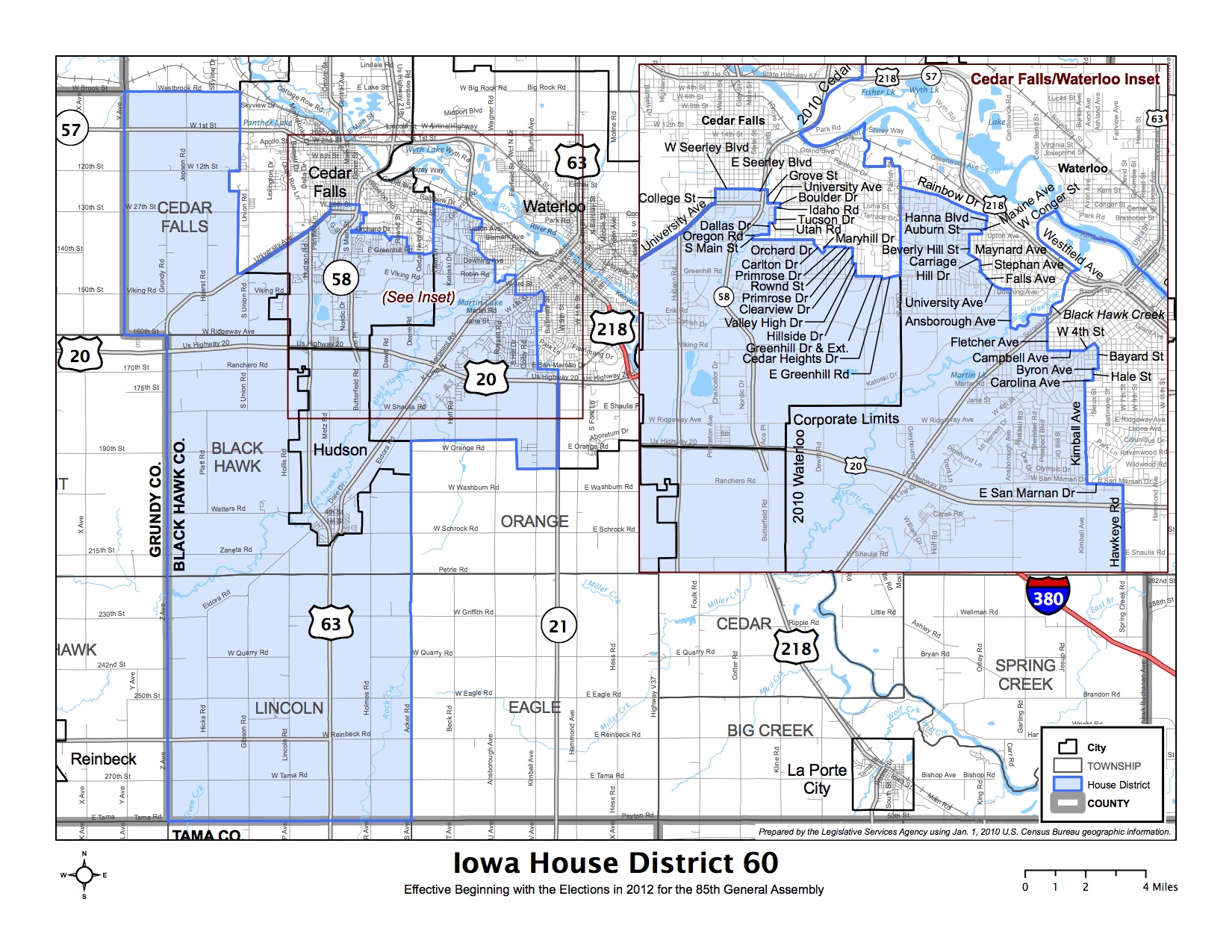 There's no better example of Iowans' propensity to re-elect their incumbents than in House district 91 in Muscatine County. Even as Obama won this seat by nearly 17 percent in 2012, voters here re-elected their Republican incumbent by 6 percent. That incumbent, Mark Lofgren, is now a state senator for the area, and current Representative Gary Carlson is seeking reelection in an unfavorable political environment. Democrats have nominated Laura Liegois, a small business owner and well-connected former city solid waste manager. Carlson is a good fundraiser and has a significant COH advantage. However, expect both parties to invest in this race as the cycle moves forward.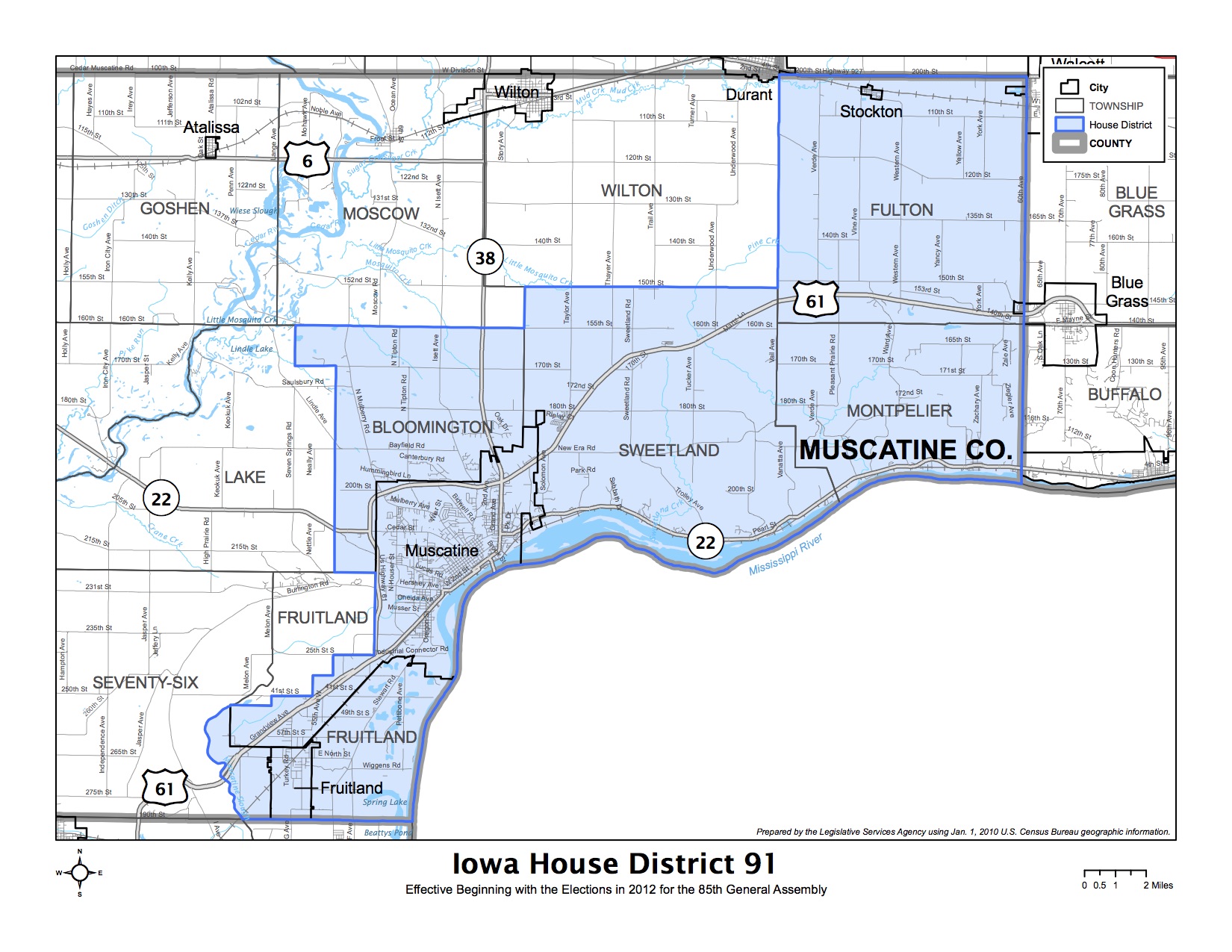 The last Tilt-Republican race is one that wasn't even featured in my earlier House write-up. House district 95, containing rural Linn and Buchanan counties, has been a Democratic target for years. When the seat became open in 2016, Democrats made a good effort but were swamped by Trump's outsized margins in this rural district. This year, Democrats nominated Christian Andrews, a public works employee in Mount Vernon, which happens to be the population center and Democratic base of the district. First-term Representative Louis Zumbach has been a mostly reliable vote for Republicans; he supported the collective bargaining bill, but opposed the near-total abortion ban. Andrews is working hard in this Obama-Trump district and should be able to appeal to some of the working class and rural voters who left the party in 2016. Andrews also has a modest COH advantage over the incumbent, but both parties will certainly be investing here.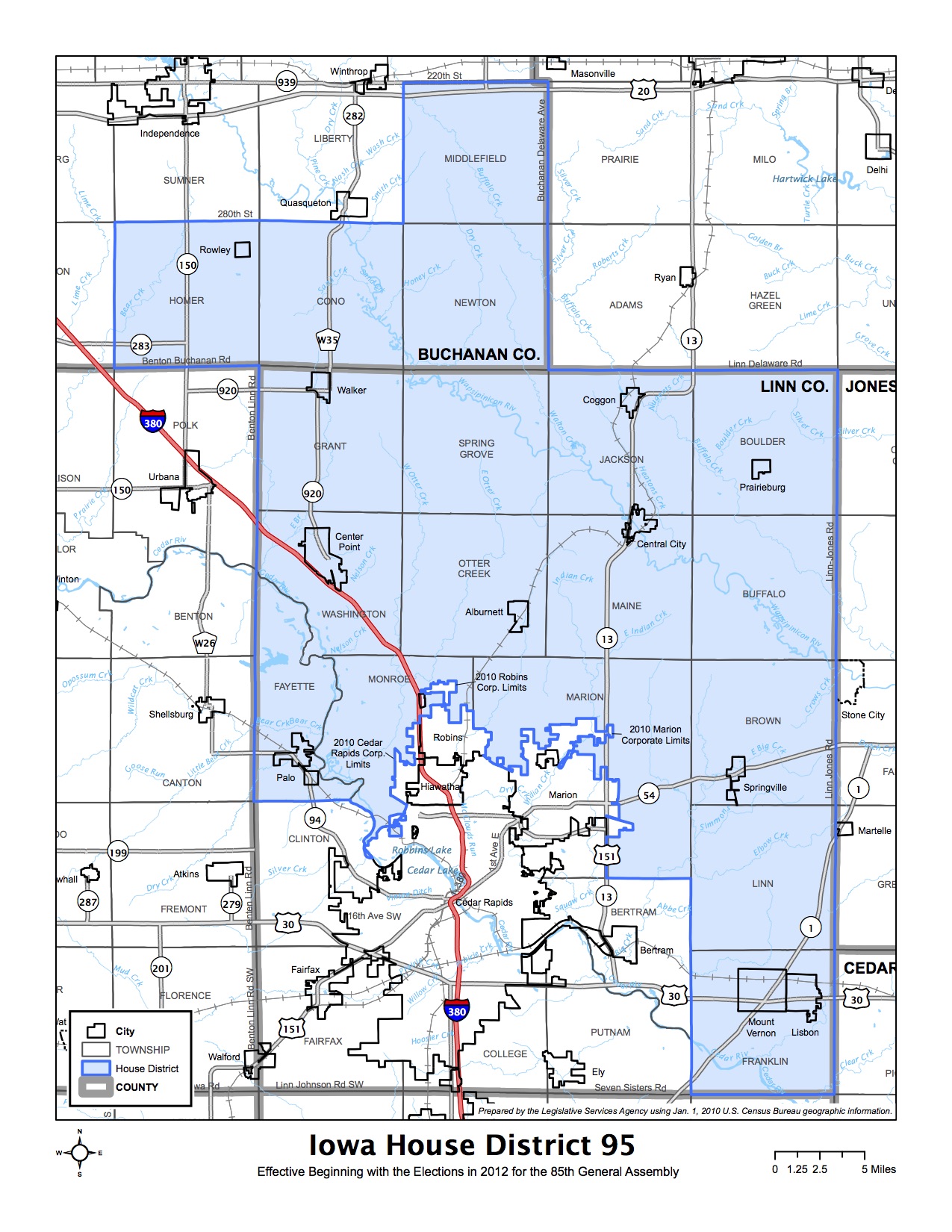 HONORABLE MENTIONS
The above sixteen seats represent the most competitive of the 71 which have both a Democrat and Republican on the ballot. However, because Democrats were able to field candidates in an astounding 95 districts, there is a strong possibility the number of seats in play will rise. Right now, there are dozens of Lean and Likely Republican seats where Democrats have credible candidates running against incumbents on red turf. Those seats are not unwinnable, but Republicans have a distinct and undeniable advantage in them. There are too many to go through individually, but some seats, belonging to both parties, warrant mention here.
• In House district 15 (part of Council Bluffs and Carter Lake), Democratic Representative Charlie McConkey has twice pulled off narrow wins in bad years. He should be fine this year, but if things go south for Democrats close to the end, his seat– along with Representative Mary Gaskill's House district 81 in Ottumwa and the open House district 83 in Lee County are the three most vulnerable Democratic seats.
• If GOP Representative Zach Nunn decides to leave behind his House district 30 in favor of seeking the Iowa Senate seat Chaz Allen is vacating, his Altoona and Bondurant based seat would immediately become more competitive.
• It's the same story in northern Ankeny's House district 37, where the presence of incumbent Representative John Landon is the biggest roadblock to Democrat Andrew Rasmussen's campaign.
• Incumbent GOP Representative Dave Deyoe should be safe in House district 49 in rural Story and Hardin counties, except for a very strong challenge from Democrat Brenda Brink, who has consistently led the incumbent in fundraising and in door knocking.
• Way up north, GOP Representative Jane Bloomingdale seems well positioned against her Democratic opponent Tim Knutson in House district 51, although her position isn't immutable in this ancestrally Democratic seat.
• Jodi Clemens, running against GOP Representative Bobby Kaufmann in Johnson and Cedar Counties' House district 73, is putting up a good fight and raising money, but she'll have a hard time breaking through the incumbent's name recognition, especially in Cedar County.
• In House district 80, Democrat and well known former teacher Susan McDanel is searching for an opening in this solidly GOP open seat, while some Republicans are privately unhappy with their nominee, Holly Brink.
• In Scott County's House districts 92 and 94, Democrats Jean Simpson and Joan Martilla are running strong campaigns against well-known Republican incumbents Ross Paustian and Gary Mohr.
The path to winning back ten seats and the House majority has never been an easy one for Iowa Democrats. However, the sheer breadth of the playing field ensures that Democrats are well positioned to expand their share of seats in the lower chamber. Republicans are slight favorites to hold the chamber today, but with Democrats contesting 54 of 59 Republican seats, the GOP won't be able to take any district for granted without risking a nasty election night surprise.