Josh Hughes is a Drake University undergraduate and vice president of the I-35 school board. -promoted by desmoinesdem
There's no question about it-- 2018 is shaping up to be one of the most Democratic election years in nearly a decade. Polling and special election results all point to a significant advantage for Democrats in both voter preference and enthusiasm. It's enough for most experts to consider the U.S. House a "tossup," which is remarkable considering the gerrymandered playing field Democrats must compete on. Such a national political environment points to only one thing-- the Iowa House of Representatives is in play too.

There's enough data to make this claim. Special elections in our state have shown massive over performances for the Democrat ever since President Trump took office. Democrats have a massive recruiting advantage, fielding 95 candidates to Republicans' 75. Republicans are defending thirteen open seats, a full 20 percent of their caucus, while Democrats have just one competitive open seat. Republicans have recruited challengers in just seventeen Democratic held districts (41 percent) while Democrats have challengers in 54 Republican seats (92 percent). Iowa Democrats did a good job of putting the sails up in case a wave really does break. And after all, every time the U.S. House has changed parties in the last 30 years, the Iowa House flipped the same way (2010, 2006, 1994).
However, not every district will be competitive or winnable even in a great year. This list of districts is not conclusive or based on any kind of insider knowledge, only my own observations and best guesses considering the historical election information from the districts, the profiles of candidates, and some perspective on Iowa politics. I don't think that Democrats are likely to win all fifteen of these districts. A lot can happen between now and election day, and it's probable that lightning will strike in some unlikely places on election night. However, if Democrats do manage to win the 10 seats necessary for control of the lower chamber, I would bet that most of our gains will come from this list.
I have generalized the seats into four major categories-- Open Suburbs, Reach Suburbs, Obama Districts, and Working Class districts. This isn't meant to stereotype the areas, but it's just an easy way to distinguish the "themes" that exist in these communities. In each district, I will examine the 2012 and 2016 presidential results, the 2016 legislative results, and the 2014 secretary of state race. The 2014 SOS race was decided by just 20,000 votes of nearly 1.1 million cast, and represents a "tied" state, showing a good benchmark for what we should expect in a neutral political environment. My data are available here.
OPEN SUBURBS
House district 43-- Windsor Heights, West Des Moines, Clive (Polk County)
53-41 Hillary Clinton 2016
51-48 Barack Obama 2012
52-48 Brad Anderson (D) 2014
52-48 Chris Hagenow (R) 2016
No discussion of the Iowa House majority is possible without discussion of HD 43. Rooted in some of the more established suburbs of Des Moines, the area has trended blue after decades of reliable Republican representation. After spending more than $400,000 against his Democratic opponent Jennifer Konfrst in 2016, Chris Hagenow was able to outrun Donald Trump in this district by more than 11 points to win re-election. Hagenow has a history with close elections, winning races in 2008 and 2012 by just dozens of votes. He has since fled the district to run in the much safer HD 19 in rural Dallas County, leaving the most Democratic leaning Republican-held seat open.
The seat has been trending blue for years and it looks like this could finally be the kick it needs to send it over the Dem column. Konfrst is running again, and has landed a national endorsement from the Democratic Legislative Campaign Committee (DLCC), increasing her fundraising and outreach capacities. Additionally, Democrats finally took the lead in voter registration in the district, with a narrow margin over Republicans. Konfrst will face Michael Boal. If Democrats win one seat this fall, smart money has it being HD 43.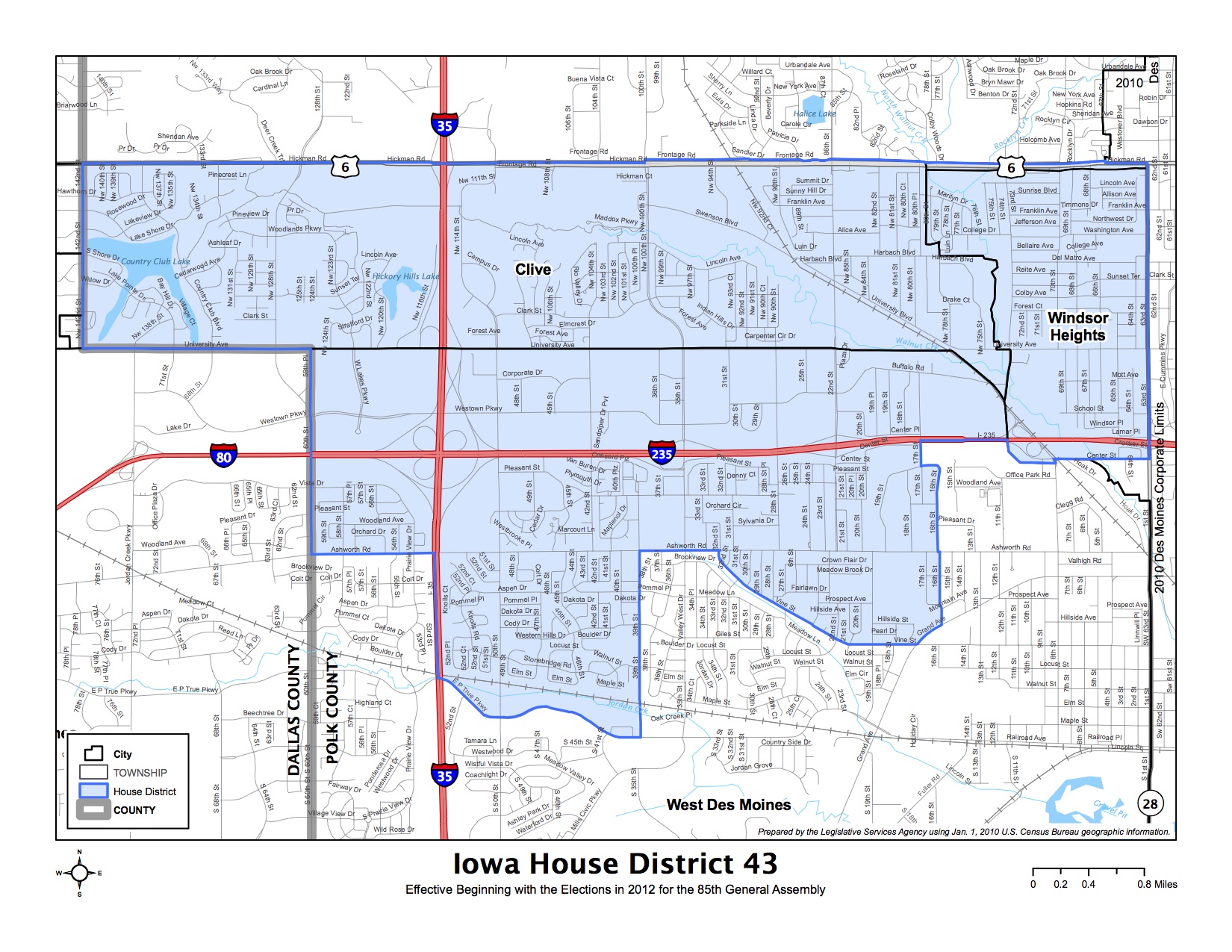 House district 44-- Waukee, West Des Moines, Clive (Dallas County)
48-45 Donald Trump 2016
57-43 Mitt Romney 2012
58-42 Paul Pate (R) 2014
Uncontested 2016 Legislative Race
At first glance, the district looks relatively inhospitable to Democrats. Despite a narrow Trump win in 2016, these outer Des Moines suburbs entirely within Dallas County have reliably voted Republican, so much so that no Democrat even filed to run here in 2016. Republicans maintain a very solid lead over Democrats in voter registration, although No-Party voters have the plurality. And yet, HD 44 will likely be one of the most competitive elections this fall.
Part of the reason is that, like its neighbor HD 43, this seat is also being vacated by the incumbent. Open seats are far more likely to change hands than seats with incumbents running are. The well educated and relatively affluent district proved to be a poor fit with Trump, and Hillary Clinton actually improved on Democratic performance in the area compared to Obama. Whether or not the area will snap back to supporting more conventional Republicans when Trump is not on the ballot is a question that remains unanswered. However, Democrats have recruited a well-known local businessman, Kenan Judge, to run. Republicans will have a primary between Anna Bergman and Travis Grassel.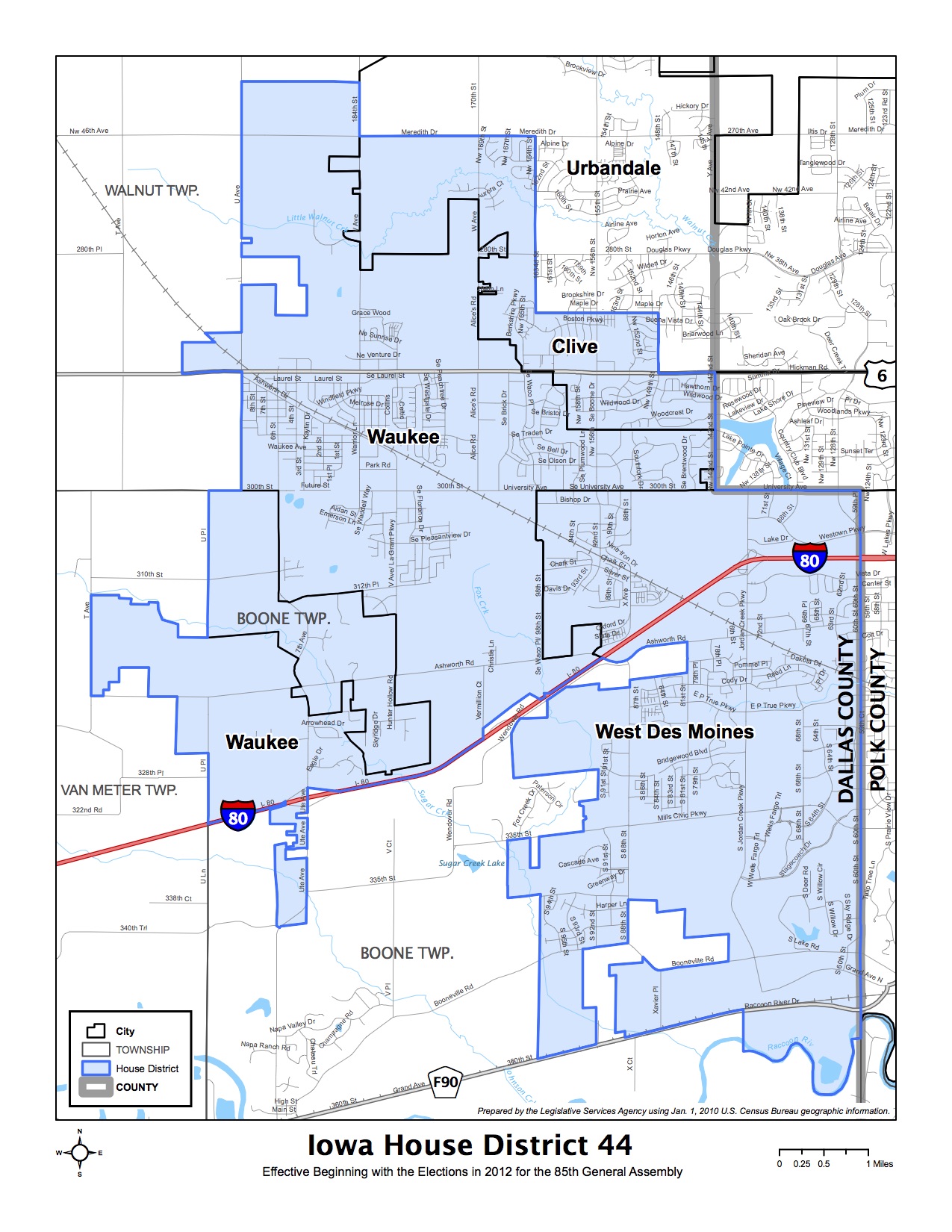 House district 68-- Marion, Bertram, Ely (Linn County)
48-45 Hillary Clinton 2016
55-45 Barack Obama 2012
48-47 Brad Anderson (D) 2014
54-46 Ken Rizer (R) 2016
Another open suburban seat, HD 68 shares many qualities with HD 43 in Polk County. Taking in about three quarters of Marion with some rural precincts in suburban Cedar Rapids, the district has a distinct Democratic lean with 491 more registered Democrats than Republicans. Brad Anderson narrowly won this district even while losing statewide, suggesting a modest Democratic lean even in a bad year. Democrat Daniel Lundby, son of a popular former state senator, was the last Democrat to represent this seat, winning first in 2012 before being narrowly unseated in 2014 by the incumbent Ken Rizer.
Rizer was able to hold on against educator Molly Donahue last cycle, but he is retiring, and Randy Ray (the only Republican to file) will not have the benefit of incumbency this fall. Donahue is running again, but faces a primary with Scott Foens. If Democrats are going to win the House majority this fall, the path runs through open seats like HD 68.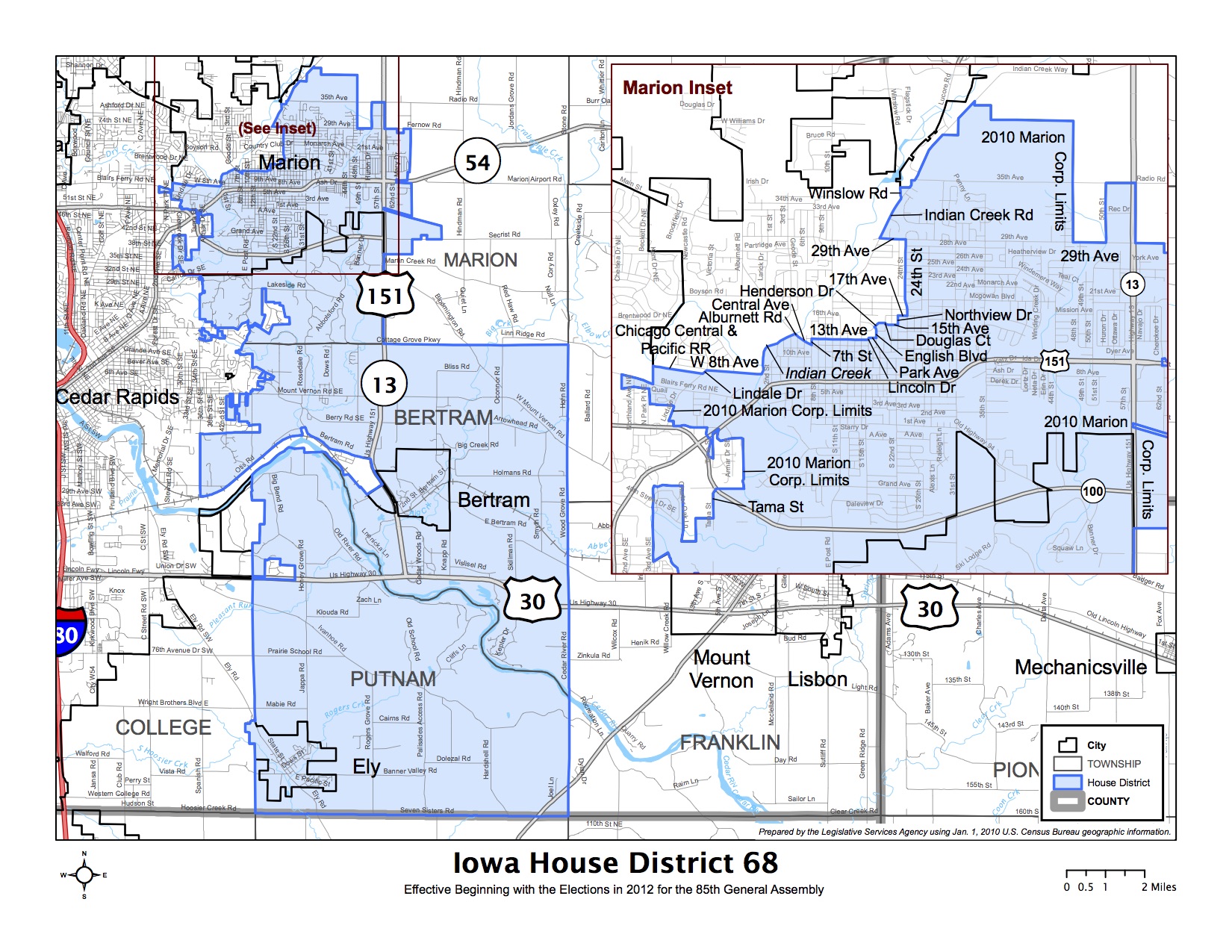 REACH SUBURBS
House district 42-- West Des Moines, Cumming (Polk, Warren counties)
51-42 Hillary Clinton 2016
51-49 Barack Obama 2012
47.9-47.8 Brad Anderson (D) 2014
53-47 Peter Cownie (R) 2016
Located entirely within West Des Moines in Polk County and parts of Cumming in rural Warren County, HD 42 is another suburban seat that has seen its Republican edge rapidly evaporate. Despite the narrow Obama win in 2012, and Brad Anderson's 11 vote win here in 2014, Hillary Clinton decisively won the district by 9 points in 2016. The incumbent faced a very strong challenge in Democrat Claire Celsi, and spent hundreds of thousands of dollars in negative advertising after internal polls reportedly showed him losing.
Fortunately for Republicans, Cownie is running for re-election. He will face Democrat Kristin Sunde, a local activist and foster parent. Sunde will not have an easy time dispatching a well-known and well-funded incumbent, but, as Celsi showed in 2016, a hardworking candidate can get close even in a bad year. Sunde also recently landed an endorsement from the DLCC, suggesting that national players see HD 42 as winnable and critical to the House majority.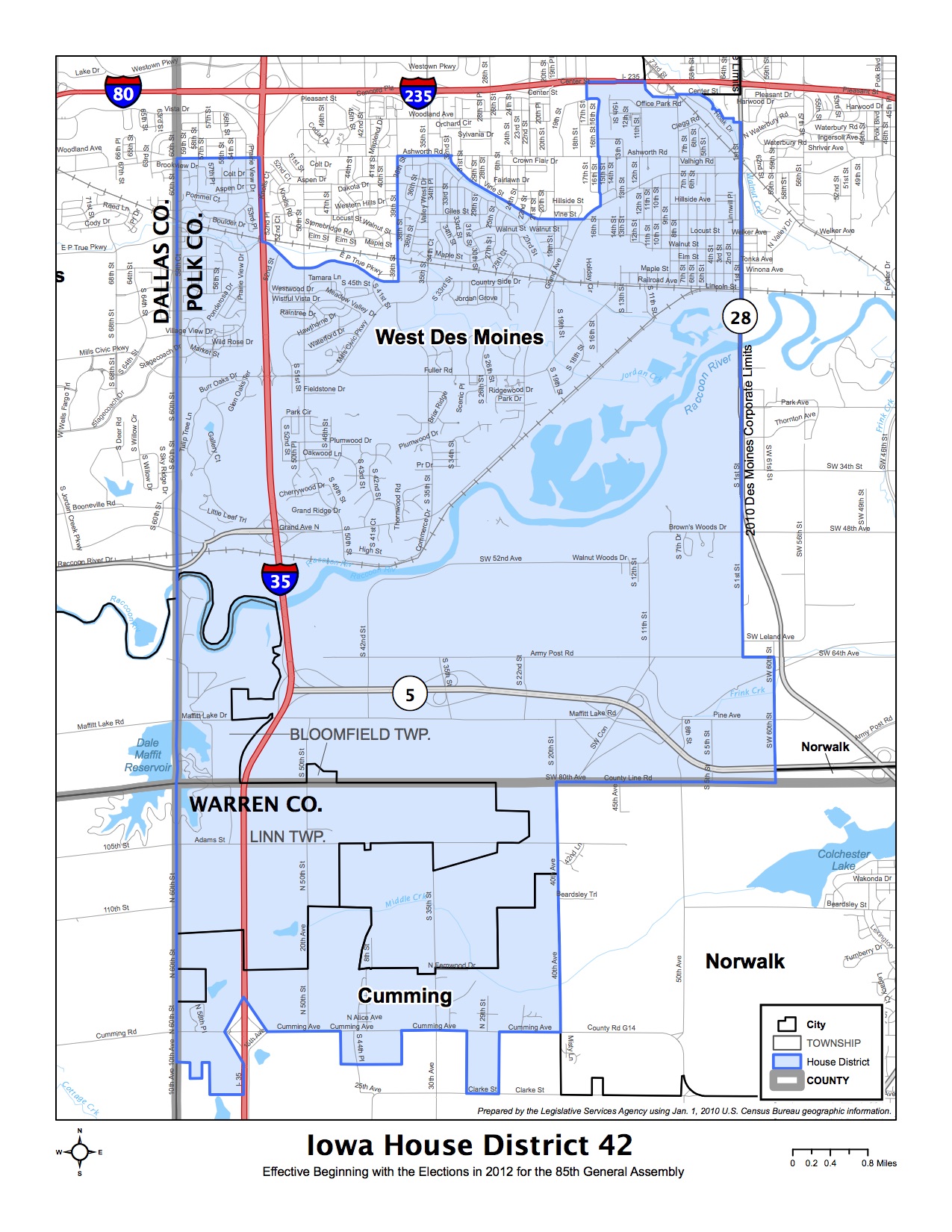 House district 67-- Hiawatha, Cedar Rapids, Marion, Robins (Linn County)
47-46 Hillary Clinton 2016
50.1-49.8 Mitt Romney 2012
51-45 Paul Pate (R) 2014
63-37 Ashley Hinson (R) 2016
Formerly Iowa House Speaker Kraig Paulsen's seat, this northern Cedar Rapids suburbs seat is very similar to other outer suburban seats in Des Moines and Cedar Falls. Republicans were smart to nominate Ashley Hinson, a former local news correspondent, for this open seat in 2016. Democrats did not make much of a play here in 2016 but have recruited educator and Linn County Deputy Sheriff Dr. Eric Gjerde this cycle. Gjerde has been running for several months and appears have the kind of professional campaign that will be necessary to knock off an incumbent with high name recognition and strong fundraising totals.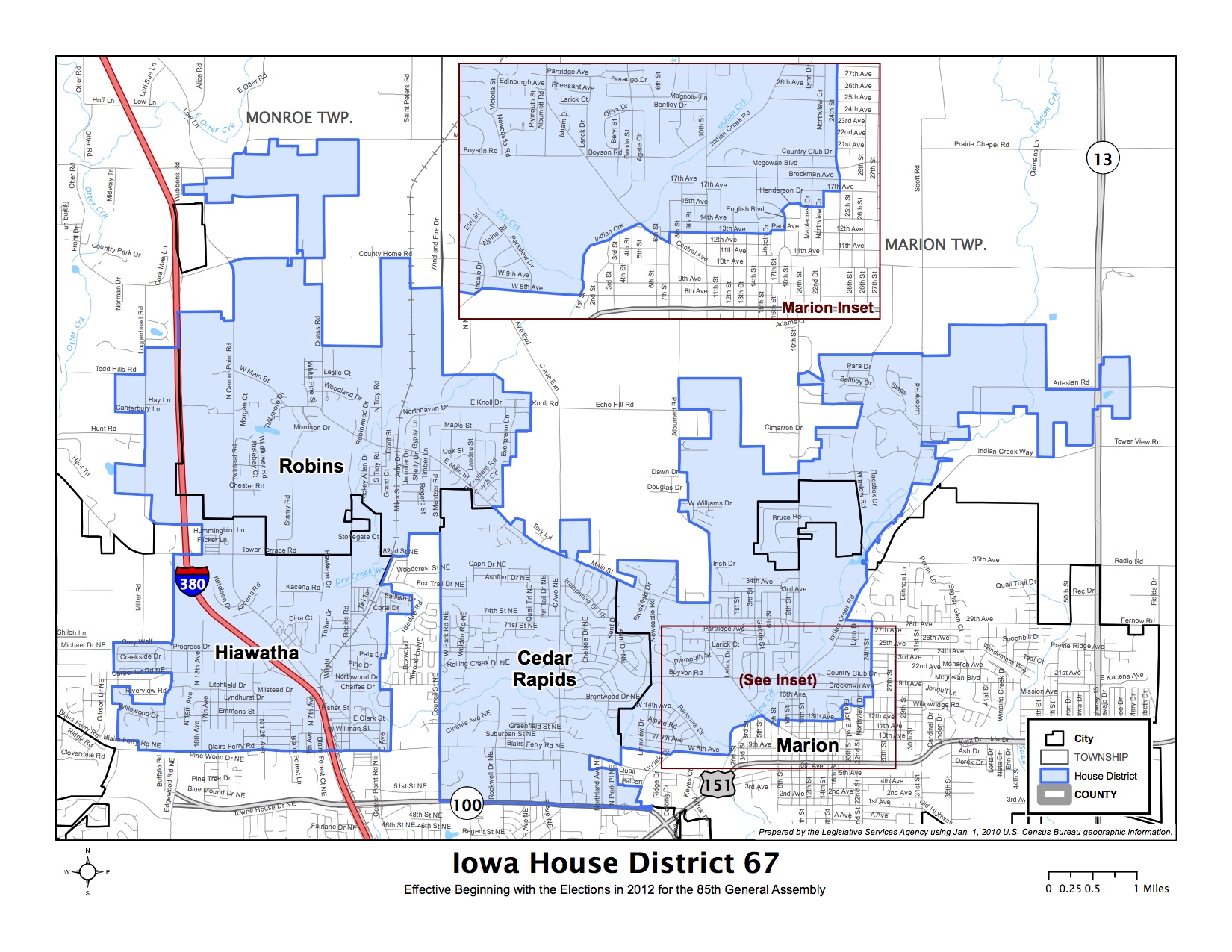 House district 60-- Cedar Falls, Waterloo, Hudson (Black Hawk County)
49-45 Donald Trump 2016
51-49 Barack Obama 2012
51-45 Paul Pate (R) 2014
58-42 Walt Rogers (R) 2016
Located in the southern portions of Cedar Falls and Waterloo with some rural areas around Hudson, HD 60 has been represented by Republican Walt Rogers since 2010 when he unseated Democrat Doris Kelley. The seat itself was slightly more Republican than Iowa as a whole prior to 2016, but Trump's 4 point margin in the district is 5 points lower than his statewide win-- basically this is one of those few seats that became more Democratic in 2016, even though it went from Obama to Trump.
Rogers is very well known in the Cedar Falls/Waterloo area and has the benefit of incumbency. However, he has been the public face of some nasty battles over public education over the past two years as the chair of the House Education Committee. Democrats have recruited a strong challenger in Dave Williams, who is not only a former John Deere operations manager, but is also the next-door neighbor to the incumbent.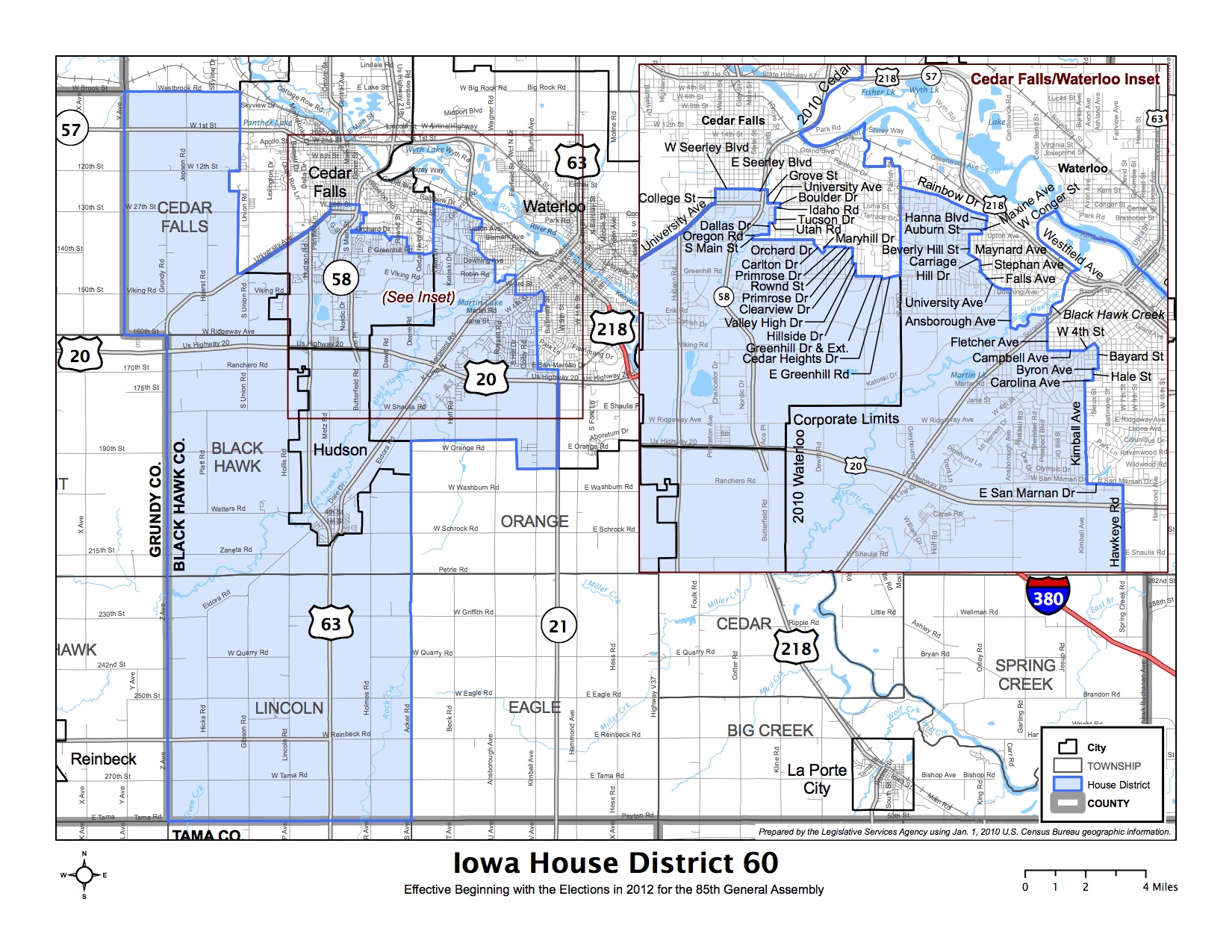 House district 38-- Ankeny; Crocker, Saylor, and Delaware Townships (Polk County)
50-43 Donald Trump 2016
50.06-49.94 Barack Obama 2012
48-47 Paul Pate (R) 2014
52-43 Kevin Koester (R) 2016
Located in the working class townships north of Des Moines and the rapidly growing southern portion of Ankeny, this district will likely host one of the most competitive statehouse elections of 2018. In 2016, Democrat Heather Matson ran a strong, well-funded race only to fall victim to a nasty political environment and two third-party candidates. The district was narrowly won by just 19 votes by Barack Obama in 2012, so it does support Democrats in a positive national environment. The juxtaposition of the well-educated and relatively affluent new developments in southern Ankeny and the working-class neighborhoods north of Des Moines make it hard to pin the district down. Democrats have a primary here, with 2016 nominee Heather Matson squaring off with Reyma McCoy McDeid. Whoever wins will have an uphill battle agains the incumbent, who is well known in Ankeny.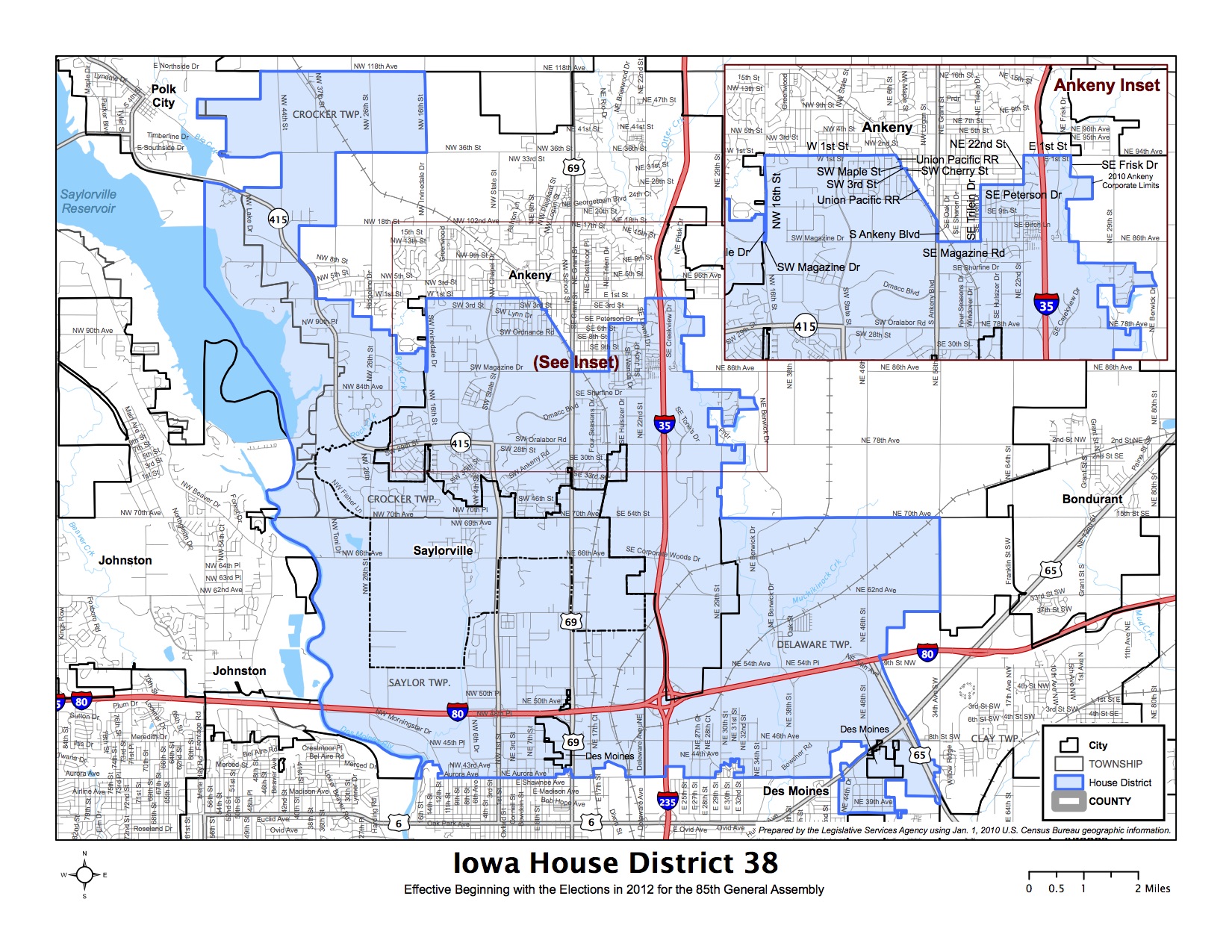 House district 39--Johnston, Urbandale, Grimes, Jefferson Township (Polk County)
49-44 Donald Trump 2016
56-44 Mitt Romney 2012
53-42 Paul Pate (R) 2014
54-44 Jake Highfill (R) 2016
There's a lot of reasons for Democrats to be optimistic about 2018 elections, and the upcoming showdown in HD 39 is one of them. After Democrats lost the district by 12 percent in 2012 and 11 percent in 2014, Hillary Clinton only lost by 5 percent in these affluent suburbs. Like HD 60, it went from being substantially more Republican than the state in 2012 and 2014 to far less Republican in 2016.
Whether that sticks this fall will be determined, but Democrats have a strong candidate in Karin Derry, a local attorney and community activist. Derry has impressed with her campaign organization and fundraising, and she could have the connections to beat the incumbent here.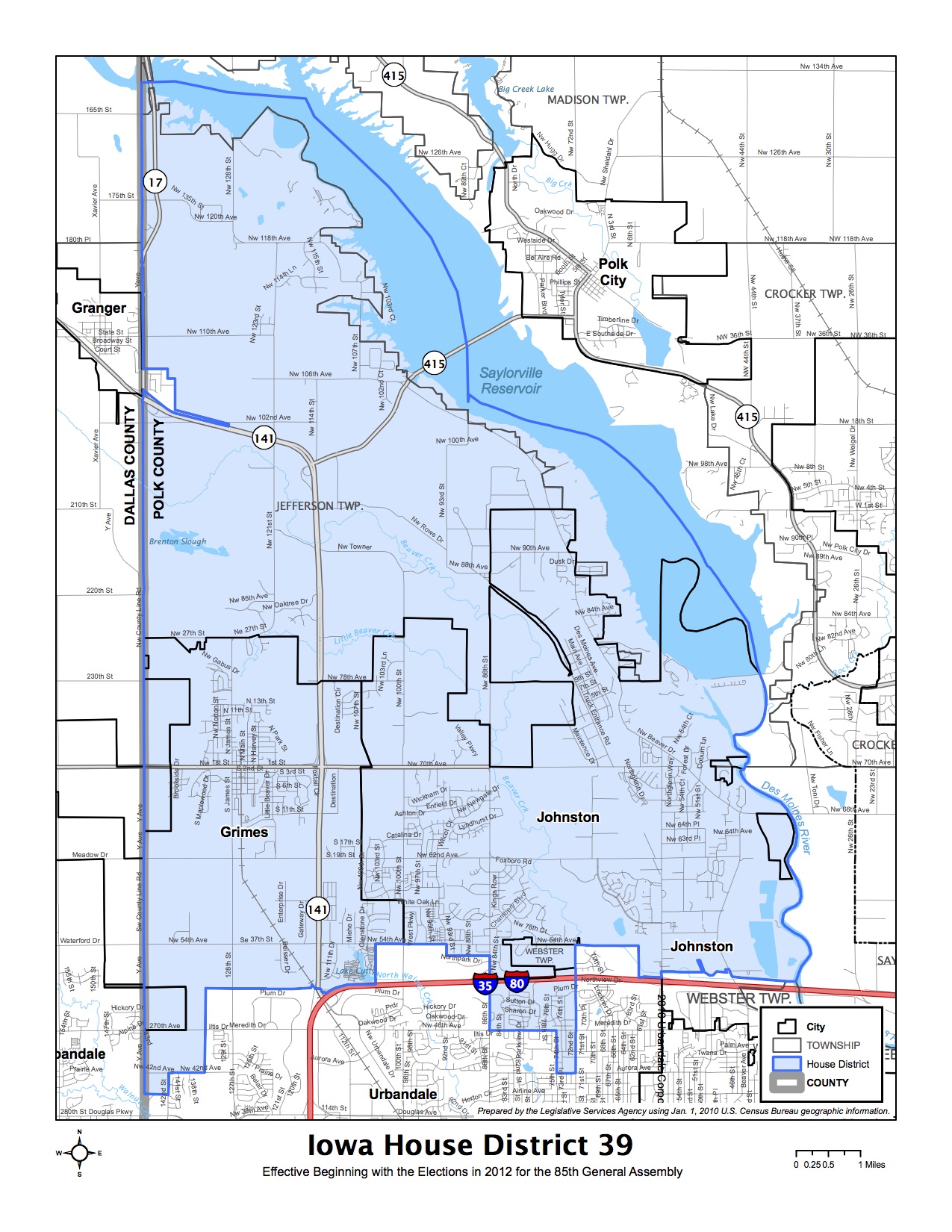 OBAMA DISTRICTS
House district 56-- Allamakee and Clayton counties
59-35 Donald Trump 2016
53-47 Barack Obama 2012
52-44 Paul Pate (R) 2014
55-45 Kristi Hager (R) 2016
HD 56, like the other two "Obama Districts" I mention here, is the epitome of the kind of area that powered Donald Trump's shocking electoral college win in the industrial midwest. Democrats held this seat going into 2016, but Rep. Patti Ruff was unable to outrun Hillary Clinton enough. However, Hager is retiring to run for Allamakee County supervisor after her term, so the seat will be open. It's still an open question whether these areas have permanently moved against Democrats, or if Hillary Clinton was a uniquely bad fit for this kind of district.
At any rate, Democrats have will have a primary between Lori Egan and Andy Kelleher. Egan has received an endorsement from the DLCC. Republicans utterly embarrassed themselves when they failed to recruit a candidate here by the filing deadline-- Dale Bolsinger filed as a Republican, but was evidently a Democrat playing dirty to lock up the seat for his party in the fall. An elections complaint knocked Bolsinger off the ballot, so Republicans won't have a candidate until a convention is called after the June primary. It shows exactly how organized House Republicans are that they didn't seek anyone out to run here (Bolsinger volunteered himself) and they didn't do any background research in time to discover he was actually a Democrat.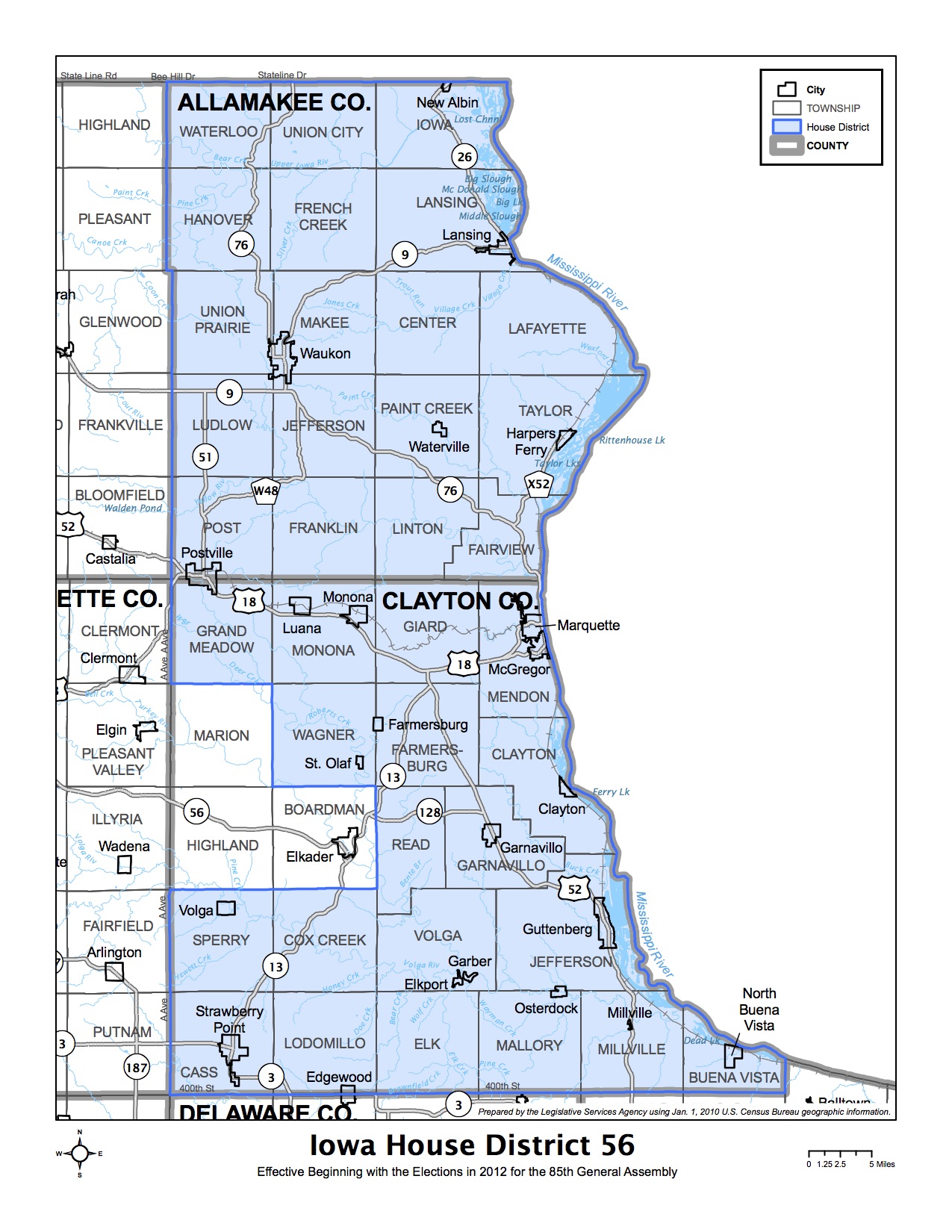 House district 51--Worth, Howard, Mitchell, and Winneshiek counties
59-36 Donald Trump 2016
56-44 Barack Obama 2012
50-46 Paul Pate (R) 2014
62-38 Jane Bloomingdale (R) 2016
HD 51 was long the "white whale" for Iowa House Democrats. Previously represented by Republican Josh Byrnes until 2016, Democrats had big intentions to win this district when the incumbent retired. However, Hillary Clinton fared very poorly in this very rural and white district along the Minnesota border, and Jane Bloomingdale was elected handily. The district contains all of Howard County, which is the only county in the United States to vote for both Barack Obama and Donald Trump by 20 points.
Democrats are hoping that the district reverts back to a more liberal voting streak, and have recruited Tim Knutson, a rural hospital administrator to face off against the incumbent.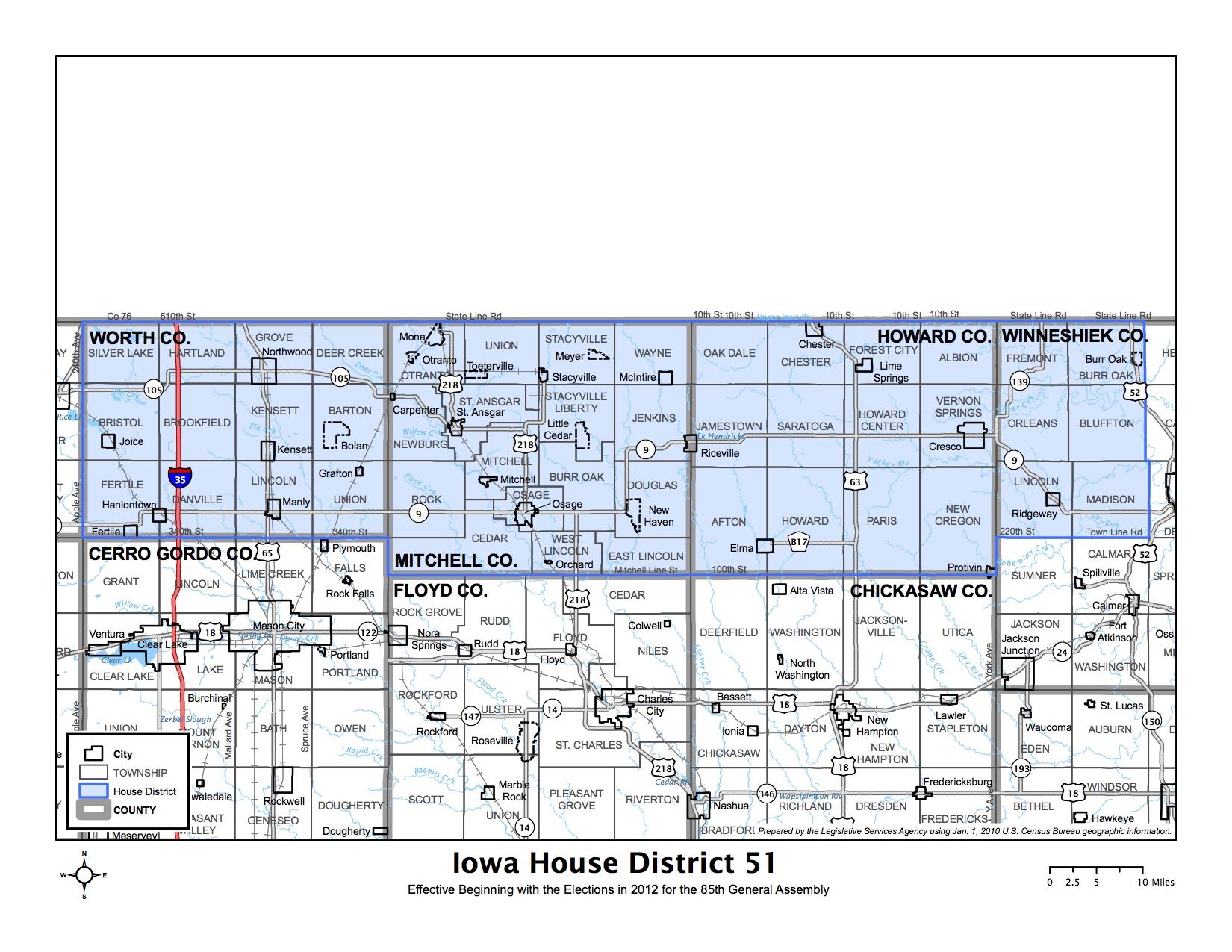 House district 55- Winneshiek, Fayette, Clayton counties
51-44 Donald Trump 2016
56-44 Barack Obama 2012
48-47 Brad Anderson (D) 2014
57-43 Michael Bergan (R) 2016
Based in the liberal bastion of Decorah, this seat was represented by Democrats until the 2014 wave. The Republican incumbent chose not to run again in 2016, and while Democrats made a play for the seat, they were unable to shake the district's distaste for the top of the ticket. However, the district did narrowly vote for Brad Anderson in 2014, and Democrats hope they will be able to retake this seat.
Rural development specialist Kayla Koether is the only Democratic candidate and will face off against the incumbent this fall. She seems to be running a robust volunteer operation, which will be critical in turning out the Democratic vote in Decorah for this swing seat. Koether will likely benefit from having another Winneshiek County native on the ballot in Rob Sand, who is running for state auditor and has a strong volunteer base in Decorah.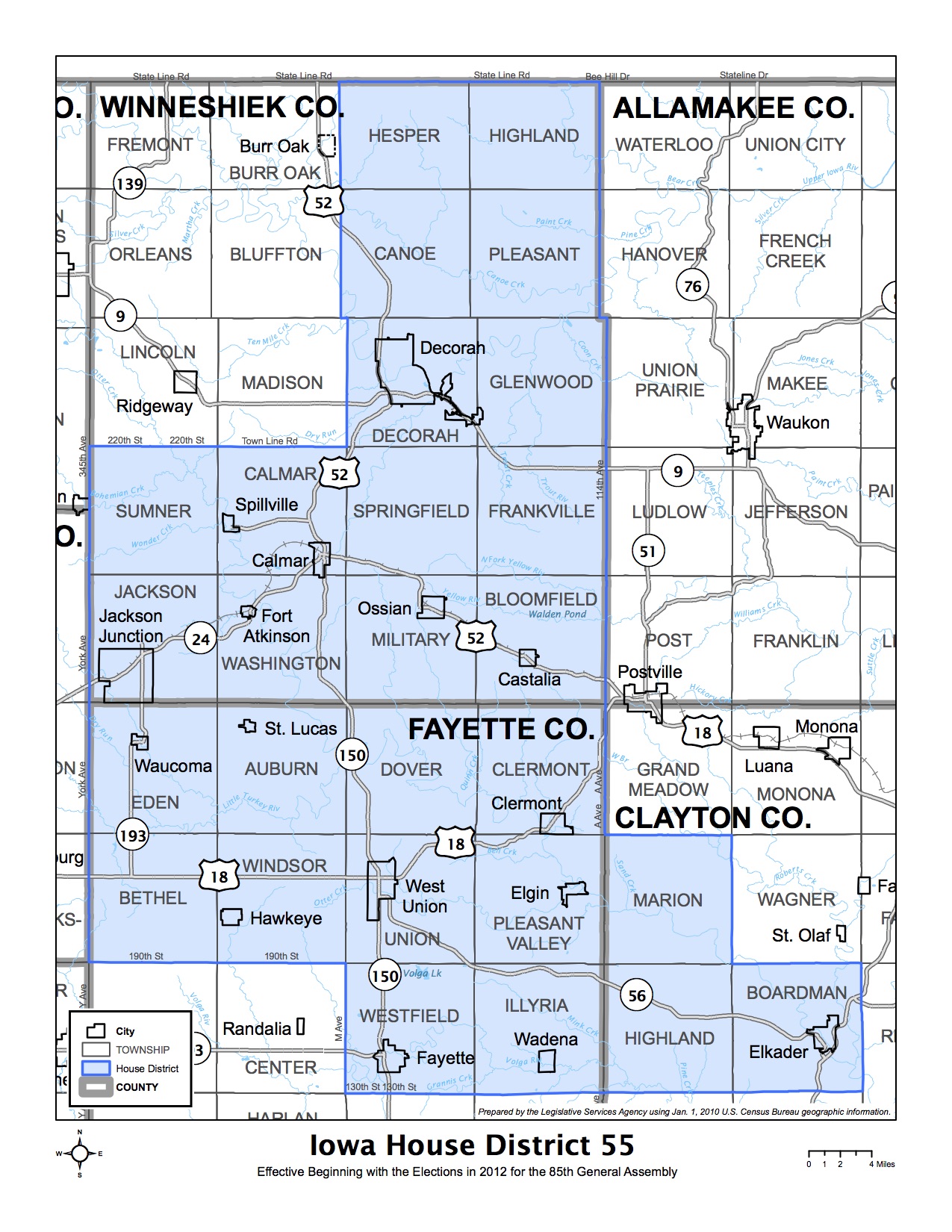 WORKING CLASS DISTRICTS
House district 9-- Fort Dodge (Webster County)
55-39 Donald Trump 2016
55-45 Barack Obama 2012
50-45 Brad Anderson (D) 2014
57-43 Helen Miller (D) 2016
This district is one of just four Democratic-held state House seats west of Interstate 35, and has been represented by Helen Miller since 2002. Fort Dodge has been a bastion of working class, "old school" Democrats, and it's exactly the kind of place where both Obama and Trump did well. Miller is very well-known and popular at home. Were she running for re-election, the seat would be a solid hold for the Democrats. However, Miller is retiring, and Republicans have a well funded candidate for this seat (Ann Meyer), which could complicate Democrats' plans to take the majority.
There are signs of hope for Democrats here- despite the national GOP wave in 2014, Democrat Brad Anderson won these Webster County precincts by 5 percent, and Democrats maintain a voter registration advantage of more than 1,000 over Republicans (but are still behind no-party voters). Democrats also have a strong candidate in Megan Srinivas, a local doctor who just received an endorsement from Run For Something.
This is the only seat where Republicans will be on the offensive, so how the race develops will be telling. If Republicans start to pour money in here, it probably means that they think they have a shot at keeping these Obama-Trump voters in the Republican column. However, if Republicans keep their investment low or cut their candidate off entirely, it probably suggests that they're triaging the district in favor of holding some of their more vulnerable seats. At any rate, this one will be one of the most important in determining who holds the House majority next January.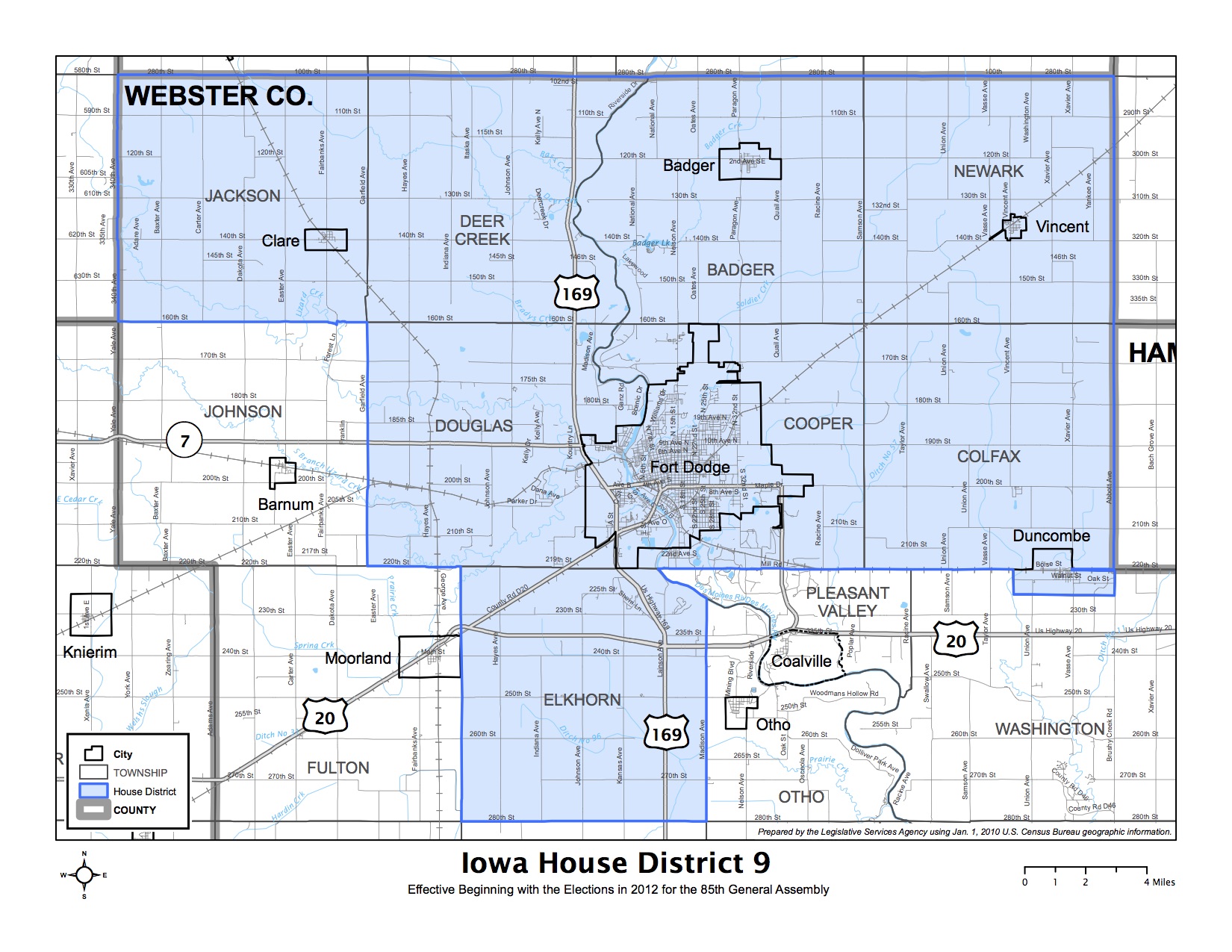 House district 57-- Dyersville, Asbury, rural Dubuque County
57-37 Donald Trump 2016
51-49 Mitt Romney 2012
49-46 Paul Pate (R) 2014
52-48 Shannon Lundgren (R) 2016
This seat in rural Dubuque County is perhaps one of the most interesting seats in the Iowa Legislature. In 2012, Democrat Nancy Dunkel won here even as Mitt Romney carried it by a small margin. Dunkel is very well known in the area as a local businesswoman and an inductee into the Iowa Women's Hall of Fame. However, she opted to retire in 2016. Dubuque County Recorder Shannon Lundgren only narrowly prevailed over her Democratic opponent, which is itself interesting considering the top of the ticket wasn't close at all-- Trump took the district by 20 points. And yet, the Republican took only a bare majority, suggesting that there is a significant portion of this electorate that voted for Trump and Tom Stecher, the Democrat running for the seat.
Lundgren now will face a competitive re-elction bid in a Democratic leaning year. She has been the face of the House GOP's attempts to limit reproductive choice, sponsoring many anti-abortion and anti-Planned Parenthood bills even as a freshmen legislator. This may not be such a liability in an area that is heavily Catholic. The district is largely working class, another "old-school Democrat" area where Dems actually have a voter registration advantage over Republicans. Lundgren was among the six House Republicans who voted against the sweeping collective bargaining law changes last year, so she may be able to sidestep some of that ire. The Democratic primary winner (either Nancy Fett or Leo Gansen) will face an uphill but certainly not insurmountable battle.
Making matters even more interesting: HD 57 is half of Senate District 29, where Republicans will be targeting incumbent Democratic Senator Tod Bowman. This one could be expensive.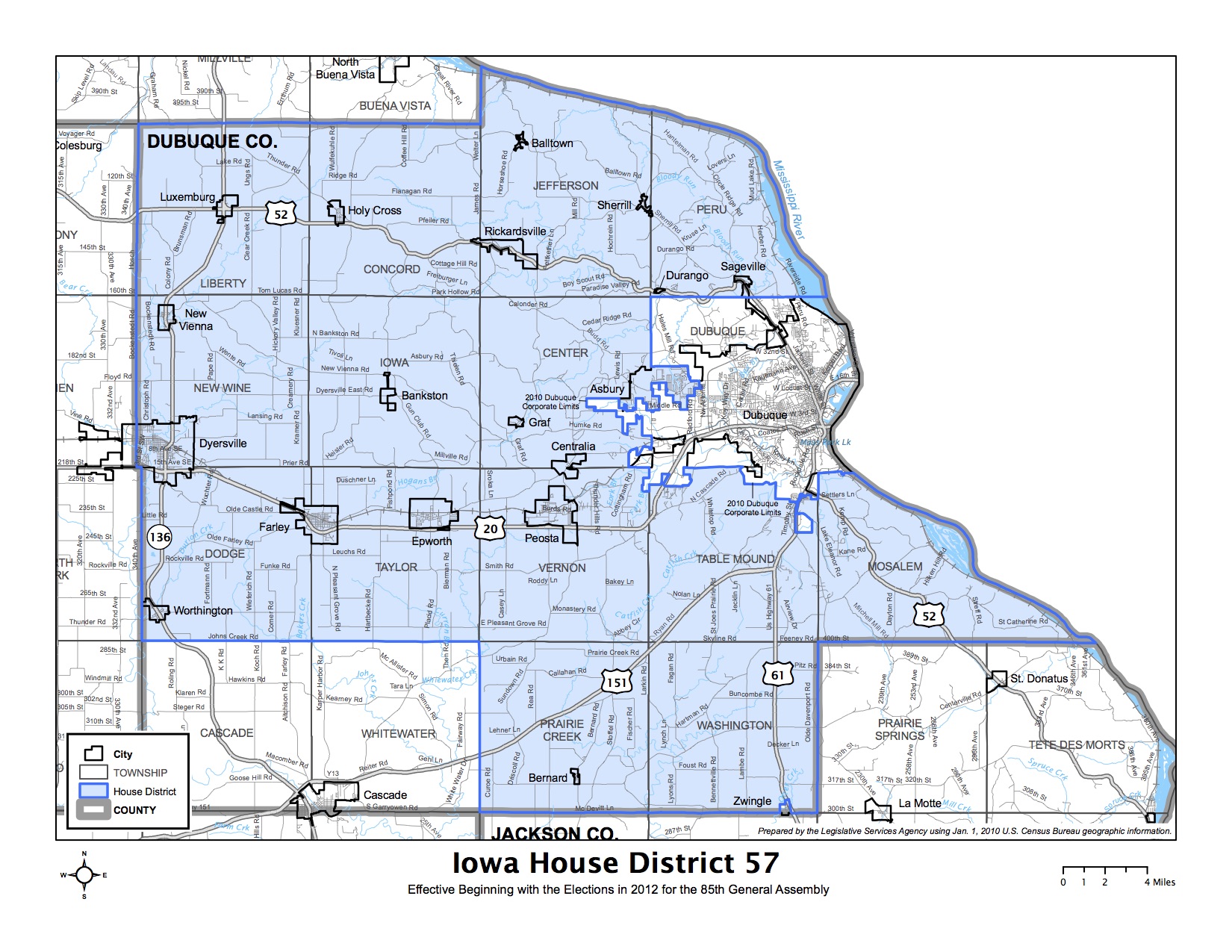 House district 91-- Muscatine (Muscatine County)
50-44 Donald Trump 2016
58-42 Barack Obama 2012
51-43 Paul Pate (R) 2014
54-46 Gary Carlson (R) 2016
Based entirely in Muscatine County, this seat will be a top target for Democrats looking to reclaim some of their old turf. After supporting President Obama by nearly 16 points in 2012, the district moved sharply to the right in 2016 and gave Trump a 6 point margin, slightly smaller than his statewide 9 point victory. The seat was more Democratic than the state as a whole in both 2012 and 2016, but Republicans have a very narrow voter registration advantage here. In 2016, the incumbent Republican legislator was held to a 54-46 victory, which aligned very closely with Trump's margin in the area. This suggests the district could be susceptible to top-of-the-ticket swings, so if the Democratic gubernatorial nominee is doing well here, it wouldn't be unexpected to see Carlson go down.
A few things to watch in this race: there is a significant Latino population in Muscatine. Republican efforts to curb "sanctuary cities" and federal actions could motivate that community vote at higher rates than in past midterms, which could make all the difference in a close race. Laura Liegois was the only Democrat to file, and will face Carlson this fall.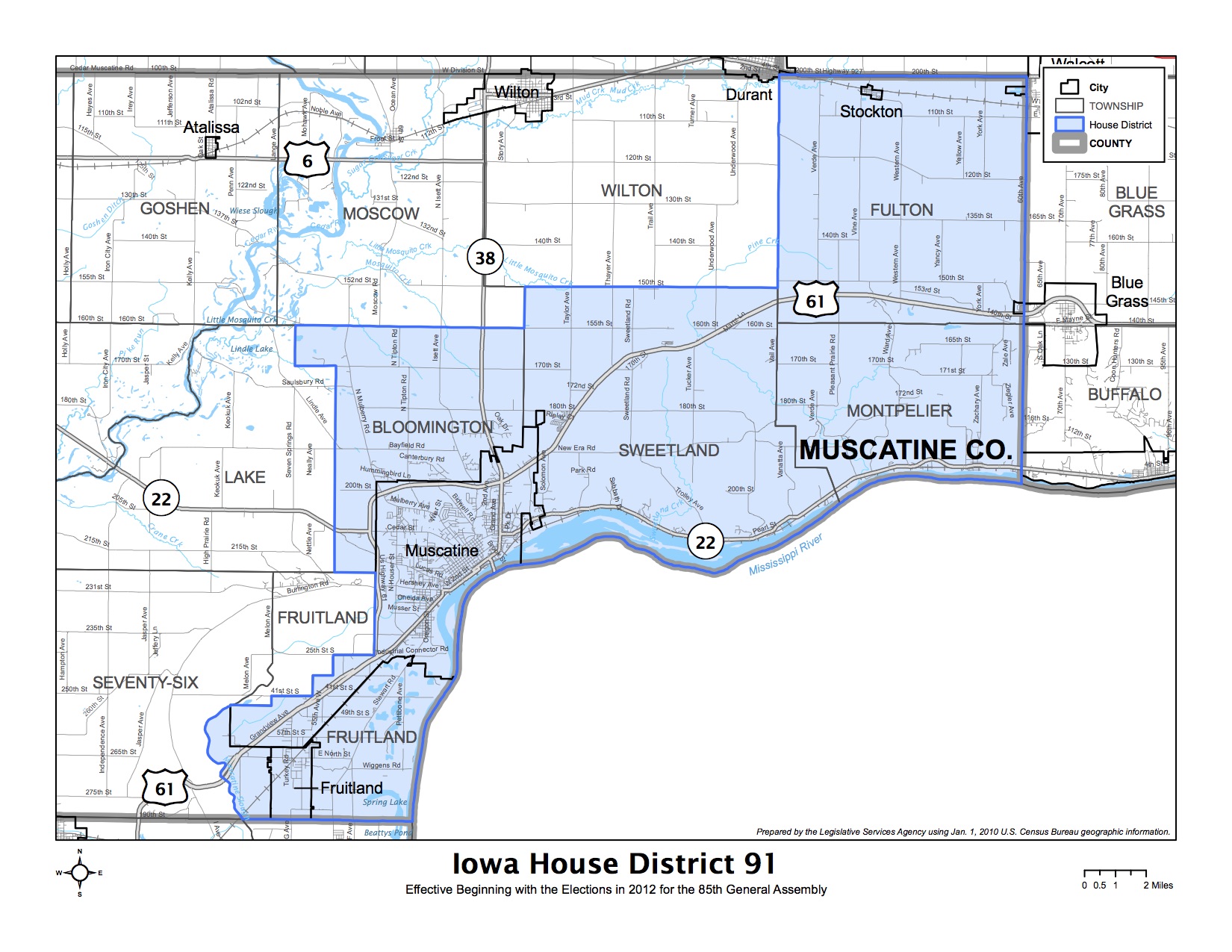 THE BELLWETHER
House district 94-- Bettendorf (Scott County)
50-44 Donald Trump 2016
54-46 Mitt Romney 2012
59-38 Paul Pate (R) 2014
Uncontested 2016 Legislative Race
I fully expect to get backlash for including HD 94 in this list over several other districts, but I do so for a few specific reasons. This district doesn't fall into any one category; it has components of being a suburban and working class district. The district was 14 points more Republican than Iowa in 2012, but shifted to being 3 points more Democratic than the state in 2016. However, like many other suburban districts, it remains to be seen if the distaste for Trump will lead to votes for Democrats when the president isn't on the ballot.
Democrats didn't run a candidate in this open seat in 2016, and incumbent Gary Mohr will not be easy to defeat. And yet, if Democrats want to win the House it's going to take winning, or at least running competitive in educated suburban areas like this. Nationally, a debate has raged about whether Democrats should redouble their energy in outreach to white, working class Obama-Trump voters, or educated white Romney-Clinton voters, but here in Iowa we don't have the luxury of that choice-- we must do both. This district could be a revealing test case for that strategy. If election returns show Mohr easily dispatching challenger Joan Marttila, then Iowa Democrats might be in for another upsetting election night. But if it's close or even a Democratic win here, all signs point to a wave.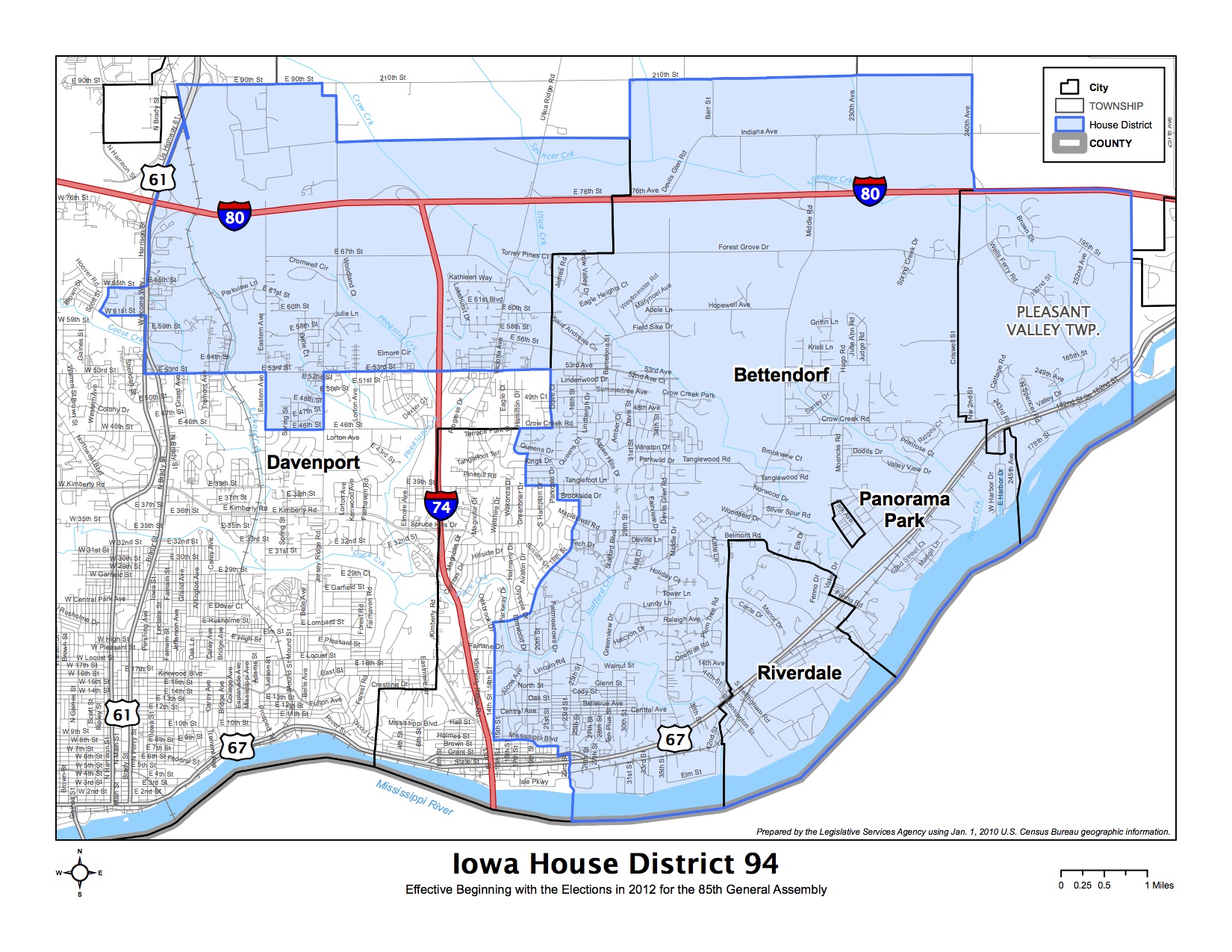 HONORABLE MENTIONS
House district 95-- Mount Vernon, rural Linn and Buchanan counties
This Obama-Trump seat is held by first term Rep. Louie Zumbach. He is being challenged by Christian Andrews. This area has long been an Iowa House battleground, but post-2016 voting shifts don't suggest to me that this one is yet competitive.
House district 16- East Council Bluffs (Pottawattamie County)
This seat would have been much more competitive if the incumbent retired, but Rep. Mary Ann Hanusa has filed for re-election. Hanusa is very well known in Council Bluffs, and will be tough to beat. Hanusa is being challenged by 2016 nominee and firefighter Steve Gorman. This Obama-Trump seat exactly matched the statewide margin in both 2012 and 2016, so watch how the top of the ticket performs here.
House district 37-- Northern Ankeny, rural Polk County
Part of the suburban contingent, this seat went from a very strong Romney win in 2012 to a Trump win roughly in-line with his statewide margin. Incumbent John Landon has never faced a competitive election in a good year for Democrats, so this well-educated suburban seat could get competitive with educator and outgoing Des Moines Education Association President Andrew Rasmussen in the race for Democrats.
House district 83-- Keokuk, Fort Madison (Lee County)
This seat is being vacated by Democratic Rep. Jerry Kearns. This shouldn't be competitive--Democrats have a massive voter registration lead, and Obama won it by 19 points in 2012. But Trump carried it by 13 in 2016 and it's an open seat, meaning a flip is more likely. Republicans have a candidate here who will face off against the winner of a three-way Democratic primary. If either party puts money in this race, it's a bad sign for Democrats.
Despite having close to their smallest share of seats in the Iowa House since 1995 (the GOP enjoys a 59-41 majority now--it was 60-40 in 2011 and 2012), Democrats are still well positioned to make significant gains in the lower chamber. Retirements give Democrats the upper-hand in at least four seats, while several others are in toss-up territory. It's certainly too early to prognosticate the exact number of seats each party will have next spring. Nevertheless, a favorable national environment, a string recruiting advantage, and targeted open seats suggest that the Iowa House is legitimately up for grabs in 2018.