As always, a few surprises lurked in the campaign finance reports Iowa statewide and legislative candidates were required to file by July 19.
Some Iowa office-holders who are facing tough campaigns made little apparent effort to raise money, even though fundraising capacity is one of the biggest perks of incumbency in American politics.

STATEWIDE OFFICIALS
Secretary of Agriculture Mike Naig (R)
Naig enjoys none of the usual incumbency advantages. He's never been elected or even campaigned for any office prior to this year. His name recognition is probably low, since he has held his current job only since March, when Governor Kim Reynolds appointed him to replace Bill Northey. (Naig's predecessor resigned in order to take a senior post in the U.S. Department of Agriculture.)
Whereas most incumbents have their own party's support locked up, Naig faced four rivals in the Republican primary. Though he won a plurality of votes on June 5, he was just below the 35 percent needed to win the nomination outright. Naig then limped to victory at the GOP state convention, needing four ballots to win despite having Northey's endorsement.
Meanwhile, fallout from President Donald Trump's trade war has been headline news, as Iowa pork producers, corn and soybean growers, and farm equipment manufacturers stand to lose hundreds of millions of dollars.
I expected Naig to bring in big money after winning the nomination, because of his connections to Northey and Reynolds. In addition, corporate agriculture lobby groups mostly favor Republican candidates. However, he reported $46,100 in contributions between May 30 and July 14. Most of that cash ($25,000) came from the Washington, DC-based Republican State Leadership Committee. Naig received another $2,500 from corporate political action committees and less than $20,000 from individual donors.
Naig's campaign spent $41,337.27 during the reporting period, mostly before the GOP state convention on June 16. As of July 14, Naig had only $27,948.27 cash on hand--not much for a statewide race.
None of the above would matter if Democrats lacked a credible candidate for this office, but fifth-generation farmer and former USDA official Tim Gannon has been working hard. He raised $85,354.99 during this six-week period. Almost all of Gannon's money came from individuals, other than two gifts totaling $6,000 from the Big Sky Values PAC affiliated with Montana Governor Steve Bullock. With no competitors for the nomination, Gannon spent just $11,366.14 during the reporting period and had $108,950.11 cash on hand as of July 14. In a news release, the Democrat crowed about his nearly 4 to 1 cash on hand advantage, saying,
"From the top of the ticket all the way down, Iowans are excited to support candidates that will put our agricultural economy ahead of divisive and partisan interests, and I appreciate the support of everyone who has donated to our campaign since we started February 1. Over the coming months, I will continue traveling across our great state working to earn voters' support because folks from river to river deserve a Secretary of Agriculture that will always have the backs of our farmers and rural communities."
State Auditor Mary Mosiman (R)
Mosiman trailed her Democratic challenger Rob Sand in fundraising in late 2017 and through the first five months of this year. The trend continued after the June primary. Mosiman reported $17,309.00 in contributions on her latest filing, all from individuals other than $250 from the Fareway grocery chain's PAC.
Unlike Naig, Mosiman had no competition for the nomination, so was able to conserve her resources and spent just $6,414.14 during the reporting period. As of July 14, she had $123,353.74 cash on hand.
Sand raised $100,261. He gave his own campaign $5,500, and most of the rest came from other individuals, except for $2,500 from Jason Kander's Let America Vote PAC and $1,000 from the Montana governor's Big Sky Values PAC.
About half of Sand's $66,665.52 in expenditures on the latest filing went toward media production ($23,656.53) or an e-mail list ($10,000). Even after spending ten times as much as Mosiman during June and early July, Sand still had $316,740.26 cash on hand. He is poised to out-spend the incumbent during the final three and a half months--a remarkable feat for a first-time, statewide candidate.
Secretary of State Paul Pate (R)
If Pate is worried about winning another term, you wouldn't know it from his latest filing. He raised just $8,340, all from individuals, and spent $14,201.37, mostly on consulting services. Pate's ace in the hole is his ability to self-fund: as of July 14, his campaign had $232,286.26 cash on hand and $283,500 in outstanding loans to the candidate.
Democratic nominee Deidre DeJear raised $70,923.17, mostly from individuals. She received $5,000 each from NARAL Pro-Choice America and the Onward Together Committee Hillary Clinton founded last year, as well as $1,000 gifts from Julian Castro's Opportunity First PAC, The Collective PAC (which supports African-American candidates), and the Visionary PAC. DeJear needed to spend most of what she raised earlier in the year to get through the Democratic primary. Staff salaries were the largest line item among her $26,063.29 in expenditures. Her campaign had $59,172.99 on hand as of July 14.
Final note on the Iowa statewide races
In the fall of 2014, the Republican Party of Iowa gave $50,000 each to the campaigns of State Auditor Mosiman, secretary of state candidate Pate, attorney general candidate Adam Gregg, and state treasurer candidate Sam Clovis.
Whether the state party will be able to provide comparable assistance to this year's statewide GOP candidates is an open question.
The 2014 Iowa governor's race was uncompetitive. Nearly every poll published had Republican incumbent Terry Branstad ahead of Democratic State Senator Jack Hatch by double digits, and many polls had Branstad leading by 20 points. The challenger also lagged far behind in fundraising. Even after spending several times more than his opponent, Branstad was able to transfer nearly $700,000 to the Iowa GOP from July through mid-October 2014, and another $221,000 to the state party during the final weeks before the election. Those funds supported the GOP's turnout operation as well as many down-ballot candidates.
Election forecasters are calling this year's governor's race a toss up. Governor Kim Reynolds is not likely to have commanding leads in any polls released this fall. She won't have nearly a million dollars lying around to give to the state party either; Democratic nominee Fred Hubbell will likely be able to match the incumbent's spending.
Those realities should concern Naig and Mosiman--less so Pate, who can loan his campaign a six-figure sum if needed.
STATE LEGISLATORS
Caveat one: This post is not a review of the Iowa legislative districts most at risk of changing hands. Open seats are often the best pickup opportunities. For Democrats, those include Iowa House districts 43, 44, 56, and 68, along with Senate districts 7 and 41. Republicans have an opening in Senate district 49 and, as of last Friday, Senate district 15. (When I started writing this post, I planned to include Democratic State Senator Chaz Allen, who raised very little money since May, but he announced his surprise retirement on July 20.)
Caveat two: For today, I'm not talking about state lawmakers in safe districts, many of whom are unopposed and consequently made no effort to fundraise. The focus of this post is incumbents who can expect to be targets of the other party. Most legislators bracing for a fight raised five-figure amounts between May 30 and July 14, including Republican State Representatives Jake Highfill ($20,950 for House district 39), Shannon Lundgren ($17,630.00 for House district 57), and Ashley Hinson ($21,350 for House district 67), along with Democratic State Senator Amanda Ragan ($27,450.45 for Senate district 27).
My goal was to flag some noteworthy numbers from incumbents who can't count on coasting to another term.
Peter Cownie (R), House district 42
UPDATE: Cownie filed an amended disclosure report several hours after this post was published, declaring $36,761.11 in contributions, all from individuals. The largest donation was $10,000 from Sheri Horner. Two people gave $2,500 each and ten gave $1,000. As of July 14, his cash on hand was $48,603.55. Original post follows:
Something's fishy in West Des Moines.
Five-term State Representative Peter Cownie has usually been one of the largest fundraisers in the House GOP caucus, thanks to his wealthy and well-connected parents and his position as Commerce Committee chair. At this point in the last election cycle, he reported raising $26,125 and was sitting on a bank balance of $117,778.75.
Yet Cownie reported raising nothing--zero dollars and zero cents--between May 30 and July 14. He started that period with $40,066.02 in his campaign account and spent $28,223.58, mostly on a $25,000 donation to the Iowa GOP. He had $11,842.44 cash on hand as of July 14.
Keep in mind:
• The district is trending Democratic. Shortly before the 2012 election, registered Republicans outnumbered Democrats in Cownie's district by around 800. By November 2016, the GOP registration advantage was below 150. Now Democrats outnumber Republicans by more than 700. Barack Obama carried House district 42 by 1 point in 2012, but Hillary Clinton outpolled Donald Trump in the same precincts by 9 points.
• Republicans spent more than $300,000 here in the late stages of the 2016 campaign, after their internal polling showed Cownie was in trouble.
• Cownie floor-managed the Republican tax cut bill, one of the most significant laws enacted this year. It will provide a huge windfall to the wealthiest Iowans.
• Also during the 2018 session, the House Commerce Committee moved forward a terrible energy bill. PACs representing utility companies or municipal utilities (the only groups that new law benefited) donated to many of the Republicans who voted for it.
• House Speaker Linda Upmeyer recently tapped Cownie to replace retiring Representative Guy Vander Linden as chair of the House Ways and Means Committee. That job is traditionally a "rain-maker" position.
• Many PACs made contributions to dozens of Iowa lawmakers during this reporting period. It's hard to believe they all happened to overlook the new leader of a powerful committee.
I can only surmise that Cownie told prospective donors to hold back until after the July filing deadline, so as to leave Democrats in the dark about how much he would have available for the general election. The next reporting deadline for Iowa legislative candidates is October 19.
Democratic candidate Kristin Sunde raised $12,034.77 during the latest period, mostly from individuals. She also brought in $500 from one labor union PAC, $350 from Women for a Stronger America, $250 from the Asian and Latino Coalition, and $25 from the Warren County Democrats. Sunde's $28,967.92 cash on hand is comparable to what Cownie's 2016 opponent Claire Celsi had at this stage of the campaign.
JULY 25 UPDATE: I asked Iowa Ethics and Campaign Disclosure Board executive director Megan Tooker whether Cownie would be fined for not disclosing any campaign contributions on his July 19 filing. She replied by e-mail that it is "common for committees to amend their reports. However, there is a difference between correcting an error or omission and filing an incomplete report." After reviewing Cownie's latest filing, Tooker "determined it is appropriate to issue a late-report penalty for this filing ($50 is the penalty). While it was technically filed on time, it was missing more than half of its data. I have informed the committee and it will receive a penalty notice next week. The committee will have 30 days to request a waiver of the civil penalty if it chooses."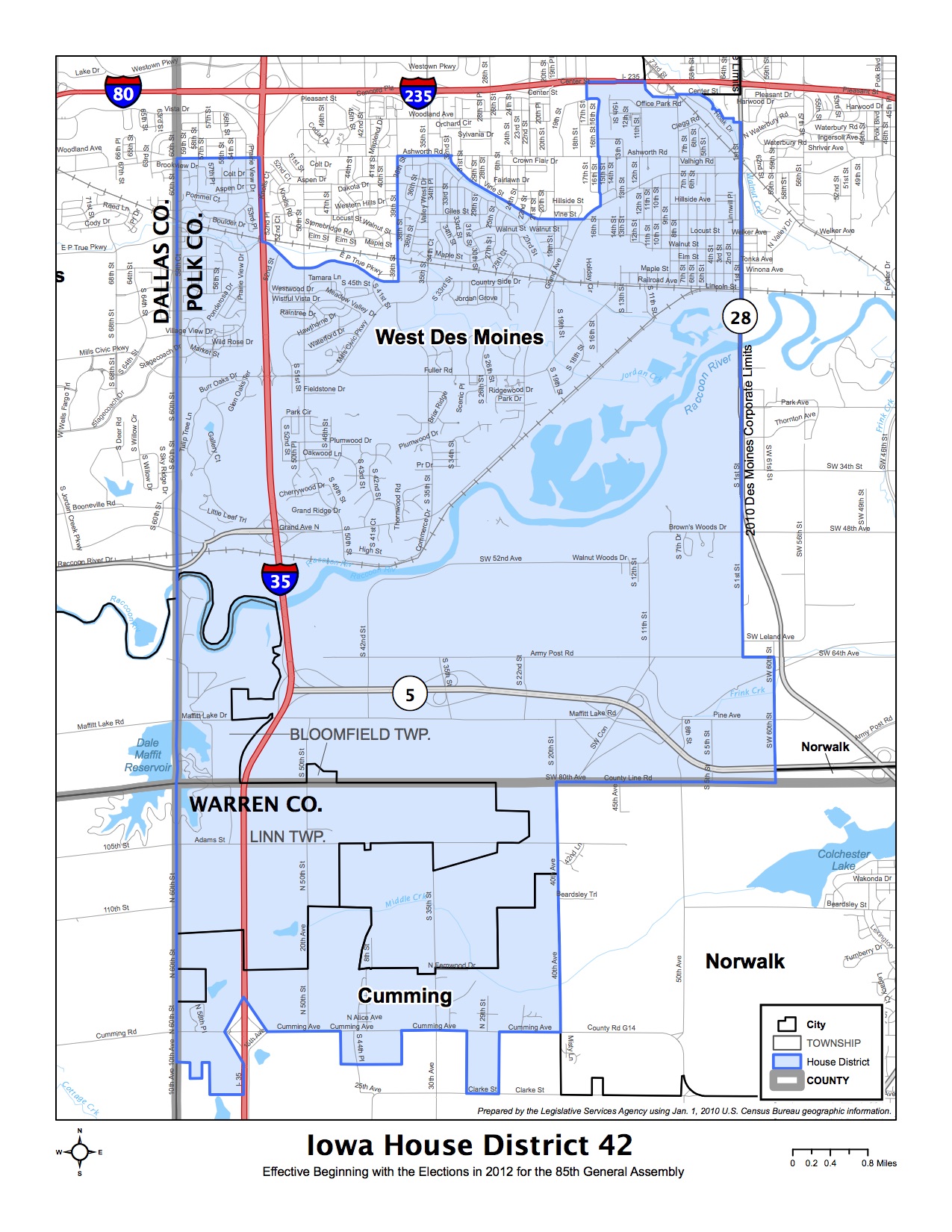 Michael Bergan (R), House district 55
The last Republican to represent this northeast Iowa district, Darrel Branhagen, retired after just one term in 2016. After reading Bergan's disclosures this year, I wonder why he didn't do the same. Bergan raised not a single dollar from January through mid-May and spent most of what was in his campaign account, leaving $902.74 cash on hand. Since then, his campaign has received exactly one donation: $200 from MuniPAC. An ambitious kid with a lemonade stand in Decorah could bring in more. GOP State Representative Jane Bloomingdale in House district 51 next door raised $8,000 during the latest reporting period.
Incidentally, you may ask why the PAC representing municipal utility companies would donate to Bergan, one of five House Republicans who voted against the big energy bill this year. MuniPAC gave to most state legislators in both parties. Those who had opposed that bill received $200; key supporters received larger amounts.
Bergan has spent nothing from his campaign account since May. As of July 14, he had $1,102.74 cash on hand with $3,184.30 in debts owed to himself for travel expenses.
Perhaps House leaders promised Bergan all the financial help he needs in exchange for supporting the near-total abortion ban on the House floor. Bergan had voted against that bill in committee.
Alternatively, Bergan may feel confident because House district 55 swung from voting by a double-digit margin for Obama in 2012 to a 7-point margin for Trump in 2016. But Republicans have only a slight voter registration advantage here, and local Democrats will be fired up to support native son Rob Sand in the state auditor's race.
Bergan's challenger Kayla Koether has proven herself a strong fundraiser; she had $21,186.65 cash on hand just before the June primary. During the latest period, Koether brought in $19,670.54, all from individuals except for $200 from the Winneshiek County Democrats. Her campaign had $38,863.26 in the bank on July 14.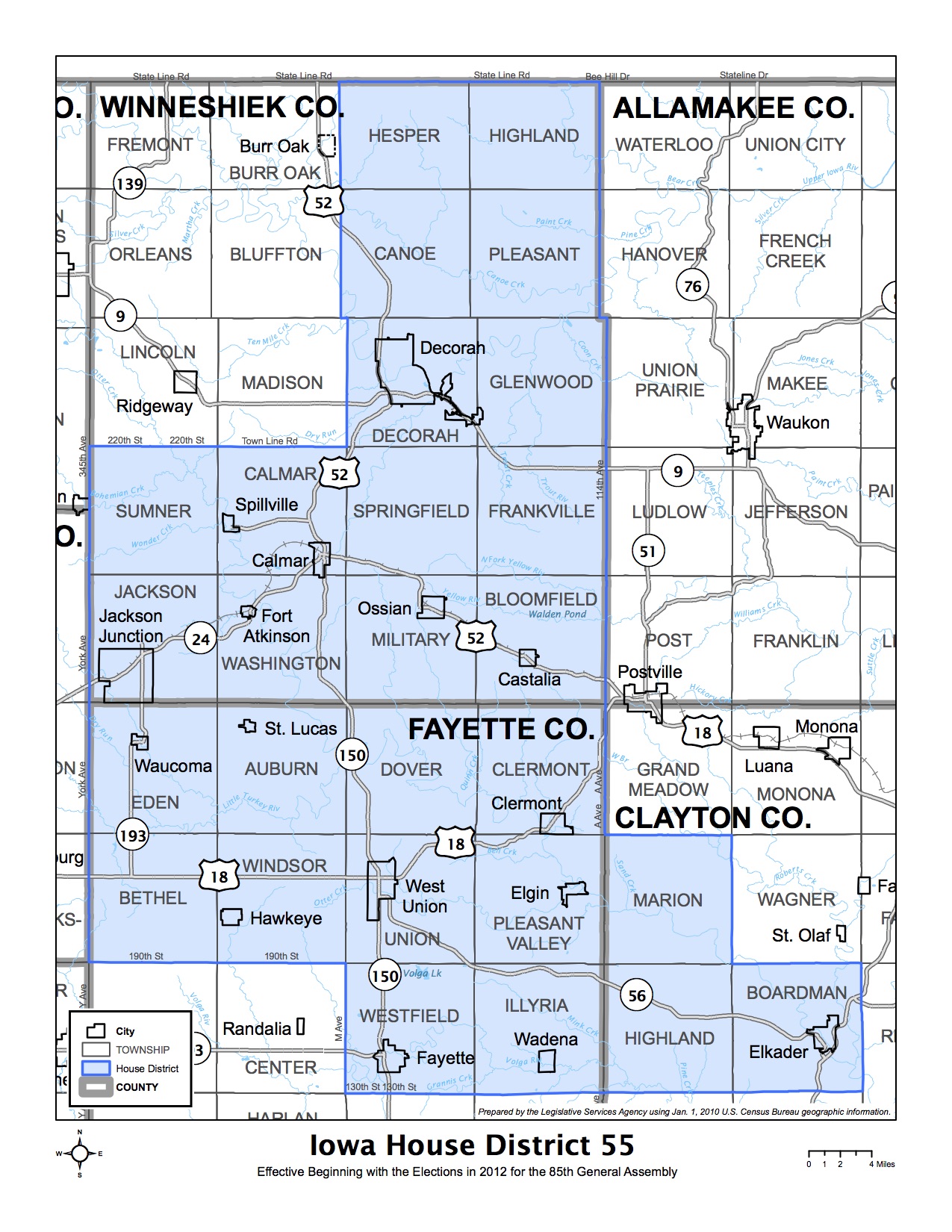 Kevin Koester (R), House district 38
This Republican who has represented parts of Ankeny and northeast Des Moines for a decade went into the latest reporting period with $11,466.76 in the bank. Koester raised only $5,170.00, of which $3,150 came from PACs that gave to many incumbents. Koester spent nothing from his account since the primary and reported $16,636.76 cash on hand.
I expected a stronger report, since House district 38 includes some well-off Ankeny neighborhoods. Plus, Koester's campaign treasurer is former State Senator Jeff Lamberti, who is very wealthy and has good contacts among major donors.
Maybe Koester is confident because he won re-election in 2016 by about 1,500 votes, even though the Iowa GOP spent little on his race. But since the 2016 election, the GOP voter registration in House district 38 has shrunk from more than 500 to a little over 200.
Democratic challenger Heather Matson is making her second bid for the state House; she easily won her competitive primary and raised enough to have $29,320.56 cash on hand as of July 14.
House district 38 is among several central Iowa races Jason Kander's group Let America Vote is targeting, with a team of interns assigned to help recruit volunteers and GOTV for Matson. She will need a high Democratic turnout; Obama slightly outpolled Mitt Romney in this district, but Trump had a 7-point margin in 2016.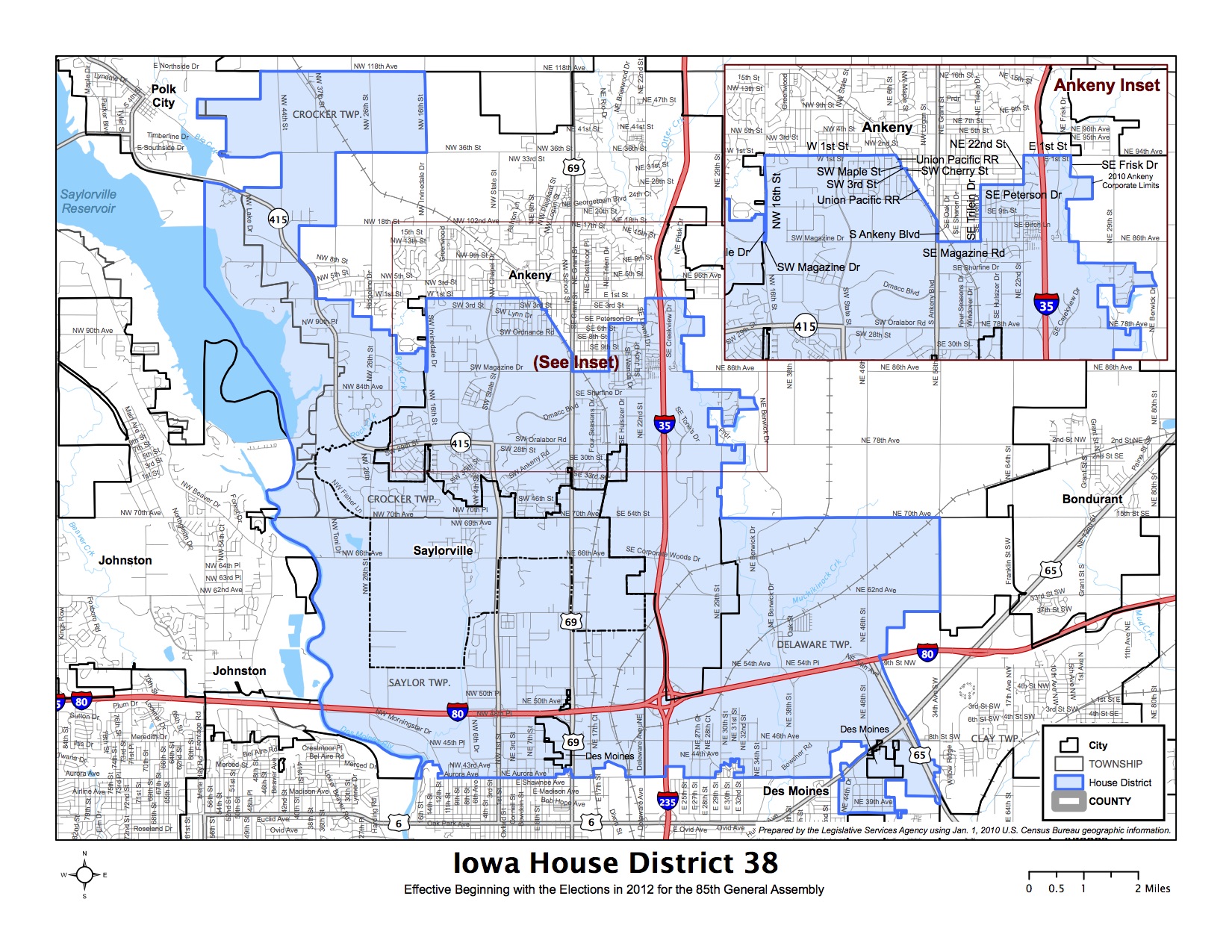 Tod Bowman (D), Senate district 29
Granted, fundraising is harder for the party out of power. Still, after years of public service, Bowman should have the connections to raise more than $4,840 in a six-week period during an election year. Less than $1,000 of his contributions came from individuals; $3,900 were PAC donations, which require no effort on the lawmaker's part.
Consider:
• Republicans hold both of the Iowa House seats contained in Bowman's district (Shannon Lundgren in House district 57 and Andy McKean in House district 58).
• Dubuque County voted for the GOP presidential candidate in 2016 for the first time since 1956, largely thanks to precincts outside the city of Dubuque, which are part of Bowman's Senate district. (State Senator Pam Jochum represents Senate district 50, covering the city of Dubuque.) Senate district 29 favored Obama in the 2012 presidential election by 52.2 percent to 46.8 percent but went for Trump in 2016 by a stunning 57.7 percent to 37.2 percent.
• Republicans invested almost nothing in Bowman's 2014 opponent Jim Budde, but Bowman won that race by only about 9 points.
• Shortly before the 2014 general election, registered Democrats outnumbered Republicans in Senate district 29 by nearly 4,000. The gap has narrowed to around 3,000.
Bowman didn't spend much this reporting period ($1,215.42), so his $37,209.25 cash on hand total is not bad. With some effort he would be in better shape, though.
GOP staff have been talking up their candidate in Senate district 29, but fortunately for Bowman, Carrie Koelker reported only $4,394.00 in contributions and $9,264.98 cash on hand on her latest filing. The good news for Koelker is that Senate GOP leaders will almost certainly have more cash to spread around this fall than will Democrats.