The Republican Party is not fielding a candidate in more than two dozen Democratic-controlled Iowa House or Senate districts, while Democrats have left only seven GOP-held legislative seats uncontested. The disparity in party strategies is a departure from the last midterm election, when each party failed to nominate a candidate in more than two dozen state House districts alone.

The filing period for state legislative candidates ended on August 25, and the Secretary of State's office certified the final general election candidate list late this week. Republicans have no candidate in six of the 25 Iowa Senate races and 22 of the 100 House races. Democrats have no candidate in just two Senate contests and five for the House.
Republicans have less reason to go on offense, since they already hold 59 of the 100 House seats and 29 of the 50 Senate seats. Democrats can't afford to leave as many GOP incumbents unchallenged.
Since most of the uncontested districts lean heavily to one party, some might argue it doesn't matter whether a party has anyone on the ballot. I see value in competing everywhere possible. Failing to nominate a candidate tells voters your party doesn't think it's worth the effort to offer them an alternative. In addition, down-ballot candidates can do valuable local outreach that helps the statewide ticket. Finally, if 2018 turns out to be a wave election, a few candidates in "hopeless" districts may become surprise winners. In 2010, Republicans defeated three Iowa House incumbents thought to be so safe that they had no opponents two years earlier. Greg Stevens launched his first campaign as a "sacrificial lamb" but ended up winning that 1998 race.
On the other hand, parties may see tactical advantages to leaving certain incumbents unchallenged. Four years ago, Republicans didn't nominate a candidate in many Iowa House districts that made up one-half of a battleground Senate district. At the time, I suspected a strategy was afoot to depress Democratic turnout; House incumbents with no opponent would have no reason to put energy into GOTV.
Also relevant: most of the House Democrats without a challenger have done little fundraising this election cycle, even though some are well-positioned to raise money, as Bleeding Heartland discussed here and here. Their collective inaction will hurt the ability of Democrats running in targeted GOP-held seats to stay financially competitive.
Before reviewing the individual districts Republicans and Democrats left uncontested, it's worth noting that the Libertarian Party has candidates on the ballot in two state Senate districts (23 and 37) and fifteen House districts (16, 32, 34, 35, 36, 39, 43, 44, 47, 49, 57, 70, 75, 79, and 97). The party competed in eighteen state legislative districts in 2016. This year, Libertarians have candidates running for all statewide and federal offices as well.
UNCOMPETITIVE IOWA SENATE RACES
This map shows all 50 Senate districts; only the odd-numbered seats are on the ballot this year. Click here to find maps of individual districts.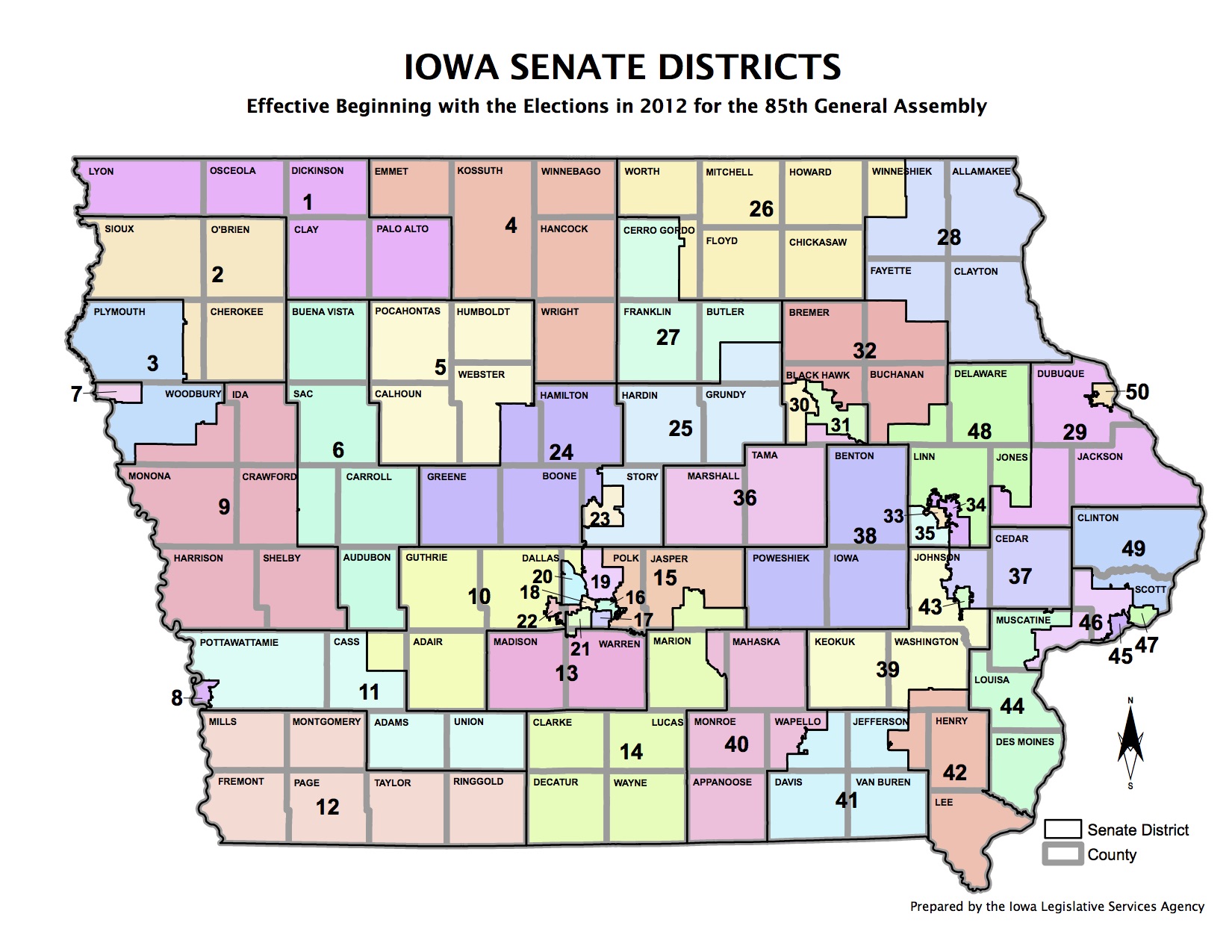 Republicans with no Democratic opponent:
• Zach Whiting, Senate district 1
A policy adviser to U.S. Representative Steve King, Whiting won a three-way GOP primary for the district where independent State Senator David Johnson is retiring. Registered Republicans outnumber Democrats here by nearly three to one.
• Jason Schultz, Senate district 9
The only state legislator who has called me a traitor didn't have an opponent in 2014, when he moved up to the Senate after three terms in the Iowa House. He'll coast again this year in a district with nearly twice as many registered Republicans as Democrats.
Democrats with no Republican opponent:
• Tony Bisignano, Senate district 17
Bisignano's toughest fight was the three-way Democratic primary in 2014, when he survived one rival's attempt to disqualify him from the ballot and beat his other competitor by only eighteen votes. He gained about two-thirds of the vote against a Republican and a Libertarian in the 2014 general election.
• Herman Quirmbach, Senate district 23
Republicans made some noise about taking Quirmbach out in 2014, but he easily dispatched a challenge from Jeremy Davis (this year's GOP candidate for state treasurer). Though no Republican filed here this year, Quirmbach is not unopposed; Eric Cooper is running as a Libertarian.
• Bill Dotzler, Senate district 31
Dotzler didn't have an opponent the last time he was on the ballot either, having defeated a Republican by a wide margin in 2010.
• Todd Taylor, Senate district 35
One of the longest-serving current Iowa House Democrats, Taylor will replace Wally Horn, the longest-serving state legislator in Iowa history. Taylor had no competition in the Democratic primary here either.
• Zach Wahls, Senate district 37
Wahls won a four-way primary to replace longtime Democratic State Senator Bob Dvorsky. Libertarian Carl Krambeck will be his only general election opponent.
• Jim Lykam, Senate district 45
Republicans made a token effort in the December 2016 special election to replace the late Joe Seng. But Lykam will face no competition the first time he's on the ballot for a full four-year term in the upper chamber.
UNCOMPETITIVE IOWA HOUSE RACES
All 100 Iowa House seats are on the ballot every two years. Click here to find maps of individual districts.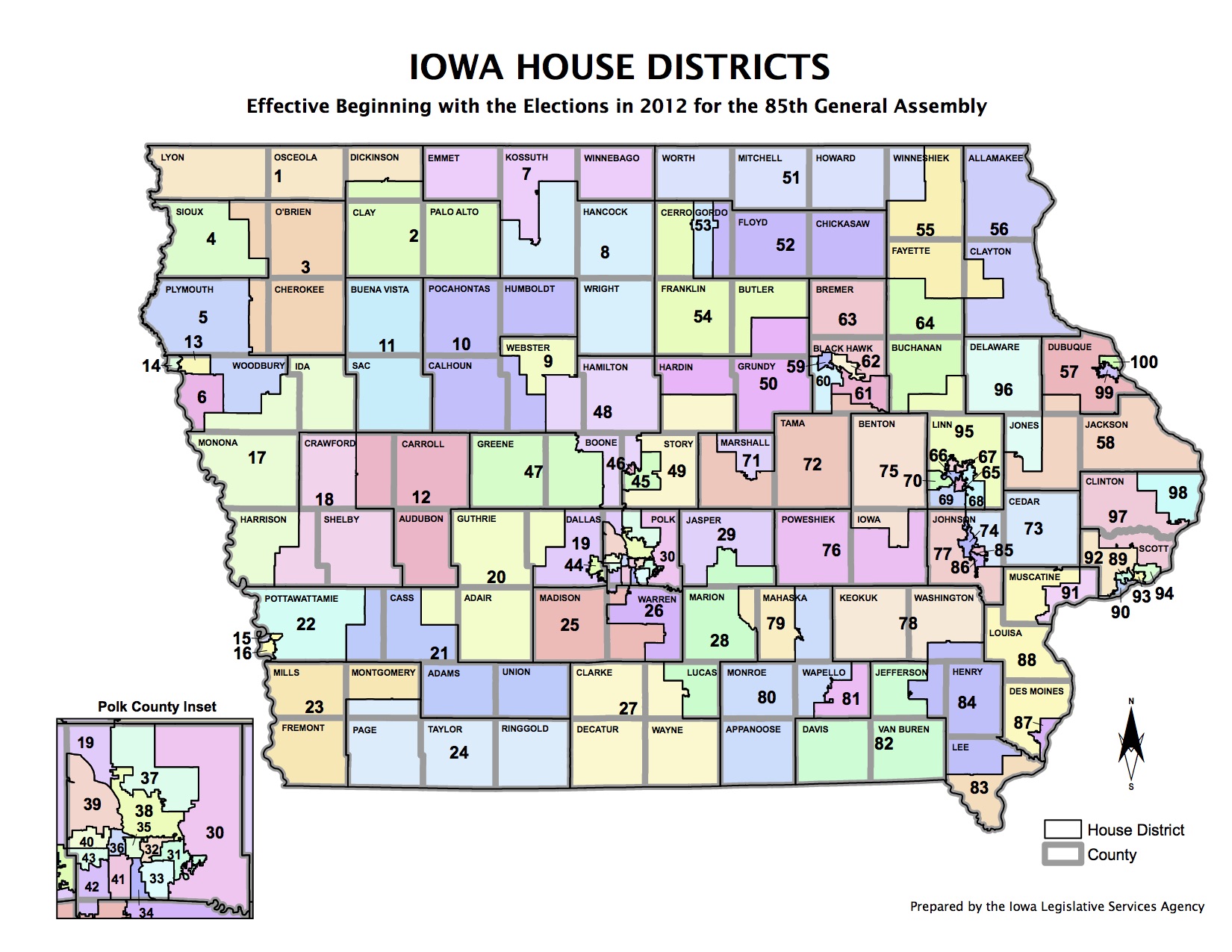 As Bleeding Heartland discussed here, Democrats recruited far more candidates for this year's House races than in the last two midterm elections. In fact, it's been about three decades since Democrats competed for this many Iowa House districts.
Republicans facing no Democratic opponent:
• Dan Huseman, House district 3
With nearly four times as many registered Republicans as Democrats in this district, it's no wonder no one volunteered to challenge Huseman.
• Skyler Wheeler, House district 4
The youngest current member of the House GOP caucus represents the state's most Republican legislative district, containing nearly nine times as many voters affiliated with the GOP as with Democrats.
• Gary Worthan, House district 11
Democrats had a solid candidate here in 2016 but fell nearly 4,000 votes short, which probably explains why no one stepped up to challenge Worthan.
• Steven Holt, House district 18
Holt was unopposed last cycle as well in a seat with a sizable GOP voter registration advantage.
• Speaker Linda Upmeyer, House district 54
Upmeyer hasn't faced a Democratic opponent since 2008. Even her record as leader of the House during two very destructive years didn't inspire anyone to take on this daunting task.
Democrats facing no Republican opponent:
• Chris Hall, House district 13
The four-term lawmaker from Sioux City is the ranking member on the Appropriations Committee and would be in line to lead that powerful panel if Democrats gain the ten seats needed to take the House majority. His district makes up half of Senate district 7, where GOP incumbent Rick Bertrand recently reversed his decision to retire.
• Rick Olson, House district 31
Olson kicked up his fundraising earlier this year, when facing two Democratic primary challengers on the east side of Des Moines. He can (and probably will) coast through November.
• Ako Abdul-Samad, House district 35
Abdul-Samad represents solidly Democratic neighborhoods in central and northern Des Moines. Libertarian John Callahan filed here.
• Marti Anderson, House district 36
The northwest area of Des Moines has long been a Democratic stronghold as well; Anderson hasn't faced a difficult election since winning a three-way primary in 2012. Libertarian Joseph Howe filed here.
• John Forbes, House district 40
Only a few cycles ago, this district covering most of Urbandale was considered a reliable Republican seat. But the GOP hasn't had much luck against Forbes, a popular local pharmacist and former city council member. They didn't even bother to recruit a candidate this time around. As the older suburban areas west of Des Moines continue to trend Democratic, there is some chatter that Iowa Senate district 20 could be in play in 2020, especially if GOP incumbent Brad Zaun retires.
• Jo Oldson, House district 41
Claudia Addy filed as an independent candidate here, but Oldson hasn't had a serious challenge since her 2016 primary against Eddie Mauro.
• Lisa Heddens, House district 46
Republicans didn't contest this seat covering part of Ames in 2014 or 2016 either.
• Todd Prichard, House district 52
Although this district swung from a 56 percent Barack Obama district in 2012 to a 56 percent Donald Trump district in 2016, Prichard won re-election by more than a 1,300 vote margin. Republicans didn't even attempt to take him out this year.
• Sharon Steckman, House district 53
This seat and Linda Upmeyer's seat next door make up Senate district 27, where Republicans will be targeting Democratic Senator Amanda Ragan. Steckman didn't have a GOP opponent the last time Republicans were trying to unseat Ragan either.
• Bob Kressig, House district 59
Kressig used to be a perennial GOP target, but Republicans finally gave up trying in this district containing the University of Northern Iowa campus and most of Cedar Falls.
• Timi Brown-Powers, House district 61
This district in Waterloo has nearly twice as many registered Democrats as Republicans.
• Ras Smith, House district 62
Democrats outnumber Republicans in this part of Waterloo by more than three to one.
• Bruce Bearinger, House district 64
Like Prichard, Bearinger represents an area in northeast Iowa that swung heavily to Trump in 2016. However, Bearinger won re-election last cycle by more than 2,000 votes.
• Tracy Ehlert, House district 70
Ehlert was the only Democrat to file for the Cedar Rapids seat Todd Taylor vacated to run for the state Senate. Libertarian Myra Matejka will be her only opponent.
• Dave Jacoby, House district 74
Republicans didn't challenge Jacoby for the last two election cycles. Coralville isn't hospitable territory for the GOP, especially given the chronic underfunding of state universities.
• Amy Nielsen, House district 77
It's not clear yet how hard the GOP will play for Senate district 39, now represented by Democrat Kevin Kinney. Leaving first-termer Nielsen without a challenger could be part of a strategy to depress Democratic GOTV in this half of the Senate district.
• Vicki Lensing, House district 85
This area of Iowa City is one of the strongest Democratic legislative seats in the state.
• Mary Mascher, House district 86
The Democratic voter registration advantage in this part of Iowa City is even larger than in Lensing's district next door.
• Monica Kurth, House district 89
Republicans nominated a candidate for last year's special election here to replace Jim Lykam but didn't see an opening this year.
• Cindy Winckler, House district 90
This district includes some of the most Democratic neighborhoods in the Quad Cities.
• Phyllis Thede, House district 93
A few cycles ago, Republicans made a major play for this seat. But they gave up trying, even though Thede won re-election in 2016 by less than 1,000 votes, and the Democratic voter registration advantage is not large here.
• Mary Wolfe, House district 98
Although Hillary Clinton outpolled Trump in this district, she performed much more poorly than Obama had in 2012. Nevertheless, Wolfe won re-election in 2016 by more than 4,000 votes. This district makes up half of Senate district 49, a competitive open seat after Senator Rita Hart agreed to be Fred Hubbell's running mate.