Hope Bleeding Heartland readers had a happy, meaningful Thanksgiving and will enjoy some time off this weekend. If you have lots of extra food from the holiday meal, here are four ways to make soup from leftover turkey, mashed potatoes, or sweet potatoes, and here's one way to use up cranberry sauce.
It's been too long since I put up an open thread. All topics are welcome in the comments section.
I've been thinking about the many historic results from this year's election. In Iowa alone, we saw the first woman elected governor, the first two women elected to the U.S. House, the first Democrat elected state auditor in decades, a record number of women elected to the state legislature, a Democratic sweep of targeted state House seats in the Des Moines suburbs, and at least seven newly-elected lawmakers who had run for office unsuccessfully in 2014 or 2016.

Kiel Williams, political analyst and contributor to the Decision Desk HQ site, tweeted out a series of Iowa election maps on November 22. Two of the most interesting were about the state auditor race.
Note how many areas voted for both GOP Governor Kim Reynolds and Democratic state auditor candidate Rob Sand. The tiny dots that went for Fred Hubbell and Mary Mosiman are in Story County. Mosiman served as county auditor for ten years, and the Democratic nominee for governor received his second-highest share of the vote there, after "the People's Republic of Johnson County."
A loyalty map between governor and auditor. Sand's victory rested largely on his better margins in the northeastern part of the state, relative to Hubbell. pic.twitter.com/aYy9UWvOQi

— Kiel Williams (@KielTWilliams) November 22, 2018
Stay tuned for more posts in Bleeding Heartland's series about Iowa election results, including a piece focusing on the state auditor race.
Meanwhile, here are a few links on some of the most fascinating outcomes from around the country.
I will never get tired of reading about Lucy McBath, winner in Georgia's sixth Congressional district. Newt Gingrich long represented this solidly Republican area.
From Jamilah King's profile in Mother Jones:
McBath, a former flight attendant, was moved to action in 2012 after her son, Jordan Davis, was shot and killed by a white vigilante at a Florida gas station. In the years immediately following Jordan's murder, McBath evolved into an outspoken advocate against gun violence. She became a national spokesperson for Moms Demand Action, an increasingly formidable advocacy group that has become a perpetual thorn in the side of the National Rifle Association, and grew a national profile as a "Mother of the Movement" alongside other black women who lost their children to gun violence.
Jelani Cobb noted in a good piece for The New Yorker,
McBath's victory reflects several trends: the inroads that Democrats are making in Republican suburban districts that Trump's tax cuts and border-fearmongering were supposed to secure, the record number of women elected to public office in the face of the mainline misogyny that is a feature of the Trump era, and the fading ability of gun-rights appeals to safeguard Republican districts. It is also worth noting that nine new African-American candidates were elected to Congress in the midterms—all of them Democrats, five of them women—and that, once all the outstanding races are called, will likely bring the ranks of the Congressional Black Caucus to a record fifty-six members. All but two of them are in the House, and the majority of those members won election in majority-minority districts. The nine incoming representatives, however, were all elected in largely white districts—a fact that may complicate the calculations of the caucus and the voting behavior of its members. McBath will be the first African-American to represent her district.
Republicans will hold only one of New Jersey's twelve U.S. House districts in the new Congress. The GOP held six of the state's Congressional districts after the 2014 election. Yan Wu discussed the flips at NJ.com.
Orange County will be entirely represented by Democrats in the U.S. House.
I cannot wrap my mind around this development. The Washington Post's Philip Bump commented,
The last time that all of Orange County was represented by Democrats, there was only one district in Orange County. By the 1942 election, the sole district was held by a Republican. That was the case for 20 years. In 1962, the county got another district, and the two seats were split. Every 10 years, the districts were redrawn to fit the most recent Census data; every 10 years, the Republicans held most of the seats.
Click through for a good concise history of Congressional voting in Orange County as well as demographic changes that contributed to this year's results.
The Democratic popular vote lead in Congressional races is the largest for either party since Watergate. Allan Smith reported for NBC News on November 21,
With votes continuing to be tallied more than two weeks after Election Day, Democrats hold a lead over Republicans in the House popular vote by more than 8.6 million votes.

That's the largest total victory in a midterm House election since Democrats defeated Republicans by more than 8.7 million votes in 1974, just months after President Richard Nixon resigned from office in disgrace. […]

As of noon on Wednesday, Democratic House candidates won 58,990,609 votes while their Republican counterparts pulled in 50,304,975. That means that, so far, Democrats won 53.1 percent of all votes counted while Republicans earned 45.2 percent.
P.S.: Some locals had fun with soon-to-be-former U.S. Representative David Young's "60-second survey" asking constituents about their favorite Thanksgiving dishes. Responses acquaintances have shared: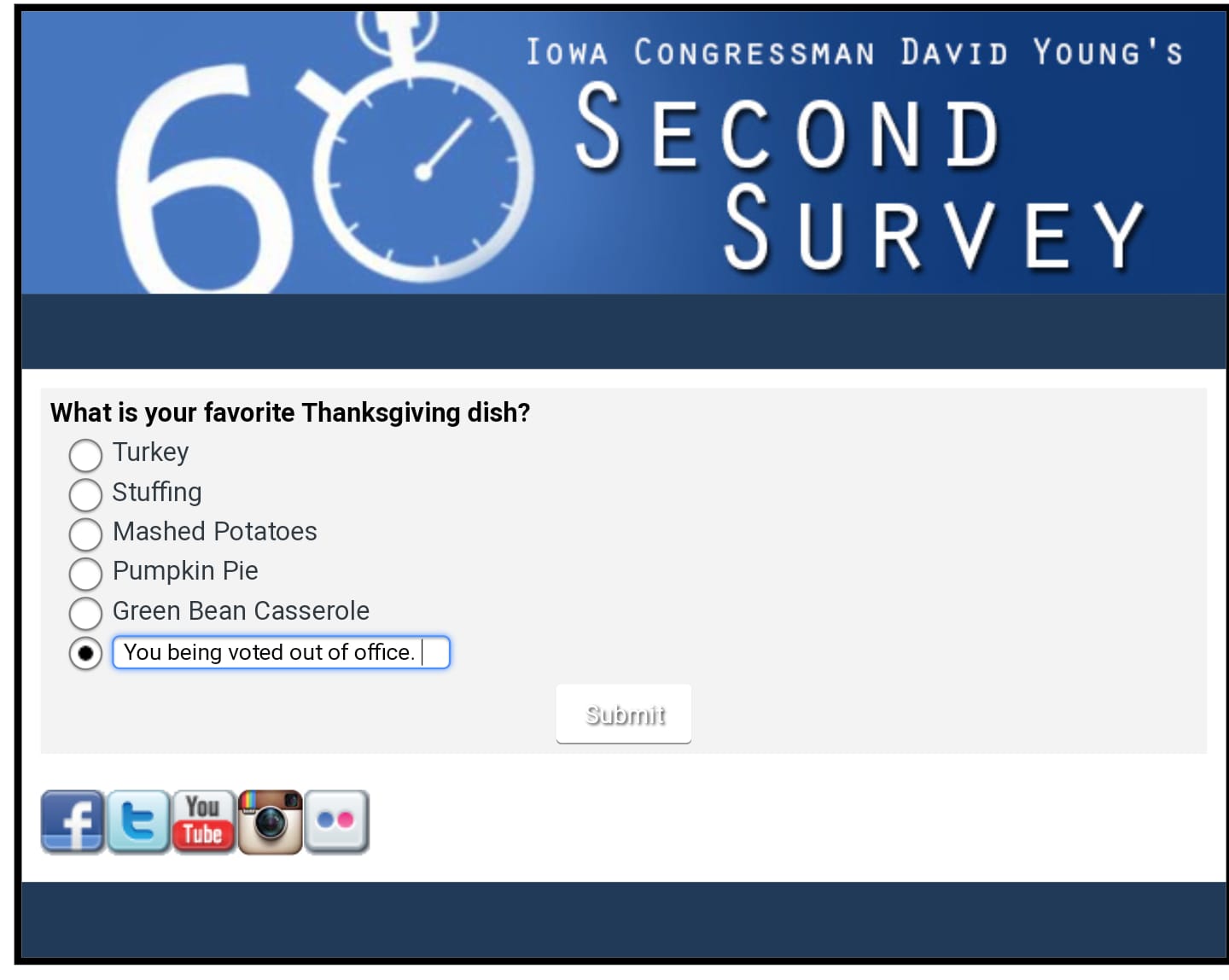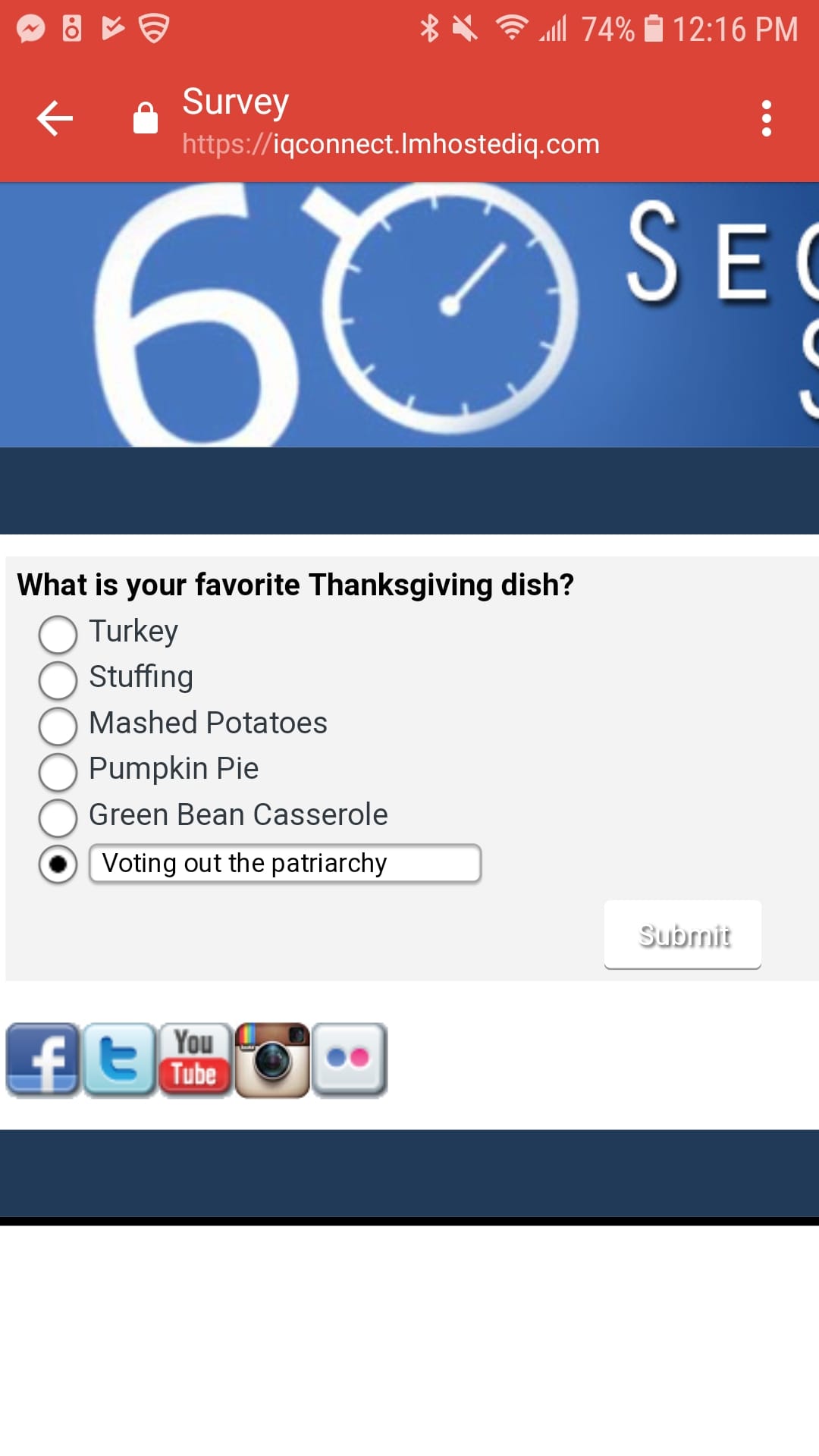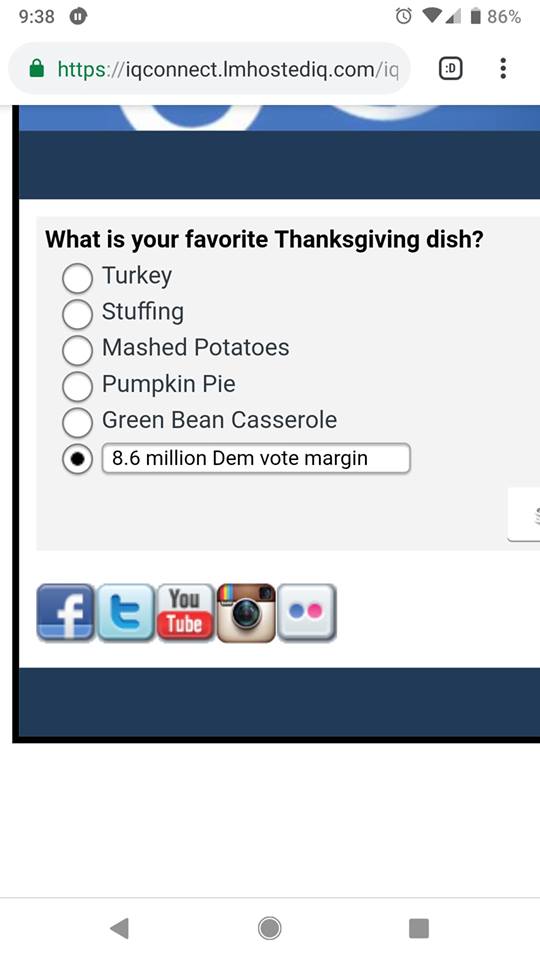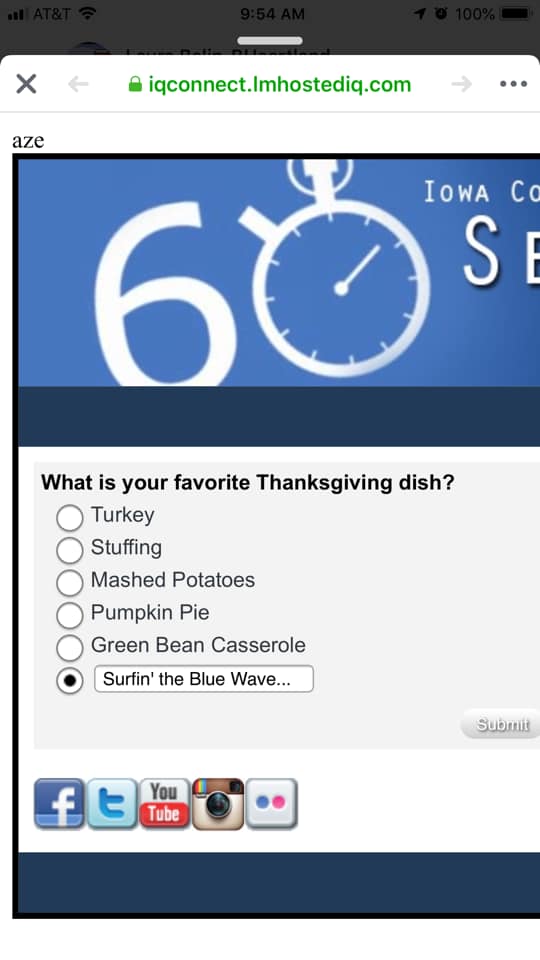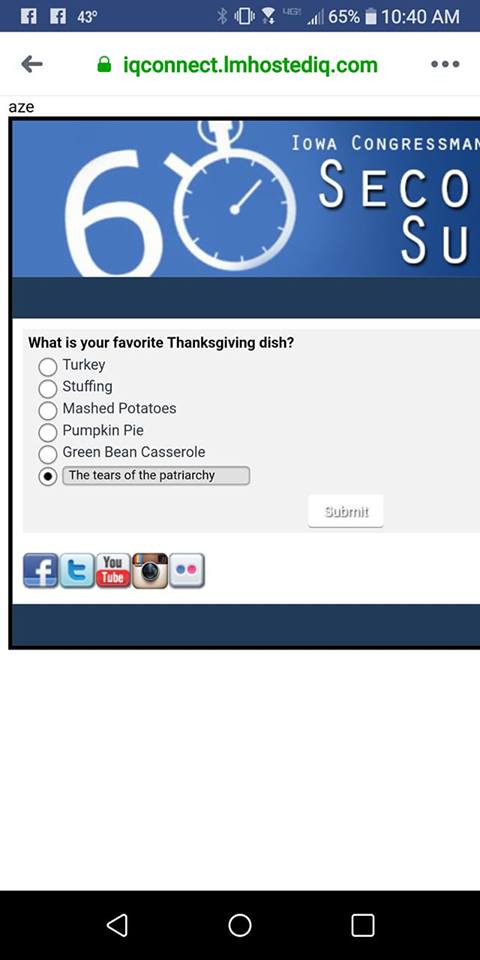 Top image: Lucy McBath, representative-elect in Georgia's sixth Congressional district.