Four Iowa Republican candidates received large donations in 2018 from Russell Taub, who agreed last week to plead guilty to federal crimes related to his political activity.

Patrick Anderson of the Providence Journal broke the news on February 20: "Federal prosecutors have charged former Rhode Island Republican congressional candidate H. Russell Taub with siphoning more than $1 million in political donations for personal use and have reached a plea deal with him, according to court documents."
Taub raised more than $1.6 million for political action committees he never registered with the Federal Election Commission. The Foundation for Accountability and Civic Trust (also known as FACT and formerly led by Matt Whitaker) filed an FEC complaint last July against Taub and his Keeping America in Republican Control PAC (KAIRC) "for failing to comply with the basic filing and reporting requirements of federal campaign finance law."
Prosecutors later determined that Taub
solicited more than $1.6 million through KAIRC and an affiliated Ohio PAC, but that the majority of the contributions never made their way toward helping GOP candidates.

Instead, prosecutors say Taub withdrew "nearly $100,000" in cash, transferred more than $715,000 into his personal bank accounts, and spent more than $217,000 on personal expenses including airfare, hotel rooms, restaurant meals, clothes, cigars, strip club visits and "escort services."

The donations Taub did spend in the political arena he spent illegally, according to the charges.

He advertised KAIRC as a "Super PAC" and took advantage of that designation to raise donations in excess of the $5,000 individual limit. But prosecutors say he made more than $215,000 in donations directly to the campaigns of federal candidates, illegal for Super PACs under federal law.
The Center for Responsive Politics Open Secrets database identified $233,096 in "hard money" donations from Taub to Republican candidates for federal offices during the 2018 cycle. Two Iowans benefited, FEC filings show:
In addition, a search of the Iowa Ethics and Campaign Disclosure Board's database shows four contributions from Taub to Iowa statewide candidates last year.
WERE TAUB'S DONATIONS TO IOWA CANDIDATES LEGAL?
Given Taub's flagrant disregard for federal campaign finance laws, you might wonder whether his gifts to Iowa candidates were above board.
Two watchdogs were way ahead of you.
Adam Mason of Iowa Citizens for Community Improvement and a woman who wished to remain anonymous questioned Taub's contributions to Reynolds in a complaint to the Iowa campaign regulator (IECDB) last fall. The ethics board voted unanimously on January 24 to dismiss the complaint. This file contains the dismissal order and supporting documents.
In her letter to the complainants, ethics board executive director Megan Tooker noted,
Iowa Code section 68A.502 prohibits a person making a campaign contribution in the name of another and also prohibits a committee from knowingly accepting a contribution in the name of another. [...] The FACT complaint [to the FEC] alleges that Mr. Taub either made campaign contributions in his name that originated from other people or that he lied about raising money for candidates which could meet the FEC's definition of a "sham PAC."

Board members expressed concern about the allegations made in the FACT complaint and I told them I would inform them of the outcome of the complaint before the FEC. The Ethics Board has three years from the date of a contribution to initiate an investigation if it believes the contribution to be in violation. Thus, the Board has plenty of time to initiate an investigation if it receives more evidence that Mr. Taub's contributions to the Reynolds committee came from another source. At this time, you have not presented any evidence that the Reynolds committee knowingly accepted contributions in the name of another. The $25,000 check was mailed to the committee with an enclosure indicating the contribution was from Mr. Taub. The $1,000 check was presented in person to the Governor.
Of course the complainants didn't present evidence that Taub gave Reynolds someone else's money or that the governor's campaign knew his donations were fishy. They don't have subpoena power. The ethics board does. Its staff should have done more digging after receiving this complaint.
Take a look at documents the Reynolds campaign provided to the ethics board (pages 14 through 16 of the dismissal package). Taub signed the first page, mailed with the $25,000 check. The next two pages are copies of cashier's checks from Citizens Bank to Kim Reynolds for Iowa in the amounts of $25,000 and $1,000.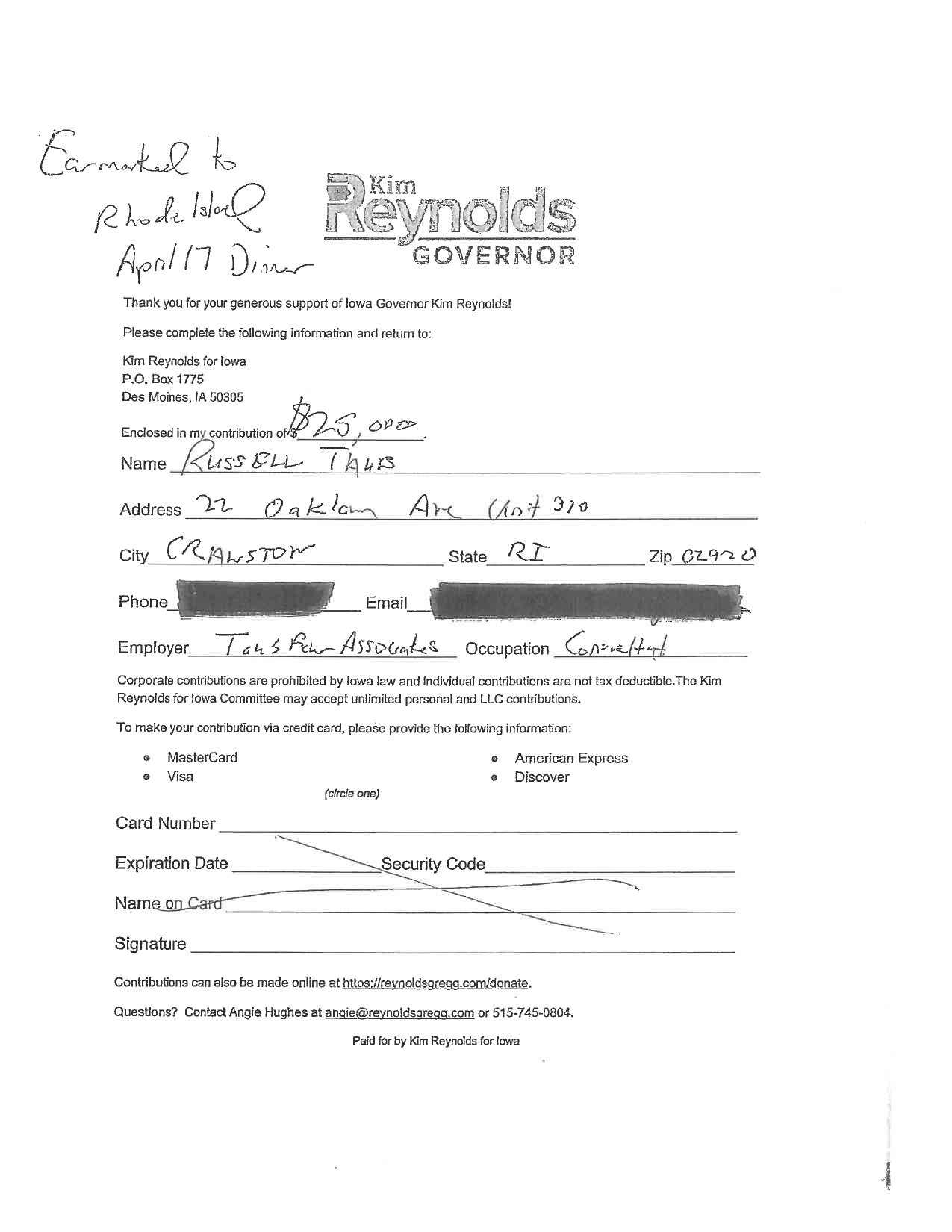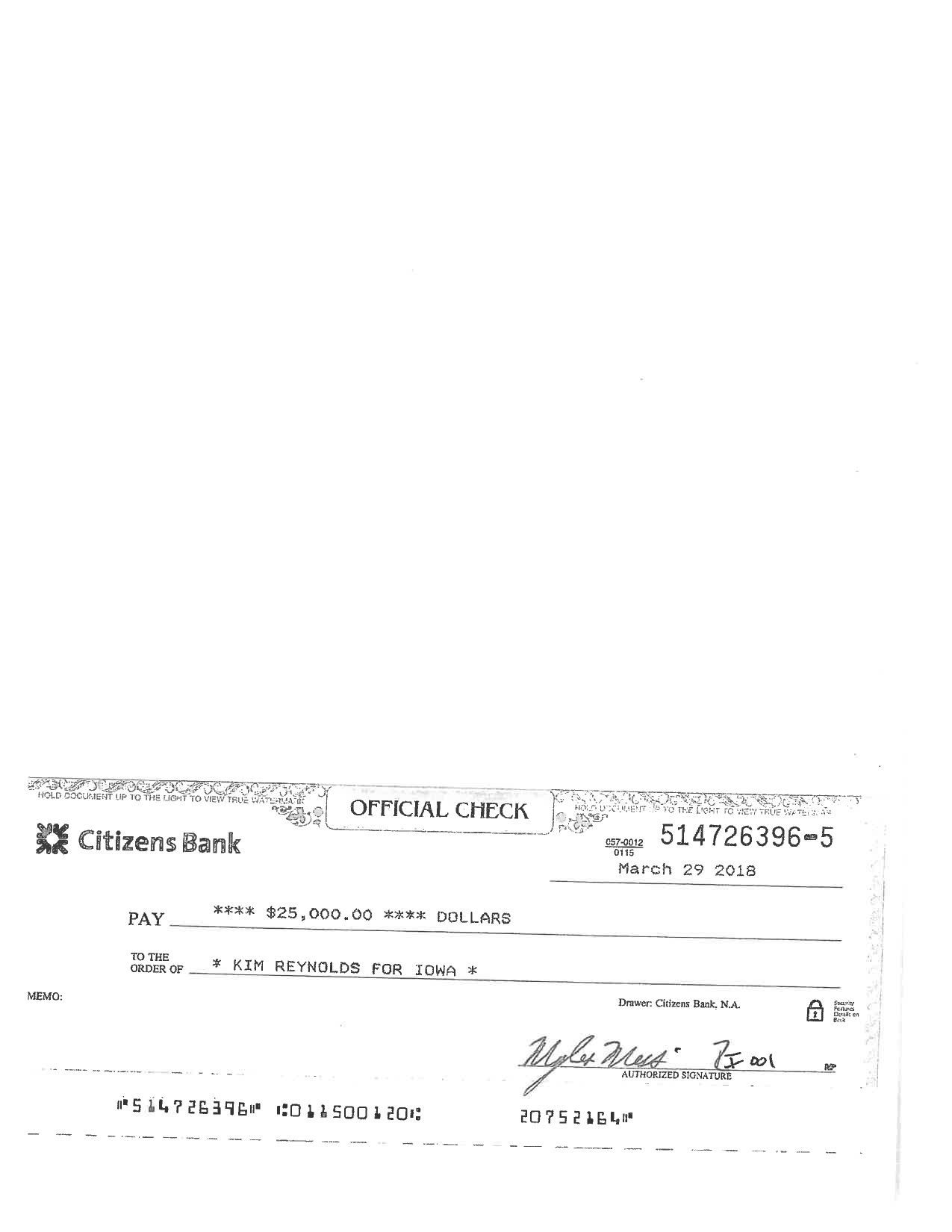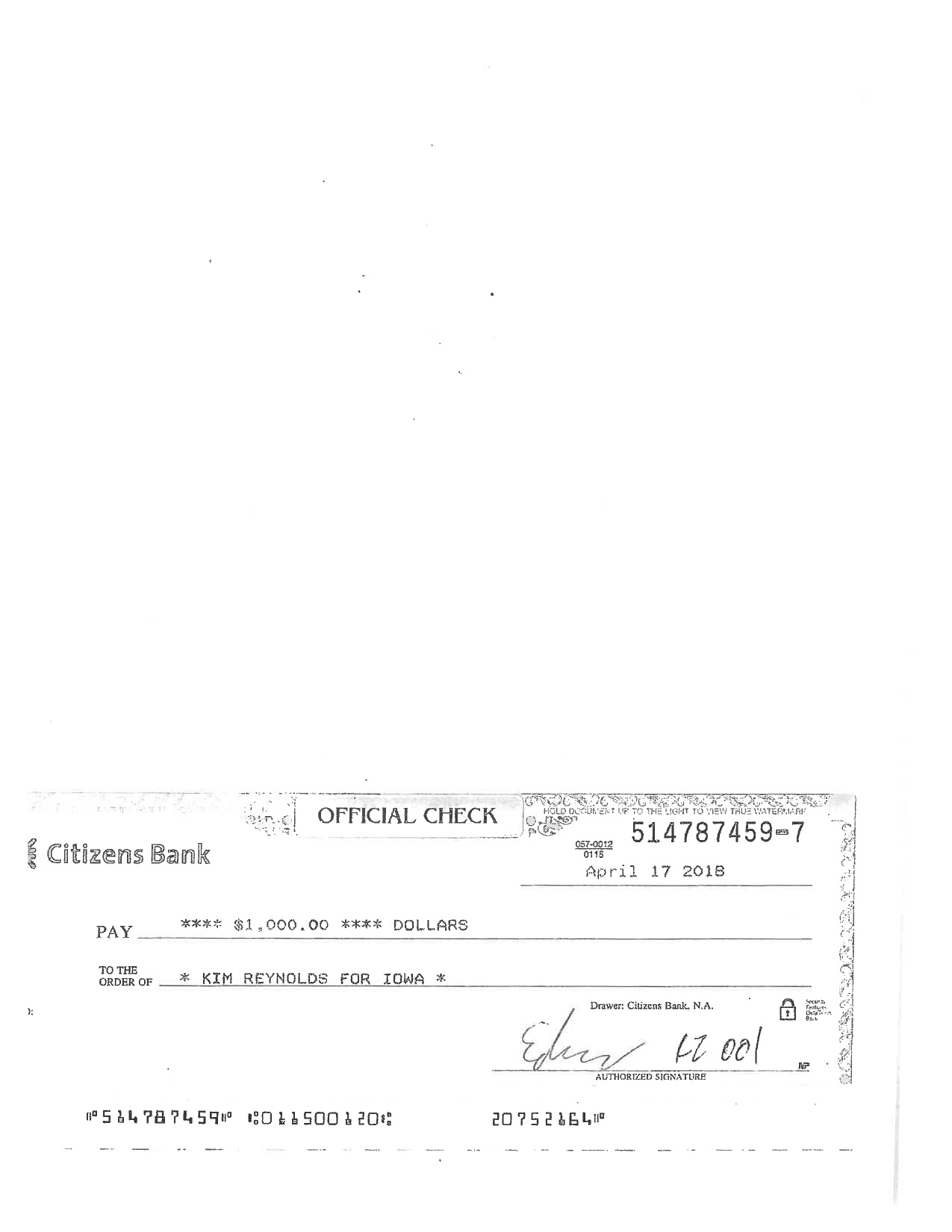 What's missing from this picture? Taub didn't sign those checks, nor does his name appear anywhere on them, nor did Citizens Bank attest to the fact that the funds came from Taub's personal account.
Multiple sources with substantial experience in Iowa political fundraising or campaign compliance confirmed that donations rarely arrive in the form of a cashier's check. Occasionally a small donor--usually an elderly person--will mail a money order or cashier's check to a campaign. But people who can afford five-figure donations typically send a personal check or a check from a living trust.
My contacts said a cashier's check for such a large amount would raise red flags, in the absence of further documentation. They would have asked the bank to verify that the money came from the donor's personal funds and not from a corporation or other individuals (both of which would be illegal). Alternatively, they would have sought guidance from the IECDB on whether a cashier's check lacking the donor's name was allowable under Iowa law.
Staff for Reynolds did not respond to inquiries about whether anyone on the governor's campaign did due diligence on the cashier's checks purporting to be gifts from Taub in the spring of 2018.
Tooker told Bleeding Heartland on February 26 that she and the IECDB auditor assigned to statewide candidates "don't have any record of speaking to the [Reynolds] campaign or any recollection of speaking to the campaign about cashier's checks in general or from Mr. Taub specifically."
When considering whether to accept this complaint, the ethics board couldn't have known Taub was about to face federal prosecution in Rhode Island. But they had reason to suspect he was involved in shady business, based on FACT's allegations and publicly available data. Taub had raised money online for KAIRC but had not registered the PAC with the FEC and was not filing quarterly reports with the federal campaign regulator.
Meanwhile, a search for "Russell Taub" on Open Secrets or the FEC website showed he had made significant individual gifts to dozens of candidates. On election day, Taub boasted in a public Facebook post that during the 2018 election cycle, he had helped raise money for
25 Governor and Lt Governors races
Roughly over 40 house candidates
23 U.S. Senate Candidates
Roughly 7 Attorney General Candidates
2 Secretary of State Candidates
I asked staff for Pate, Ernst, and King whether those officials would donate funds received from Taub to a charitable cause, in light of the recent criminal charges. (If my reading of Iowa Code is correct, the Reynolds campaign may be required to transfer $26,000 to the state treasury.)
I also tried to find out whether Taub sent the other campaigns cashier's checks from Citizens Bank, rather than contributing via personal check or credit card.
If cashier's checks not bearing his name were standard operating procedure for Taub, it would be good to know whether any staffers or consultants for Ernst, King, or Pate tried to make sure the money came from Taub's personal funds. The IECDB could investigate the $1,000 donation to the secretary of state's campaign if and when the board looks further into the soon-to-be-convicted felon's contributions to Reynolds for Iowa.
At this writing, no one has answered my questions. I will update this post as needed.
MARCH 1 UPDATE: Still no response from staff for Reynolds, Pate, Ernst, or King, but the ethics board's executive director Tooker informed me, "I have been in touch with the Pate and Reynolds campaigns, both of which are in the process of divesting the contributions received from Mr. Taub." The $1,000 donation to Pate's campaign came via credit card, and those funds will be transferred to the state's general fund, under the Iowa Code section cited above. Tooker added,
I haven't seen that check but it will come here first and then we will forward it to the treasurer's office. I have advised the Reynolds campaign to do the same for the total amount of both the monetary and in-kind contributions unless the justice department wants the money for restitution to Mr. Taub's victims. After Mr. Taub's indictment, I am of the opinion Mr. Taub's contributions are from "an unknown or unidentifiable source" as described in Iowa Code section 68A.501.
The IECDB has not yet scheduled its next meeting, but "I can assure you Mr. Taub's contributions will be on the agenda," Tooker said. The previous complaint was not against the Rhode Island donor, but against the Reynolds campaign. The board dismissed it "because the complaint provided no evidence that the Reynolds campaign knowingly accepted a contribution from another person (i.e. a contribution from a PAC or another person(s) in Mr. Taub's name)."
Tooker said Chief Deputy Attorney General Eric Tabor "advised me to refer the matter of Mr. Taub's contributions to the county attorneys in Clarke and Linn to determine whether criminal charges should be filed against Mr. Taub."
In response to my suggestion that the IECDB could issue guidance to Iowa campaigns regarding contributions via cashier's checks lacking the donor's name, Tooker explained,
As for the cashier's checks, there is nothing in chapter 68A of the Iowa Code that prohibits the receipt of a campaign contribution in the form of a cashier's check. Similarly, there is nothing in chapter 68A that limits how much a contributor can give in cash. Federal law prohibits a federal campaign from receiving more than $100 in cash from a single source (https://www.fec.gov/help-candidates-and-committees/candidate-taking-receipts/contribution-limits/). I will have to research whether federal law puts any restrictions on federal contributions via cashier's checks. I expect the Board will discuss in the future whether it should recommend legislation to limit contributions via means that are less easy to track (e.g. cash, cashier's checks, bitcoins, traveler's checks, prepaid credit cards, etc).